After 15 months of going without Madison's key events, the decision to move Taste of Madison and Concerts on the Square off the Capitol Square this summer has disappointed and confused fans of the two major Downtown mainstays.
"It's unconscionable," said Randall Brink, 67, of Madison, about moving the Taste, which he's been attending since the 1970s. "It's like they've taken something away that was public and turned it into some kind of an elite party."
Casey Thompson, co-owner of Fair Trade Coffee House, 418 State St., said his best revenue days come when there are summer events Downtown. He said he doesn't understand why the Dane County Farmers' Market is back on the Capitol Square, but Taste of Madison and Concerts on the Square have moved to Breese Stevens Field on the Near East Side for this year.
"It's just confusing to me," Thompson said.
On Saturday, Breese Stevens played host to another Madison summer staple, an Independence Day fireworks festival that, until last year, had been held Downtown. In place of that free event was Festival Foods Lights the Isthmus, featuring live music, food, drinks and fireworks — and a $10 cover charge.
Organizers of Taste and Concerts on the Square said the decision to move them was made when COVID-19 was still a threat, and that it would have been hard to reverse all the planning.
"Don't we all emotionally want to be on the Square? I do," said Sara Klemme, president of Madison Festivals, which puts on the event that will be held on Sept. 4-5 and has been renamed Taste of Madison Off the Square.
"It was painful," Klemme said. "It has been a crazy year."
Last year, the nonprofit Madison Festivals held a Taste of Madison Gives Back campaign, an online giving effort that raised $35,000 for Second Harvest Food Bank and Cook It Forward, a nonprofit supporting local restaurants hit hard by the pandemic, Klemme said.
In February, the organization began planning a drive-thru event for 2021 in different parts of the city where people would order boxed food from Taste vendors.
The questions then, Klemme said, were: "How are we going to keep these restaurants alive? How are we going to incorporate volunteers? How are we going to make money to give back? That was just as recently as March. It's amazing how quickly things change."
She said by April she scrapped the drive-thru idea and decided to do something in person. She looked at several locations and contacted managers of Breese Stevens, which she said has a ready-made infrastructure and an entry and exit that can be controlled.
"When you go to the Square, you need, let's just say, 100 port-a-potties, and when you go to Breese, you might need 10 because they have bathrooms there," she said. "Putting Taste Downtown on the Square is so logistically heavy in a normal year. Then add in all of the consistent changes and cancellations and uncertainties that we're in right now, it's a huge risk."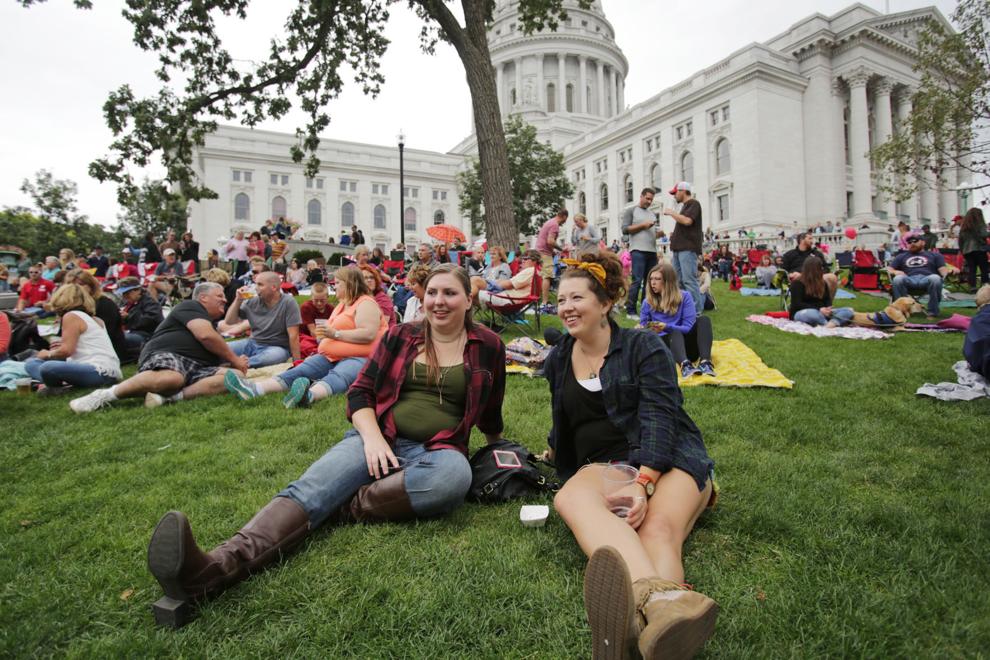 By May, she said she had to make a decision about what kind of risks she could take, and moving the event to Breese just seemed safer.
"Although not quite as sexy, and it emotionally doesn't feel as exciting, it is the one way that I can ensure that the Taste of Madison is going to happen in 2021," she said.
Public Health Madison and Dane County announced on May 18 it would allow COVID-19 restrictions to expire June 2 with no new orders replacing them, meaning all local restrictions on the size of gatherings were eliminated.
Safety first
When the Wisconsin Chamber Orchestra announced its venue change for Concerts on the Square in April, it expected to seat 1,500 per concert. That number has now grown to 5,000 since the restrictions on crowd size were lifted.
"Some people have asked, 'Well, are you going to go back to the Square in 2022?" orchestra CEO Joe Loehnis said. "Well, absolutely. I mean, our home is the Square."
Loehnis said the primary driver for the concerts moving to Breese Stevens this year was the safety of patrons and musicians. The orchestra secured the stadium in January as its home for 2021. "At that time, with the COVID pandemic, there was an uncertainty on when things would loosen up," he said.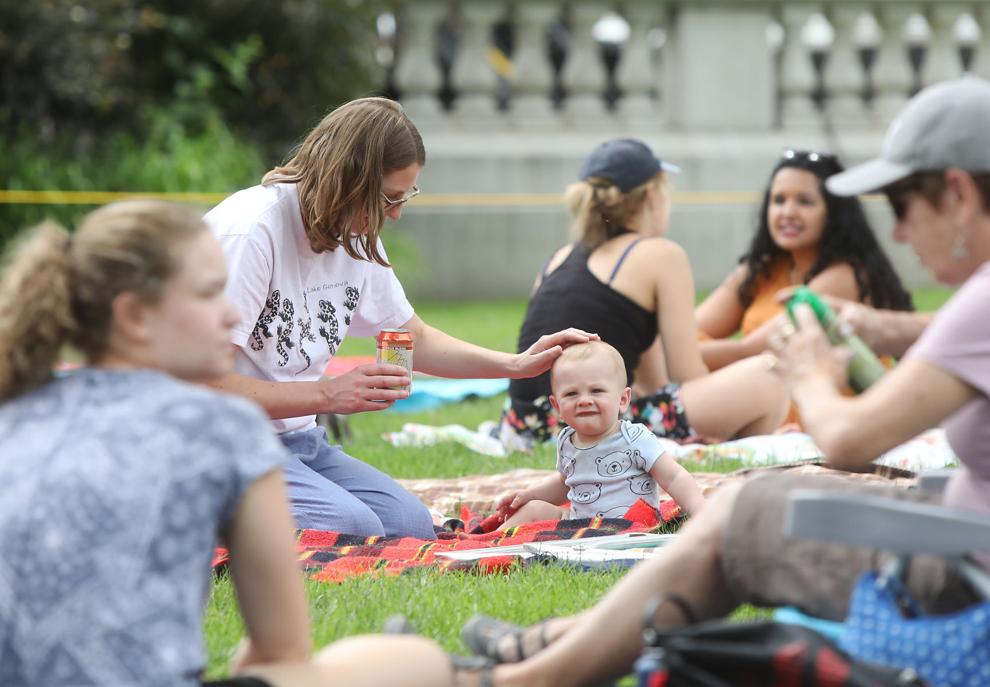 Now in its 38th year, the Wednesday evening concert series brings crowds of up to 50,000 who spread blankets on the Capitol lawn and bring in their own picnic dinners or buy food from vendors set up in the street.
"It's a concert experience," Loehnis said. "People are shoulder to shoulder sitting for two hours. Everybody's in a different place in their comfort right now on the tail end of the pandemic from: 'I'm ready to go to an event with a million people without a mask and it's going to be great' to 'I still want to have my bubble and I still want to have flexibility if I'm around huge crowds,' and everybody in between."
This year, the six-concert series, which begins this week at Breese Stevens, is being cut to five. Seating is in three formats: "blanket pods," 8-by-8-foot spaces on the field for up to six people ($50, or $200 for all five concerts); general admission bleacher seating, with no social distancing requirements ($10; $5 children under 12); and seating in a reserved barstool area with no spacing requirements ($12).
Loehnis said about 2,000 spots have been sold per concert, with 4,000 to 5,000 still available.
The event also features roughly 85 reserved tables for six people at $1,200. Loehnis said 65 to 80 are filled for each week. Tristan Straub, the executive chef at Breese Stevens Field, is responsible for the food.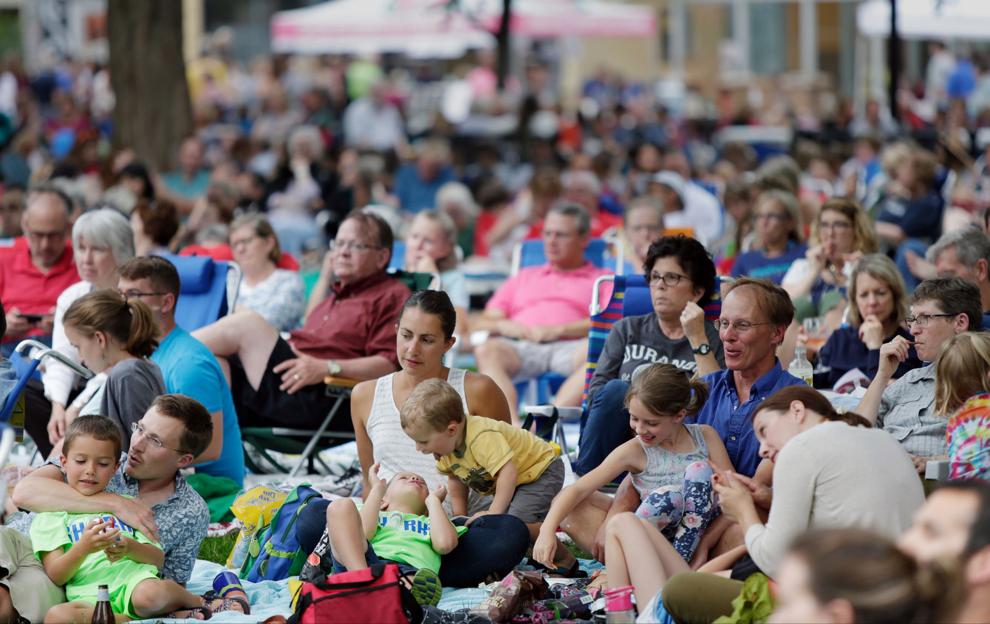 Attendees won't be able to bring in food or drink, but the stadium will sell sandwiches, sides and beverages.
"Most people would buy food up on the Square or go to the grocery store and bring food," Loehnis said. "We're just thrilled we can do it this year in some form and fashion."
Loehnis called the tickets "fairly inexpensive" and said WCO isn't making any more money by having the event at Breese Stevens. Selling tickets helps the organization to pay its musicians this summer, he said.
Financial risks
Klemme said the Taste of Madison Downtown is "always a financially risky event," costing between $600,000 and $800,000 a year to execute.
To pour money into it and risk getting the permit pulled in August because virus case counts rise again would be catastrophic, she said. Portable toilets may also be hard to find, she said, or restaurant vendors might cancel because they can't find staff.
Klemme said her goal is to come back to the Square in 2022 for the event's 40th anniversary. Breese Stevens is a temporary solution, she said, and costs about a quarter what it costs to put on Downtown.
While Taste of Madison was a free event on the Square, tickets will be $10 this year at Breese Stevens, with a portion of the profits donated to local charities.
But for Brink, a longtime Taste-goer, "It just seems like it's one more thing that's been taken away from the community."
"Especially now with COVID, the most essential and lowest-paid people can't afford to go and do this," said Brink, a former president of AFSCME Local 171. "A single parent with three kids is going to pay 40 bucks just to get in. I'm retired now, but when I was working and I had kids, I used to go to the Taste of Madison with $20 or $30 in my pocket, and we'd get a few things to eat and listen to some music. I mean, it was great."
Klemme said she's already donated 1,700 tickets to local first responders, health care workers and nonprofits and intends to give out 2,000 more.
Vendors are also being given free booth space this year because of the hardships most of them endured in 2020. Otherwise, they would have paid $850 for a single booth and $1,700 for a double.
"Restaurants are the backbone of Taste," Klemme said. "Without the restaurant community, there's no Taste of Madison."
The Taste will let in up to 40 restaurants this year. In 2019, the last time it was held, there were 77.
Hope for success
Pauline Blake, co-owner of David's Jamaican Cuisine, has been at the Taste for 18 years and doesn't mind the move to Breese Stevens. "It's better than not having it," she said.
Restaurant owners are still applying for spots, Klemme said. She said she should have the list by the first week of August.
A typical Taste can bring in as many as 200,000 people, and Klemme said this year organizers are limiting the capacity to 5,000 to 6,000 per time slot, although the capacity at Breese Stevens is higher.
"I just feel that's the amount of people we can bring in and still provide a really comfortable experience," she said. "That's actually a benefit of this year's Taste versus previous Tastes."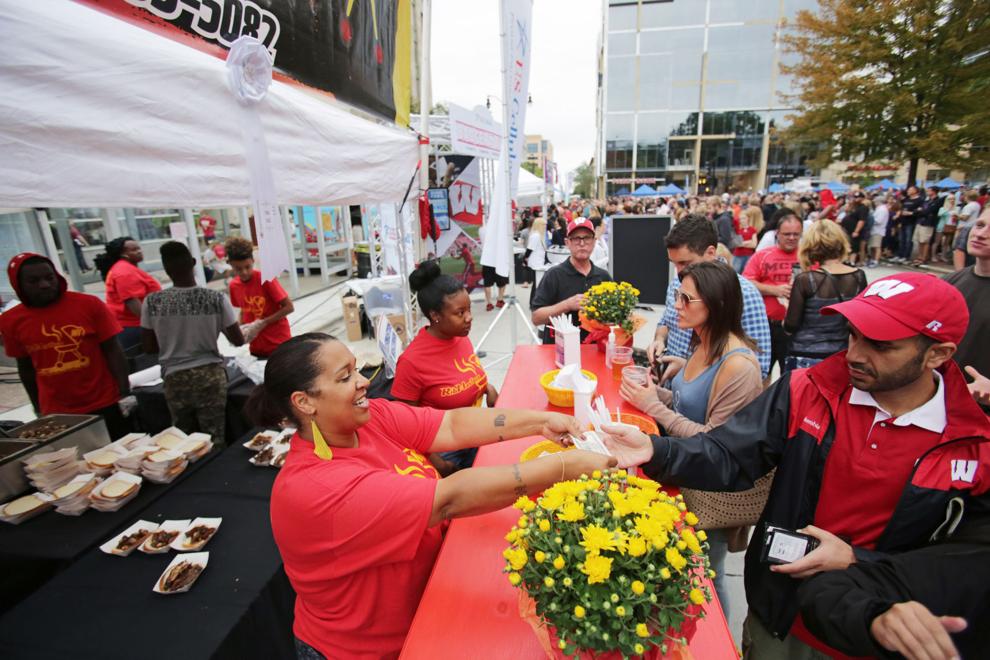 She said about 3,000 tickets have been sold so far. "It's hard for people right now because I've only announced two bands," Klemme said. "But they're coming."
Attendees can buy tickets for three time slots and the bands are being selected accordingly, Klemme said. For instance, the music stage for the "family-friendly" 10 a.m. to 1 p.m. segment is sponsored by the radio station Magic 98.
Downtown lamentations
The events provide "desperately needed revenue to the small mom-and-pop businesses Downtown," he said.
Still, Verveer is happy for the success of Breese Stevens. "It certainly is enjoying quite a renaissance," he said.
But, Verveer said, the Downtown businesses need these events more than ever after going through a year of pandemic and civil unrest.
Verveer said he didn't think there was anything that the city could have done to keep this year's events Downtown.
Vickie O'Connor, 58, of Madison, a financial specialist for a home health care company, said she's gone to almost every Concerts on the Square concert for more than 20 years. "I'd go early, set up chairs and walk along the Capitol. It's just beautiful being Downtown and having the Capitol right there."
O'Connor said she enjoyed having the vendors selling food and being close to restaurants. "It's just been taken away from us, the uniqueness of being Downtown."