George Choles gets up at about 5:30 a.m. and makes it into his family's flower shop on South Park Street before it opens at 8 a.m. and starts working with flowers.
The patriarch of George's Flowers does this five days a week, at age 94.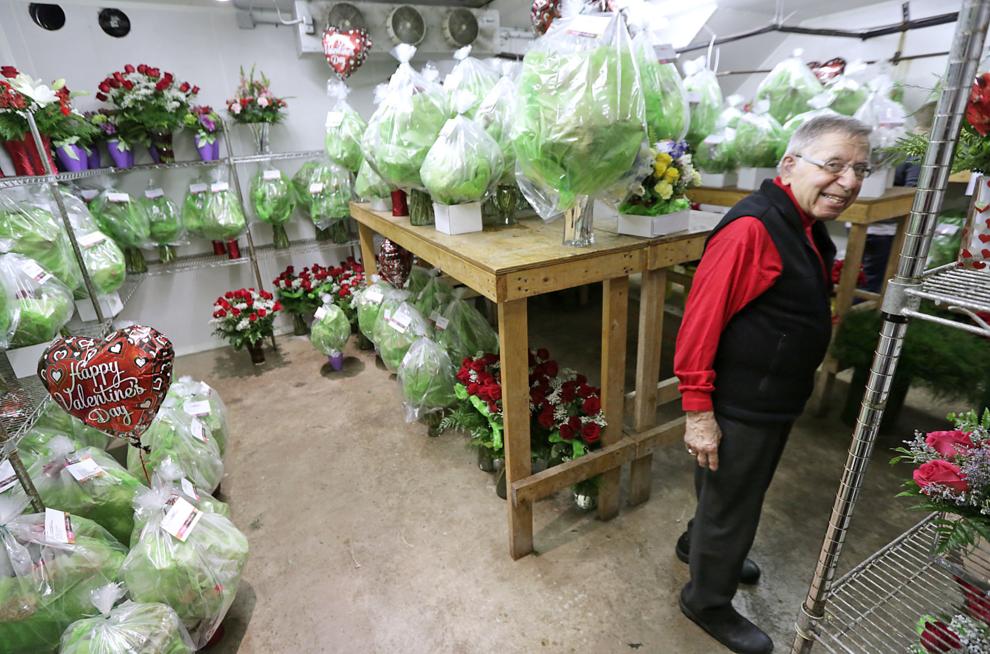 "He goes a million miles per hour," said his daughter, Denise Schultz, adding that people are always surprised to learn her dad's age.
Passing motorists see a photograph of George Choles outside the business at 421 S. Park St., which he started in 1984 on the site of a former gas station. The banner reads "Celebrating 94 Years Young!" and "Proud WWII Veteran."
Two of the four Choles children, Denise Schultz and Conn Choles, own the shop now. But George continues to be a strong presence.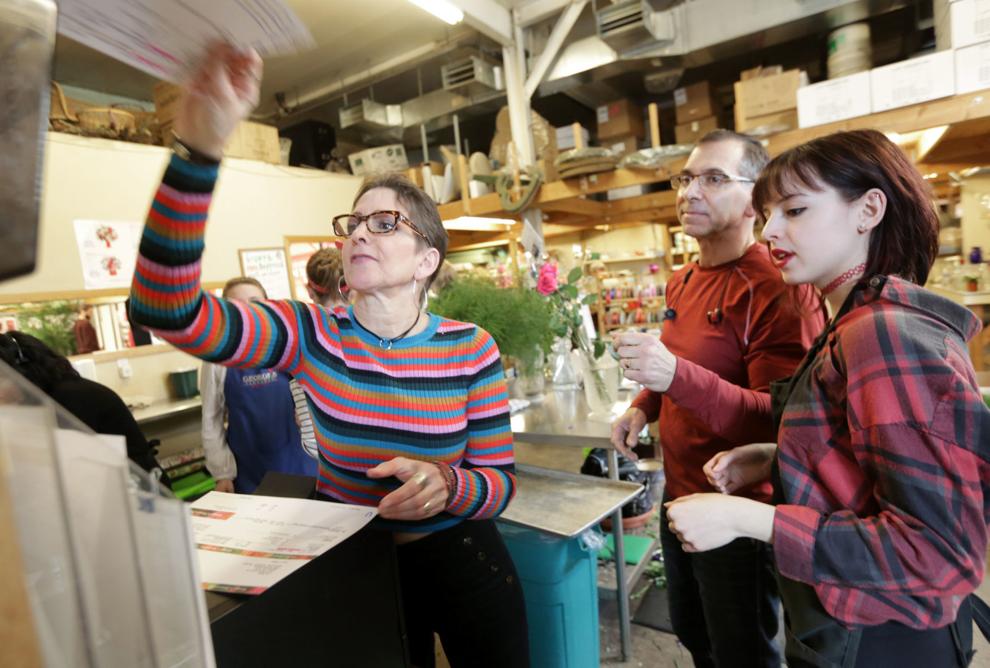 "Basically, he's always happy. He loves the store. He loves the energy," said his wife of 63 years, Virginia "Nia" Choles, 84, who does the shop's books. "He's not one to sit around."
The staff could probably get along without him, George said, but he sweeps the floors, cleans flowers and greets people, as well as doing "things that nobody sees."
George doesn't design flower arrangements anymore. Even so, "he's a fanatic about flowers and makes sure they get treated properly," Schultz said.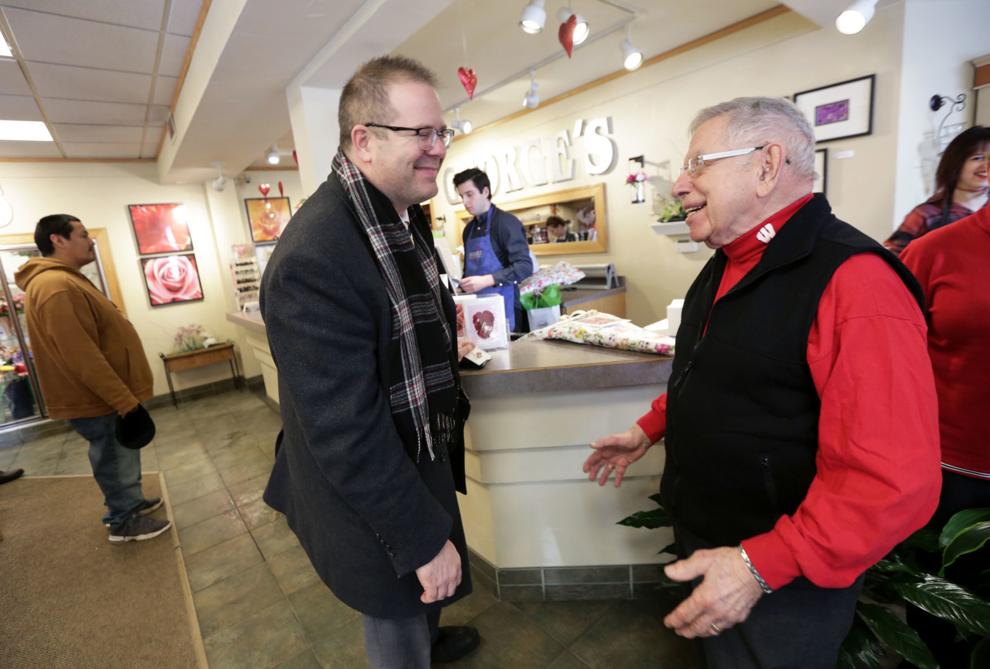 Last month, on Valentine's Day, George talked about his life in flowers, his service during World War II and his love of Badgers sports (the couple have been football and basketball season ticketholders for more than 50 years). He was 18 when he was drafted into the Army and served in the European and Pacific theaters, winding up as a staff sergeant.
"I was just a kid," he said.
Staying in shape
George also discussed his exercise regimen, dropping to the floor and counting out 50 crunches with his legs up.
"Four days a week, I put a blanket down on the floor and I work out," he said before demonstrating. He usually "bicycles" his legs at the end about 50 times, does 15 to 20 bridges where he arches his back, then stretches. He also goes up and down the stairs leading from the shop's back production room to his second-floor office "at least" 20 times a day, his daughter said.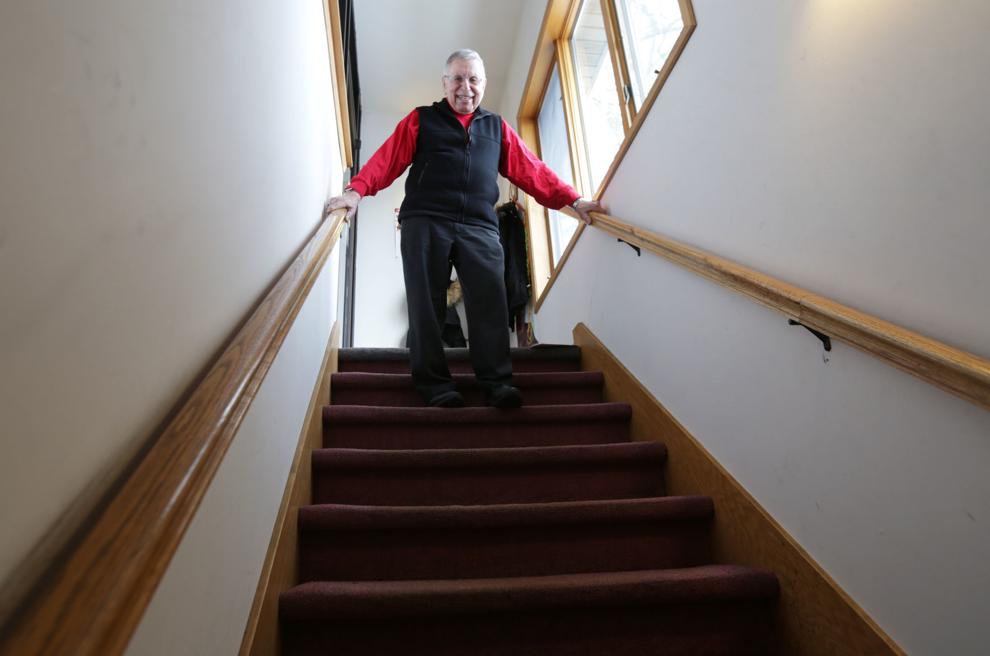 Nia said George also benefits from good genetics. His father, Fost Choles, lived to be 101 and bought a coat for the next winter at age 99. Fost started Choles Floral — still a name in Madison flowers, operating on Regent Street. Fost's three sons — George was the youngest — joined the family business. George eventually sold his share and opened George's Flowers. The two businesses have no association now, Schultz said.
"He's an amazing man filled with faith and love and family," said Dori Hosek, 59, who was at the shop on Valentine's Day helping out during what is one of its two busiest weeks of the year. (Mother's Day is the other.) As a member of the same Assumption Greek Orthodox Church, she has known him all her life.
"The flower shop is a testament to how he lives his life," Hosek said.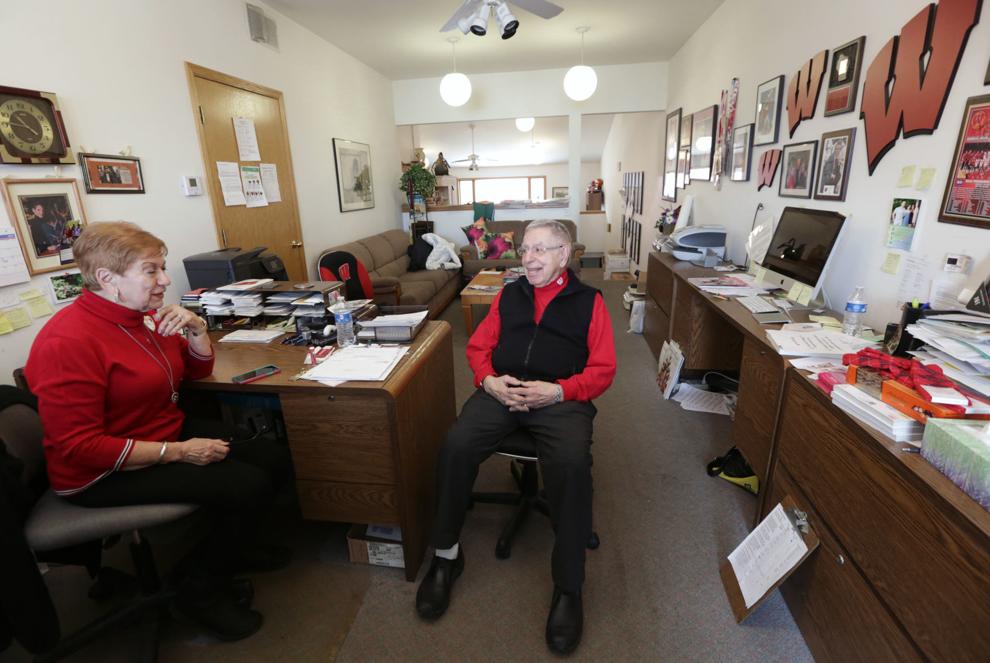 Tip-top service
George Choles never gets tired of people telling him that George's is the best flower shop in town. "But you know what it is? I think we treat the customers like they want to be treated."
George's Flowers ranks in the top 2 percent in sales volume of more than 33,000 Teleflora florists worldwide, Schultz said. The store sells "tens of thousands" of bouquets each year.
George said that he's met a lot of nice people in the flower business. Mostly, people are happy to receive flowers, Nia said.
"It's a service that you're giving, and you're trying to please the recipients, whether it's for a birthday, wedding or anything," George said. "We try to put out the freshest that we can get."