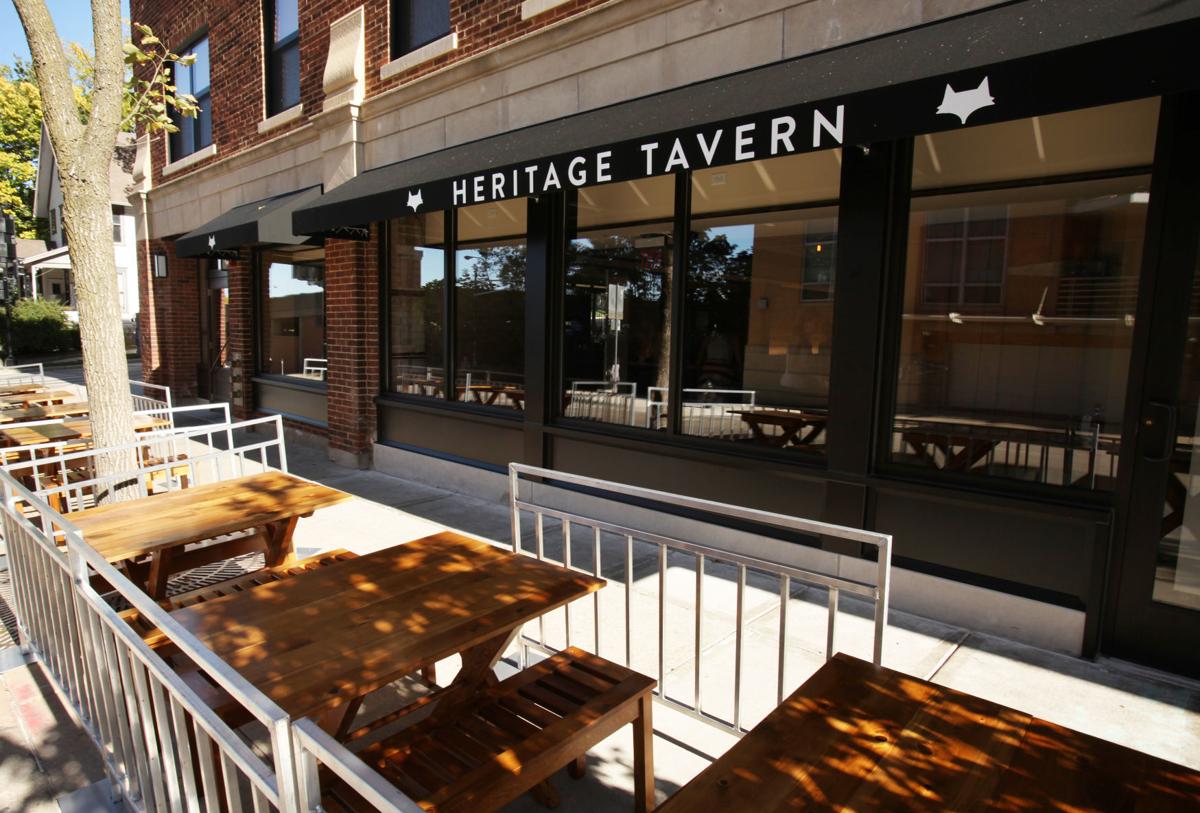 Easter is one more meal many families are outsourcing, letting someone else deal with the ham or lamb, and all the side dishes necessary to pull off a big, festive meal.
Traditional brunch buffets on Easter include the Edgewater, Liliana's, Granite City Food & Brewery, 1847 at the Stamm House in Middleton, the Nitty Gritty in Sun Prairie, and the Dorf Haus in Sauk City. Capitol ChopHouse, meanwhile, offers a partial buffet. Then there are always Indian and Asian buffets to consider, too, for those set on eating buffet-style. Some places that usually serve brunch on Sundays are closed, so if you are making plans to eat brunch out at your favorite spot, call ahead first.
What follows is a list of local brunch options to greet the holiday in a way that feels right to you. The list isn't meant to be comprehensive, it's just designed to give you a few ideas.
Edgewater, 1001 Wisconsin Place, (608)-535-8167. The Edgewater will offer an Easter brunch buffet in its grand ballroom from 10 a.m. to 3 p.m. Reservations are recommended. Made-to-order buttermilk waffles, eggs and omelets will be available along with a ham quiche with local mushrooms, roasted tomatoes and basil. Expect ham, prime rib, shrimp cocktail, and applewood-smoked and sherry wine-glazed salmon. The cost is $52 per person, $19 for children 5 to 12 years old, and free for children under 5.
Liliana's, 2951 Triverton Pike Drive, Fitchburg, (608) 442-4444. The Easter buffet runs from 9 a.m. until 2 p.m., with reservations necessary. It's $29 per person, $15 per child (ages 2-12). Children under 2 eat free. The Creole restaurant will offer honey-roasted ham, Cajun-roasted potatoes, shrimp and grits and jambalaya among other dishes.
Granite City Food & Brewery, West Towne Mall, 72 W Towne Mall, (608) 829-0700. The brunch buffet runs from 8:30 a.m. until 5 p.m., and reservations are a good idea. The buffet will include the Granite City's cheesy potatoes and omelets made to order. Expect bacon, sausage, assorted salads and carved prime rib. The cost is $23.95 for adults and $7.95 for children 6 to 12. Children under 5 are free.
1847 at the Stamm House, 6625 Century Ave, Middleton, (608) 203-9430. The restaurant is offering a buffet which is different from its normal a la carte brunch. The brunch will be from 9 a.m. until 2 p.m. and will feature a prime rib and ham carving station and omelets made to order. Reservations are recommended. It's $25 for adults and $8.95 for kids 12 and under. 
Nitty Gritty Sun Prairie, 315 E Linnerud Dr, Sun Prairie, (608) 837-4999. Open from 9 a.m. to 3 p.m. Easter is one of the restaurant's busiest days of the year. It offers a $17.99 buffet. Children ages four to 10 are $8.99, with those under 3 free. Expect a carving station for prime rib, as well as ham, eggs, French toast, waffles, bacon, sausage, breakfast potatoes, biscuits and gravy, mini hamburgers, yogurt parfaits and a Bloody Mary bar. Last year, the restaurant served nearly 500 people. The Downtown and Middleton locations will be open from 10 a.m. to 3 p.m. serving their full brunch menu (www.thegritty.com). All three locations take reservations.
Dorf Haus, 8931 Hwy Y, Sauk City. (608) 643-3980. The Bavarian-style supper club has a brunch buffet that includes honey-glazed ham, baked chicken, roast beef and mashed potatoes. The Dorf Haus will also be serving breakfast items until noon. Adults are $17.95, children 5 to 12 are $6.95, and those 4 and under are $3. Reservations are recommended.
Capitol ChopHouse, inside Hilton Madison Monona Terrace, 9 East Wilson St., (608) 255-0165. The partial buffet runs from 10 a.m. to 2 p.m. and is $36 for adults and $18 for children ages 5 to 12. The savory station will include deviled eggs, assorted local cheeses, housemade charcuterie, fruit, salads and crab claws. The meal includes the choice of one entrée, including braised pork chilaquiles and smoked salmon Benedict.
Avenue Club and The Bubble Up Bar, 1128 E Washington Ave., (608) 257-6877. The restaurant is normally open for brunch on Sundays, but is doing a special All-You-Can-Eat Pancake Bar for $11.95 per person. Customers can stack pancakes with various toppings as high as they wish. Reservations are accepted and the restaurant will also serve a limited brunch menu in addition to the pancake bar.
You have free articles remaining.
Quivey's Grove, 6261 Nesbitt Road, (608) 273-4900. The restaurant is normally closed on Sundays, but is offering Easter brunch in both its historic stone house and its more casual Stable Grill from 10 a.m. until 2 p.m. Reservations are advised. In the house, expect lamb sirloin frittatas, smoked pork chops, eggs Benedict, crepes, beef and mushroom popovers, farmer's omelets, salmon and chicken and biscuits. The stable will be more geared toward breakfast with some crossover: eggs Benedict, quiche, salmon, French toast, crepes, steak and eggs, and a farmer's omelet.
Oliver's Public House, 2540 University Ave, Madison, (608) 819-8555. Brunch runs from 9 a.m. to 3 p.m. Items include Belgian beer waffles, a smoked trout omelet, and Anna's omelet with roasted red pepper, smoked mushrooms, Anabasque cheese, chive hollandaise.
Heritage Tavern, 131 E. Mifflin St., (608) 283-9500. The restaurant serves brunch from 9:30 a.m. until 2 p.m. Start with a bacon Bloody Mary made with house bacon vodka, then move on to hazelnut French toast or a lobster scramble. Also look for Easter food and drink specials. The regular menu includes a smoked whitefish crab and bacon cake and maple lamb sausage and savory toast. View the entire menu on heritagetavern.com
4 & 20 Bakery and Cafe, 305 N. 4th St., (608) 819-8893. The cafe is only open weekends for the time being after the death of its baker and co-owner. But it will be open on Easter from 8:30 a.m. to 2:30 p.m., offering its usual biscuits and gravy, quiche and biscuit sandwiches, including the popular spinach, red pepper and havarti one.
Mickey's Tavern, 1524 Williamson St., (608) 251-9964. The bar will be open from 9 a.m. to 2 p.m. as usual. Specialties include eggs Benedict, biscuits and gravy, tofu scramble, breakfast burrito and "such good" waffles.
Sunroom Cafe, 638 State St., (608) 255-1555. The popular second-floor State Street restaurant will serve its usual brunch offerings from 9 a.m. to 3 p.m. Look for French toast with strawberries and omelets with asparagus.
La Kitchenette, 805 Williamson St., (608) 283-4266. The intimate French restaurant will be open from 9 a.m. to 2 p.m. with omelets that include one with spinach, shallots, crispy bacon and goat cheese, and another with fresh dill and smoked salmon on top. You can also get a crepe with spinach, goat cheese, honey, bacon and roasted tomatoes.
Eldorado, 744 Williamson St, (608) 280-9378. The Southwest-style restaurant will be open its regular hours with its regular brunch menu, including yippie hash with pan-fried potatoes, broccoli, onions, peppers, spinach, mushrooms, carrots, bok choy, and feta cheese; and the Texas Two Step, a giant homemade buttermilk biscuit, half topped with a fried egg, cheddar cheese, and smoked bacon; the other half topped with buttermilk gravy and served with a sausage patty. Reservations are recommended.
Short Stack Eatery, 301 W Johnson St., (608) 709-5569. The restaurant will be open regular hours with its regular menu and possibly some specials. Look for sweet potato oatmeal pancakes with strawberries and maple bourbon mascarpone; as well as pulled pork and cheesy grits with three-cheese grits, slow-roasted pork, scallions, pickled jalapenos and rosemary toast.
Cafe Hollander, Hilldale Shopping Center, 701 Hilldale Way, (608) 237-3168. The Belgian-style restaurant will be open regular hours with its regular menu. Expect five varieties of Liège waffles and skillets that include the Hot Mess: thick-cut bacon, sausage, Black Forest ham, fried eggs, Hollander potatoes, Belgian bier cheese sauce and cheddar cheese. There's also berry basil French toast, and cinnamon streusel French toast made with challah and orange marmalade butter.
Waypoint Public House, 320 W. Broadway, Monona, (608) 222-0224, will be open its usual hours, 10 a.m. to 2 p.m., serving its regular menu. It's got walleye and eggs, a brûléed grapefruit, a pork belly sandwich, two types of eggs Benedict, corned beef hash and eggs, huevos rancheros and French toast. Most selections come with brunch potatoes or tossed greens.
Fresco, 227 State St., (608) 663-7374, is hosting a special Easter Sunday brunch from 9:30 a.m. to 1:30 p.m., and is accepting reservations. It's $30 per person for three courses, and a children's menu is available for $10 per child. The menu includes a baby kale salad with purple ninja radishes, poached pears and hazelnuts in a lemon vinaigrette; and crispy buttermilk-fried chicken sandwich with blue cheese, buffalo sauce, pickled green tomato, a Batch Bakehouse bun and triple cooked fries.
Graze, 1 S. Pinckney St., 251-2700. The Capitol Square restaurant will be open regular brunch hours, 9:30 a.m. to 3 p.m., with its regular brunch menu. Look for the bibimbap burrito, loaded breakfast sandwich, fried chicken & waffles, and chilaquiles with slow-roasted pork, pickled jalapeños, crema, queso fresco and two sunny-side up eggs. Patio opens Easter weekend for the first time this year.