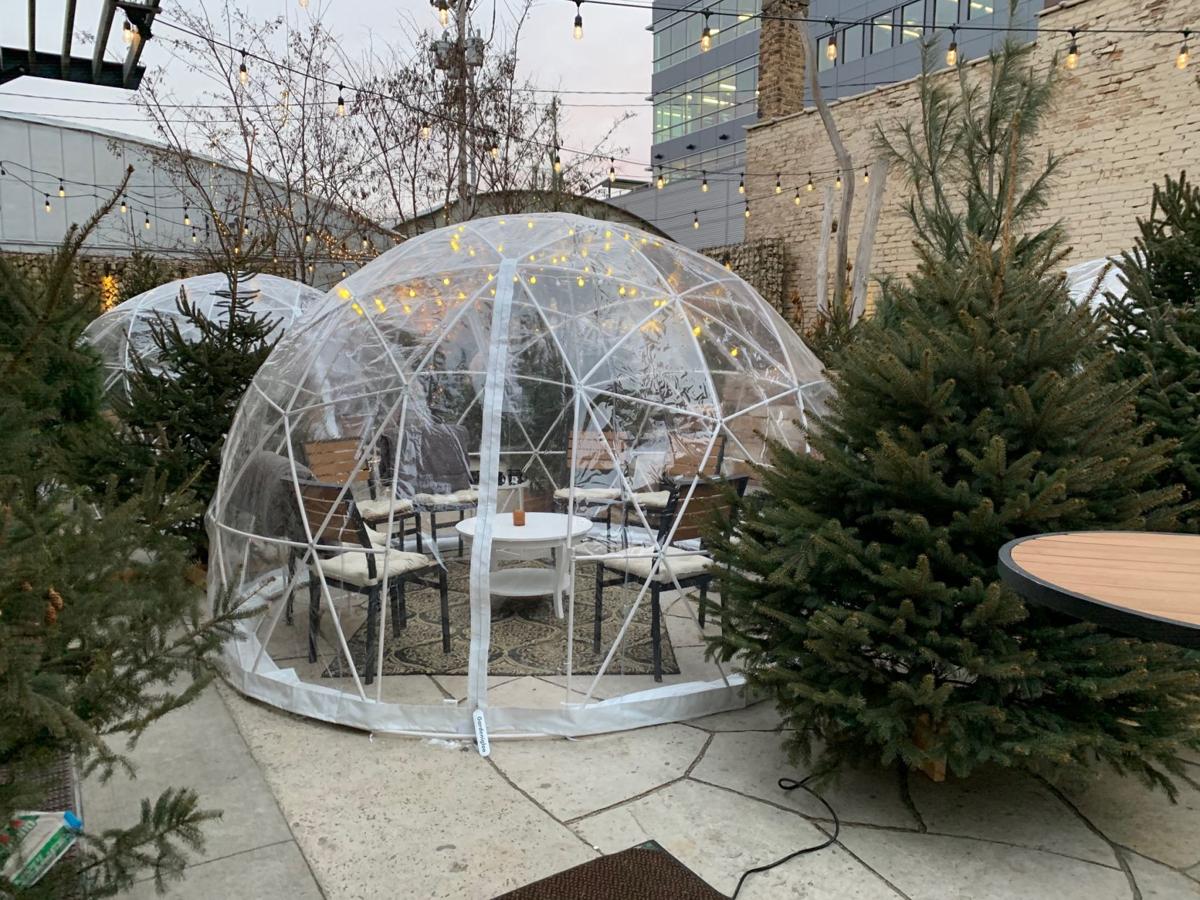 Robinia Courtyard, home to Jardin, MadisonTap and Black Locust Cafe, has installed five heated, outdoor domes to give customers a unique winter dining experience, and to help raise money for local charities.
Madison Mayor Satya Rhodes-Conway visited the domes Wednesday afternoon and made comments about local businesses supporting nonprofits.
The domes opened Sunday for a pop-up event, said Brennan Balestrieri, who's doing outreach for Robinia, 829 E. Washington Ave.
The secluded domes hold eight people and cost $200 for 90 minutes. The price includes keepsake mugs and a round of drinks.
The domes are modeled after winter igloos at The Next Whisky Bar at the Watergate Hotel in Washington, D.C., Coppa Club in London, and 230 Fifth in New York City. Café Benelux in Milwaukee calls theirs "Lux domes."
You have free articles remaining.
The domes will be open throughout the winter, with a focus on the holidays. They can be booked online at robiniacourtyard.com.
Robinia's owners, Armando Magaña and Jon Reske, like the dome idea as a new way to help customers enjoy winter in Robinia's 3,000-square-foot courtyard, Balestrieri said.
Magaña and Reske said that $20 from each reservation will go to a local nonprofit selected by dome guests.
Visitors can select an organization from a list of participating partner charities. Meanwhile, nonprofits wishing to use the domes as a gathering place can rent them for half price, Balestrieri said.
Helbachs Coffee Co., 410 D'onofrio Drive, got a dome installed two years ago, and customers can use it free of charge.
"It is an eye-grabbing part of the Helbachs Madison store," said owner Nate Helbach. "Everyone who drives by or walks in is fascinated by the dome. They can have a coffee in the middle of winter outside, but in a warm igloo-like structure."
Helbach said he plans to put up two at his family's new Middleton location next year. They'll be constructed with fiberglass and recycled wood.