The first surprising thing about Ziggy's BBQ Smokehouse & Ice Cream Parlor is that a small mom and pop joint in Oregon has four types of homemade barbecue sauces on each table.
When my friend asked our server who made the sauces in the attractively-labeled squeeze bottles, she told us Ziggy did.
"There's an actual Ziggy?" my friend asked.
"Yeah, he's outside blowing leaves right now," she said.
Toward the end of our meal, Mike Zieglemeier, 49, who owns the restaurant with his wife, Teri Zieglemeier, came in to eat lunch himself. My friend chatted with him afterward and found that he's been cooking since age 5, when he started making toast at horse fairs. But he said he'd never smoked meat before he prepared to open the restaurant, which he did in June 2016.
Ziggy's is in the back of a building with a cool stone facade that Zieglemeier had converted from brick. The building used to house Alberici's Delicatezza, and more recently held an accounting firm. Ziggy's has two entrances to what amounts to two different entities, the barbecue restaurant and an ice cream parlor, each looking its part.
Zieglemeier, who has a carpentry background, his wife, son, and a couple of friends remodeled the interior themselves.
His newness to barbecue was surprising because two of the sauces, the "tangy" and the "Carolina mustard" were great, particularly mixed together. And the ribs weren't only meaty, but the pork fell off immediately, leaving a clean bone. The ribs were one highlight of a meal that had many.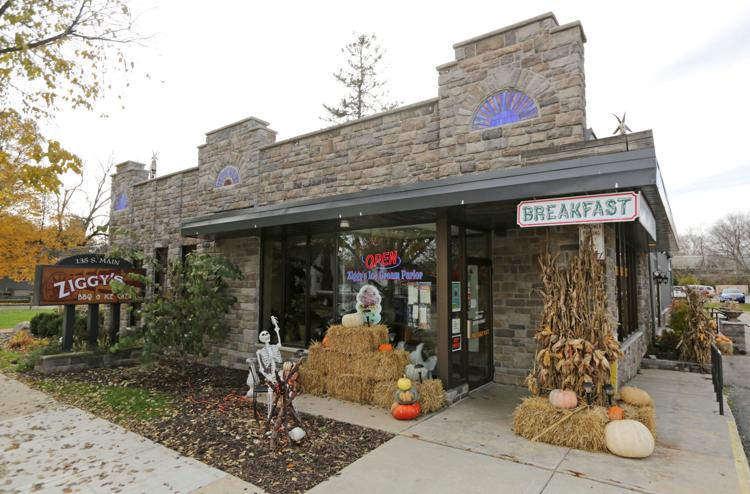 The sauce was key for both the ribs and brisket, which we ordered as part of a combo plate ($15.50). Although the seven ribs were dry-rubbed and hickory smoked, they still needed sauce. So did the brisket, which the menu said was smoked for 14 hours.
The brisket was served in two thick slices that were nearly half fat, but the meat was still tender and tasty. There's a long-running debate about whether the fat should be trimmed from the brisket before serving. I'm in the no-fat camp.
Among the sides, the smoked baked beans had the perfect flavor, as did the well-seasoned Cajun steak fries. A square of cornbread was delicious, with just the right amount of sweetness. It came with honey butter on the side.
A chalkboard highlighted an 8-piece shrimp dinner special with slaw and a side for $9, also noting a la carte shrimp for 75 cents apiece. We ordered two shrimp, and they were outstanding. The plump shrimp had an ultra-thin, crisp coating, which was the opposite of a thick breading. They were served with cocktail sauce, but it was hardly necessary.
Meanwhile, the smoked salmon Caesar salad ($8.95) had a heap of salmon chunks over a plate of romaine with chopped tomato. It was fine, but hardly special.
Instead, we turned our attention to the smoked chicken salad sandwich ($5.95), which wasn't too mayonnaisey and was made more interesting because of dried cranberries and corn kernels. My friend complained the grilled Texas toast dominated the sandwich. It came with ridged potato chips.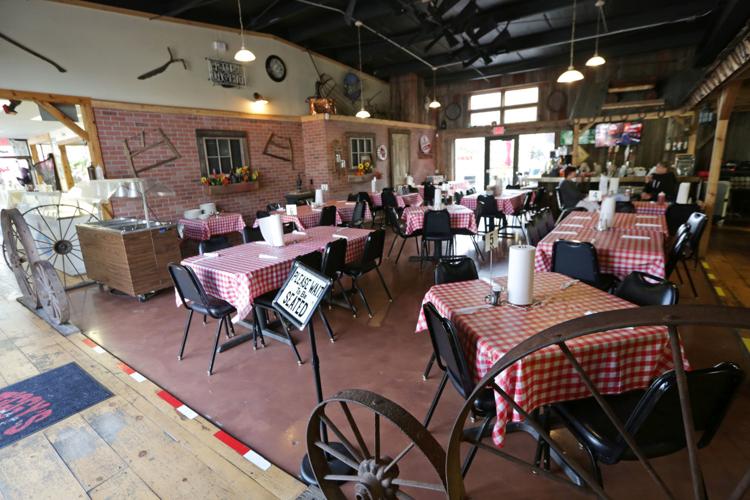 As a starter, we'd wanted to try the deep-fried cauliflower cheddar nuggets, but found they were off the menu. So we went with breaded mushrooms ($6), which were pretty standard.
My friend was pleased with his iced tea ($2), declaring it good enough to not need sweetener. Sweet tea is also an option. I had an excellent smoothie made with frozen raspberries. It came in a generous mason jar mug for $3.
We didn't get dessert, but my friend groused about Ziggy's selling Cedar Crest instead of Chocolate Shoppe in its ice cream parlor. He asked Zieglemeier about it before we left and found that he gets a good deal on the Cedar Crest brand.
Another economical move is that Ziggy's uses the menu jackets from the old, wonderful Mason's on Main that opened down the street in 2013 and only lasted a year. The jackets are flipped around so the Mason's emblem is upside down on the back side.
The second surprising thing about Ziggy's is that a barbecue restaurant in a town of about 10,000 is open daily and serves breakfast five days a week and lunch and dinner every day.
Breakfasts feature mainly omelets, French toast, egg sandwiches and biscuits and gravy. Brisket makes two appearances, in an omelet and in a build-your-own category.
In talking with Zieglemeier, we learned that he puts more than 100 hours a week into the business and his wife works nearly as many hours.
Zieglemeier, who rarely gets more than five hours of sleep, said growing up on a farm taught him to work hard.
Most weekends in the spring, summer and fall, the couple take their two food trailers to horse fairs, auctions and festivals, he told me.
That's good to know. The more chances to get Ziggy's barbecue, the better.