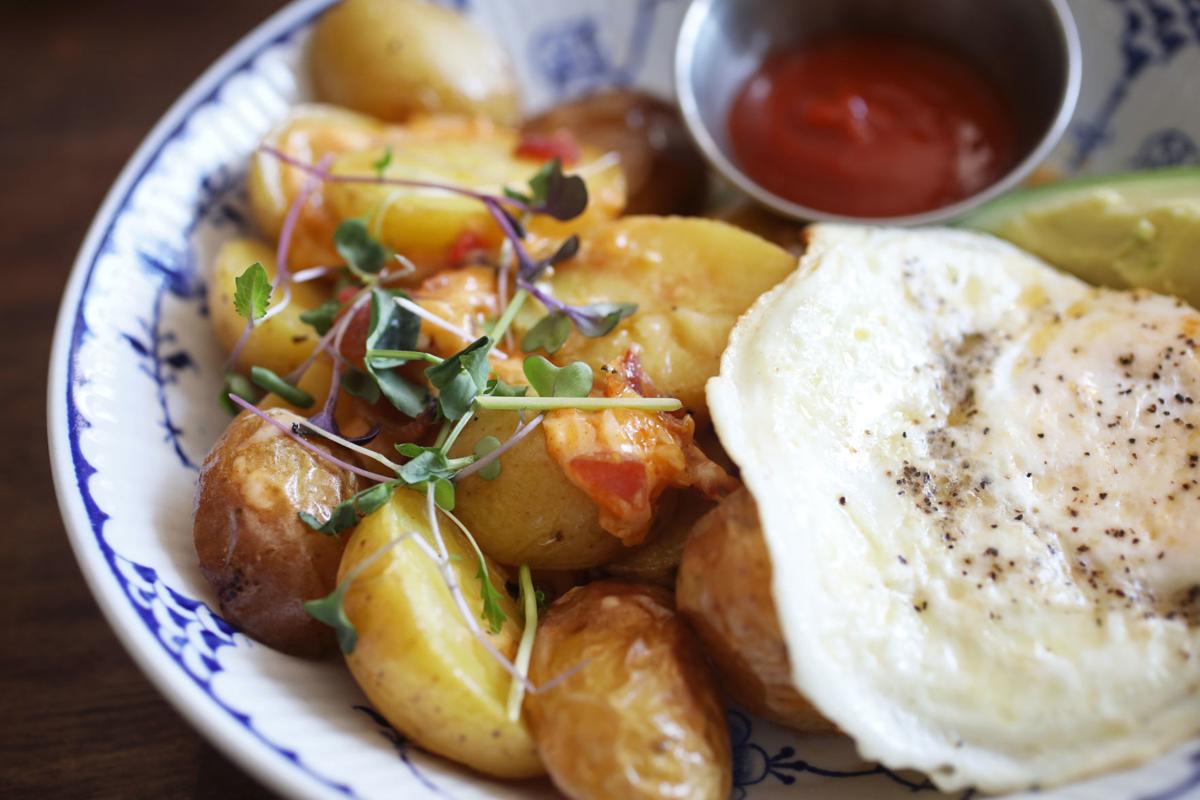 Madison doesn't have anything quite like the wildly popular Wildwood Cafe in Stoughton, making the 25-minute drive south worth the effort.
The charming cafe, just off Main Street, apparently doesn't need exterior signage. Just look for the signboard out front. If you go on a Saturday, you'll find it across from the Stoughton Community Farmers' Market, also on Forrest Street, running from 8:30 a.m. until noon through September.
Wildwood is also a morning kind of place, not staying open past 2 p.m.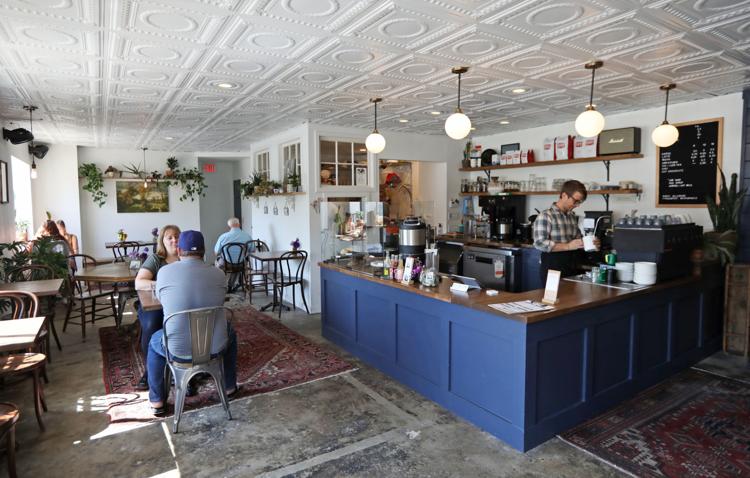 It's a homey space with fresh, colorful bouquets on each table, enticing homemade pastries, antique Persian rugs, blue-and-white china, lots of natural light, white pressed tin ceiling tiles, reusable metal straws, small plants -- and on the busy morning we visited, cheerful R&B music.
Best of all, Wildwood has welcoming hosts in owners Stephanie and Ryan Baughn, who've lived in Stoughton for 13 years and opened the cafe in May 2018.
Ryan managed a Starbucks in Seattle from 1996 to 2003 and later oversaw three Madison Ancora coffee shops. Stephanie has worked short stints at both Starbucks and Ancora. On one of their first dates 20 years ago, they discussed their dream of one day opening their own spot.
During my breakfast, Stephanie made coffee drinks up front, while Ryan ran the kitchen, which is visible from the counter. One of the couple's four sons took orders on an iPad.
When I ordered a caramel macchiato for my 14-year-old daughter, Stephanie made sure I knew that Wildwood's espresso drink is nothing like the one at Starbucks, which I appreciated. 
She suggested a vanilla latte ($5.05 for 12 ounces, plus 80 cents for the vanilla) instead, and that was a good call. My daughter was happy with it. And I was content with an iced coffee ($3.25 for 12 ounces). Hot coffee is $3, and both the coffee and iced coffee come with one free refill.
Wildwood proudly displays its coffee bags from Ruby Coffee Roasters, based in Nelsonville, near Stevens Point. Ruby is quality coffee, used in many Madison restaurants, and the well-designed bags add to the ambiance of the cafe.
A breakfast called "The Situation" became a situation, with Ryan coming out from the kitchen to let us know he'd run out of potatoes. Fingerling potatoes are the basis for The Situation ($7.75), which also has pimento cheese, avocado, bacon and a fried egg on top.
You have free articles remaining.
I changed my order, but moments later, The Situation -- potatoes and all -- showed up at our table. He'd had enough to make one last dish, after all.
It was light on the cheese and bacon, and that was fine, because it was less indulgent that way. A helpful little cup of Sriracha came on the side.
My favorite meal was the Medjool date granola with yogurt ($5.50) that my friend knew to order. My friend, who got me interested in the cafe, is in Stephanie's book club that meets at Wildwood.
The homemade granola, which Ryan said is his sister's recipe, was sweetened with Medjool dates, which have a caramel-like taste, and apricots, and sat on plain Greek yogurt drizzled with honey. The bowl also had cashews and bee pollen.
I didn't taste the bee pollen, a dietary supplement that collects on the bodies of bees and is purported to have health benefits.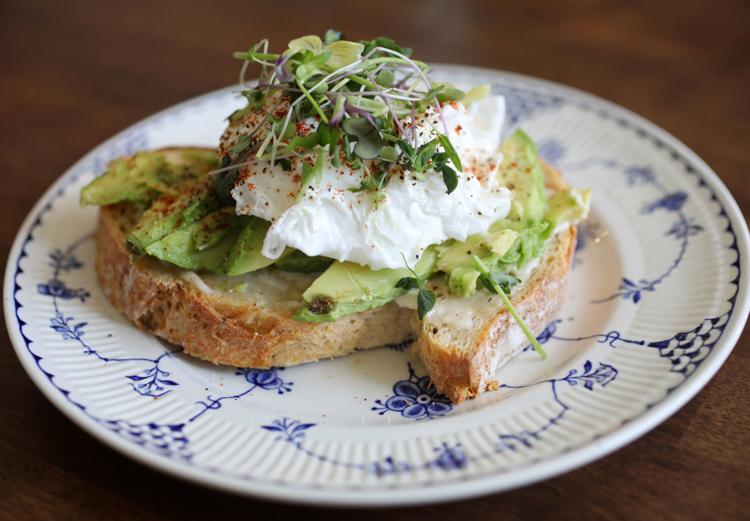 Like the granola, the avocado toast ($7.50) was beautiful and delicious, built on a slice of Scali bread from Batch Bakehouse. Scali bread is coated with sesame seeds, which really enhanced it. It had a light layer of mayonnaise, sliced avocado piled high, a poached egg, and smoked paprika, which added flavor and color.
The omelette ($7.50), with ingredients that change seasonally, was filled with slow-roasted cherry tomatoes and goat cheese. It was thin, but wonderful, and came with nicely dressed, lemony greens on the side.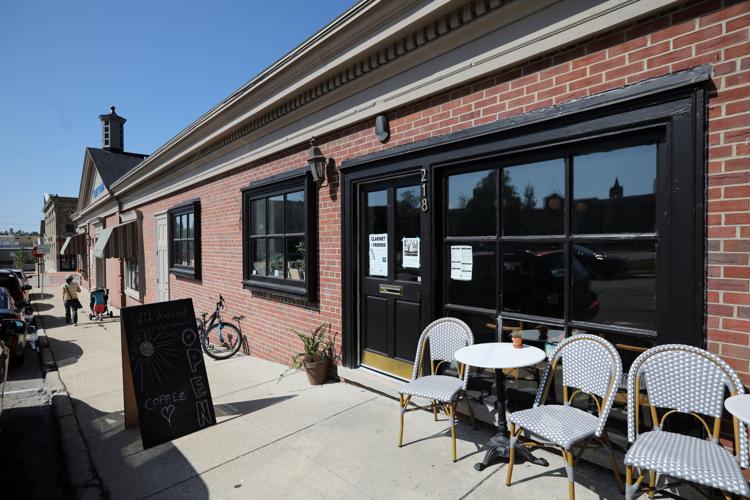 Wonderful could also describe the bakery items made from scratch every morning. The buttermilk biscuit ($3.50), served with raspberry jam on this day, had great taste and texture. A double chocolate cookie with sea salt ($2.95) was a treat for its soft, gooey center. The thin strawberry rhubarb breakfast bar ($3.50) was like a crumble in rectangular form. The cookie and bar were both surprisingly gluten free.
Wildwood is full of fun surprises and the Baughns seem to enjoy the hard, fast-paced work. They show their whimsy with breakfasts like "The Situation," named for a meal Ryan threw together for himself with everything he could find one day when he was ravenous. There's also "Power to the People," a biscuit sandwich with "sautéed power greens."
A small section of the menu outlining milk options, iced drinks and decaf is titled, "Other good things to know."
Wildwood itself would definitely fall into the column of "good things to know."