In June, Food & Wine magazine ran a story headlined "America's fastest-growing chain restaurant is a pizza place you've probably never heard of." It was referring to MOD Pizza.
Actually, many Madisonians do know MOD, a fast-casual pizza restaurant founded in Seattle in 2008. A location opened in Fitchburg in December 2016, next to Panera Bread in Hatchery Hill Towne Center. A second local MOD opened in June 2017 near East Towne.
And for those who don't know MOD — Made on Demand — it's time to get acquainted.
The first thing that won me over about MOD was the overly-enthusiastic employee who greeted us on my first visit. The Fitchburg location was still relatively new and he asked if I'd been there before. I told him I hadn't. "Well, come get introduced to your new home!" he said.
I told him I was waiting for a friend. "That's OK," he said. "We'll be here all day!"
After that warm welcome, I got a better sense of how MOD works: Customers pick a size for a pizza and/or salad and then can choose toppings to their heart's desire for no additional cost. No ingredients are considered premium.
It's a business model that seems too good to be true from a customer's point of view.
"It's like a buffet," said Fitchburg MOD general manager Sean Ray. "You're going to get people who go to a buffet and they might just get some croutons and whatnot, and you're going to save there, and then you might get people who pile it on."
The only drawback of loading up a pizza too much is that the middle can cave in and be hard to pick up. The way around that is to eat it with a fork.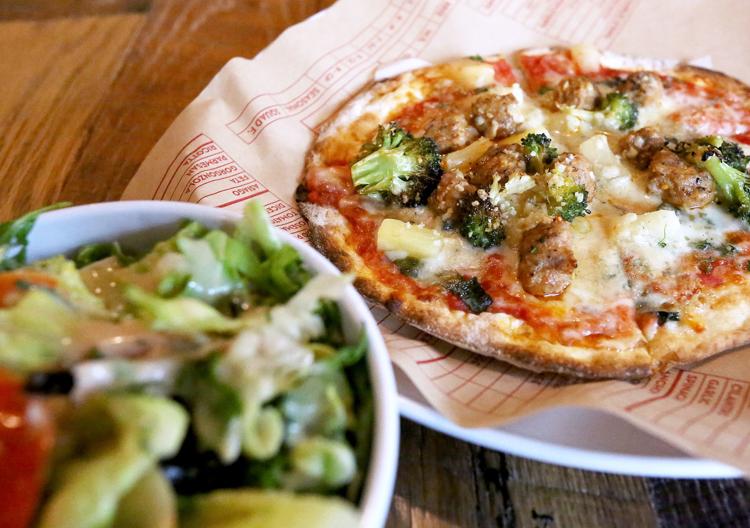 "We like to suggest (about) five toppings," Ray said. "If it does get piled on real heavy, it makes the dough a little flimsy."
MOD has three classic salads (simple, deluxe and Caesar) and nine "classic pizzas," but the pull of the build-your-own model was too great on my two recent visits.
The regular MOD is an 11" pizza or salad ($7.87), but the 6-inch mini MOD pizza and mini MOD salad ($5.87) were both big enough for a filling meal.
The pizza crust is thin and after it's cooked in a gas-fired oven at 700 degrees for two to five minutes, it comes out perfectly crisp around the edges.
The red sauce and pesto sauce are both excellent, and are even better combined. Other things that worked well on the pizzas were roasted broccoli and roasted corn. The restaurant has to go out of its way to roast these items and it really adds a lot to the taste.
I've become a big fan of jalapenos on pizza, and they are a great option here, along with the Mama Lil's sweet hot peppers, which were new to me. The fabulous Italian pickled peppers come from a Portland, Oregon, company and are pretty hot, so you might want to be careful combining them with jalapenos, as I did.
Actually, I tried them first on a salad without realizing their power, and it struck me how rare a spicy-hot salad is. I'll avoid doing that in the future.
Customers can choose more than one cheese and more than one meat. Asiago, gorgonzola and feta have all served as great accents on pizza, with mozzarella as the base. And I've enjoyed big, meaty slices of Canadian bacon, tender chicken breast and small pieces of spicy Italian sausage.
MOD offers a bunch of "finishing sauces," and, in keeping with the spicy theme, the Sri-rancha sauce, a combination of Sriracha and ranch, was delicious. Zigzagged across the top of the pizza, it also added visual appeal.
It was nice to see arugula as a salad choice. On one visit, the romaine looked past its prime, but on a follow-up trip, it was fresher. Basil and cilantro added flavor. There aren't a ton of dressing choices, but I've become a big fan of MODs honey-lime dressing.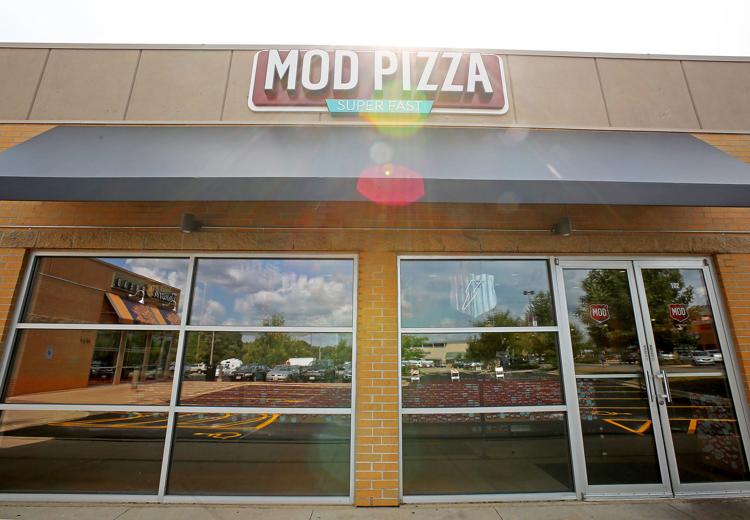 Near the cash register are tinfoil-wrapped desserts called "MOD NO name cakes" ($1.97) that were exactly like a Hostess Ding Dong. So, not something to get excited about. In fact, Ray said when the first MOD opened in 2008, it served actual Ding Dongs. Now, MOD has the rights to make a similar product, Ray said.
In late 2016, when I wrote about MOD Pizza opening in Fitchburg, it had 160 locations. A year earlier there were only 31. There are now 401, according to Ray.
In Nation's Restaurant News' recent annual ranking of the largest chain restaurants by U.S. sales, MOD Pizza was the fastest-growing chain. It debuted in the top 200 this year at number 141, after seeing 80 percent sales growth from 2016.
Meanwhile, Lotsa Stone Fired Pizza, a restaurant with the same concept that opened on State Street a few months before the Fitchburg MOD, closed July 30. Why the Maryland-based company didn't succeed is a mystery to me because of its close proximity to UW-Madison students.
MOD has plans to open a West Side location by next April with other Wisconsin locations after that, Ray said. The company is more "family-oriented," so won't be pursuing State Street, where Ray said there are already many pizza options.
Students would love MOD as much as I do, particularly because the prices are already student-friendly and the salads and pizzas are perfect, well-rounded meals.