Valentia Coffee, which took over the popular 9½-year-old CoffeeBytes coffee shop in August in a prime piece of campus real estate, has a scaled back food menu from what its predecessor offered.
So David Hale, who owns the business with his wife, Sarah Hale, knows everything his new shop serves has to be top-notch, and most of it is, starting with the Stella's breakfast sandwich ($7.75).
The sandwich's key is Madison's beloved Stella's spicy cheese bread in bun form, perfectly toasted. Inside was egg, melted white sharp cheddar cheese, tomato, red onion and spinach.
It's a pricey sandwich, particularly if you add bacon or avocado for an extra buck each, but it can keep you going from breakfast until dinner.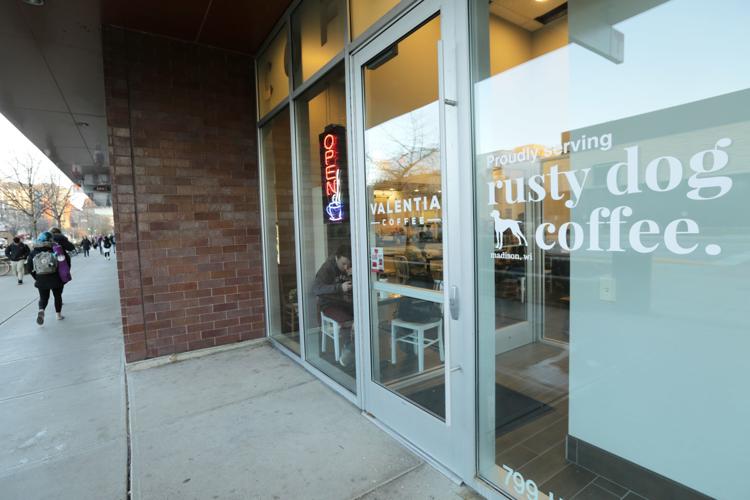 Valentia's other breakfast sandwich, a panini ($5.50), is worth asking for loaded ($6.25). But even with the extra tomato, onion and spinach, it couldn't compete with the Stella's sandwich.
The panini had the same egg and melty cheese on thin, panini-pressed wheat sourdough from Madison Sourdough. Bacon and/or avocado are options here, too, and would make this sandwich more interesting.
I've had two of the three lunch options, and both were fantastic. The avocado toast ($4.25) had the same wheat sourdough with a layer of mashed avocado lightly dressed with olive oil and salt and pepper. Tomato and red onion added appeal.
The spring salad ($8.75) was a thoughtful and well-dressed mix of candied pecans, goat cheese and honeycrisp apple in a delicious shallot vinaigrette. The trick was to get lettuce and each of the other ingredients on the fork in the same bite.
Valentia offers just one kind of smoothie ($5.95), not described on the menu, which is written on brown paper scrolls hanging behind the counter. The smoothie had blueberries, raspberries and strawberries mixed with orange juice and Greek yogurt. It was more tart than sweet, and a change of pace from smoothies served in other coffee shops.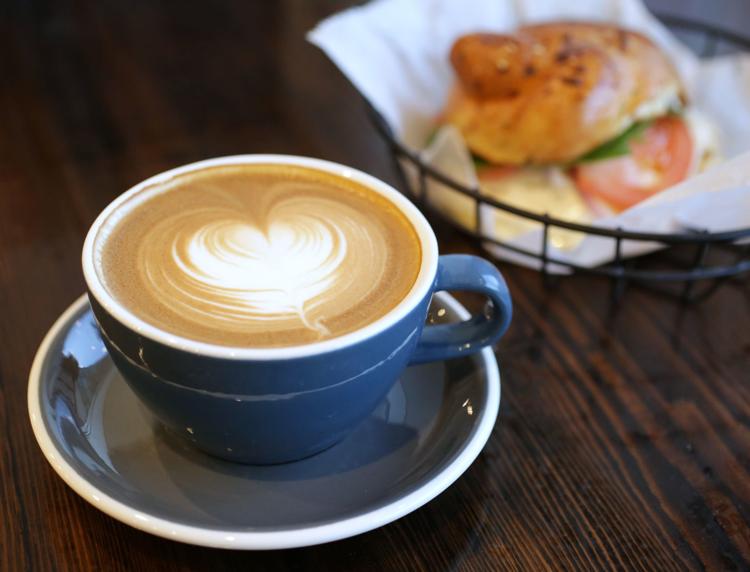 A 12-ounce dark roast coffee ($2.35) was brewed strong and rich, and the same size cold brew ($3.15) was equally rewarding.
My main complaint about Valentia (pronounced Valen-chia) is that it doesn't keep milk and cream out, like most other places. A thermal pitcher would do the trick. Customers have to bother the busy counter staff for it.
When I mentioned this to Hale, he told me that his employees will steam milk free of charge for any brewed coffee and turn it into a café au lait, which was good to know.
Then there's the unusual statement written on an antique chalkboard above the sugar station.
It says: "Our mission is to serve coffee that is beautifully sourced and prepared. If you typically use sugar, we invite you to try using just a little bit less this time. You might be surprised as you learn to taste the intrinsic goodness that comes from simple, craft-roasted coffee."
I agree that people like me, who use cream and sugar, can usually cut back in both areas. I'm better than I used to be, but I find it less enjoyable to drink coffee black. So I was slightly put off by the message, as if Valentia is the only shop using high-quality beans.
On my first visit, a barista was educating a customer on single-origin coffee. She later had the customer watch her do a pour-over. On another visit, a college student looked at the menu and remarked to her friend how cheap a macchiato ($2.95) was.
The Hales are partnering with a new local coffee roaster called Rusty Dog and promote it well in the shop. I had a blend called Vagabond, where the roast was described as "confused (mild & dark)," which was cute. It was said to have rich smoky and smooth chocolaty notes.
Valentia sells scones and other bakery from Madison Sourdough, and a spiced apple scone ($3.50) was more moist than most, even late in the day. But it's the puffy, perfectly-frosted cinnamon rolls ($4.50) that are the real treat here.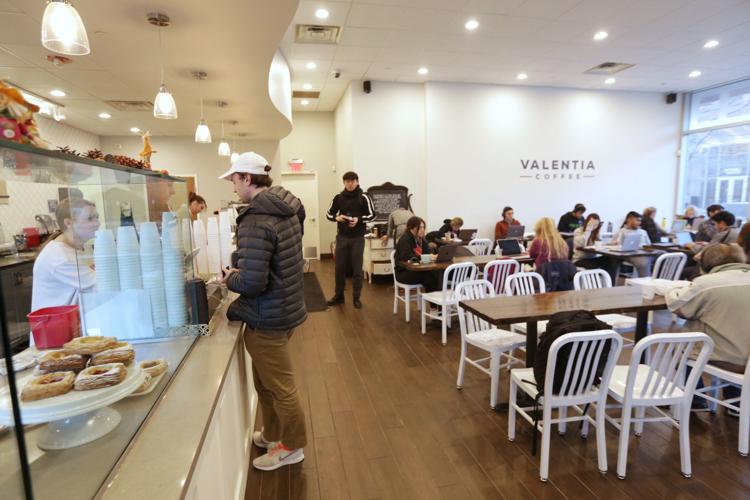 Hale said the shop goes through three, one-dozen batches of the homemade rolls each day.
One gloomy Sunday, it was bright and cheerful in the cafe, and not as hard to find a seat as it is during the week. The boxy room has a nook with a map and lounge furniture. The name Valentia is attractively etched on the windows.
The location at the corner of University Avenue and the pedestrian walkway East Campus Mall, gets a ton of foot traffic, and Valentia is a great stop before or after a visit to the Chazen Museum of Art across the street.
Valentia means "value" in Latin, and there's a lot of value in good coffee, good food and good service. Valentia offers all three.