Early last year, the Underground Food Collective did what it called a residency on Allen Street, a block from West High School, in a location that formerly housed a coffee shop.
The food and menu were so wonderful I had wished it could become a permanent restaurant. That wish more or less came true Oct. 23 with the opening of The Heights, Underground's well-conceived restaurant in the same location.
The renovation of the once casual dining area and its adjoining room with an ordering counter, retail space and kitchen, is dramatic.
Its look, with blond wood tables and floors, light-colored walls, decorative mirrors, and a long, white banquette-bench down one wall, is showcased on The Heights' website. It makes for an elegant online presence, as well as a feel-good space where you'll want to linger over your meal.
That temporary restaurant, just dubbed "Underground residency," lasted 10 weeks, and, Jonny Hunter, the collective's co-founder, said then that the pop-up restaurant let them try out ideas.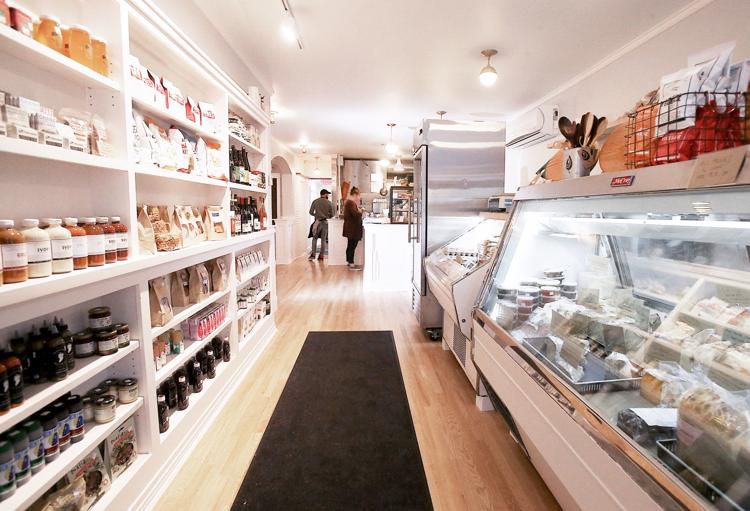 The eventual restaurant would use some of those ideas, he said, and "maybe just ramp it up a little bit more."
And that's exactly what's happened. The Heights — named for the University Heights neighborhood where it's located — is a more refined version of the residency with a lot of similar menu items and preparations.
One of the best dishes I had on a recent lunch visit was the polenta cake ($12) with mushroom ragu and herbs. The polenta had an excellent crispiness and the right amount of salt. The mushrooms were meaty, and the sauce was rich and creamy.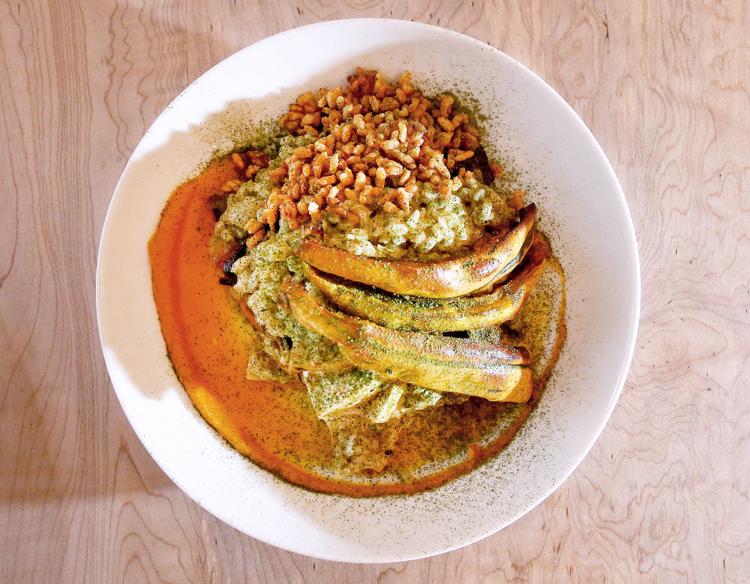 Another exceptional dish was brown rice, squash and pistou ($12). The long slices of delicata squash were perfecty crisp with charred onions adding more crunch. The basil-chive pistou, like a pesto, lent great flavor, as did mushrooms, celeriac, dill, parsley and a squash sauce.
Both the polenta and squash dishes can be ordered with a sunny-side up egg for an extra $3, and it's a good option for those looking to add protein.
The kale salad ($12) with its delicious, but subtle almond ginger dressing, should be a part of every meal at The Heights. A small detail, like adding golden raisins, really elevated the salad. It was further enhanced by lemon juice and lemon zest, and a generous amount of Parmigiano-Reggiano. The only drawback was croutons that were too hard to eat.
Our protein came in the form of whitefish ($15), interestingly presented with chopped up hard-boiled egg, small potatoes, green olives, pickles and aioli. The fish had a bit of a mushy texture. I would have preferred it more firm.
I was thrilled to see matzo ball soup ($5) on the menu and reasonably priced. But it turned out to be the one thing I could barely eat. My two tablemates enjoyed it, however. "I'm easy to please," said my one friend who'd never had a matzo ball in his life.
"For $5, it was warm and comforting," said the other in a message the next day, noting that the matzo balls didn't taste like they were from a mix. "Not a familiar chicken soup broth, but tasty."
To me, the matzo balls had an odd consistency, and the broth had a concentrated chicken flavor that I found too strong. I appreciated how there were many pieces of chicken, and well as carrot and celery, in the broth.
For dessert, we split a chocolate almond sable cookie ($3) from the bakery case. One companion thought it was overcooked, but I liked its crumbly nature. I also liked that it had been salted.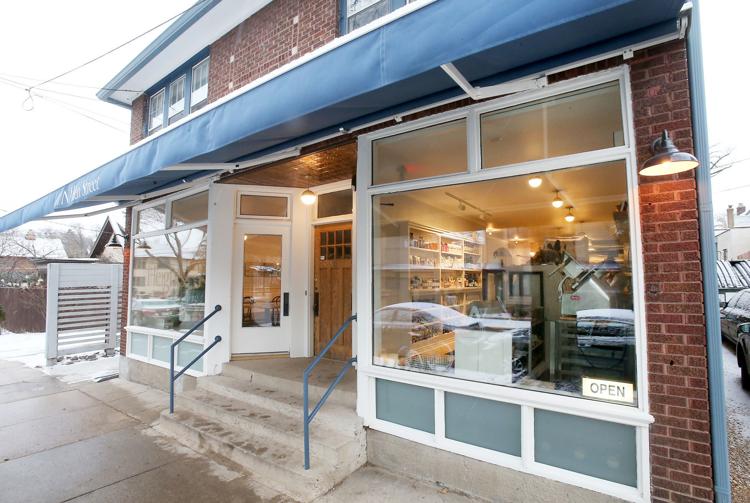 The Heights was doing a strong lunch business the Thursday I was there, with mellow tunes at low volume providing a relaxing ambiance.
Even though the restaurant's three sandwiches are $8, my friend's daughter, who goes to West, wishes there were menu items priced for students. Perhaps a separate student menu would be a good idea. There were no teenagers eating when I was there.
For The Heights, Hunter's partnered with Underground Food Collective's Mel Trudeau and the couple who own the building, Evan Gruzis and Nicole Rogers. The restaurant took two years of planning and about a year of construction.
It's no surprise The Heights is turning out great food. Hunter is a four-time James Beard Award semifinalist for "Best Chef: Midwest." The collective's Forequarter restaurant was also nominated for "Best New Restaurant" in the U.S. in 2013.
The group also runs Underground Butcher. It had the well-regarded Underground Kitchen, which was lost to fire in 2011.
The Heights' chef, Allie Christian, has worked for Underground Butcher and Underground Catering for about a year. Before that, she was a sous chef at Graze. Hunter calls her "super talented."
That much is true. Let's see if The Heights can pick up a Beard for "Best New Restaurant" in 2019.