A restaurant designed to evoke summer camp, housed inside a hotel, seemed to me like a risky bet, but the transformation of Madison Blind into Camp Trippalindee is working out remarkably well.
Madison Blind opened on the top floor of the campus-area Graduate Madison Hotel in August 2015. But the seventh-floor restaurant was drab, not sharing the whimsical, vibrant style of the hotel's lobby and its ground-level cafe, Portage Pi.
Camp Trippalindee, which replaced the Blind in mid-September, rectifies that, nicely managing to capture the spirit of summer camp, or at least a cabin Up North, with Scottish plaid banquettes, ruffled cabin curtains, and games set on tables around the room.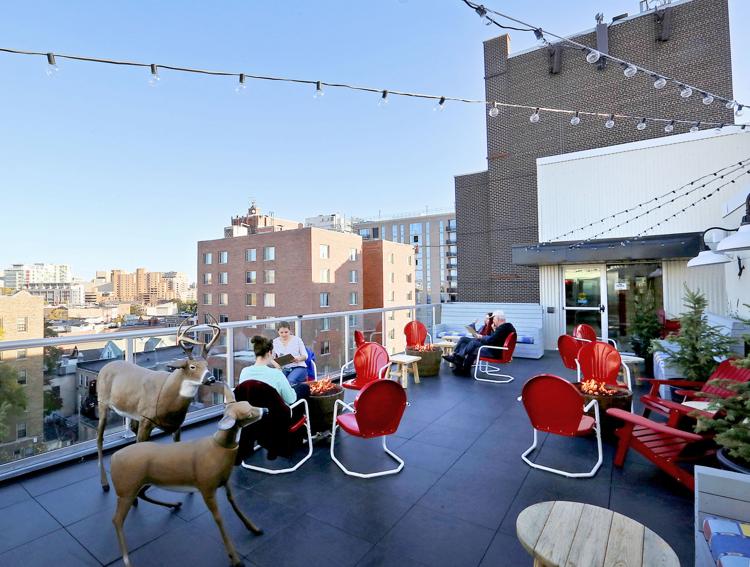 A stack of blankets are available for those who want to sit around the fire pits outside (there are three), and a set of s'more roasting sticks are at the ready. A kit to make the campfire favorite is available for $4, but the fire pits were unavailable the night we were there.
Customers order at the bar and are given a buzzer that signals when the food is ready.
The drink menu incorporates the camp theme, but in a way that was only partially successful for us. I got a kick out of the adult Capri Sun, called Bug Juice ($8), which was an electric blue and served in a clear plastic pouch. Mimicking a child's drink, it had just the right amounts of orange vodka, blue Curaçao liqueur, pineapple juice, lemon and simple syrup.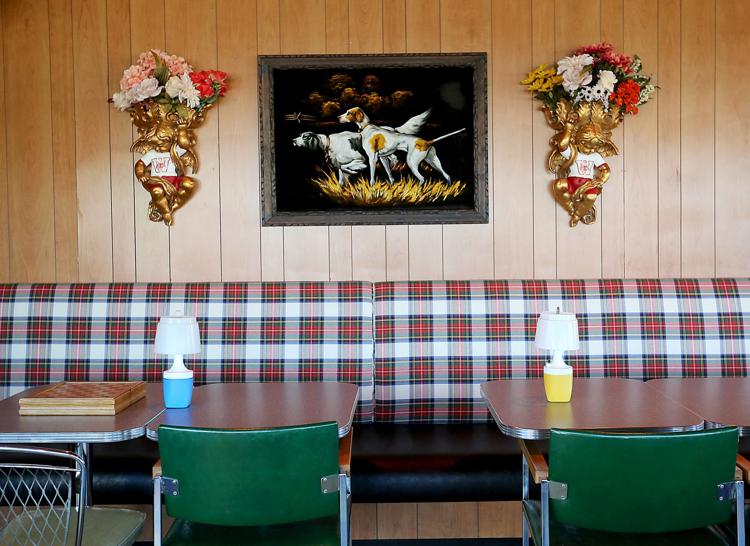 My friend found her Oingo Boingo ($8) with lemon vodka, apricot vodka and strawberry Wisco Pop too sweet. I tried it and didn't think the flavors played well together.
We had better luck with the food, particularly the sandwiches, which were both wonderful. The cheeseburger ($7) featured perfectly seared beef from Fox Heritage Farms in Fitchburg, and the quality was obvious. On top were finely shredded lettuce, and a Thousand Island-like "special sauce" that reminded my companion of the dressing on a Big Mac. The cheese was American, made by Organic Valley, in an attempt to emulate a premium fast-food burger. A brioche bun sealed the deal.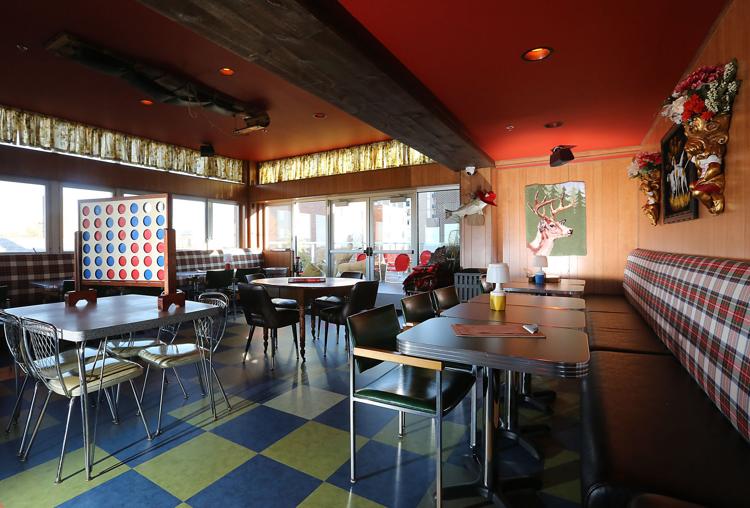 Equally impressive was the crispy spicy chicken sandwich ($9) featuring pieces of thigh instead of the expected chicken breast. The chicken wasn't noticeably breaded or fried and just sort of melted into its delicious grilled bun. It had shredded lettuce, thick bacon, a kimchi slaw that didn't overpower it, and jalapeno ranch sauce.
Sandwiches come a la carte, so we got two sides, both $5. The thick sweet potato wedges used purple and regular sweet potatoes and were served with a smoked chili mayo on the side that was a great complement.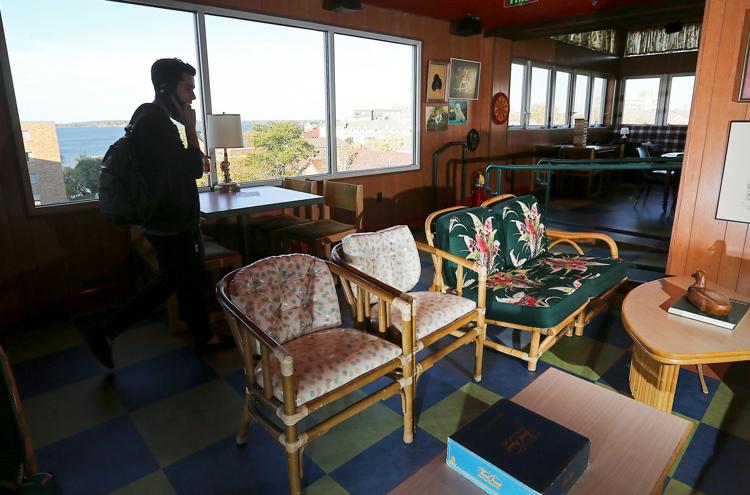 The season's grilled vegetables were spears of delicata squash, a winter squash with a thin, edible skin. The squash had attractive grill marks and was lightly seasoned with lemon and sea salt. They quickly grew monotonous and were the one thing neither of us were entirely enthusiastic about.
Two appetizers were both winners. First, Takin' A Hike Taco ($7) was an upscale version of the Fritos-bag walking taco, this one made up of blue corn chips with a meaty chili, excellent beer-cheese sauce, sour cream and scallions. It came in a small, cute paper bag.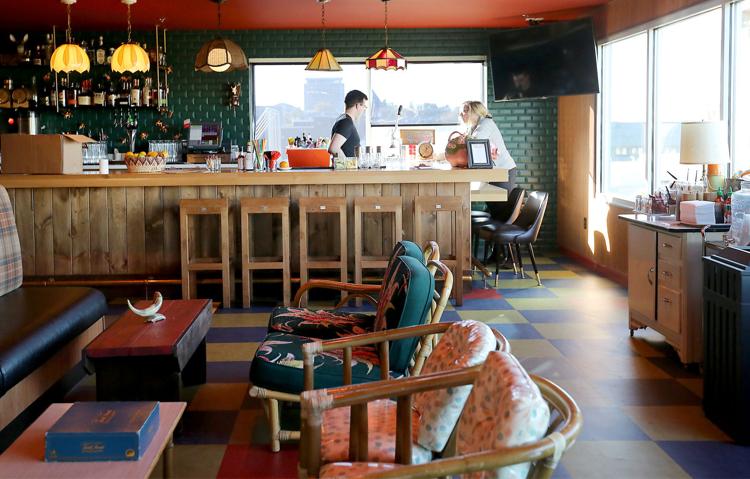 The other was the avocado grain bowl ($13), the restaurant's main healthy or vegetarian option. It was far superior to any similar bowl I've had in the past, although I couldn't detect the grilled mushrooms promised on the menu. Most of the elements — avocado, broccoli, arugula, cucumber — worked together beautifully, particularly with the main ingredient, freekeh, a hearty ancient grain that's gaining traction.
Since the s'mores weren't happening, we finished our meal with cups of vanilla ice cream ($3) the helpful bartender got for us from a soft-serve machine behind the bar.
Too bad we didn't have any children along, because they would have delighted in the fixings station where we were able to top our ice cream with any or all of six toppings: chocolate sprinkles, rainbow sprinkles, chocolate curls, toasted coconut, chopped peanuts, and cocoa nibs with smoked sea salt. That alone is worth a return visit — kids or no kids.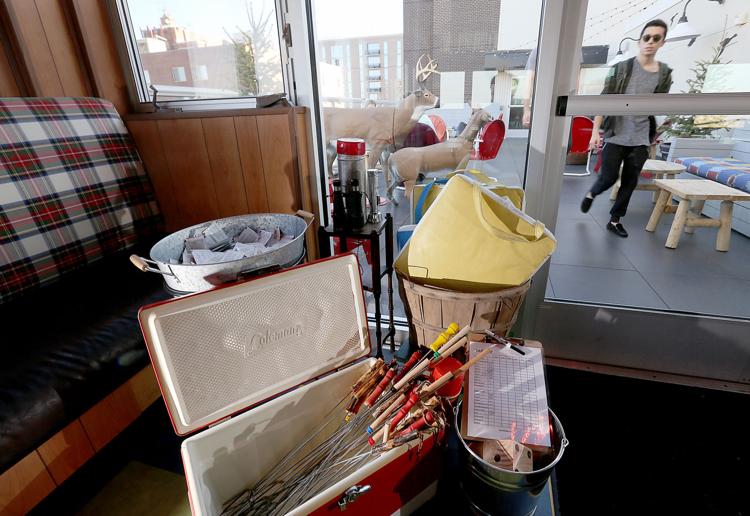 The Wednesday we were there for dinner, the music — hits of the '70s and '80s — was loud and the lighting was dim.
We tried in vain to turn on one of the dozen plastic battery-operated lamps scattered among the tables. Our aim was to illuminate the menus, but we wound up resorting to our phone flashlights.
The restaurant's new executive chef, Shanna Pacifico, said the lamps worked for one day. "They're just an ornament at this point."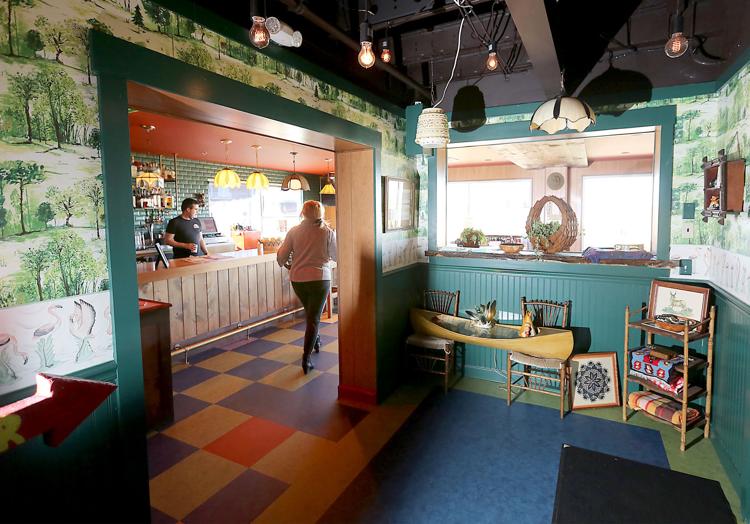 I found the name, Camp Trippalindee, hard to remember until I learned it's a reference to the 1986 movie "Back to School," filmed, in part, on the UW-Madison campus.
In the movie, Dangerfield plays a businessman who goes back to school at his son's college. It ends with Dangerfield performing the "Triple Lindy" dive to win a swim meet.
The impossible high dive involves a number of flips and bouncing off lower spring boards on the way down. Trippalindee, "Triple Lindy." See what they did there?
The outdoor rooftop area wasn't inviting on a chilly, rainy October evening, but I looked out to appreciate the cool new red garden chairs and colorful padded benches.
The whole Camp Trippalindee concept really works in the capable hands of Pacifico. It feels a lot like summer camp, just without the homesickness.