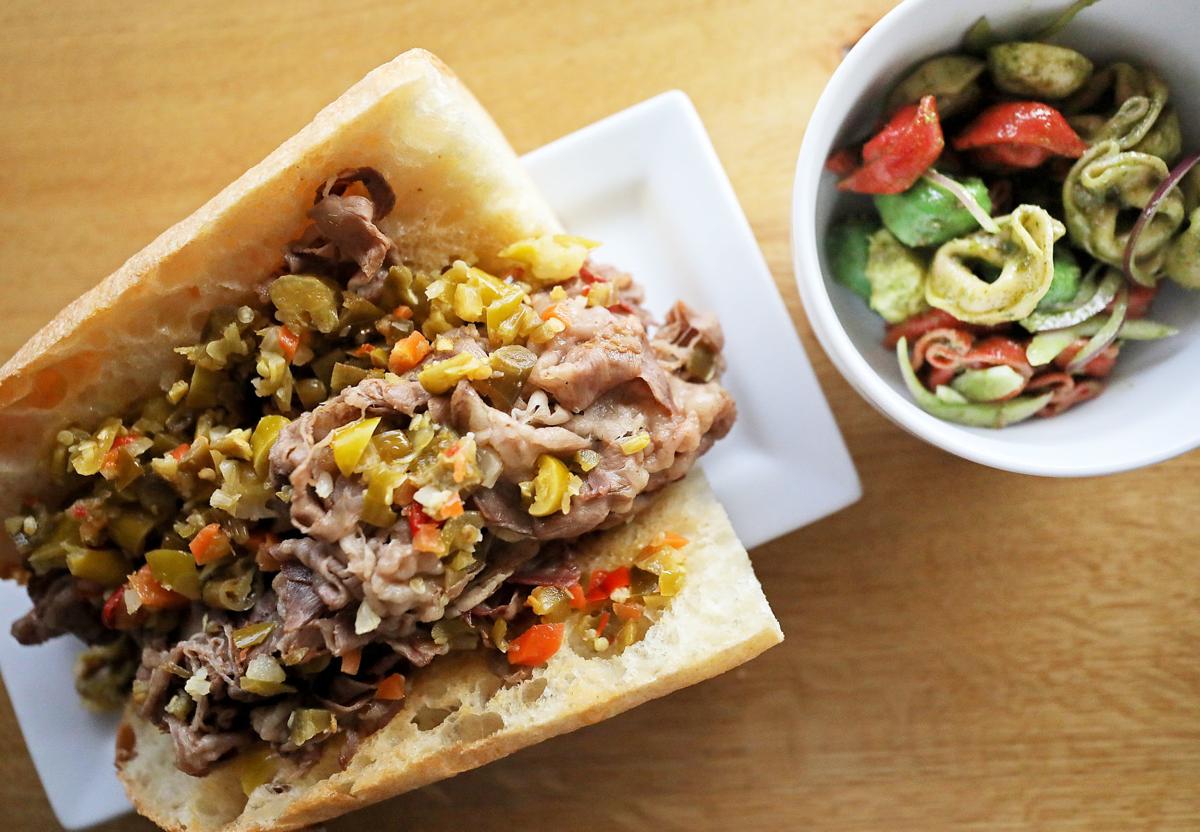 There are plenty of reasons to visit Alimentari, the European deli on the Near East Side from the owners of the nearby restaurant, A Pig in a Fur Coat.
Chief among them are the massive sandwiches made behind the deli counter on thick, crusty Italian loaves baked especially for Alimentari by Madison Sourdough and wrapped in deli paper fastened with tape that says "Alimentari," or "food" in Italian.
Leading off the menu of eight sandwiches is an Italian beef ($12) overstuffed with thinly-sliced, flavorful beef, roasted for 12 hours and soaked in its own juice. It's offered with spicy or mild giardiniera on top. I asked for a mix, and it was just right.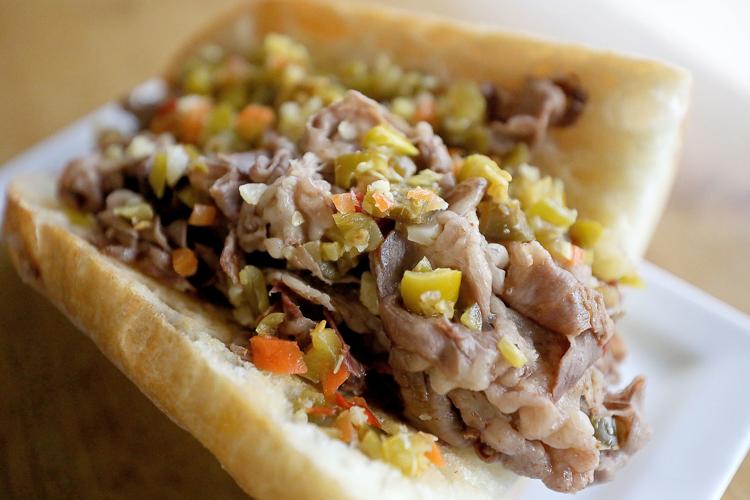 My friend went wild over his smoked turkey sandwich ($12), which also featured cured ham, cheddar, tomato, onion and greens. The same wonderful bread had a touch of aioli.
"I've never seen such big sandwiches," he said. "This takes deli food to a whole new level."
Other sandwiches feature cured Italian meats: spicy soppressata, porchetta, mortadella and prosciutto. The sandwich lineup is rounded out by a meatball bomber and a smoked trout sandwich.
Chef Dan Bonanno and Bonnie Arent, who opened A Pig in A Fur Coat in 2012, started Alimentari in September 2018 in a former laundromat next to Burrito Drive. They own it with Dan's older brother, Enrico Bonanno, 36, who can usually be found running the shop.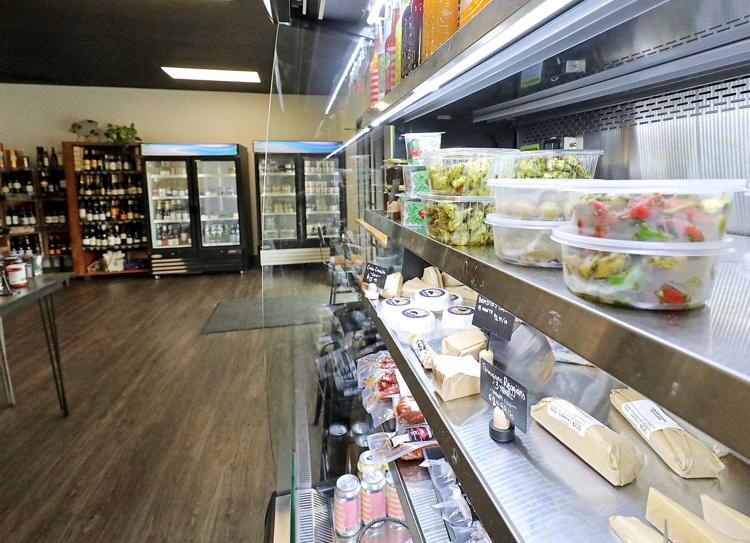 Enrico spent six years as a specialty buyer for a Whole Foods in Chicago. In middle school and high school, he worked with his father in a cousin's Italian deli in Kenosha, cutting meat and making sandwiches.
He's as friendly, knowledgeable and helpful as Dan, and pointed out what I realized right away: The sandwiches at Alimentari are so big you don't need sides. But the deli has partnered with Slide and puts its own seasoning on Slide's fabulous potato chips.
To go with our sandwiches, however, we picked a few deli items that had already been packaged, weighed and priced, and were sitting in a cooler by the doors. All were fantastic.
First, the antipasti salad ($8.99/lb) had interestingly-shaped, homemade pasta that Enrico later identified as casarecce, noodles with curled edges that look like two short pieces of thick spaghetti stuck together. It's often made with rigatoni, he said. The salad had onions, red and orange bell peppers cut thin, three cheeses, Genoa salame and pepperoni in a lemon mustard vinaigrette.
You have free articles remaining.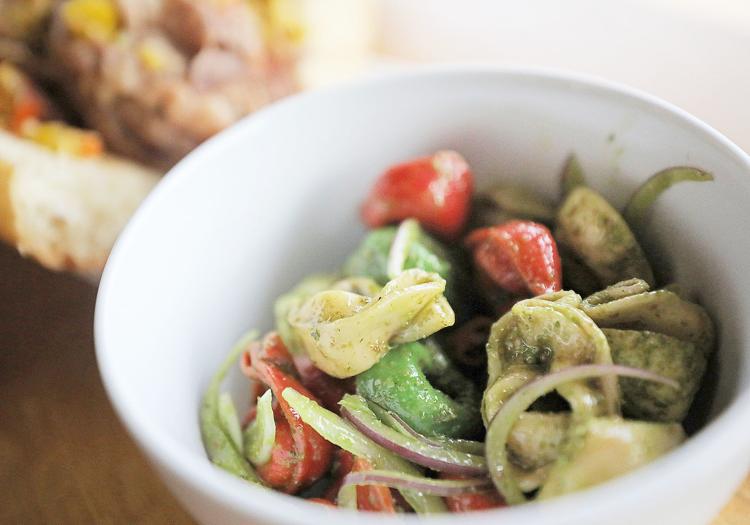 Alimentari's pesto tortellini salad ($10.99 lb) puts other versions to shame, with perfectly cooked tri-colored pasta filled with cheese and treated with olive oil and Parmesan. Garlic and basil give it extra flavor.
A carrot dip ($19.99 lb) was pricey, so it immediately made me want to recreate it at home from the ingredients listed on the label. The dip was relatively thin, even though it had cream cheese and sour cream. Honey added to the sweetness of the carrots, with sage, thyme, garlic and red onion bringing savory dimensions.
Enrico said Dan started making it for State Line Distillery and has refined it over time. He compared its evolution to a rock band where various members give input in creating a song.
Excited to see peppadews ($10.99/lb) in the deli case, I bought a few of the small South African red pickled peppers to add spicy-sweetness to the antipasti salad.
The olives I ordered, also in a small tester amount, were the only disappointment. The wrinkly, salty black olives with pits ($10.99/lb) weren't worth finishing. Next time I'd go for the garlic ones.
Enrico agreed that the dry, oil-cured Sicilian olives are strange, but said he carries them for some of his old-school Italian-American customers. They need to be eaten with bread and cheese, he said.
I wasn't crazy about the mild, green Castelvetrano olives ($10.99/lb), either, although a 2018 column in Bon Appetit was headlined "Castelvetrano Olives Are the Best Olives, Hands Down," and went on to say, "these olives appeal just as much to the olive hater as they do to the olive enthusiast."
Eating in the shop is an option, but there's not much seating -- just two counters in front of the windows with four stools each.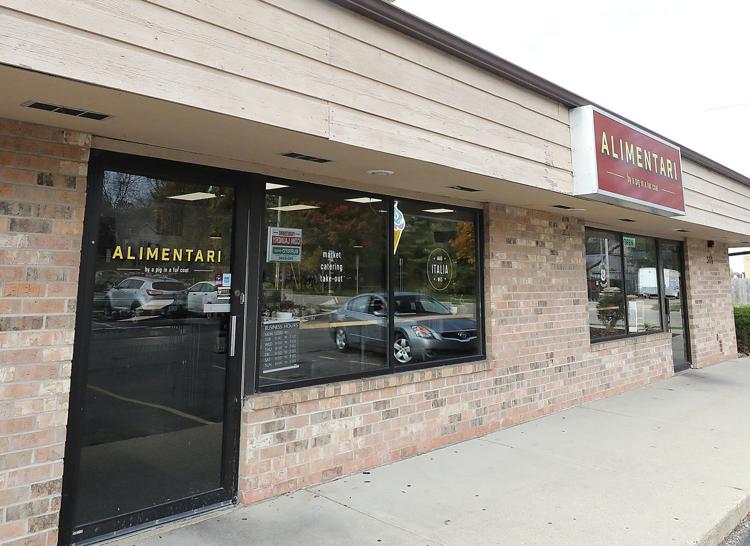 My friend and I enjoyed the ambiance of the store, which played a great, eclectic selection of music during a quiet Wednesday dinner. I was back the following Saturday when the place was buzzing, but still no one was eating in.
Most customers were getting sandwiches to go or buying specialty food items. There's also a section of wines by the bottle, and a few cans of wine in the cooler.
I tried an orange-flavored spritzer in a can, called Sprizzeri di Paolo de Martin ($4.99), imported from Germany, but made with Italian wine and bitters. While enjoyable, it was almost too sweet. The shop also sells the slim, 8.4-ounce spritzers in four-packs and notes that they make great cocktail mixers.
Another cooler usually has 12 to 15 varieties of Baron's gelato from Sheboygan, the same incredible frozen treat sold at Bar Corallini on Atwood Avenue. Enrico said he just started selling it by the scoop.
Alimentari is a valuable resource to keep in mind for that reason, or if you are looking for a unique food gift. At a time of year when it's hard to come up with what to bring to a party or get your mother-in-law for Christmas, a trip to Alimentari can provide some inspiration.