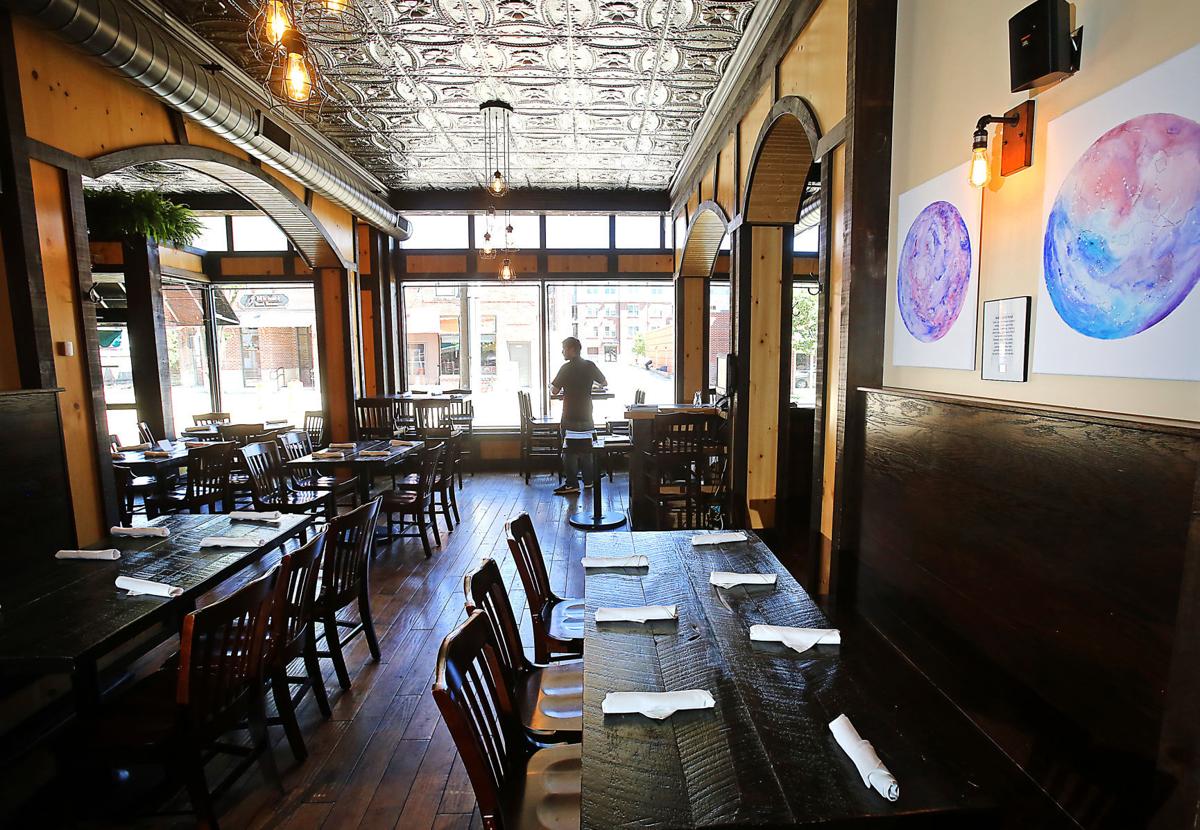 Tin Fox has been forced into an extended soft opening by the Monroe Street construction project. But people are finding it through the chaos and it's winning fans.
Not only was the street torn up on my recent visit, the sidewalk in front of the restaurant's entrance was gone.
"How can they pull up the sidewalk right in front of the front door!?" my friend asked incredulously.
Fortunately, there's another entrance on the same side that was accessible, and other customers were persevering through the disarray during a Thursday lunch.
Tin Fox is definitely worth it. Chef Justice Neal, whose parents opened the restaurant in early May to give him a platform, sharpened his skills at restaurants in Milwaukee and Chicago for the past 10 years. And after tasting his food, it's easy to see why they believe in him.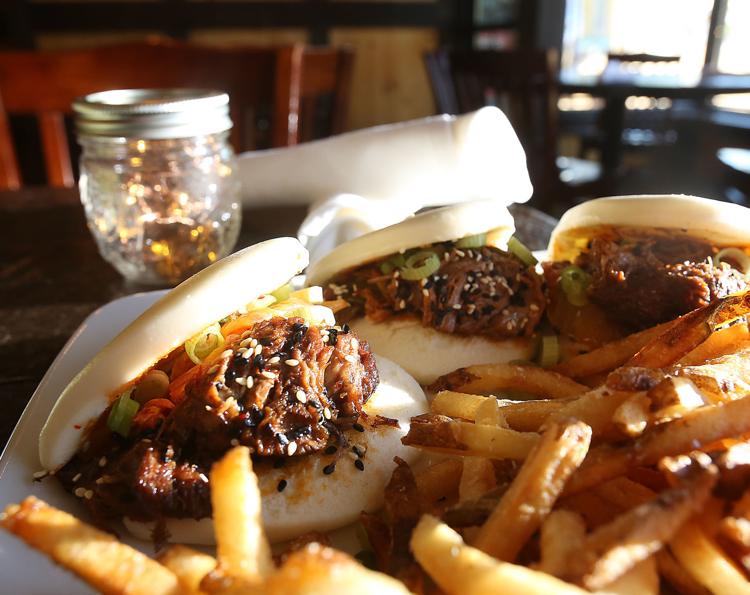 Neal puts interesting twists on familiar dishes, starting with his three beef tacos ($10), featuring delectable marinated short rib, kimchi and onions in a wonderful steamed bao bun. It was the type of bun you'd find at an Asian food cart.
Another highlight was the pancake-battered cheese curds ($10), with some of the crisp, large curds stuck together. They were served with a cup of thin maple syrup, which sounds strange at first, but went with the pancake-batter theme, and turned out to be ingenious. The curds had a tempura-style batter that was fairly greasy, but it was easy to overlook that little issue.
Neal said he came up with the pancake batter idea in Milwaukee and it took off. "Here, all I heard about was 'gluten-free, gluten-free, gluten-free,' so I started experimenting and we finally got a batter that's gluten free."
The smelt fries ($4) had a similar tempura treatment, and the serving was generous for the price. Somewhat fishy, they weren't as successful as the curds. The olive aioli served with them helped.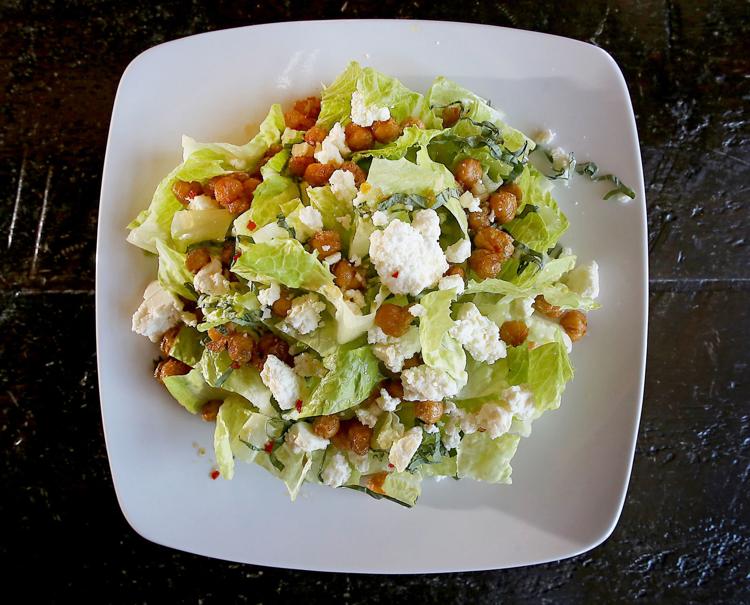 Sticking to the fried theme, the chickpea salad ($8), featured fried garbanzo beans and took a few bites to appreciate with its soft bibb lettuce, when the menu promised romaine. It was beautifully cut into ribbons, and the chickpeas, feta and basil combined exquisitely. The nuac cham dressing, a Vietnamese dipping sauce made with fish sauce, was fantastic.
My friend thought the best thing we ordered was the smash burger ($10), a modestly-priced, third-pound patty with pickled serrano peppers and a béchamel-cheese sauce. It was served on a terrific Batch Bakehouse bun. It came out too pink for my taste and, as a result, I found the meat chewy. The pickled serranos, however, were a great touch.
You have free articles remaining.
The other sandwich we ordered, the crab cake po' boy ($16), was the real discovery, with two lightly-seared, non-greasy crab cakes with no filler, lettuce, tomato, and a mild homemade pickle spear. The delicious, crusty French bread — also from Batch — got a touch of remoulade that was just right.
Sandwiches come with either french fries or a side salad. The salad, also made with bibb lettuce, was fine, but basic, while the thin fries were extraordinary.
The chili, that day's soup du jour ($7), was notable for its tiny pieces of ground beef and its heat. "As far as the spice goes, I think it's about perfect," said my friend. "Not spicy, not bland."
Menus are seasonal, and the summer menu will be coming out any day.
It pays to stick around for dessert, where the flourless chocolate cake ($7) wasn't overly sweet, and so dense it was hard to cut into with a fork. It looked like a huge brownie and came in a delightful pool of raspberry coulis sauce with salted caramel gelato on top.
My companion, who'd earlier called the smash burger the best part of our meal, revised his critique, now giving that title to the cake.
Greg and Marissa Neal smartly didn't make any big changes to the former Freiburg Gastropub interior. It retains its warm, relaxed feel. "The main structure was only three years old, so we really had a hard time justifying changing anything structurally," Greg Neal said.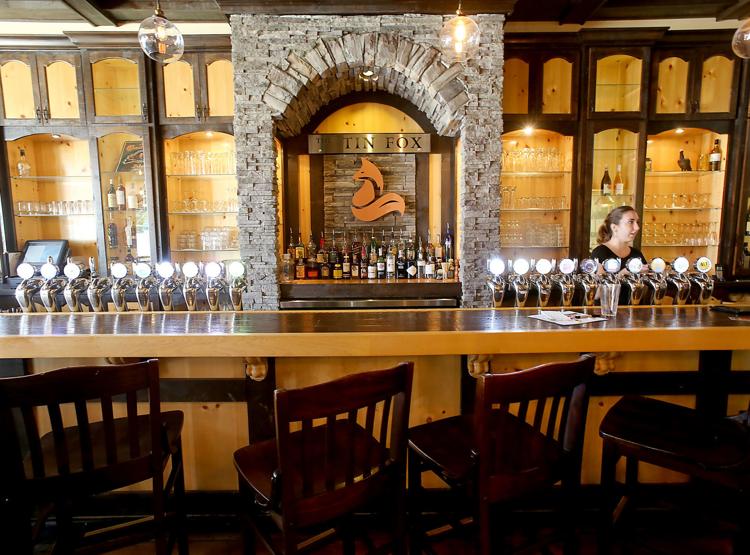 The Neals had some painting done, and are inviting local artists to display their art on a quarterly basis. They're contacting high schools and colleges to get students to apply for wall space.
A group of works near our table was done by Meghan Griffin, a graphic design student at Madison Area Technical College. She takes black and white photos of local landmarks and paints colorful, whimsical characters and designs over them. Particularly cool were ones featuring the Orpheum Theatre and the Gates of Heaven synagogue.
Justice Neal, 27, was executive chef at Milwaukee's Black Sheep before becoming chef de cuisine at the University Club of Milwaukee. Before that, he was executive chef of Blue Jacket in Milwaukee and spent time at Chicago's Hopleaf and bellyQ.
He bypassed culinary school, but said he's been mentored by a "few awesome chefs."
I've been trying to make a special effort to visit Monroe Street businesses during the construction, and I know I'm not the only one.
Tin Fox is definitely not a restaurant you'll want to bypass.