Musicians John and Jake DeHaven have opened a cafe, coffee house and music venue in an underutilized part of Winnebago Street, and are breathing new life into what had been the Sons of Norway building.
The brothers bought the 1924 Cream City brick building almost a year ago. For the previous 56 years it had been the Norway Center, home to the Madison chapter of the Norwegian fraternal organization.
The Winnebago Arts Cafe opened in late February, and the DeHavens are holding a grand opening May 17 when they'll unveil their dinner menu. Eau Claire musician S. Carey (Sean Carey), the drummer and supporting vocalist for Bon Iver, will headline an intimate show.
The DeHavens have done a remarkable job beautifying the building inside and out. The narrow front area is now a bright, charming cafe with seven cool blue stool-chairs at a counter on one side, and tables with a pillowed bench on the other. The original floor tiles have been restored to gorgeous effect.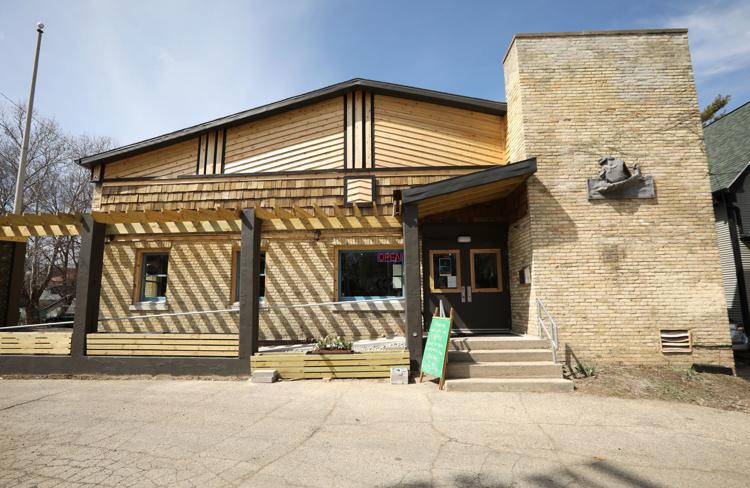 They lost their intended kitchen manager, partly due to construction delays, but have snagged Charlie Kocezela as their executive chef. Kocezela has been with Underground Food Collective and Slow Food Madison.
So far, the cafe has only been open for breakfast and lunch, with a small menu that is almost exclusively vegetarian. Meat can be added to some items and vegan preparations are in the works.
The larger back room has an expansive stage and bar, but in the daytime the darkness doesn't make it an inviting place to eat. Yet, one busy Sunday when the front was full, there were only a few open tables back there.
Jake DeHaven, with help from others, books a diverse selection of mostly local music three or four nights a week.
In the cafe, Kickapoo coffee ($2.50 for 12-ounce cup) is brewed strong and was slightly bitter for my taste. A cold brew ($3) in a pint glass was smoother.
As far as food goes, over two visits, a friend and I had the most luck with the triangular scones ($3.50), baked in house. A savory broccoli and cheddar one had a good amount of both ingredients and could be an excellent light breakfast. So, too, could a crusty and distinctive ginger and cranberry scone with a drizzle of caramel sauce.
You have free articles remaining.
Register for more free articles
Stay logged in to skip the surveys
I settled for a scone on my first visit, since there was an apology on the chalkboard specials menu that there was no quiche that day. On my second visit, the quiche ($10) had beets, feta and spinach. The beets overpowered everything else, and I learned that beets don't work in quiche. At least not in this one. It also had a custard texture, another thing that didn't work.
The quiche is served with either salad or breakfast potatoes, and there were few potatoes. The mix of white and purple potato chunks was fine, but would have been better crispy.
A side of potatoes with aioli ($3) on another occasion also proved to be a small portion. "It works out to be 75 cents a forkful," said my friend with a smirk.
The aioli was left off, but my friend, who ordered an oyster-mushroom melt ($11) with potatoes as a side, got a cup of aioli with his serving. He didn't use it, so I did, and it vastly improved the potatoes.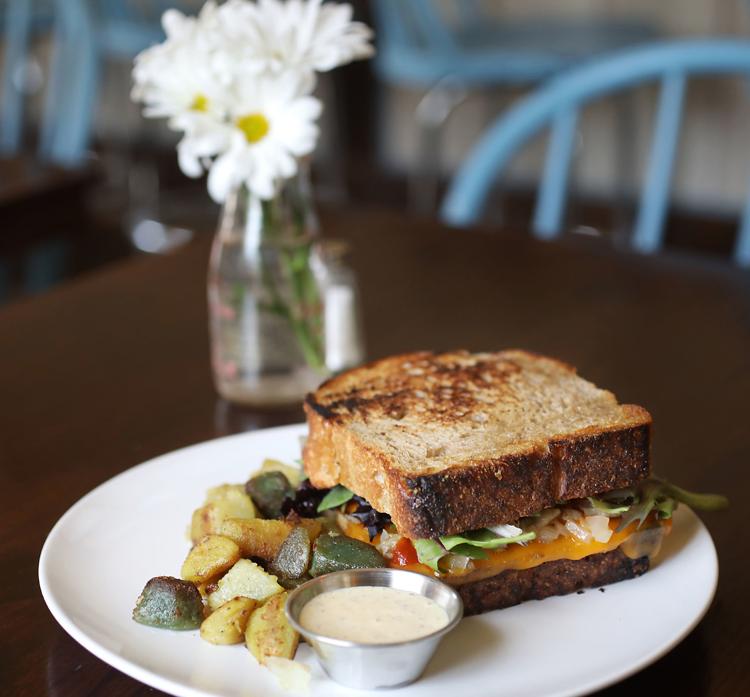 His sandwich was fine, except that the delicious, grilled sourdough bread made in-house with organic whole wheat, was cut too thick, which took star power from the caramelized mushrooms and onions. The sandwich had cheddar, greens and a hint of Sriracha going for it.
Our server noted that his included potato serving was even smaller than is typical, and offered him extra potatoes or a salad. He went with the salad, a nice spring mix, with thinly sliced carrots and red onions in a standard balsamic vinaigrette.
Biscuits and gravy ($9/$7) get top billing on the menu, just don't make the mistake of ordering one biscuit since it's only $2 more for two, and one just made us want a second. The buttermilk biscuit and oyster-mushroom gravy were both excellent, and they were served with red cabbage coleslaw.
The "BBQ sandwich" ($11) reinforced that I'll always choose tofu over tempeh. It was billed as "crispy tempeh with sweet BBQ sauce," only the tempeh wasn't crisp. The barbecue sauce had a welcome zestiness though. It had the same too thick, but fantastic sourdough as the mushroom sandwich, so I pulled off the top slice and ate it open-faced. That same red cabbage slaw on top made it challenging to eat that way.
Like a lot of places, The Winnebago is the type of cafe you need to visit a few times to discover what you like and what you don't.
It's got a great aesthetic in both rooms and therefore a lot of promise. A few more potatoes on the plate would go a long way.