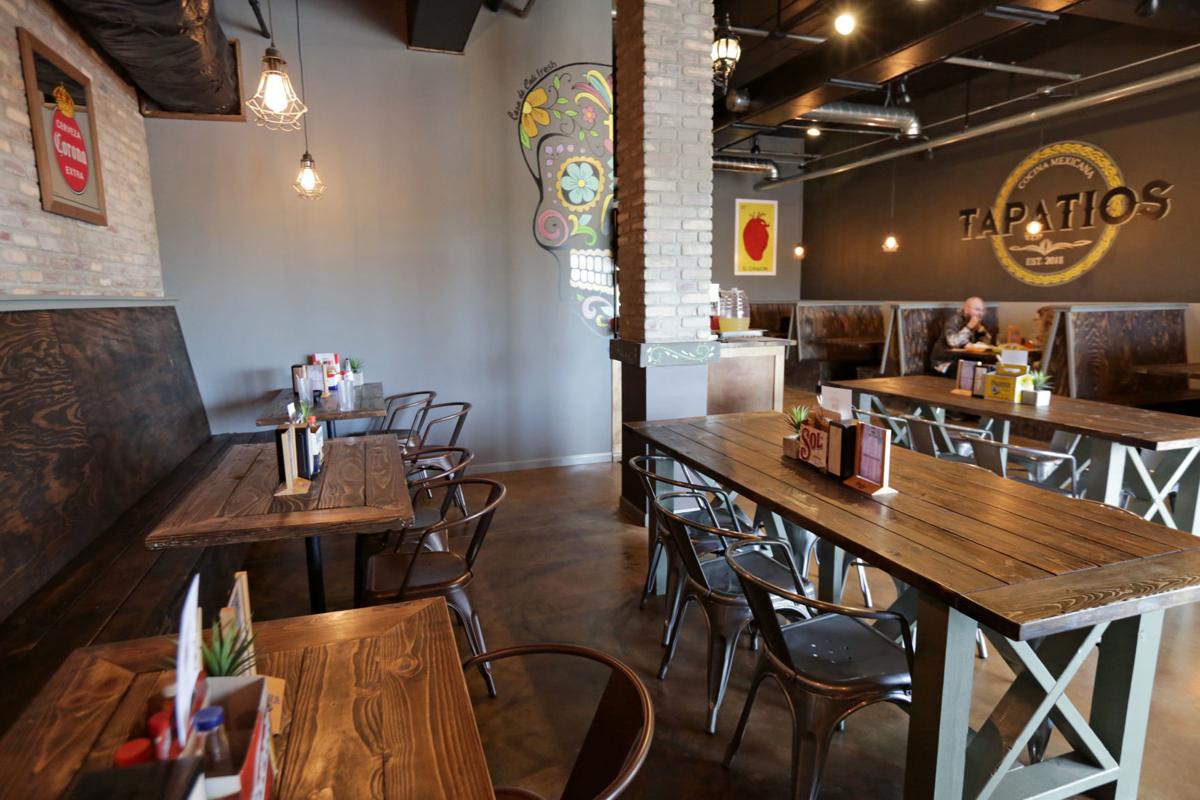 Liquor licenses are expensive for mom-and-pop restaurants just coming off a major remodeling project and trying to get established.
That's why the owners of Tapatios Cocina Mexicana in Fitchburg — in the same shopping area with the Great Dane Pub & Brewing Co. — initially only sprang for a beer license.
I had taken my mom and stepfather to the restaurant with hopes of a margarita. My mom wanted wine with dinner and wasn't satisfied with my offer of a glass at home afterward. So, it put her in a bit of a mood.
Leticia Hernandez, who opened Tapatios April 17 with her husband, Daniel Hernandez, said there's been a big demand for margaritas. "I didn't realize how much people like to drink," she said laughing.
And she grew up in Madison.
Daniel Hernandez, meanwhile, was raised in Guadalajara, the capital and largest city in Jalisco, Mexico. As is explained prominently on one wall of the restaurant, Tapatio is a colloquial term for someone from Guadalajara, and can describe things associated with the city.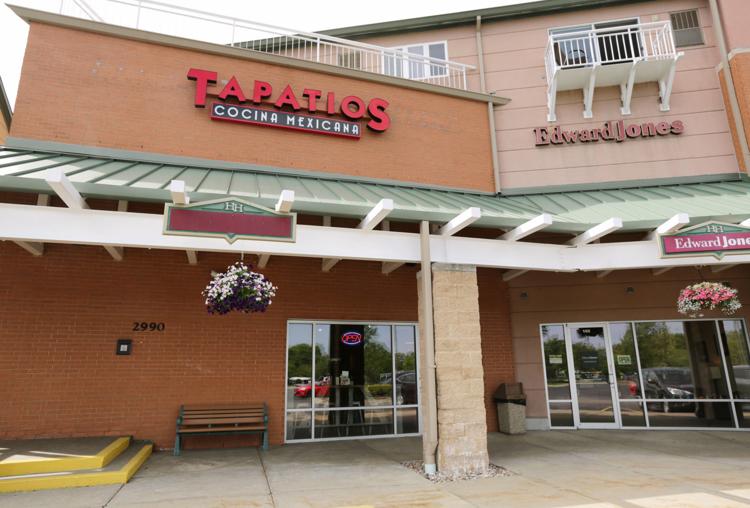 The employee who seated us explained that Tapatios' menu has two sides, and that's important to realize because it comes on a clipboard. I'd suggest maybe ditching the clipboard so the menu doesn't appear more limited than it is.
We were there on a Friday night, and I was disappointed some of the more interesting dishes on the menu were served — as is the case in some taquerias — only on the weekends, meaning just Saturday and Sunday.
That included tortas ahogadas, a sandwich with carnitas and beans that's popular in Jalisco, where it's dunked in salsa and garnished with onions; and tacos dorados, crispy tacos stuffed with potatoes, beans or chicken; barbacoa estilo Jalisco, slow-cooked beef with juajillo sauce; and carne en su jugo, steak simmered in tomatillo sauce and served with beans, bacon, cilantro and onion.
Leticia Hernandez said a new menu is coming soon with enchiladas, mole, fajitas and other dishes customers have been requesting. She and Daniel started with a more casual concept, but are adapting to the demand.
What we wound up with during our visit was the more usual taqueria fare: tacos, tortas, sopes and quesadillas.
You have free articles remaining.
The complimentary salsa that arrived right away with chips was served in a more generous bowl than is typical, and it was excellent. My 12-year-old daughter said it was the best she'd ever had. This salsa was fresh tasting and had some kick, provided you loaded up your chip.
The assertive orange hot sauce made with chile de arbol (it's usually those smaller peppers that are the hottest, Leticia notes) and the mild salsa verde our waitress brought with our food were also generous, and came served in a handsome dish with two compartments.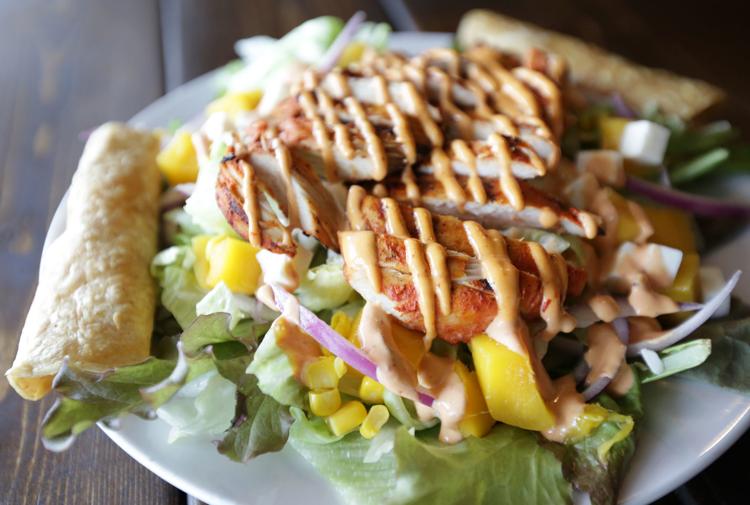 The best thing we ordered was the mango salad ($9) with a ton of grilled and well-seasoned chicken breast strips, cubes of queso fresco, corn, cabbage, red onion, and bite-size pieces of mango in a delightfully spicy dressing. It hardly mattered that the lettuce was iceberg. The meal included two corn tortillas filled with cheese that I almost overlooked.
A steak torta ($8) boasted tender, good-quality meat cut into small pieces and embedded in beans, with lettuce, tomato and avocado. The giant, soft telera roll took up an entire dinner plate.
Another good call was a shrimp taco ($3.50) with big, juicy grilled shrimp (they can also come breaded) joined by pico de gallo, cabbage, cucumber and chipotle salsa. A fish taco ($3.50), also worthwhile, was made with tilapia. It came grilled or breaded, and held the same ingredients.
A satisfying sope ($5), eaten as an appetizer, had a thick, homemade cornmeal base and was topped with chorizo, in our case, and held cilantro, onions and queso fresco. Sour cream was zigzagged attractively across the top.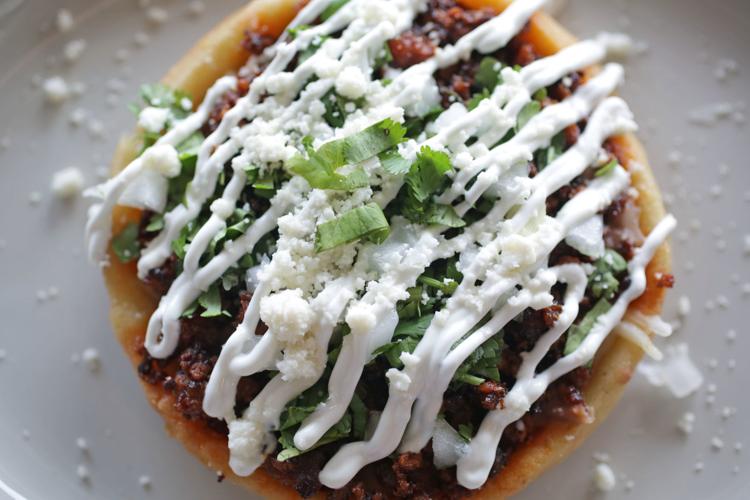 My daughter enjoyed a cheese quesadilla ($5), but there wasn't much to it, so she ordered another.
A slice of flan ($3.95) made for a light dessert, while my daughter and stepfather shared a chocolate empanada ($5) with vanilla ice cream that they liked, but not enough to finish.
My daughter was more delighted with the Chiclet-type Mexican gum that came with our bill.
The Hernandezes also own the 3-year-old Cali Fresh food cart, which is finally back on State Street Mall selling similar Mexican food a couple of days a week. (Daniel's sister, Valerie Hernandez, helps out where needed.) The couple took a break from the cart this year to open Tapatios.
Daniel Hernandez moved to Madison in 2012, and before that was a carpenter in California for 10 years. It took him more than five months, but he transformed what had been a pet store into an attractive restaurant space. He even built the impressive-looking tables and spacious booths himself.
In terms of the menu, the Hernandezes started out cautiously, and that's fine. I look forward to their expanded offerings and ordering one with a margarita.