Much of the menu at Tangent is too creative for its own good, but it finds success in certain areas, particularly its soups.
Tangent comes from the same people who run the successful Vintage Brewing Company, with locations on Whitney Way and in Sauk City. A smaller subset of the partners owns a Vintage on University Avenue, near campus.
Servers at other locations helped train Tangent staff and, as a result, service is one of many bright spots for the new restaurant.
Another high point is the restaurant's interior design. The look is modern and comfortable, with its large, uniquely-shaped bar as a strong centerpiece. Booths in the back offer seclusion, but meant that our waiter had a long walk to check on us, which he did often and with charm. The host was equally welcoming and friendly.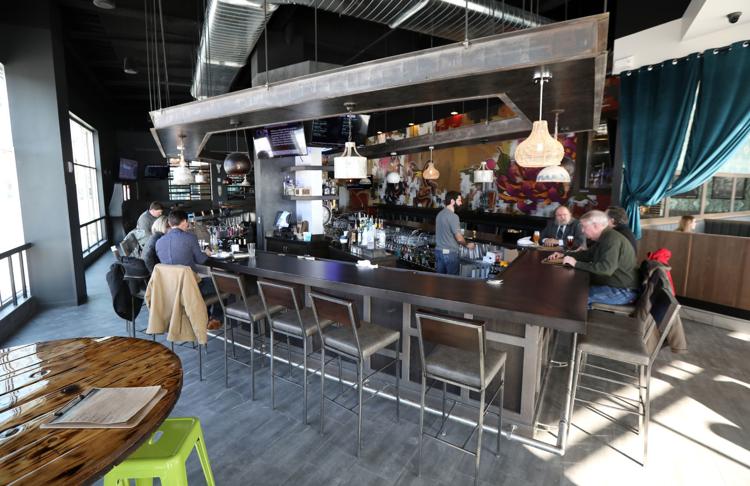 Tangent is on the ground level of the eight-story building that also houses the Sylvee music venue on the rapidly-developing section of East Washington Avenue that is expanding the city's Downtown. We chose a night without a concert, not wanting to contend with a large crowd.
No brewing is done at Tangent. Instead, the restaurant gets its beer from the Sauk City and Whitney Way brewpubs. A new line of beers is brewed for Tangent by brewmaster and co-owner Scott Manning.
Tangent has 36 tap lines, with the majority Tangent- and Vintage-branded beers. Taps include a handful of beers brewed by local East Side breweries, two white wine taps and a kombucha.
I went with the kombucha cocktail ($9), which uses Jeremiah Weed's sweet tea vodka, Cointreau, St. Germain elderflower liqueur and a few ounces of local NessAlla lemongrass ginger kombucha. It's a light drink that looks like a Long Island iced tea, with the tea flavor played up more than the kombucha. It might be too sweet for some.
The better of the two appetizers we tried were the Phried Pepper Poppers ($9): five little deep-fried wonton pockets filled with jalapeño and poblano cream cheese infused with mezcal. Their perfect hint of spice was heightened with a sweet chili dipping sauce.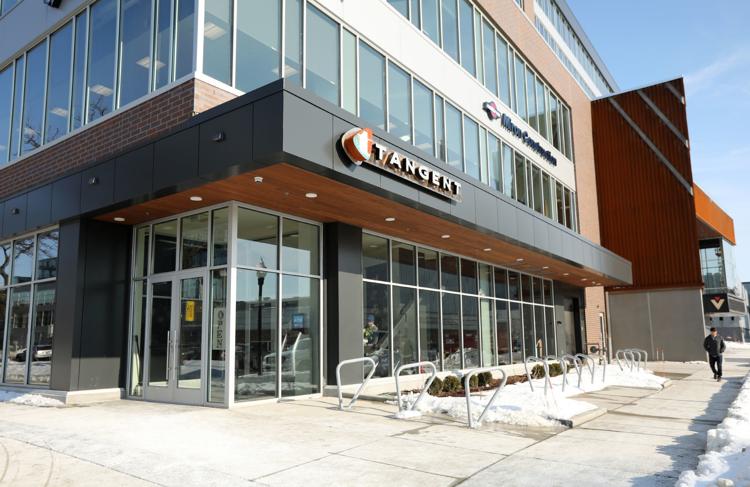 The menu offers two types of hummus, a meat one with lamb, and the one we chose, a vegetarian version with fried chickpeas ($11).
Both appetizers came on paper-lined silver trays, which, while trendy, seemed strange for a dip or spread like hummus. The menu described it having pickled carrot, roasted pepper, smoked paprika oil, fresh herbs, seasonal chutney and garlic confit. Shredded carrots were obvious, but it was hard to pick up on all the other stuff going on. Crunchy chickpeas were the best part. Sliced baguette came on the side.
The sandwiches were also fine, but like the appetizers, both were overly involved. The maple-marinated chicken breast in the chicken sandwich ($13.75) was thin and got lost among the other ingredients, which were hard to identify and differentiate. The menu advertised Dijon cream cheese, bacon, arugula, and tomato. It was supposed to have a challah bun, but came with the same brioche bun as the walleye sandwich.
The walleye ($16) was dressed up with coriander miso aioli, fried tomato, arugula and root vegetable slaw. Again, I'm going by the menu description because it was hard to taste all of the elements. A nice piece of moist, tender walleye got lost in all the hoopla. I was just glad it was pan fried instead of deep fried, particularly because we ordered frites on the side.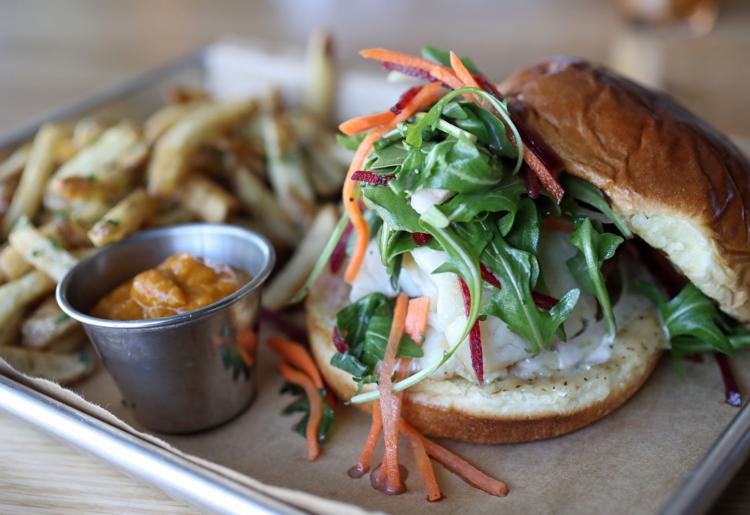 The frites come in a variety of presentations. I chose paprika and was served a separate cup of paprika dipping oil that didn't add much. The consensus at my table was that the frites were too salty. I wasn't put off by the salt and was more struck by the generous serving.
Because of the capers, the caper Parmesan salad ($6) was super salty. It held a nice mix of well-dressed greens, along with fried capers, roasted tomato, plenty of shredded Parmesan and homemade croutons. My 13-year-old daughter, who is vegetarian, asked to hold the bacon, which would have made it even saltier. It was hard to tell that the capers were fried, but in general, I'm thinking capers don't work in a salad.
Sandwiches come with a choice of sides. Another option is to upgrade to a soup for an extra $3. Both soups were fantastic. The lobster and crab chowder wasn't too thick and had plenty of tender chunks of lobster, along with potato and vegetables. The crab was harder to pick up on.
The soup of the day, a thicker and richer caramelized onion ($5.50), was almost like a gravy, but simply stunning. It had a wonderful touch of sweetness and was served with an oily crostino on the side. If this soup were on the regular menu, it could become what the restaurant is known for.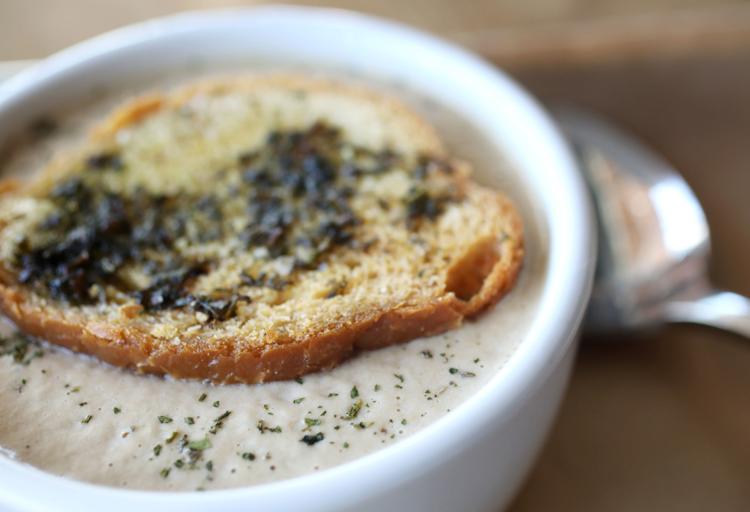 Desserts are planned for the future, but weren't available during my visit, about a month after Tangent's Jan. 23 opening.
Despite some over-complicated menu misfires, Tangent will do well because of the built-in Sylvee audience. The 2,500-capacity venue, which opened in late September, hosts frequent shows, and having an adjoining place to eat and/or drink is handy.
Appropriately, Tangent plays an excellent mix of music at low volume —- on my visit it ranged from Daft Punk to the Clash.
Low lighting adds to the ambiance, except when you're trying to read the menu. Well-placed chandeliers also class the place up. Aesthetically, Tangent is a big upgrade from Vintage, where I've had better luck with more straightforward food. It's easy to see why the owners wanted a different name.