Eating at The Globe makes the world seem smaller.
Ashim Malla's tiny Henry Street restaurant off State Street, near the Plaza Tavern, covers a wide swath of international cuisines.
Malla opened The Globe Oct. 15, offering representative dishes from at least 10 countries, and has done justice to everything I've tried during two meals.
It's no surprise Malla, 32, cooks well. The Nepal native worked at his grandparents' State Street restaurant, Himal Chuli, for three years. Malla said they opened it the month he was born.
He also spent eight years working at his uncle's Atwood Avenue restaurant, Dobhan, doing catering, festivals and specials.
Besides Tibetan, Nepali, Indian and Korean food, Malla offers Japanese, Chinese, Mexican food and a New Orleans jambalaya.
Malla's been working on The Globe's menu for five years, and is a warm, friendly host, who calls customers ma'am and sir.
He gives out generous cups of one of his two delicious, filling soups with every order, whether it's an entrée or small plate. His ajwain-seasoned Himalayan 15-bean soup has more than 15 types of beans and was dominated by black eyed peas on my last visit.
Malla's mother, Ramila Malla, prepares the soups and a few other menu items.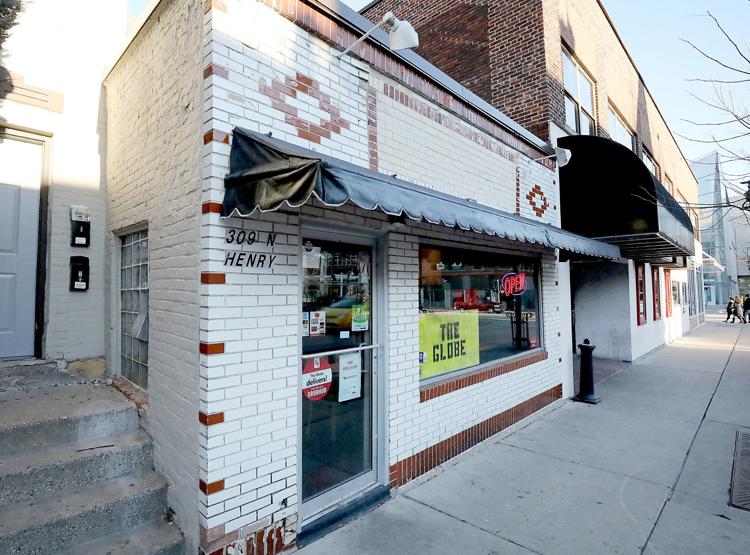 After naming the soup, they kept playing around, adding beans to make it better, Malla said. They ended up with 16 or 17 beans, but are sticking with the original name, which he said sounds better.
Equally good is Malla's coconut cauliflower chowder, to which he recently added some Cajun seasoning. My 13-year-old daughter loved the chowder, thick with corn, potato and coconut milk, and she's hard to please. Both of the soups are vegan and gluten free.
The Tibetan dumplings (four for $4, eight for $7), or momos, which come in vegetarian and chicken versions, are one of his most popular menu items, Malla said.
You have free articles remaining.
Register for more free articles
Stay logged in to skip the surveys
The four plump pouches are deep fried, but Malla can also pan fry them, steam them, or put them in a broth. The vegetarian ones are filled with edamame, soy protein, cabbage, carrots, scallions and cilantro, and served with a homemade soy-ginger-sesame sauce over sauteed onions and bell peppers. They had a pretty garnish of sesame seeds and green onions.
I've ordered the Indian Tic Tac curry on both visits, first with tofu ($10), then with shrimp ($14), and the irresistible creamy tomato-cilantro sauce mimics the best Indian tikka masala. Malla uses the name Tic Tac as a play on tikka masala and as a reference to the sweet-sour candy.
The tofu came in big, rectangular pieces, and the medium-sized shrimp were plentiful. The dish, which was served in an ornate silver bowl, also had a good variety of vegetables. All of The Globe's bowls, plates and glasses have been carefully chosen.
The Wai Wai ramen noodles ($7) gets its name from the brand of instant noodles Malla uses. The soup not only had amazing flavor, it's a good value. Its low-key broth isn't as flamboyant or as complex as many bowls of ramen in restaurants that specialize in it, but it's got the requisite soft-boiled egg. The dish, with broccoli, mushrooms, bell peppers, onions, peas and spinach, was comforting on a cold night.
I ordered the grilled Korean BBQ with tofu ($10), since I was with a vegetarian friend, and it came in big, long strips, flatter than the tofu in the curry. It also had vegetables, just fewer of them. The sauce was used sparingly and had a wonderful mild sweetness, which was a nice complement to its heat.
Malla asked what spice level we wanted, and the 2 turned out to be perfect and consistent for everything we ordered that night. On my first visit, I was with my daughter, so I asked for no heat. Malla thoughtfully brought out a little cup of hot sauce I could add to my food.
The Globe offers mango and banana lassi ($4), and the banana one was thin, frothy and refreshing. Malla uses a homemade spice mix with cardamom, cinnamon and cloves in the yogurt drink.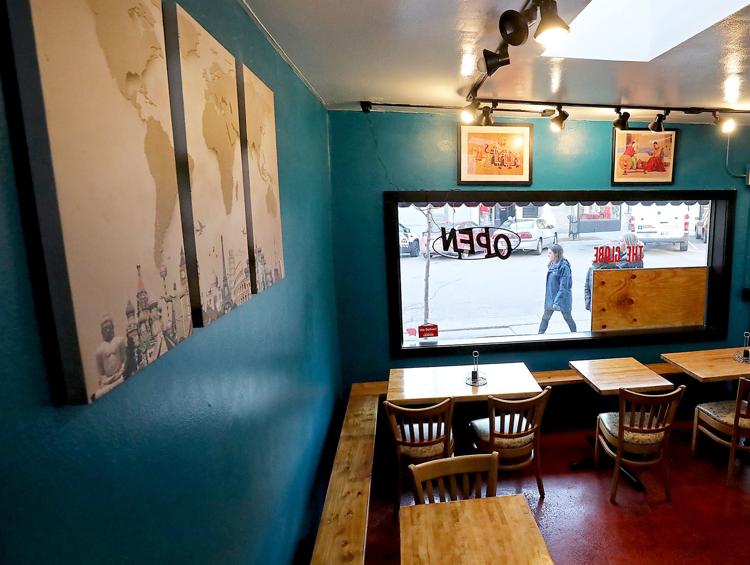 My one gripe about place is that the music is sometimes too loud. Malla plays global music off YouTube or Spotify, and the volumes can vary between songs. On my recent visit, it was mostly upbeat world music, but with some hip hop mixed in — and even a song from the "Mary Poppins Returns" movie.
He's got an attractive three-panel piece of art with pictures of famous travel sites and a world map.
Malla's made the most of the small space that was most recently Taqueria 3 Amigo's, fitting in four tables and a simple, wooden bench along the main walls. There's also a counter in the corner with a little extra seating. The menu is displayed on video monitors, and Malla said he plans to change it every six months.
I learned about The Globe, which is still relatively unknown, when a friend who lives and works Downtown sent me an uncharacteristically excited text days after it opened.
It's not hard to share his enthusiasm.