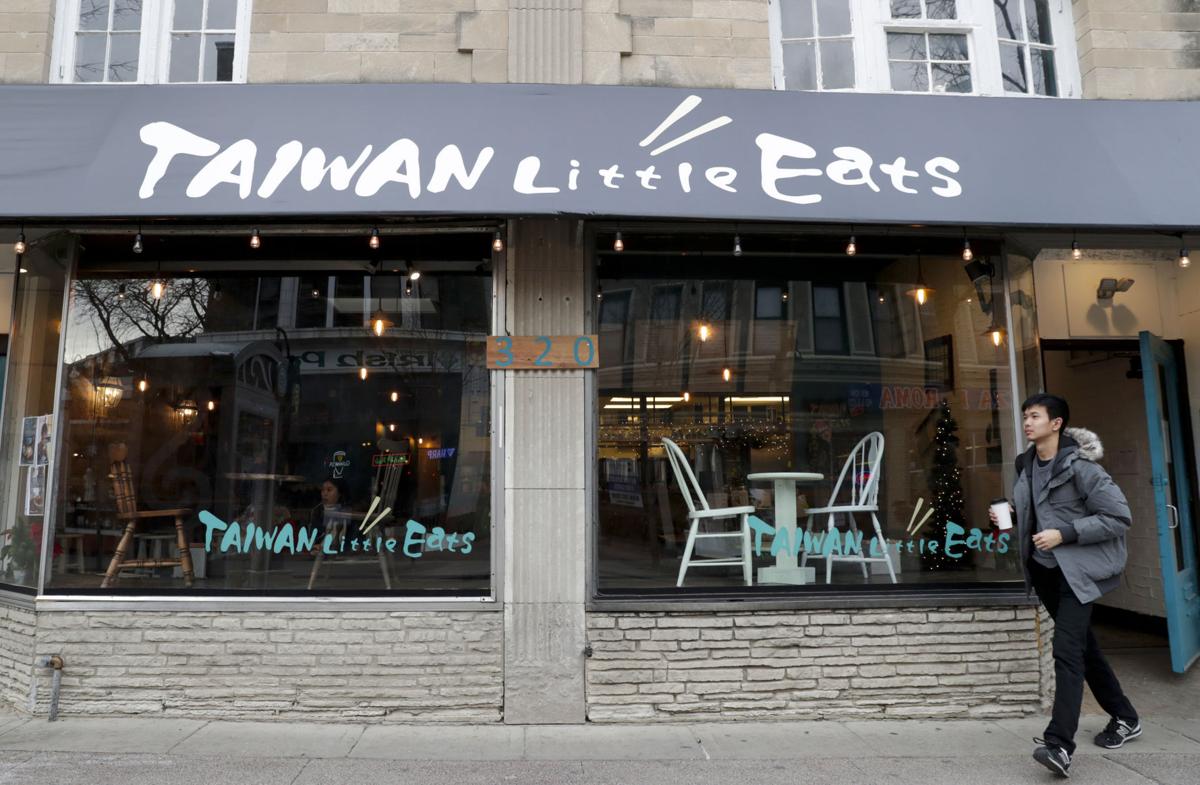 Once you experience the Taiwanese street food of Taiwan Little Eats, you will begin getting pangs to go back.
The first indication that this is no ordinary restaurant was when my friend tried to order a Diet Coke and was told Taiwan Little Eats sells no soda. It also serves no beer, wine or cocktails.
What it does have are 35 drink options listed among teas, smoothies and steamers. In fact, Taiwan Little Eats has become my go-to stop for bubble tea, because the tapioca balls, which are 50 cents extra when added to any drink, are unusually soft and plentiful.
All of the teas I've had have been wonderful, but first some words about the food, which is even more impressive.
I'm positively hooked on the tempura fish cakes ($5.50). The thin, little half-moon patties have a gritty texture from their light batter, and are endearingly gummy.
Also under "nibbles," the crispy and salty popcorn chicken ($5.50) are lightly fried with juicy chunks of chicken breast inside. They are as good as the fish cakes, just less novel. Both come in white wax bags, whether you order them to eat in or to go.
More surprising was the way the fried chicken cutlet ($7.50) — from the middle or "Little Eats" section of the menu — was served, in a long white bag from which customers reach in and pull out chunks of meat. Upon closer inspection, the continuous slab of meat seemed to be two thin chicken breasts that were somehow fused together.
Christine Welch, who owns the restaurant with her husband, Min-Hsiung Lin, a Chinese circus performer who goes by the name "Seven," her mother, Sue Welch and chef Kai Cheng, said the cutlet is one 13-ounce chicken breast cut down the middle and flattened, so it's all one piece.
While deep-fried, the chicken didn't have a thick coating around it, and the spice blend, as with both "nibbles," was delightful. Welch said the spice recipe is a house secret, but revealed that the ingredients include star anise, tapioca powder, garlic, soy sauce and ginger.
A friend I talked with later about Taiwan Little Eats said he'd had a bad experience ordering the cutlet, and it made him write off the restaurant. That was because he ordered it as his entire meal, instead of, like I did, with other menu items as part of a larger meal for two where everything was shared. For him, an enormous serving of chicken without rice or vegetables or anything else was strange, monotonous and overwhelming.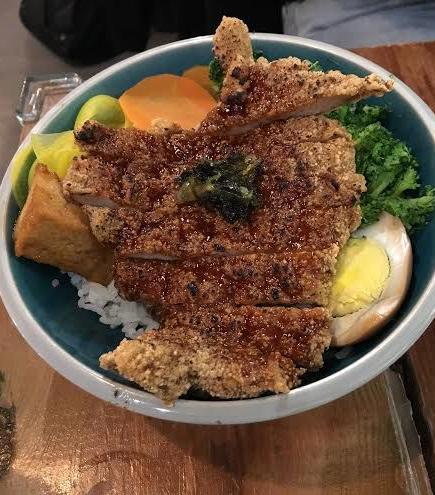 You have free articles remaining.
What rounded out my meal was the pork rib bento box ($9.50), from the final section of the menu, "Big Bites." Instead of a Japanese bento-box type meal with varied items served in compartments, this meal came in a beautiful blue ceramic bowl with rice, boiled broccoli, pickled carrot, a hard-boiled egg stewed in soy sauce, and a big cube of flavor-free tofu. On top was a sliced, boneless cutlet of breaded pork doused in a sweet soy sauce made by chef Kai.
The unseasoned broccoli was mostly stalk and was too large. The rice was also plain and needed some sort of sauce. But it helped to balance a meal where everything else was fried.
Not only is there much to love about the food, the space itself is striking, bearing no resemblance to its predecessor, Mad City Frites. The room, painted blue and white, has some comfy couch-benches as well as ledges by the window with small, tight tables, which become a trick to navigate.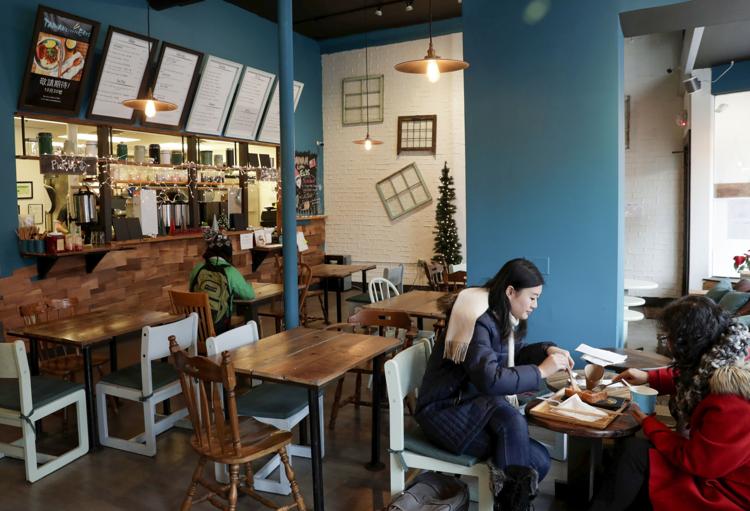 The restaurant's soundtrack was curious, but inviting, especially because the music was piped in at a low volume. A record player was surrounded by a collection of surprising records, including titles from Kris Kristofferson and Dan Fogelberg, as well as a "Jesus Christ Superstar" album.
The owners found the old records during moving season in August and felt like they "kind of matched the atmosphere of the space," Welch said.
Another area features a virtual art installation of colorful postcards to Seven from theater friends around the world, congratulating him on opening the restaurant.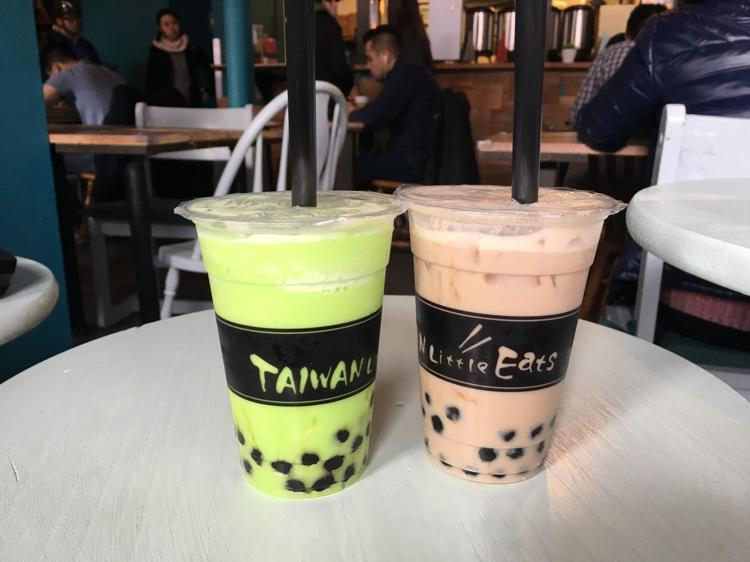 As for the drinks, the caramel milk tea ($3.45 for 16 ounces) with tapioca bubbles (50 cents) was delicious, as was a cantaloupe smoothie ($4.15) that was spot-on flavor-wise, but bright green in color, for some reason.
Welch said some of the smoothies are made with an imported powder from Taiwan, others from concentrated juice. She said she's not sure why the cantaloupe flavor comes from a green powder.
A plain Assam black tea ($3.10 hot), which the menu describes as grown near Sun Moon Lake in mountainous central Taiwan, was brewed just right and had a natural sweetness without added sugar. The same was true for the Taiwanese-style milk tea ($3.45 for 16 ounces), ordered with tapioca balls for an added treat.
Taiwan Little Eats, which opened Oct. 20, is in itself a treat. Just make sure you go with a friend and order a large sampling of food.