5 Star Korean BBQ has a generic name and that's too bad, because it offers wonderful Korean food. The Blair Street restaurant is operating at a three-star level, however, when you take its atmosphere into consideration.
Korean native Chulkee Chang opened the restaurant in mid- October as 5 Star BBQ. He later added "Korean" to the name, clarifying a lot. Chang has a successful Korean restaurant outside of Champaign, Illinois, where the name gives even less away: Star Karaoke.
Chang may one day offer karaoke in Madison, too, he said.
A year ago, Chang also bought the 30-year-old Fitzgerald's supper club in Middleton, and is making dramatic changes there, planning to add Asian items to the usual steaks, seafood and prime rib.
Meanwhile, 5 Star sticks to a largely Korean menu with some Japanese items like miso soup, vegetable tempura and chicken teriyaki sprinkled in.
The name is also misleading because, while the restaurant offers three versions of the Korean staple bulgogi, that hardly qualifies it as a barbecue joint. The menu also offers a section with "grill" items, with a few qualifying as BBQ. Why it wants any connection to the two barbecue restaurants in the space before it is anyone's guess. Maybe Chang just wanted to utilize the leftover signage.
That said, the dukbokki ($10.99) are a good place to start if you like spicy food. The soft, chewy rice cakes were cylindrical and paired with fish cakes cut in thin triangles. They were swimming in a spicy orange sauce with green onions, zucchini and fantastic black, wrinkly Chinese mushrooms.
The mushrooms were so good I asked chef Chon Sohwan — who delivered our entrees — about them. She said she gets them shipped over dry from South Korea. They proved worth the extra effort.
The yaki mandu ($5.99) was less impressive. The six fried dumplings were filled with cabbage, green onion and translucent noodles. Sohwan later said they came from a package, but added that the meat version is homemade.
What was impressive were the restaurant's renditions of Korea's two most famous dishes: bibimbap and beef bulgogi.
The bibimbap is $12.99 without the beef, which is the same beef as in the bulgogi. We opted to have the rice dish served in a sizzling hot stone bowl, which is an extra buck. It's a traditional New Year dish and we ate it New Year's Eve, when 5 Star was doing an OK business, or nothing that couldn't be handled ably by one waitress.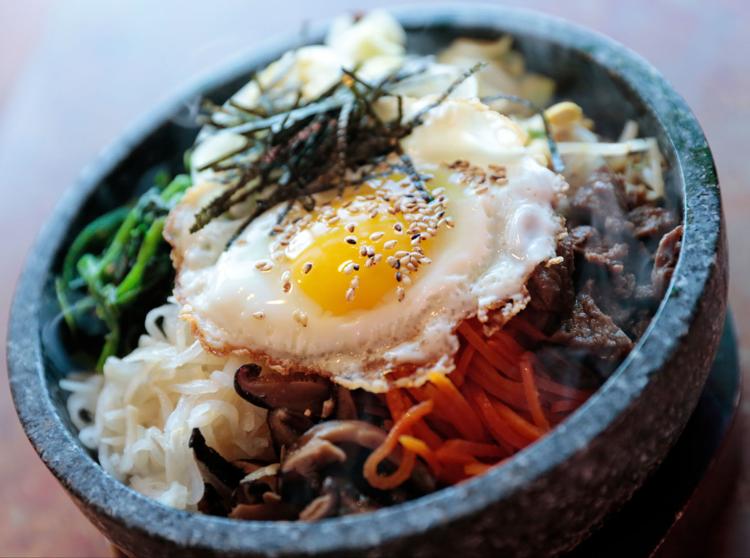 Topping the big bowl of white rice was spinach, bean sprouts, delicious shiitake mushrooms, thinly sliced zucchini, turnip, carrots, and a fried egg. You've got to stir fast so the prized rice on the bottom browns, but doesn't burn.
Our waitress told us to mix in the dark red-orange sauce — made with Korean chili paste, kochujang — from a squeeze bottle sitting on our table, but we preferred to blend it with the leftover sauce from the rice cake and fish cake appetizer.
The bibimbap arrived with five chilled side dishes: excellent strips of fish cake; steamed broccoli, which helped augment the vegetables already in the bowl; and tasty ribbons of pickled radish. I'm not a lover of kimchi, Korea's national dish, and there were two kinds: a traditional cabbage version and a radish kimchi.
On top of all the sides, the dish also came with an unexpected cup of miso soup, traditionally Japanese, and stocked with more seaweed and cubes of tofu than I've ever seen in miso soup. My main complaint about miso soup is that it's almost always lacking in those categories. This was a happy break from the norm.
The beef bulgogi ($15.99) featured high-quality meat that was tender and well-marinated, but not without fat. It had a fine texture, pulling apart easily. There were a few stray onions, carrots and mushrooms, and the serving was large — more than most anyone could eat in one sitting.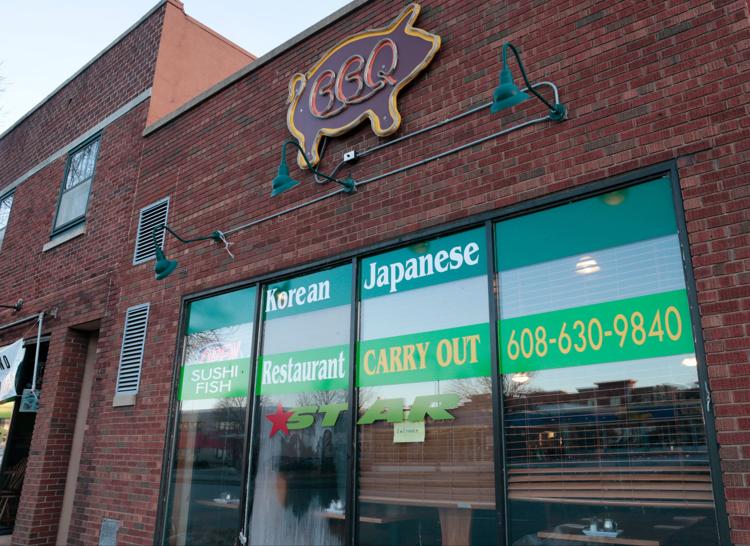 The main dining room at 5 Star is casual with tables and chairs that don't all match, and there's not much for decor. The night I was there, colored Christmas lights adorned a counter, and a miniature Christmas tree glowed on a table next to us. A handmade sign advertised free Wi-Fi.
Even less congruous was the choice of local country music radio station 96.3 FM playing over the sound system, commercials and all.
It's also best not to sit near the door in cold weather, or you could feel an arctic blast whenever it opens. What 5 Star needs is a vestibule.
Chang has owned his restaurant in Savoy, Illinois, a bedroom community outside Champaign, for more than 10 years.
He said Downtown Madison needed more Korean food to make it more "diversified." The Champaign area has more Korean restaurants than the Madison area, he pointed out, adding that Madison has "lots of potential."
(With 5 Star, both areas now have three Korean restaurants.)
The only thing that ever seemed to do well in the 5 Star location was Pizza Extreme, which mostly did a delivery business. A succession of restaurants there, two of them barbecue places, another a roast beef shop, have failed in the past six years.
5 Star has some potential, but when it comes to ambience, it's untapped.