Asian Noodle, despite being owned by an experienced restaurateur, has a blandness problem. 
The restaurant, which opened in late September at Regent and Park Streets, serves Chinese, Japanese and Vietnamese dishes from a tightly-focused menu. And no matter the origin of the cuisine, everything I've had needed to be doctored up with the sauces available on the tables.
Besides soy sauce, the restaurant puts out hoisin sauce, Sriracha, its own chili oil, and salt and pepper.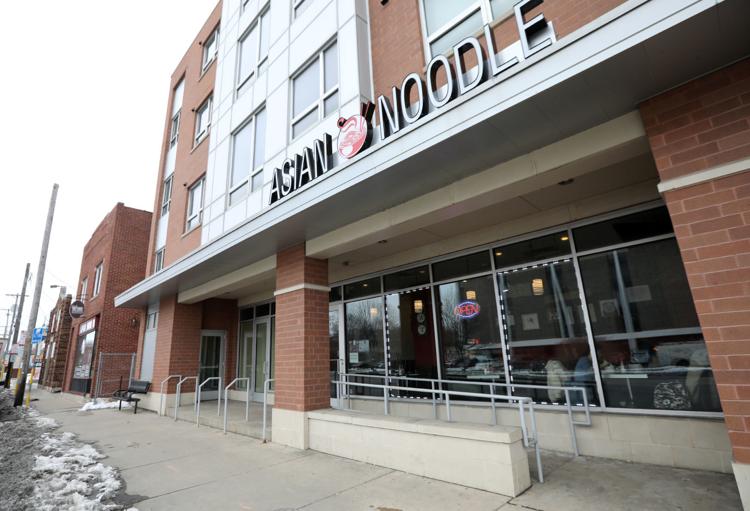 It's as if the restaurant is trying not to turn off those with a low spice tolerance. That's the strategy, said Sansa Zhou, Asian's Noodle's manager and entire front-of-house staff most days. 
You should skip the fried spring roll, which seemed like a bargain at two for $1.95. Once past the crisp, flaky exterior, there wasn't much inside, and what was there was basically mush.
Worse was the takoyaki ($5.95), five lightly-fried balls with a nub of octopus at the center. The thin, quivering bonito flakes on top were fishy smelling, and the smell affected the taste.
The soft, tender steamed chicken dumplings (eight pieces for $5.95) turned things around with meat that had flavor. They tasted mass produced, and Sansa said they came from a food company. The sweet soy sauce served with them is homemade, she said.
My companion found it curious that an Asian restaurant served french fries, and wanted to try the Cajun version ($3.95). They were well seasoned, but without a real Cajun kick. Still, they were thin, crisp and hooked you in, like good fries do.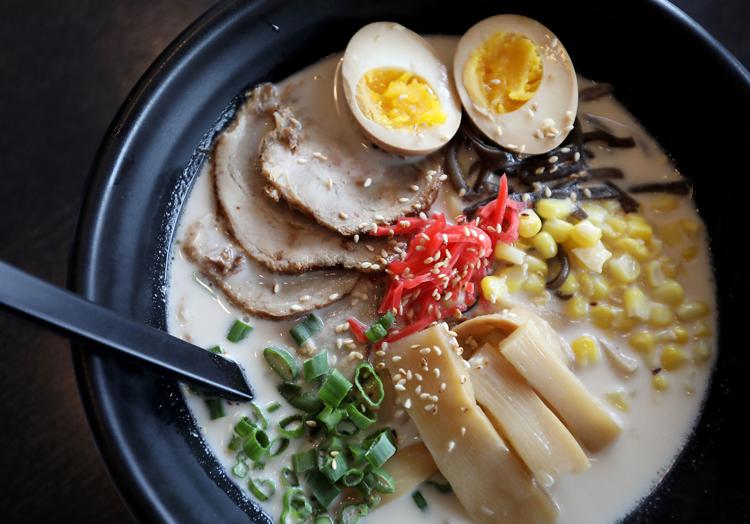 I enjoyed the tonkotsu ramen ($8.95), even though its milky broth had a weaker flavor than other ramen in town. On the bright side, the bowl had two halves of a soft-boiled egg instead of just one. Corn kernels, wood ear mushrooms and scallions joined the best-tasting strips of bamboo shoots I've had. The tangle of ramen noodles was wonderful, but I had no use for the three slices of fatty pork belly, although they had a nice, roasted flavor.
Two pan-fried noodle dishes suffered the same blandness and needed to be enhanced. Customers have a choice of beef, pork, shrimp or chicken for $8.95, and pay 55 cents or $1 more to mix two or three types of protein. Sansa said customers get a larger amount of the proteins if they opt for pick 2 or pick 3, in addition to more variety.
Customers also choose from eight kinds of noodles, and there's a photo key on the menu.
The squiggly, hand-pulled noodles are the only noodles made in-house. They're slightly thicker than ramen and worth the extra dollar they cost. The lo mein noodles, which are about the same thickness, are more sleek.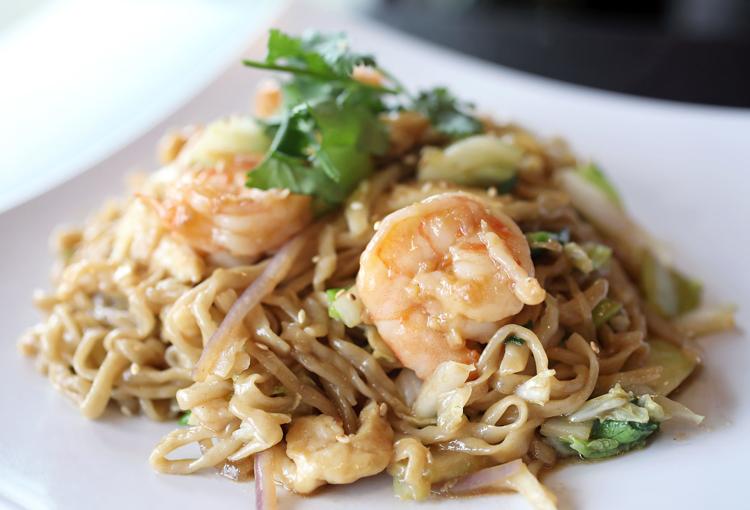 Both times I chose shrimp as one of my three proteins, I got two large, delicious shrimp instead of the usual tiny shrimp served in most Chinese restaurants. When I asked Sansa if that's standard, she said if you order pan-fried noodles or fried rice with one protein, you get eight shrimp. When you choose the pick-two option, you get three shrimp.
The chicken was also great: tender, moist, and cut into bite-sized strips. The pork is fine, but hardly special.
While there's a small amount of green onion and bok choy in the noodle dishes, there are no real vegetable options on the menu. When I asked if the kitchen could stir-fry some vegetables for me, Sansa obliged, but seemed surprised I asked. The dish ($8.95) had cabbage, bok choy, mushrooms, onion and bamboo shoots, and like everything else, lacked flavor.
The Yangzhou fried rice ($9.95) had all the protein options in one dish, as well the requisite peas, carrots, onions, and hint of egg, but needed more flavor, too.
Asian Noodle is next to the restaurant and bar Sweet Home Wisconsin, in what used to be Capriotti's Sandwich Shop. The small restaurant has seven tables with comfortable leather chairs and a five-seat counter. The playful noodle-bowl mural is at odds with the unimaginative little signs that say things like "hi," "love," "happiness" and "EAT."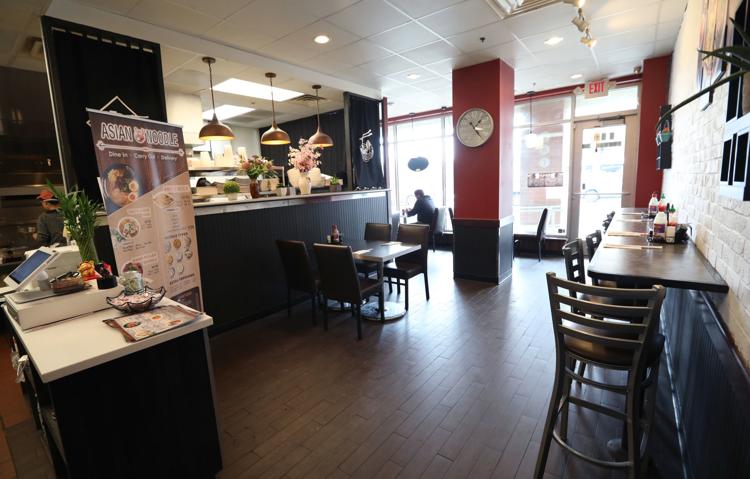 Customers order at the counter from Sansa, and she brings out the food quickly. The semi-open kitchen has two woks going on weekdays and three on weekends, said Sansa, who besides running the restaurant, is the wife of co-owner Mu Lee.
Mu, 31, owns Asian Noodle with his cousin, Tony Chen, 33, who opened Mad Seafood Boiler on Gorham Street with his uncle in 2017. That Downtown restaurant serves a few of the same items, like Cajun fries, takoyaki and fried rice.
Tony and his uncle sold Asian Kitchen, a Chinese carryout and delivery business, on the 400 block of State Street, to prepare for Mad Seafood Boiler, where Mu was a sushi chef.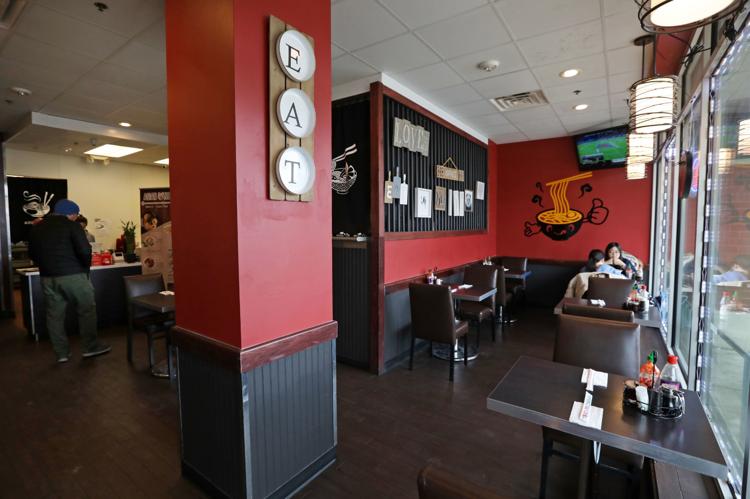 Both Tony and Mu are from Fujian province in southeastern China. Tony opened Sushi Express on campus in 2013 and sold it in 2016.
You'd think after many years in the restaurant business Tony would have more confidence with sauces, spices and seasoning.
Whatever the case, Asian Noodle seems to be attracting a lot of fans. As my dining companion said, "It's not bad food, it's just missing something."
Last year featured lots of exciting new restaurants that are destined to stick around. Here are 10 that got the most favorable reviews in 2019.
Stay up-to-date on what's happening
Receive the latest in local entertainment news in your inbox weekly!