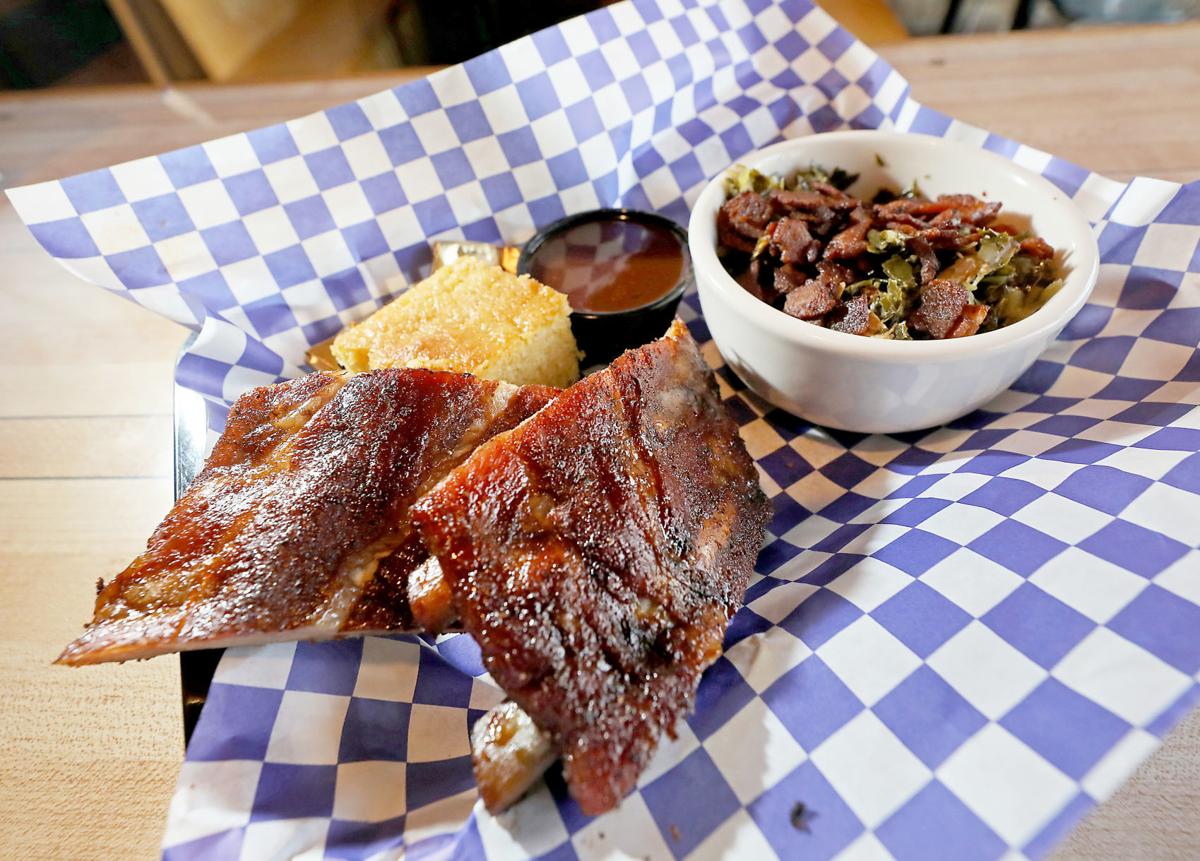 Right Bauer Brewing is a name only a euchre player could appreciate.
But because drinking beer and playing euchre go together so well, it works for the brewpub, which opened in October on Sun Prairie's Main Street.
Right Bauer's owners have embraced a game theme with Monopoly art in the restroom, checkerboard/chessboards turned-decor on the wall in the small back room, and a five-tier bookshelf packed with board games in the main room. More prominent in the front room are two communal tables made with damaged plexiglass from a Madison bowling alley.
A friend and I chose Right Bauer in part because we were looking for somewhere to eat outside on what felt like the first suitable evening to eat outdoors in weeks.
Right Bauer has an elevated patio that overlooks a city lot behind Market Street Diner. It also offers a view of the outdoor seating at Sun Prairie's other new brewpub, Full Mile, which is bigger, busier, more elaborate, and opened two months after Right Bauer.
That's not to say Right Bauer doesn't have it together. It does. The seat-yourself, counter-service brewpub just feels more casual and intimate. The in-house beers are every bit as impressive as Full Mile's, it's just that there are somewhat fewer (seven or eight at any given time to Full Mile's 11 to 13). The food menu's a lot smaller, but Right Bauer's owners are adding to it and beginning to offer specials.
The trend for new brewpubs in Madison is to open without a kitchen, and partner with food carts, which park outside. Right Bauer's menu of mostly barbecue options and sides is about as big as your typical food cart's, and just as good.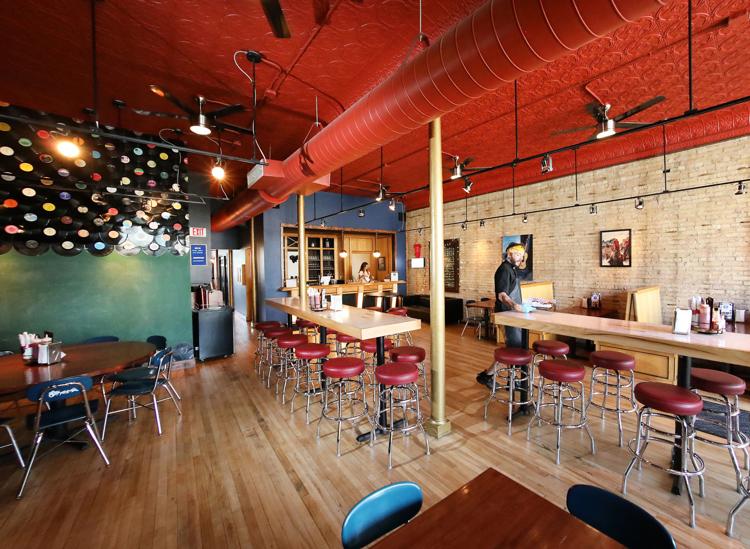 Food carts in Madison are almost uniformly excellent because offering only a few items lets them really make what they serve special.
The first thing that stood out at Right Bauer were the big, spectacular beer-battered cheese curds ($9). They had a light touch, made with Muenster cheese from Silver-Lewis Cheese Factory Cooperative in Monticello. The dark, distinctive homemade aioli on the side contained dry-rub spices and was a nice alternative to the usual ranch dressing.
Beer-battered fries are another appetizer, but they're also offered among Right Bauer's four sides, one of which comes with each meal. The third appetizer is poutine, mixing curds, fries and gravy.
All the main items are "from the smoker," with the Memphis-style baby back ribs the best way to go. It's $11 for a 1/4 rack and $15 for a half rack, and the smaller one, with seven meaty ribs, was plenty.
The meal came with a little cup of barbecue sauce that was the perfect combination of sweet-hot. But it was hardly necessary because the dry rub, made with brown sugar, imparted enough flavor on its own.
A pulled chicken sandwich ($9) was worthwhile, even though some of the meat was dry, and I pulled a small bone out of my first bite.
Right Bauer offers one vegetarian option, a smoked jackfruit sandwich, in which the texture of the pulled fruit resembled that of the pulled chicken.
I wanted to like what is sometimes called "vegan meat," as much as the chicken, but it was only tolerable. Both sandwiches had just the right amount of that perfect sauce and were served on delicious, sesame-studded rolls from Sun Prairie's Beans n Cream Bakehouse. So, the jackfruit sandwich had that going for it.
Two of the three sides we had were wonderful and served in generous portions. The coleslaw took on an orange hue from being seasoned with the brewpub's dry rub, which was a clever idea. The collard greens were also unique, made with smoked ham hocks and topped with crisp, crumbled bacon.
Our third side: super thin, beer-battered fries, bombed. They were light-colored and under cooked. And nothing about them demonstrated that they'd been beer-battered.
All three meals came with a small slice of dense cornbread that was sweet enough that we weren't tempted by the dessert display: giant homemade oatmeal cookies with maple buttercream frosting.
The star attraction, of course, is the beer, and for good reason. The beer menu is beautifully presented on a chalkboard in colored chalk. Right Bauer brews seven or eight of its own beers on site and offers seven other local taps, along with NessAlla kombucha. My friend and I stuck to the Right Bauer beers, each ordering a flight of four, 5-ounce taps ($10).
We only overlapped on the Nitro Milk, a milk stout we both enjoyed. "This is their winner," said my dining partner, when, in fact, many of the others could be declared winners.
He gravitated toward the hoppier beers, me toward the maltier. My favorite was the Telchac Puerto, a deep, rich Mayan hot chocolate imperial brown that came on strong. It has a 10 percent ABV (alcohol by volume), after all. The Wild Card was also unique — a blackberry sour with vanilla and lactose (the sugar in milk). Its ABV is 5 percent, so a better option if you're driving.
Farmer's Hand, a saison, was too sharp for me, but my friend liked its spicy flavor. He also favored the Suicide King, a cloudy IIPA, or "double IPA," saying it didn't taste as strong as it's 8.4 percent ABV would suggest.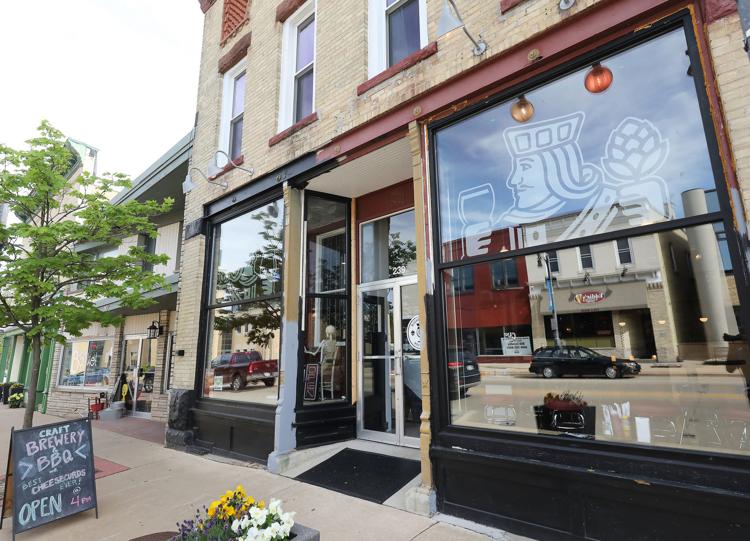 Brewmaster Martin McNally and his wife, Erica Beckman, along with three partners, opened the 2,000-square-foot brewpub where Atlantis Taverna used to be. McNally's brother, Terrance, handles cooking duties.
The July 10 natural gas leak and explosion that rocked Downtown Sun Prairie happened hours after McNally and Beckman bought the property. The couple was in the center of the future brewpub when its two large front windows got blown out, McNally said. Luckily, they were uninjured and the building sustained no structural damage.
Right Bauer refers to the highest ranking card in euchre, and in terms of this new brewpub and its beers, that's about right.
Stay up-to-date on what's happening
Receive the latest in local entertainment news in your inbox weekly!