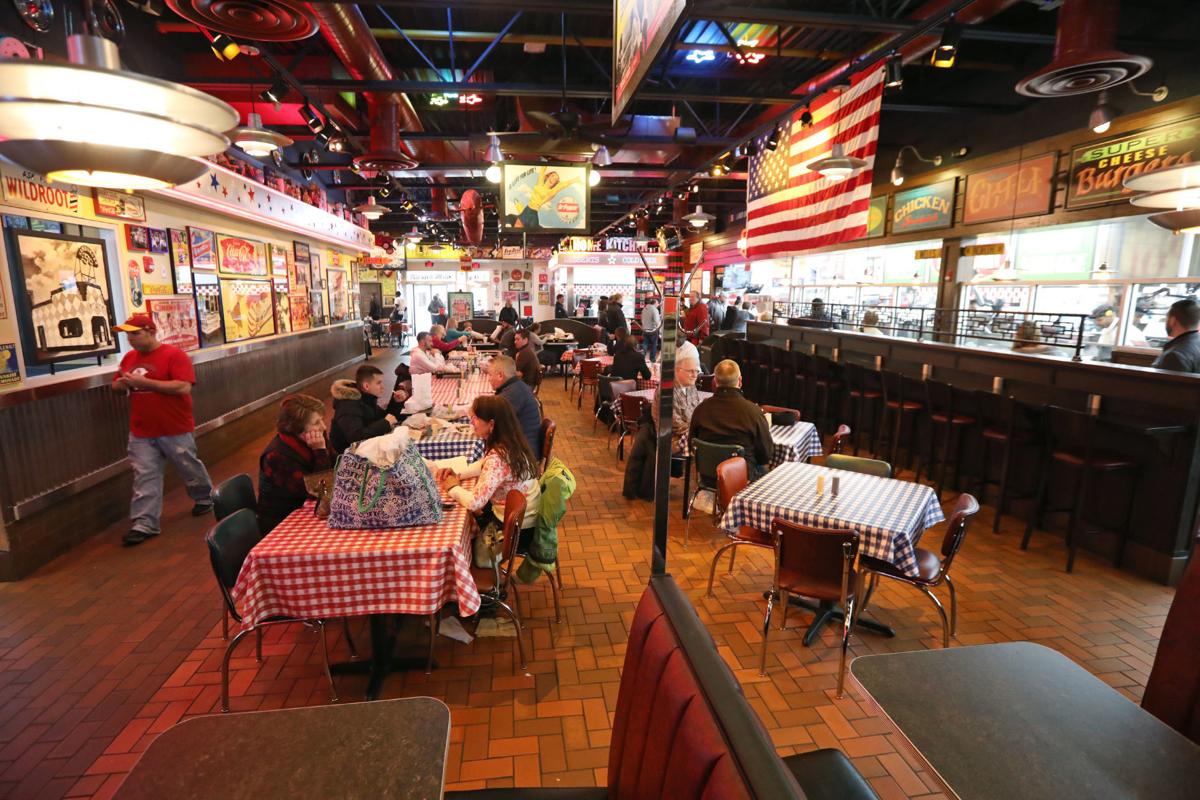 Madison has a long history of failing to support hot dog joints. The hot dog cart at Home Depot has sadly served as the default for many local dog lovers.
John Handley had two excellent FIBS (for Fine Italian Beef and Sausage) food carts, on Library Mall and on the Capitol Square, but stopped vending after a July fire accelerated his retirement. Handley also sold Chicago hot dogs and meatball sandwiches.
Now Portillo's, with its '50s diner theme, has barreled into town offering hot dogs and so much more. The fanfare has been extreme, and, yes, you can believe the hype.
Portillo's hot dogs and Italian beef lived up to the legend, and everything else we ordered one recent Sunday was memorable too.
We tried to pick a time when the 9,000-square-foot restaurant wouldn't be super crowded and visited at 2:30 p.m. The lines were long, but they moved fast, and, after we ordered, we hovered near a prime booth where it looked like things were wrapping up, and that strategy paid off. Someone did the same with us as we were finishing.
Portillo's, in the parking lot at East Towne Mall, had its grand opening March 4, but has been in soft-opening mode since mid-February. Madison is the 59th location for the Oak Brook, Illinois-based chain, and its third in Wisconsin.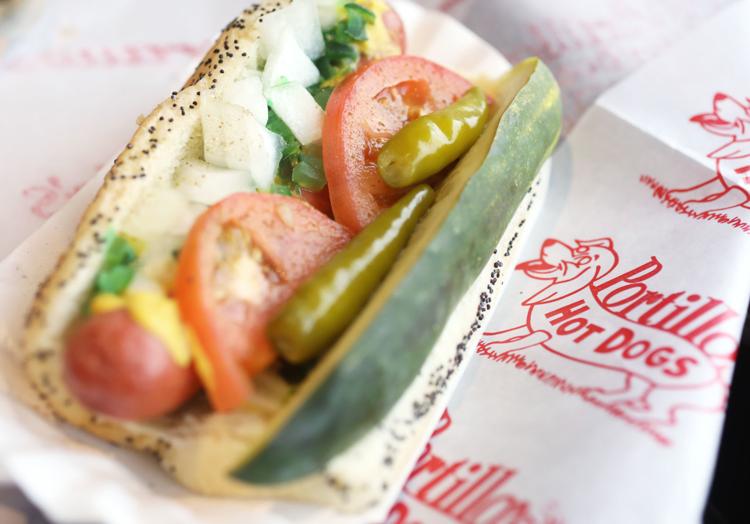 The hot dog ($3.09), even with everything, seems pretty dainty and could serve as an appetizer or snack rather than the centerpiece of a meal. There's also a jumbo hot dog for 40 cents more.
The Chicago-style dog had all the requisite toppings: mustard, relish, celery salt, onions, tomatoes, a pickle spear and spicy sport peppers in a soft, steamed poppy seed bun. It was a perfect specimen of a hot dog, carefully assembled.
Portillo's is also well known for its Italian beef ($5.99), and the sandwich equaled the romanticized versions of my youth from Al's No. 1 Italian Beef on Taylor Street in Chicago. Al's has expanded to more locations over the years, by the way.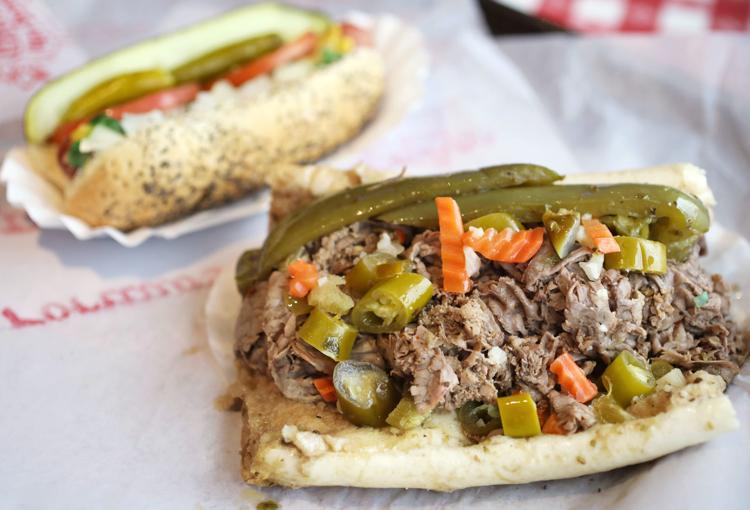 You have free articles remaining.
The beef is offered three ways at Portillo's: "splashed" with the restaurant's gravy; "dipped," where the whole sandwich is dunked in gravy; or "dry," with little gravy.
The online menu explains that Portillo's uses the beef's natural gravy that comes from roasting it for four hours. The term gravy is a bit misleading. It's more an "au jus."
I had it dipped, which seemed weird to my companion, but he claimed to appreciate the soggy-bread sandwich. Not only was the juice great, but so was the lean, thinly-sliced beef and the Turano French bread. Sweet peppers or spicy giardiniera peppers can be added for an extra 60 cents, and they should be. Best is a mix of the two.
I'd only been to a Portillo's once before, in Rockford on the way to St. Louis two years ago, and my brother had recommended the chopped salad ($7.99), so named because it's chopped into tiny pieces. It's led me to a whole new category of favorite salads.
To refresh my memory, I ordered it again. The bowl held an appealing mix of romaine and iceberg lettuce, ditalini pasta (short tubes), chunks of chicken, bacon bits, tomatoes, gorgonzola, scallions and red cabbage. It came with two containers of Portillo's very good house dressing, which tastes like it has garlic and honey. A chunk of French bread was concealed in a paper bag.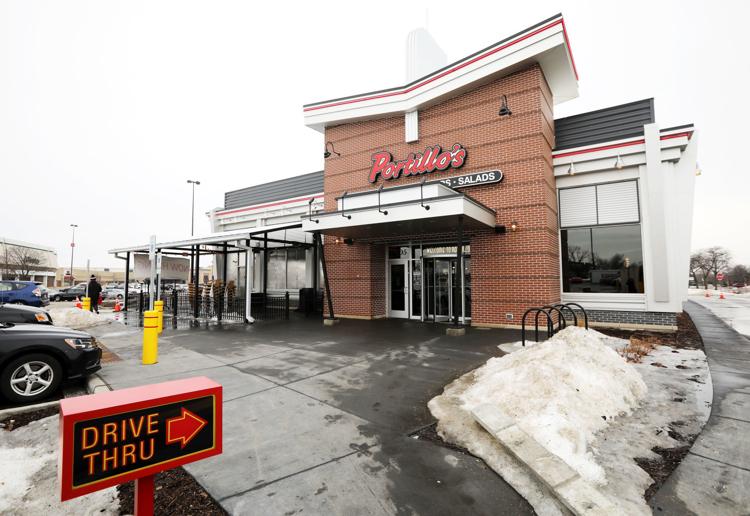 I wasn't aware that Portillo's had baby back ribs until my companion suggested we order a half slab ($11.50). It took an extra 15 minutes, a minor inconvenience for tender, delicious meat that we were able to pick from the bones with a plastic fork. The ribs came slathered with a barbecue sauce that was just right, neither too sweet nor too hot. A packet of extra BBQ sauce came on the side but was unnecessary.
For $3, we made it a dinner and got a wedge of the same bread that came with the salad; crisp, creamy coleslaw; and enjoyable, medium-cut crinkle fries.
As if Portillo's wasn't already known for enough things, it also has a reputation for its chocolate cake. Instead of ordering it, I was more intrigued by Portillo's chocolate cake shake ($3.99/$4.99), which is not only a better way to drink a shake, but a better way to eat cake.
The employee calling out order numbers was having fun with it, which made for a more festive atmosphere: "267, come get your heaven," "286, come get your fix," "288, there's no more wait," "299, still time to dine" ..." Matt Kiefer, the general manager I spoke with, said that's part of the "Portillo's experience."
When we pulled up to Portillo's, both lanes of its drive-thru were jammed, and employees were outside taking orders. A replica of the hot dog stand Dick Portillo opened with $1,100 in 1963 in Villa Park, Illinois, sat in the small parking lot.
People were taking pictures of the restaurant as if it were a tourist attraction. Right now it is, and there's every indication it's going to stay that way.