Porter, a stylish coffee and sandwich shop, is hidden behind the bike store Motorless Motion Bicycles on West Washington Avenue. Yet people are finding it.
The shop, which also offers an excellent selection of grocery items, is all about convenience, and about food that can be eaten on the go. The menu features many hand-held items that make silverware unnecessary.
What you really want from Porter is its substantial but compact breakfast sandwich ($9). I'd been in a bad mood the morning I ordered it, and the sandwich began to turn things around for me.
The sandwich had smoked ham, sharp cheddar, red onion, stone-ground mustard and an over-medium egg in a tender, warm brioche roll from Stalzy's Deli (all of Porter's bread comes from Stalzy's). The onion and mustard make it pretty hearty for the first meal of the day, but this is January in Wisconsin. We all become more hardy this time of year.
The menu is divided into breakfast items and lunch items. It defines breakfast as between 7 a.m. and 11 a.m., and lunch from 11 a.m. and 7 p.m., but if the staff isn't too busy, they are glad to blur those lines.
The avocado toast ($6) is another great breakfast choice with thick slices of ripe avocado on top of thickly cut caraway rye with lemon zest and radish. It could have used more sea salt and sesame oil, which, if they weren't listed on the menu, would have been hard to detect.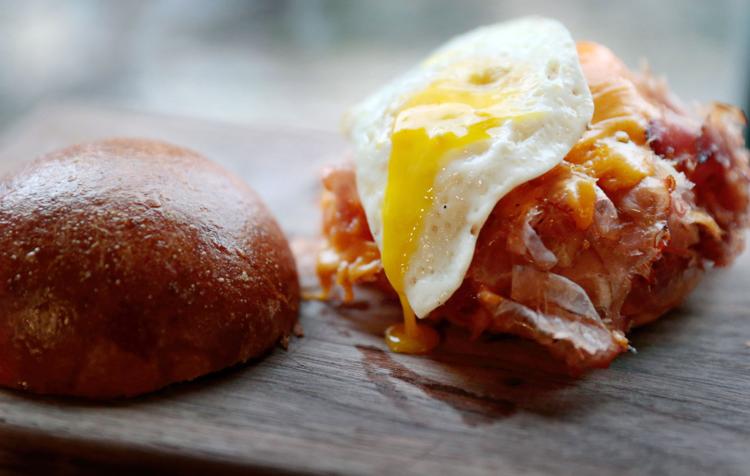 The Porter Pocket ($7.50), meanwhile, was firing on all cylinders. The portable quiche or hand-held pie had a delicious shell and was stuffed with scrambled eggs, smoked bacon cubes or lardons, leeks and aged Swiss cheese. It came in an attractive wax paper wrapper and was steaming hot inside.
Those looking for sweet over savory won't be disappointed with Porter's yogurt parfait ($5), which layers Greek yogurt, plump blueberries, thinly sliced strawberries and granola homemade with pecans, almond slivers, walnuts and sunflower seeds, among other things. A touch of honey and maple syrup sweetens the deal.
Looking beyond breakfast, the salade nicoise ($11) was masterful, with big chunks of canned Spanish bonito tuna and mildly hot Spanish pickled peppers. A fantastic anchovy vinaigrette was applied modestly.
Vegetarians will be pleased with the veggie sandwich ($10) which comes on light rye bread that is oiled and grilled on a panini press. The mix of vegetables was unique and included marinated artichokes, roasted shiitake mushrooms, oven-dried tomatoes and roasted red pepper. Melted provolone bound the ingredients together.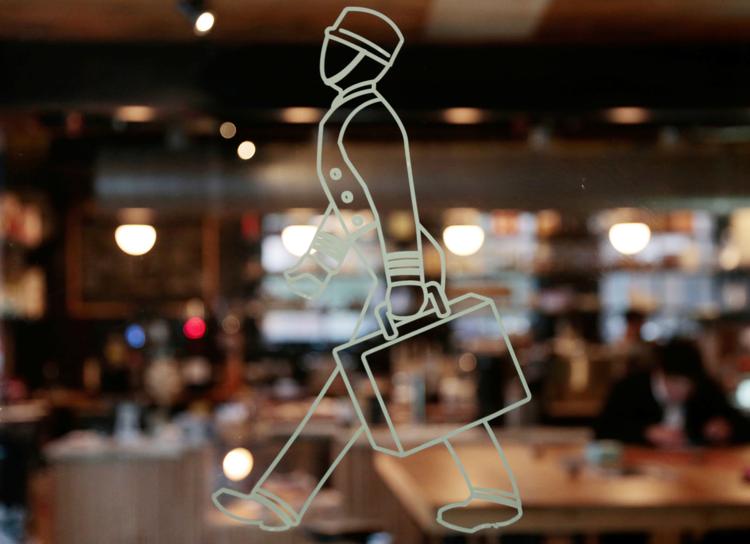 Porter serves a few bakery items, most made in-house, including cranberry muffins ($3) with a streusel top, oatmeal chocolate chip cookies ($2.50) and homemade granola bars ($2) .
All the bakery I've had at Porter has been moist and delicious, even the day-old stuff for $1.50. If you've got to work through lunch or dinner, bring along one of Porter's granola bars, made with peanut butter, dried cranberries and chocolate chips. They'll make you reconsider eating a packaged one again.
Drip coffee, from North Carolina roaster Counter Culture Coffee, is $1 with any sandwich. Otherwise, it's a reasonable $2 for an 8-ounce cup.
The coffee is brewed strong, so if you take cream, you'll need more than usual. Porter puts out pure cane, rough-cut sugar cubes. It's the same sugar the shop sells on its shelves.
Porter stocks a well-curated selection of grocery items, including many used in the menu. You know, stuff that not only looks pretty, but that you might actually want to buy: Sassy Cow milk, Potter's crackers, Gail Ambrosius chocolates, eggs, habanero carrot sticks, olives, pasta salad, fresh mozzarella, brie, yogurt, maple syrup, packaged beets. There are also bottles of wine and spirits.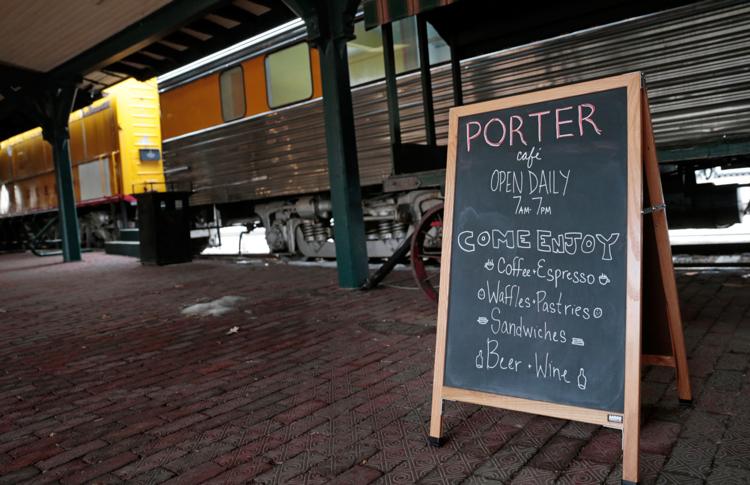 The cafe is the first part of Gilbert Altschul's ambitious redevelopment of the historic Milwaukee Road Depot. His plans call for a six- or seven-vendor farmers' market, but until those plans are fully realized, the cafe's food selection can be handy for those who live or work nearby.
Altschul, 33, redefined pizza in 2013 with Grampa's Pizzeria on Williamson Street, then added Gib's Bar next door.
He opened Porter on Nov. 28 and eventually plans to get the train cars that block its view moved. The whole project, including a taco restaurant called Bandit, should be complete by this time next year, he said.
Can't wait to see how he elevates the simple taco.