Poke lovers aren't going to tire of their beloved raw fish bowls anytime soon. After all, it's the best new food trend to hit Madison since ramen went wild.
And we have four poke restaurants and another on the way to prove it.
Poke It Up sets itself apart by being the first dedicated poke restaurant to serve a poke burrito, which is poke rolled in a large sheet of seaweed. (Bistro Honda on the North Side serves a different version.) 
The poke burrito from Poke It Up has taken my love of poke to new heights. 
During two recent lunch visits, I noticed that Poke It Up, which opened May 1 at 540 University Ave., where Erberts and Gerbert's used to be, didn't sell many burritos. And it was doing a strong business both times. 
People have gotten used to eating their raw fish with rice, salad, sauces and other fixings in a bowl. So, the first time I tried to order a burrito, what I got was the more common plastic bowl of poke. It looked so good, I didn't take them up on their offer to remake it.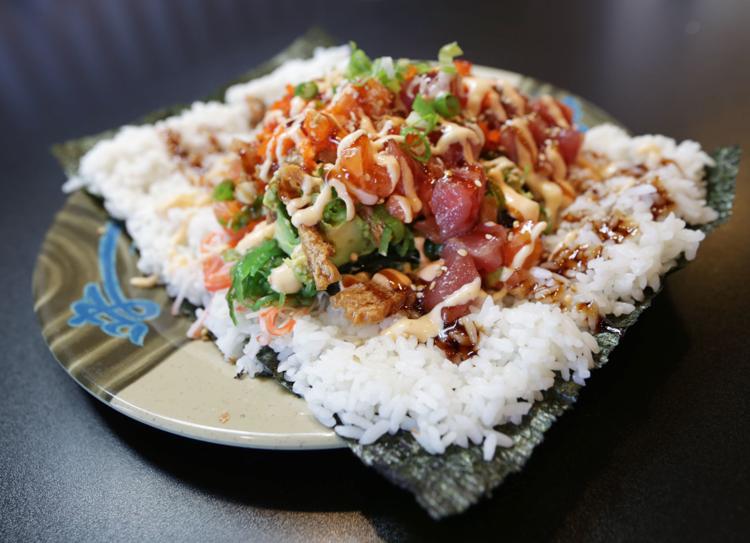 On my next visit, I filled out the restaurant's do-it-yourself form and made sure to check the burrito box. It was a regular $11.50 burrito with sushi rice/salad, salmon, ahi tuna, crab meat, seaweed salad, avocado, tempura flakes, sesame seeds, green onion and tofu. And the combination was astonishingly good. 
The tofu was a particular treat, cut into thin, spongy strips that had been marinated in a sweet soy sauce.
Customers also select a sauce, and I can't say enough about the ginger aioli that came in a little plastic cup on the side and delivered a slight punch.
The only negative was that not all of the ahi was perfectly tender. That wasn't true of the salmon and white tuna in the bowls I've had at Poke It Up.
Of the "house creation" bowls I've ordered (there are 12), the best was the signature ocean feast ($14.99), which is similar to one at Poke Poke, down to its name. My friend and I both thought the one at the Williamson Street restaurant was better, but it's a close call.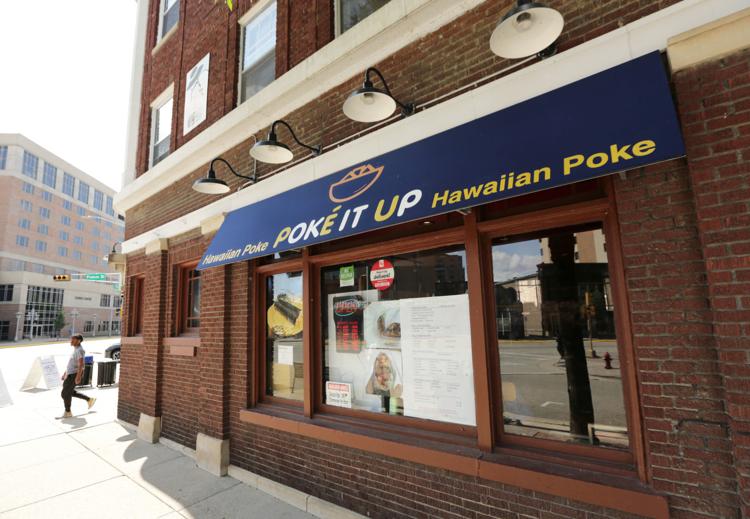 You have free articles remaining.
Register for more free articles
Stay logged in to skip the surveys
Poke Poke's version had more abundant and diverse seafood, including scallops, shrimp, octopus, snow crab leg, as well as ahi tuna. But Poke It Up's use of ahi tuna, salmon, white tuna, yellowtail and mango worked, too.
Another worthwhile choice at Poke It Up is the spicy style ($11.50) bowl, which was heavy on edamame and also featured spicy tuna and spicy salmon, neither one in salad form, as you might expect. Giving it added heat were jalapenos, creamy wasabi and spicy aioli. Despite multiple spicy ingredients it didn't go overboard.
The only bowl I wouldn't get again is the snow stone ($12.99) with white tuna, crispy garlic, fried onions, pineapple, spicy aioli and eel sauce. Pineapple often works on pizza, but not in poke. It came in large, Dole-sized chunks and really dominated the dish. The white tuna, which was soft, fresh-tasting, and cut into tiny pieces, was relegated to a supporting role and the garlic and onions were hardly noticeable.
The combination of warm rice and cold lettuce works with poke, and what seems like a lot of sauce on top mingles well with the other ingredients and manages to make its way to the last bite.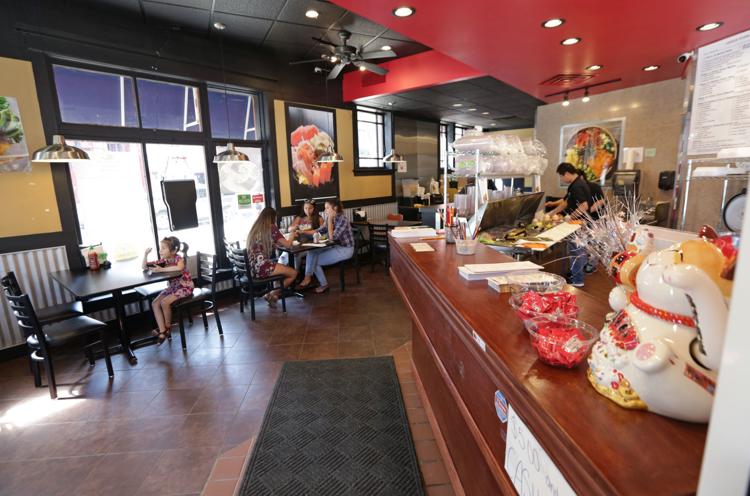 Handmade signs inside the restaurant are rather endearing, particularly the one that says "free water" above the water canister. I was pleased to find the water flavored with fresh oranges and lemons.
The restaurant is owned by Meng Feng Wang and his wife, May Dong, who together opened Akari Sushi in February 2017 on Gammon Road. Poke It Up seems like a step up from Akari, which offers fresh sushi in a decidedly no-frills atmosphere. Both places have TVs on, but Poke It Up turns up the volume. Commercials can be particularly grating while you eat.
The original Poke It Up is in a mall food court in Arlington, Virginia, and has been owned by a friend of Meng's for a year and a half, he said.
In terms of local poke, Food Fight's Miko Poke led the way, opening two years ago on Monroe Street.
Poke Poke (Williamson Street) and Poke Plus (State Street) both opened in April, while FreshFin Poké is shooting for a Sept. 5 opening in the James building on Gorham Street, near UW-Madison.
Meng agreed that his is the only Madison poke restaurant offering poke burritos and said people are now starting to order them. "More and more people like it now," he said.
"Like" is an understatement. "Love" is more like it.