Point Burger Bar in Middleton has a dizzying amount of possibilities when it comes to crafting a burger.
It's easier to study the burger options yourself, rather than trying to follow as your server explains it and gives complicated pointers.
Build-your-own burgers can be made with Angus beef, duck, turkey, lamb, portobello mushrooms, bison, salmon and chicken. There are also two vegan options.
The menu offers nine types of buns, including a lettuce roll and a gluten-free one. All nine cheeses and 18 condiments come with an additional charge.
Onion, tomato and lettuce are free, but there are more than a dozen other choices that will cost extra on your burger, including onion rings, guacamole, pastrami, corned beef or a fried egg. Each burger comes with a side, but only six of the 15 are free.
Otherwise, there are the 17 specialty burgers where most of the thinking is already done for you.
Burgers start at $7.95 for a turkey burger and a few others, and go up to $17.95 for the "heart stopper" specialty burger with two beef patties, bacon, five kinds of cheese, mushrooms and onions.
The specialty rodeo burger was plenty compelling ($12.95) with juicy beef, two strips of Nueske's Wisconsin bacon, BBQ sauce, 3-pepper Colby and three large onion rings on a wonderful, not-too-stiff Kaiser roll. The barbecue sauce had kick, and the spicy cheese and onion rings tricked it out more. Burgers don't get much better.
Point Burger Bar owner Brian Ward said the meat is 100 percent Angus beef made exclusively for Point by WW Johnson, a wholesale meat company out of Minneapolis.
The much buzzed about Impossible Burger, which by itself is vegan, is available as a $13.45 specialty burger with cheddar cheese, pickle chips, tomato and pesto aioli on a brioche bun.
Not wanting the pickle chips, and trying to economize, I ordered the base Impossible patty ($10.45) with just the freebies (red onion, pale tomato slices and leaf lettuce) with MontAmore cheese ($1.45) on a shiny brioche bun.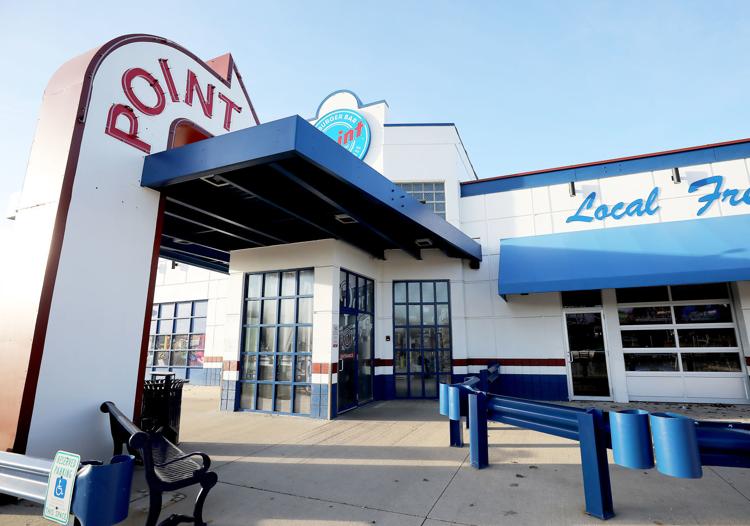 My burger, including fries, came to $11.90, but seemed lacking. It got its best flavor from the onions. Adding aioli could have helped. The thin, melted layer of MontAmore only went so far. Our server correctly described the original cheese, made by Plymouth's Sartori cheese company, as a combination of cheddar and Parmesan.
The patty itself didn't have as much character as Beyond Meat's Beyond Burger, which I had last summer and is so good local grocery stores can't keep them in stock. Beyond involves peas, but bleeds red because of beets, and much more accurately mimics meat.
The Impossible Burger, meanwhile, is made from wheat, potato, coconut oil and an iron-containing compound called heme. However, no one's going to confuse this burger with beef. It's only available in restaurants, but is scheduled to be sold in stores beginning this year.
The fries with my burger were crisp with lots of texture — that's because they're coated in their own starch, the restaurant's owner said. The sour cream and chive wedges (an extra 45 cents) were another great option and seasoned with restraint.
"Ward's signature prime rib bites" ($8.45) were a fine place to start: Six bacon-wrapped pieces of prime rib skewered on toothpicks and almost charred. We regretted letting our server clear away the horseradish sauce on the side, realizing it could have been used with the fries, too.
The bites are named for Ward, who opened the Middleton restaurant in late November and also owns three other Point Burger Bars, serving a huge selection of Point beer, in and near Milwaukee.
Point Burger Bar also has an excellent chili ($4.95/cup, $6.45 bowl) with finely-ground beef, the right level of spice, and a reasonable amount of beans. It can come topped with red onions and cheddar for no extra cost.
The menu also includes salads, sandwiches, wraps, a few entrées and a Friday fish fry.
The alcoholic (their word, not mine) custard shakes ($10.95) come in a temping array of flavors, but the salted caramel brittle with peanut butter, Jameson and Frangelico was entirely skippable. It came with an overkill of whipped cream on top and a bubble tea-sized straw.
To make up for this disappointment, we ordered a salted caramel brownie ($4.95) for dessert, which our server called "dangerously delicious." Its dangerousness is debatable, but I liked how it had chocolate chunks inside and an unusual pretzel-crumb bottom.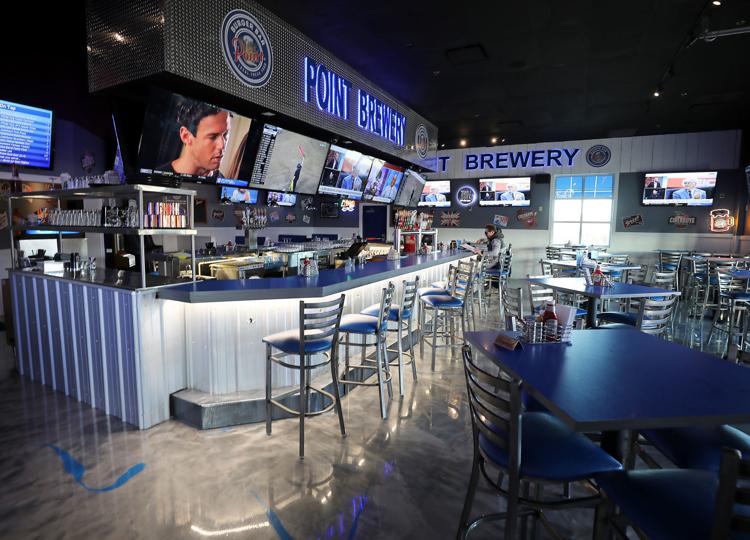 We had a great experience; the only detraction was the draft from the windows in the back of the dining room where we were sitting.
The thing that stood out most about our visit was the service. "She was one in a million. How often do you meet people like that?" my companion said about our young server afterward. "She had social skills. Maybe her parents kept her off the computer when she was young."
Ward, who owns the Downtown Milwaukee steakhouse, Ward's House of Prime, opened his first Point Burger Bar in late 2015. The blue-and-white Middleton restaurant has a corporate feel, but gives no impression of being a former Quaker Steak & Lube. And no indication it suffered $800,000 in damages after flooding last summer delayed its opening by three months.
The restaurant had a good crowd in its bar area at 6 p.m. on a recent Thursday and was also drawing lots of families. The elaborate machines in its game room could lure even the most game-adverse, and it was the games that suffered the most flood damage. The TVs, which are everywhere, all had to be replaced.
The flooding happened two weeks before Ward was set to open. He didn't have flood insurance, but said his only option was to rebuild since he'd put $1.6 million into it.
Point Burger Bar overcame an enormous setback. It's underdog status isn't immediately evident, but it's worth rooting for.