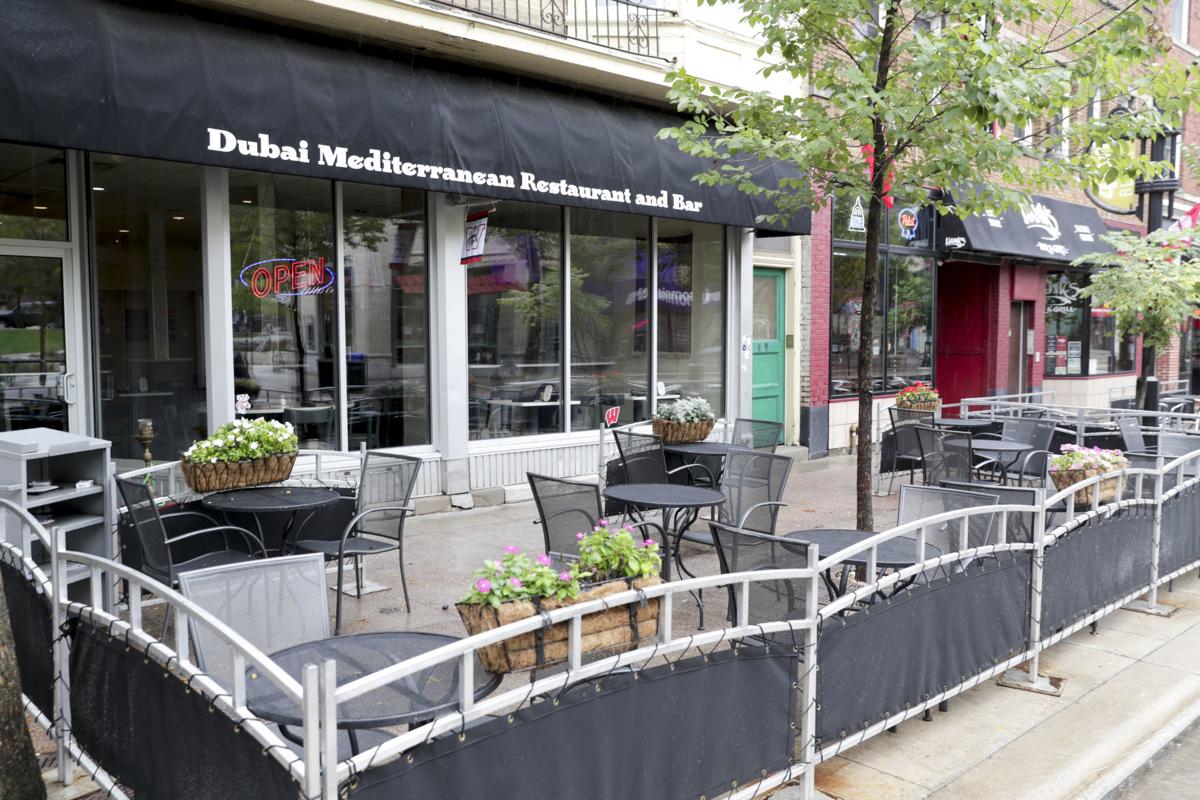 The revolving door on the State Street restaurant space that was the Yellow Jersey bike shop for almost 40 years has been one of the fastest spinning in town.
In 2014, it first became Palmyra Mediterranean Grill. That gave way to Zandru's, a Spanish-style tapas restaurant, then the Latin-themed Palmas Bar & Lounge. Since April, it's been Dubai Restaurant & Bar, which bills itself as a "Mediterranean experience."
At first, business was slow because it was new, said owner Miar Maktabi, but it's picked up significantly since word got out about his signature maqloubah, an eggplant dish Maktabi's Syrian grandmother made on special occasions when he was growing up.
Maktabi, who owns the restaurant with wife, Cassy Maktabi, said he went from selling a handful of maqloubahs a week to dozens a day, and double or triple that on weekends.
Dubai's maqloubah features paper-thin slices of fried eggplant laid across a mound of yellow rice with a light saffron flavor. Small pieces of chicken ($14) or beef ($15), seasoned — he said — with 16 different spices, sit on top.
Sadly, I was left wanting twice as much eggplant. There was more than enough rice, and a decent amount of chicken, but not nearly enough of the star ingredient. For an eggplant dish, it seemed like just an accent.
When I mentioned that to Maktabi, he accepted the critique, and said customers can always ask for a different ratio and the dish can be made with more eggplant and less rice. "You can always request the plate how you would you like it," he said.
The maqloubah came with a bowl of thin yogurt with lots of spices that is supposed to be sipped between bites rather than poured over the rice, Maktabi said. The drink was salty, sour and delicious. Maktabi said he buys the herbed drink and adds mint, garlic, lemon and salt.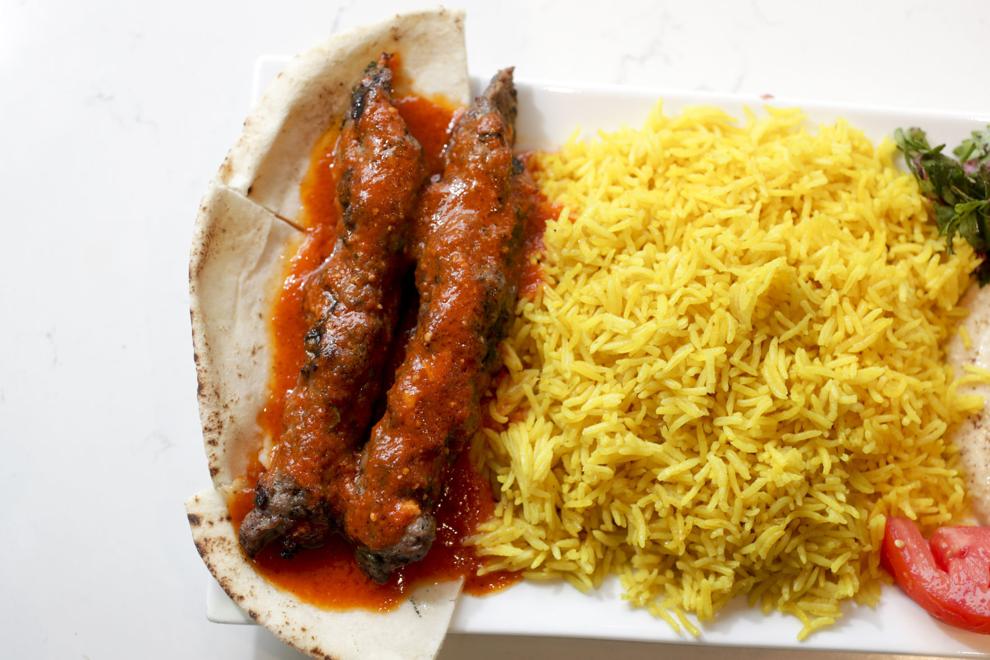 The Dubai special ($15) featured rolls of grilled ground beef that were so peppery my friend couldn't eat them. What saved the dish was the same saffron-seasoned rice made incredibly delicious by a rich, spicy robust Arabic tomato sauce that also came on top of pita. An appreciated salad with a well-seasoned oil and vinegar dressing, came out ahead of time.
A garlicky tabbouleh salad ($8) was unfortunately drowning in oil and featured less bulgur and more parsley than is typical. Tomato, cucumber, red onion and cabbage helped make it worth rescuing from the dressing.
The most successful dish we ordered was an appetizer called "mix with falafel" ($12), three deep-fried, crusty falafel, their shape not quite round, served with a trio of dips: hummus, baba ganoush and muhammara.
The hummus had a deep flavor, enhanced by olive oil on top. An exceptional baba ganoush introduced more eggplant, welcome because of the slight showing in the entrée. The muhammara, a red pepper and walnut spread, was merely fine.
A final highlight of the meal was some excellent homemade baklava ($4), two triangular pieces of exceptionally flaky phyllo pastry enhanced by honey and chopped walnuts.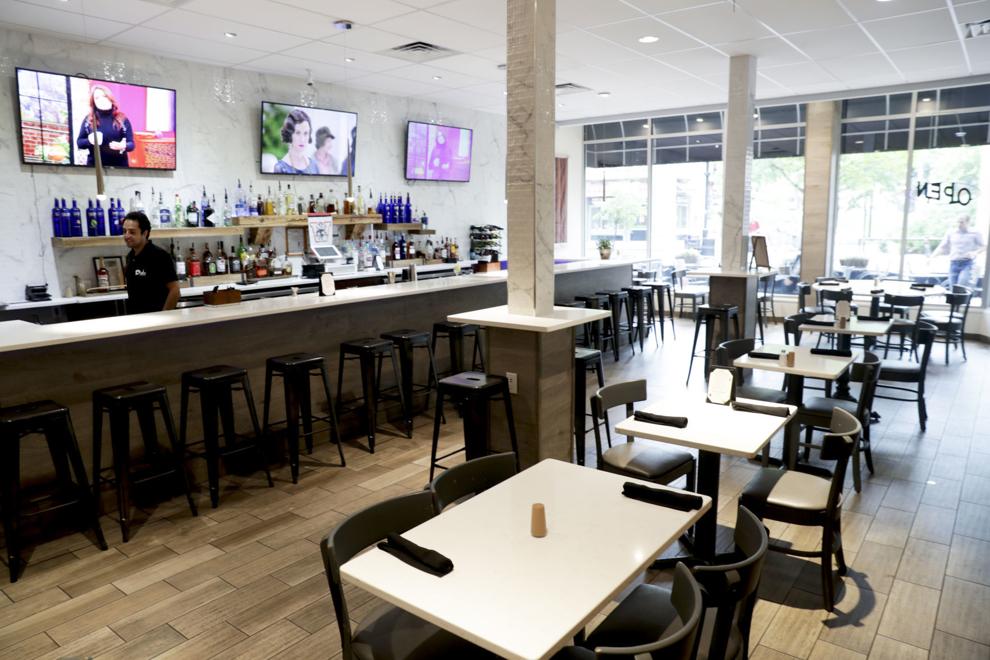 Maktabi, a former chef at Palmyra, inherited the inviting, elegant atmosphere of the former Zandru's, making it fitting for the name, Dubai, the United Arab Emirates city with a higher cost of living than any other country in the Middle East.
Before coming to Madison in 2013, Maktabi, a Syrian immigrant, lived in Dubai for 10 years, where he worked as a chef and later sold high-end clothing.
Things started to tighten up for Syrians in Dubai, and it got more expensive, Maktabi said, so he came to Madison where he has family.
Before opening the restaurant, he worked three jobs. Now, he said, he puts the same amount of time into Dubai — about 18 hours a day. He makes time to see his two young children for a couple of hours before the dinner rush.
Maktabi said he and his wife give $1 from each transaction at the restaurant to help business owners in worn-torn Syria rebuild their shops. So far, they've helped 18 to 20 families, he said.
It's a great reason to pay Dubai another visit, as if anybody needed one.