Pasture and Plenty is the best thing to happen to Madison's Near West Side in a long time.
The farm-to-table restaurant on Old University Avenue emerged gradually, starting by serving Wednesday dinners at Concerts on the Square in the summer of 2017.
Soon after, its location in the old Sushi Box opened its doors, offering ready-to-eat meals and meal kits.
Then, owner Christy McKenzie took over the large space next door and did a remarkable renovation. She opened the counter-service restaurant in its current form, with its small but inviting menu, this past July.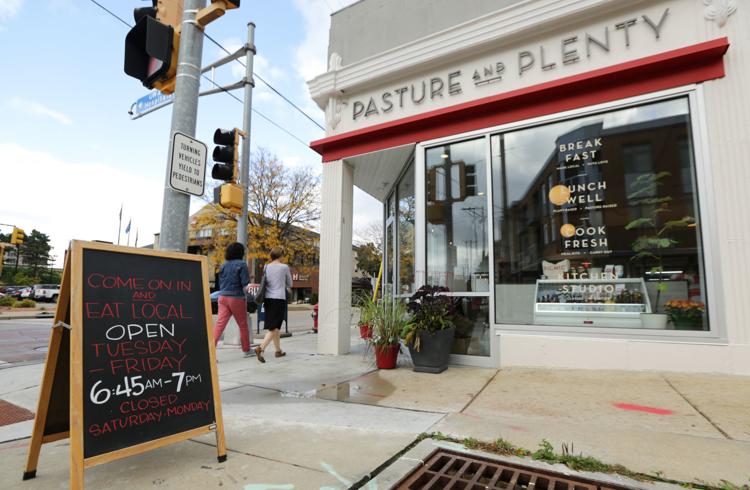 Pasture and Plenty's meal plan now has about 115 active households. Half of McKenzie's subscribers pick up their meals at the restaurant and half get them delivered, she said. Included each week are one quick kit, one ready-to-eat meal, and one farm-to-freezer dinner.
Many freezer meals are also available to anyone who stops by the restaurant, which is open for breakfast and lunch on weekdays. It also serves dinner on Wednesdays from 5 to 7:30.
After a recent lunch visit, I took home a celeriac, parsnip, and eggplant casserole ($18), a hearty autumn meal designed to feed two, but wound up comfortably serving three.
The early fall vegetables were wonderfully seasoned, and it felt good to eat a vegetarian meal at a time of year when the key ingredients were still coming from local farmers.
I also brought home a package of brown butter chocolate chip cookie dough ($9), which made 11 fabulous cookies. The nutty-tasting brown butter is magic.
The lunch we had was also enchanting, every item exquisite. Pasta has been showing up recently as a daily special, and this day it was a generous serving of dense, chewy fusilli ($9) with Brussels sprouts, sautéed onions, sweet peppers and butternut squash. All of it was bathed in an unassuming black pepper roasted garlic cream that wasn't overly rich.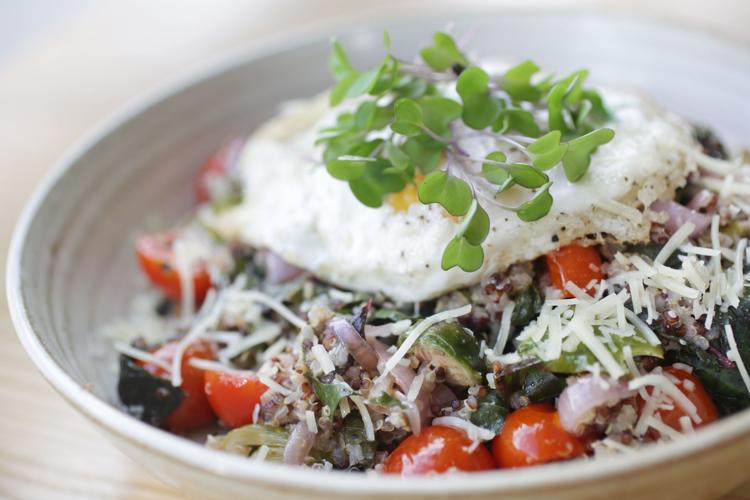 The daily grain bowl ($12) was also delicious. This day it had red quinoa, Swiss chard, caramelized red onions, Brussels sprouts, exceptionally sweet cherry tomatoes and SarVecchio cheese with a fried egg on top. The quinoa and vegetables were sautéed with white wine and served warm.
The thick tomato basil soup ($5.50) was also outstanding. It had a deep, rich flavor and was served with two fluffy wedges of fantastic house-made focaccia.
McKenzie gives much of the credit to her staff, including chefs Nate Carney and Jack Huibregtse. Her husband, Tony Vandermuss, is active in the business, too, as "chief delivery driver, dishwasher and general jack-of-all trades," she said.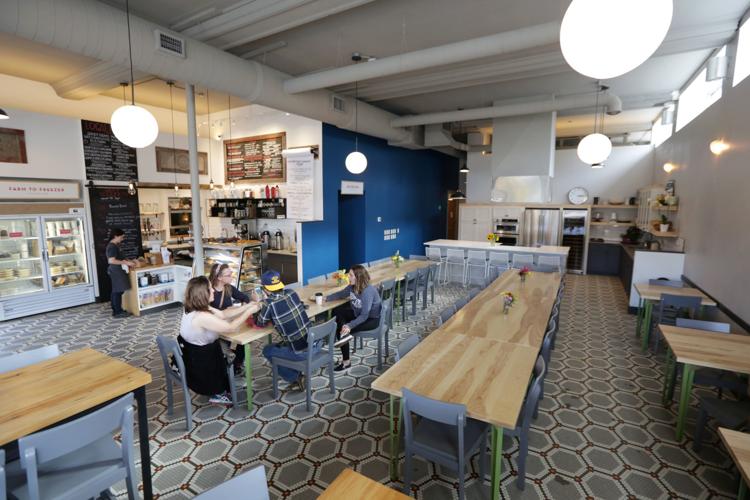 Pasture and Plenty has a clean, sleek look. Big windows let in lots of light, and the high ceilings make the room feel even more spacious. The original mosaic floor tiles, one of the restaurant's best features, were uncovered and restored by McKenzie's husband and father.
I first visited the restaurant for one of its Wednesday dinners, which on this night featured a meat and vegetarian version of the same dish, elegantly touted on a paper scroll on the wall. This night it was a chicken or sweet potato enchilada — a burrito, really — with brick red mole ($14.50).
The problem was that by 6:15 the kitchen only had one chicken enchilada left. We were a party of seven, five of them kids, and all of them wanting the chicken. Only the youngest got it.
The sweet potato version, which I tried, had the winning flavors of coriander, cumin, ancho chili and cayenne pepper in its mole, which was conservatively applied in the filling and on top. Sour cream was artfully drizzled on it, joining cheddar cheese and parsley. It was served over red rice.
The restaurant was full of parents dining with small children, and surprisingly the menu doesn't offer anything specifically for kids. It would be nice to see a cheap mac and cheese or even cheese enchiladas.
Others in our group had success with already-made sandwiches in the display case, particularly a chicken salad sandwich ($11) on a large croissant. Its dark meat and red and yellow peppers were coated with a homemade green goddess dressing.
A ham and Gruyère ($11) sandwich with coarse mustard on a thick, crusty baguette from Batch Bakehouse was also excellent. I ordered a side of fingerling potatoes and green beans ($4), which was the only thing I've had at Pasture and Plenty that lacked seasoning.
For dessert, the kids recoiled at the dark chocolate sea salt brownies ($3), which left more for us. A peanut butter cookie ($2.50) was equally good, its flavor intense and wholesome.