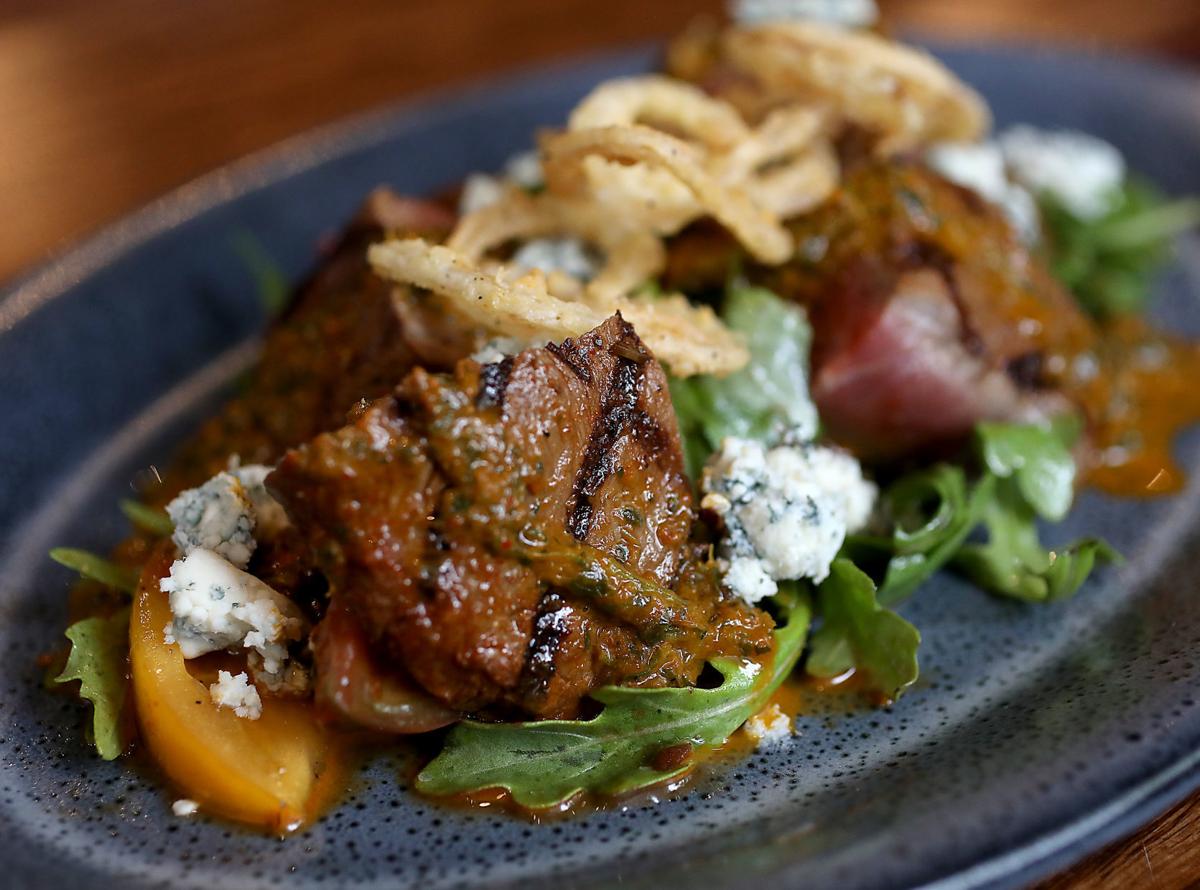 You can hear the music at the Breese Stevens Field concerts perfectly on the patio across the street at Palette Bar & Grill, so it's going to be hard to get an outdoor seat on show nights.
My friends and I didn't know singer Rob Thomas was playing Breese the Friday we made a dinner reservation at Palette in the new Hotel Indigo on East Washington Avenue.
We had made a phone reservation for six outdoors at 6 p.m., but when we arrived we were told the restaurant doesn't take reservations for its patio, and we were seated inside.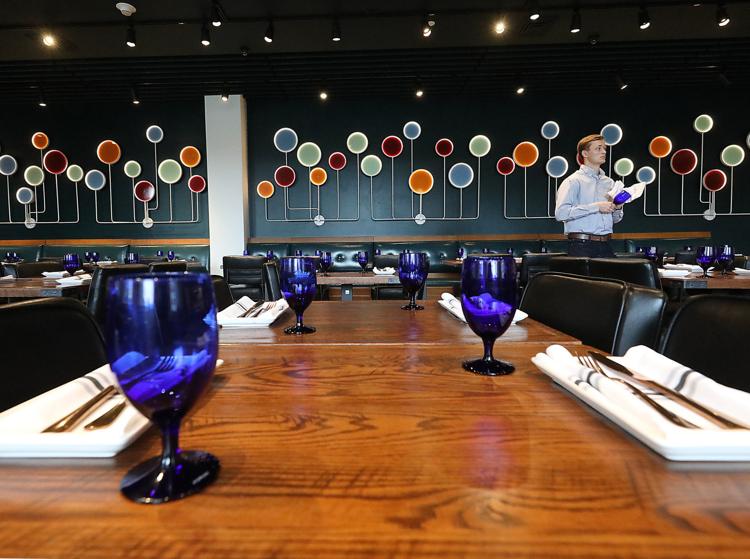 The interior of the restaurant is inviting and playful, so it hardly seemed to matter. But a table soon opened outside and that's where we spent the next three hours. The former Matchbox 20 frontman had more hit songs than we realized.
The food at Palette was also a hit. The drinks were creative and delicious, and the service was outstanding.
The cocktail menu, displayed on a card that resembled an artist's palette, was full of excellent choices. Our favorite was the cutely-named One in a Melon ($9) with tequila, melon liqueur, agave, sour and lime juice. It was garnished with a slice of not-yet-ripe watermelon. It was the sweetest cocktail of the four we ordered and it went down quick. That glass and another highly enjoyable tequila drink called the Oaxacan, were artistically salted on one side.
The most creative was the Black Pearl ($12), a gin drink with green chartreuse liqueur, lemon, bolivar bitters and charcoal lemonade, which gave it a cloudy gray appearance. An edible purple orchid made it even more stylish. You could smell the flower as you drank, which could be a drawback for some.
As an appetizer, the deep-fried lobster bites ($ 13) in a tasteful mango sweet and sour sauce didn't disappoint, particularly because they sat on a little nest of green apple slaw that had a welcome bite from mostarda aioli with chili peppers and Tabasco.
The hand-cut fries ($9) are similar to the ones at Palette's sister restaurant, Eno Vino Downtown, but without the truffle oil, and somehow they taste better here. They're served in an adorable little paint bucket, which is in keeping with the paint theme in the restaurant and hotel, built in a building that once housed Mautz Paint Co.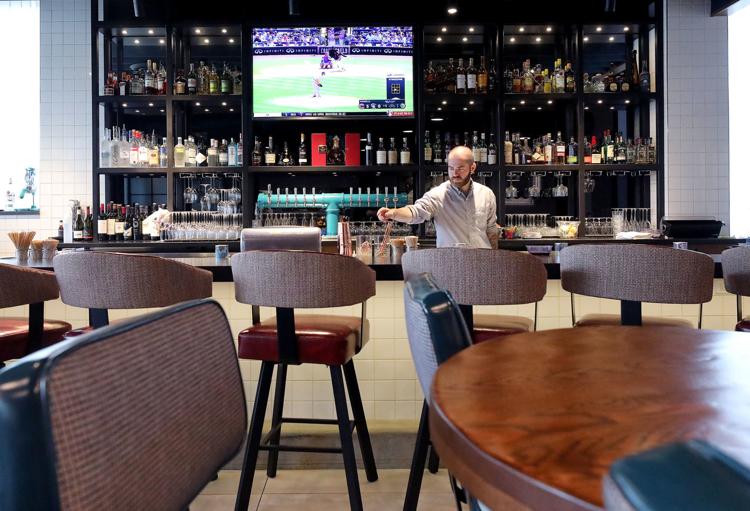 The fries were treated with Parmigiano Reggiano and extra virgin olive oil and served with a small cup of excellent beer cheese fondue.
The mussels stew ($16) was simply mussels in a roasted garlic wine butter with pico de gallo. It had smoked andouille sausage that my friend who ordered it didn't expect or want, since he doesn't eat meat. It was served with slices of ciabatta bread.
The menu, which our outgoing and knowledgeable server — clad in a denim painter's bib apron — explained in detail, has a list of steaks and chops that can be and paired with seafood choices like lobster tail and king crab legs.
Among the six "Chef's Masterpieces," is another steak option that lent legitimacy to the masterpiece title. The flat iron ($25) was a huge, complete dish with the tender meat benefiting from a paprika marinade, as well as from heirloom tomatoes, gorgonzola, arugula tossed in a balsamic vinaigrette, red chimichurri and fried shallots that resembled onion rings. It was rewarding to get each of the ingredients on the fork at one time.
Another "Chef's Masterpiece," mahi mahi ($25), fell short. It was the spicy pineapple-chorizo chutney that made it, but the grilled fish itself needed to be better seasoned. The asparagus on the plate was also uninspired. A bit of butter or salt and pepper would have gone a long way. It was also thicker than I prefer. The ribbons of deep-fried carrots were a fun touch.
A friend who also loves mahi mahi, got the special ($23) with the fish in an orange beurre blanc with pesto. It was served with a generous helping of cauliflower braised with white wine, butter, vegetable stock and parsley. "I'm normally ambivalent about cauliflower, but this is brilliant," he said.
The seared scallops ($30) featured three beautiful scallops over Gruyere risotto. "This is worth the calories," said my friend who ordered it. "The scallops are like art and I'm not sure what they did to make them taste that good."
Asparagus was the market vegetable ($6) offered as a side, and with four spears, it seemed like a meager portion. They were also the same thick variety that came with the "masterpiece" mahi mahi.
My daughter got a Caesar salad ($6) and had no complaints. The highlights of the meal for her were the two desserts we ordered: layered chocolate cake ($8) with almond mousse and a milk chocolate shell, served with lots of berries; and key lime pie ($8) in a jar, which was more like a novel key lime pudding.
Palette has had a "slow start," since opening April 29, but does great on nights when there's music or a sporting event at Breese, said Jose Luis "Pepe" Granados, a partner in Palette and both Eno Vinos.
He expects once he adds on-site parking, business should pick up. Granados said he's been hearing good feedback about the food.
Anibal Brandt is the culinary director for all three restaurants and deserves praise for Palette. Not everything's a masterpiece, but there are many major achievements.
Stay up-to-date on what's happening
Receive the latest in local entertainment news in your inbox weekly!