The Near East Side has quickly embraced its humble new pie shop and the bakery's humble owner, Jennifer Mans.
Mans opened humble (small H) in early January, dangerously close to my house. She moved the bakery after she had to leave its original location near West High School.
She had to make unforeseen repairs and updates to the building that delayed her opening and she's still waiting for exterior signage. A folding sign board out front marks the location.
Customers are certainly finding her. It helps that humble gets good traction on Facebook (2,519 followers at last count) and Instagram (1,721 followers and counting).
Weekends are especially busy for the little Johnson Street shop. I visited at 1 p.m. on a Sunday and there were only a few items left in the display case that had been well stocked during two earlier weekday visits. The three people in line in front of me nearly wiped her out, but luckily, I was still able to put a variety of treats together to bring to a friend's house.
It was a blustery February day, so most people in the room were sipping warm drinks in homey mugs. Just Coffee makes a special humble blend ($2.50 cup) for Mans, and she serves Cha Cha loose teas ($2.50).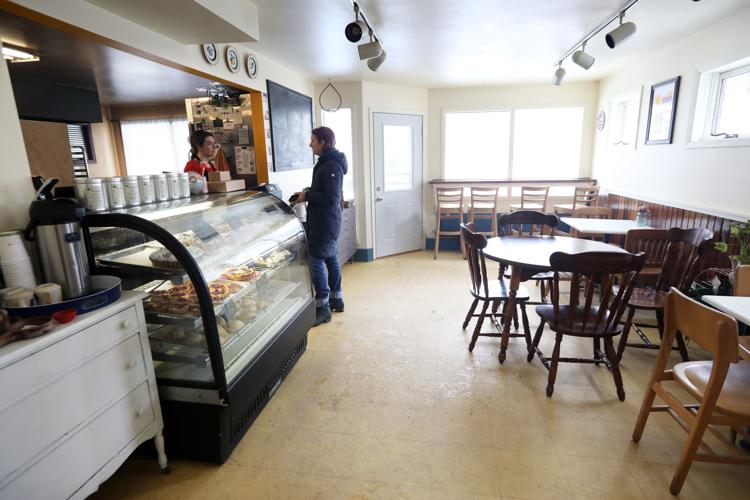 The room is simply decorated, with the colorful pies and pastries in the case becoming the central design element. Mans' pies, pastries and quiches are picture perfect for Instagram.
Mans took over the space from Sophia's Bakery & Cafe and is carrying on Sophia Barabas' high standards. I haven't had anything at humble that's been less than stellar. That's largely due to Mans' phenomenally buttery, flaky crusts and shells.
On the savory side, the soft, tender quiches are outstanding and generous in their ingredients. A cauliflower, mushroom and feta quiche ($5.50) proved an inspired combination, as did a ham, brie and leek ($6) version, featuring Black Forest ham from the Willy Street Co-op.
The slices aren't huge, so for a satisfying lunch you might want to supplement the quiche with a round, puffy chicken pot pasty ($7) made with potatoes, carrots and celery. Or my personal favorite, the smaller spinach, artichoke and mozzarella hand pie ($4).
Mans will heat up your quiche, pastry or pie, and it's worth it for the aromas alone. The savory items are first out of the oven in the morning, so they're the quickest to cool, she told me.
Trying to pick a favorite sweet is even harder, mainly because there are more to choose from. At the top of the list would be the coconut, apricot, and pecan hand pies with an orange glaze ($4). The subtle flavors blend together exquisitely. The familiar flavors became unfamiliar together.
You have free articles remaining.
Register for more free articles
Stay logged in to skip the surveys
Salted caramel has held its grip on our collective taste buds for the past decade, at least, and salted caramel on a slice of apple pie ($4.50) is pure genius. It elevated this slice into the stratosphere.
Then, there's the thick Alabama pecan pie. Take Mans' expert crust, add pecan pie filling, top it with pecans and you've got a champion. Her gluten-free pecan tart ($6.50) could fool anyone into thinking it had a traditional crust. The tart, made with a gluten-free flour blend, didn't suffer one bit.
What else should win a blue ribbon? The cardamom sweet potato tarts ($4) with Harmony Valley sweet potatoes; the salty captain pie ($4/slice), a lemon-lime meringue in a saltine crust with flaky Maldon sea salt on top; a chocolate pretzel walnut stout tart ($4.50), with Central Waters Brewing Co.'s Satin Solitude, that had a mini twisted pretzel baked into it; and the impeccable Door County sour cherry galettes ($4.50), a crusty, round cake-pie hybrid. There's also a gluten-free sour cherry galette for $6.50.
Mans, 26, is a one-person show, doing all the shopping, baking, serving and cleaning.
On one of my visits she told a customer: "I used to be an all-night baker, now I'm an all-the-time baker."
Mans later told me that she bakes fresh every morning and bakes throughout the day to keep her case fully stocked. But once she's out of crusts and/or fillings, that's all that can be made for the day.
If a day is unpredictably busy and the case sells out early, she tries to post online to let customers know.
She plans to hire employees as she gets a better sense of the new location's busiest times. "It remains an almost entirely one-woman circus," she said.
Mans grew up in upstate New York and went to UW-Madison, majoring in communication arts. She baked throughout college, and after finishing, the first couple of jobs she took were baking jobs.
She began working for humble's original owners, sisters Shelly Cross and Jill Long, shortly after they opened the shop as "humble. sweet and savory pies" in 2013 on Allen Street. She bought the business from them three years later.
Mans has kept some of the sisters' recipes, and introduced her own originals, which she continues to do.
The galettes and pecan pie are holdovers from the original humble shop, while Mans has modified the cardamom sweet potato tarts and the chocolate pretzel walnut stout tarts. The salty captain pie is her own creation.
The flavors in Mans' case change weekly, so the items mentioned here might not be available if you visit. But whatever you do order is guaranteed to be excellent.
Humble tastes even better in its new location, but that might just be my East Side bias speaking.