Dinner at Nook feels exotic, experimental and fresh, performance art as much as nourishment. And owners/chefs Noah and Julie Przybylski have the culinary chops, attention to detail, and personality to pull it off.
The long, narrow, blue room takes on a dinner party feel as diners take their seats for a two-hour meal narrated by the genial Noah, whose resume includes stints at Harvest in Madison and at Chicago's famed French restaurant Everest.
His descriptions of each of the nine courses (10, really) are educational and entertaining, and he seems to take pleasure in ringing a bell or hitting a musical triangle to get the attention of the crowd before each lesson.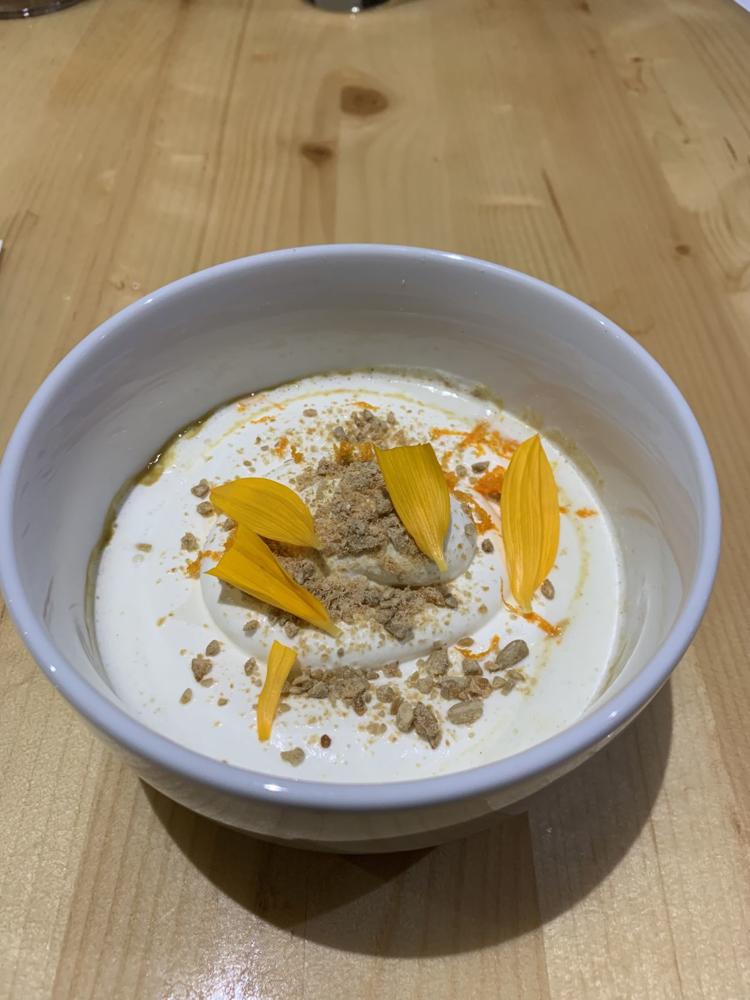 Returning customers have brought him new bells to ring, he tells the group one recent, sold-out Thursday night when other nearby restaurants on Atwood Avenue sat almost empty.
Nook, which opened in early November, offers only tasting menus: a "pre-theater," five-course menu ($35) at 5:30 p.m., or a "performance" nine-course menu ($75) at 7:30 p.m. Beer and wine pairings cost extra.
The earlier seating was only half full that night, said one of the restaurant's two servers, a L'Etoile ex-pat.
The evening was further distinguished by a musical backdrop of '90s rap and hip hop that Przybylski jokingly offered to switch to Garth Brooks if anyone objected.
The assembled group, all relatively young couples, often stopped to take photos of their plates, which weren't always the most photogenic, since some of the courses didn't immediately resemble food.
Some courses fared better than others, and my companion and I often disagreed about the quality of the dishes. But, in all, the meal as an experience was an overwhelming success.
One of my favorite courses was an avant-garde caprese in which small balls of mozzarella and oven-dried tomatoes sat in a teacup, while Noah and Julie came around with gooseneck kettles to pour flavorful tomato broth into the cups.
The menu is purposefully minimalist and cryptic, with just a word or two — sometimes three — about each course, so diners need to listen to Przybylski carefully.
The first course, elote, had little to do with Mexican street corn except that the dozen or so individual puffs were made from corn and served with a little dish of mayo. My friend compared the light, puffed corn to "eating an earplug."
They melted in the mouth as Przybylski said they would, and the spices that dusted them were masterful. The lime in the mayonnaise (Przybylski called it mayo instead of aioli) was a nice touch. "Because we're in Wisconsin we have to have sauce with snacks," Przybylski said.
A scallop ceviche made good use of elderberries, which were incorporated three ways, including making the little berries resemble caviar. My companion wouldn't eat raw scallops, so he gave me his dish after trying and approving of the elderberry sauce.
You have free articles remaining.
Register for more free articles
Stay logged in to skip the surveys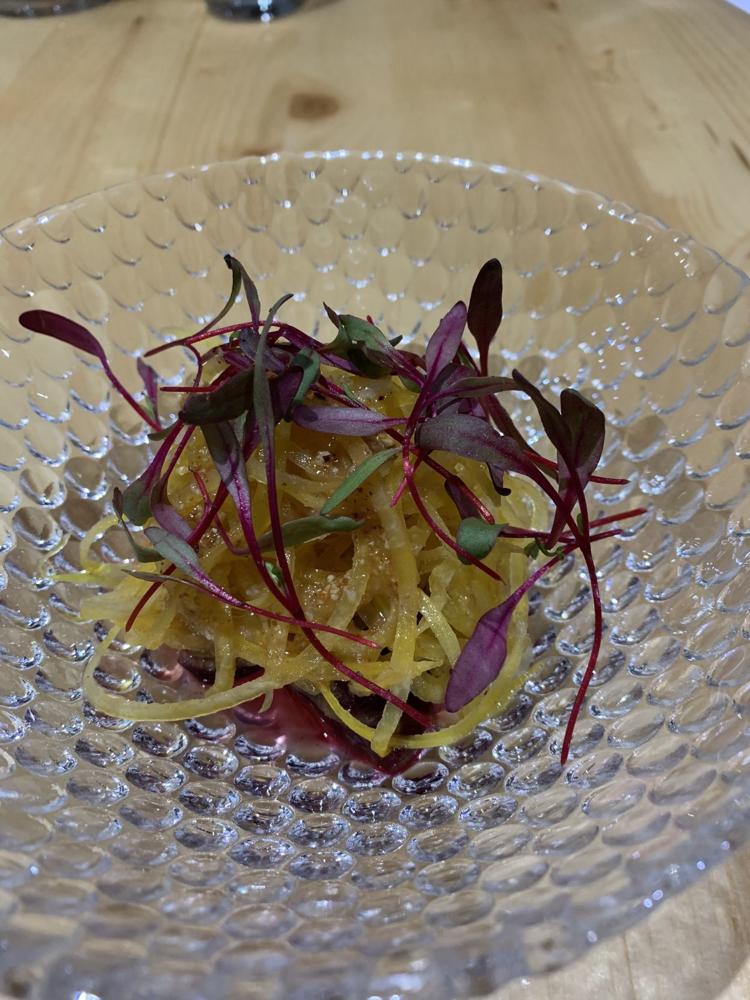 We were mixed on the sunflower soup, sprinkled with ground sunflower seeds and topped with sunflower petals. I thought it had too much whipped cream on top, but the contrast of the cold cream to the warm soup worked well, as did the hints of orange zest.
A beet salad was a gorgeous sight with a tangle of golden beets and more traditionally-cut red beets underneath. Przybylski said that he ran the beets under cold water to eliminate their earthiness, which he said some people don't like. Beets are a favorite of mine, and I've never had an earthiness issue. This preparation — with currants and hazelnuts — wasn't as thrilling as I'd hoped, mainly because of the texture of the washed out and spiralized beets.
Who could fault a mac n' cheese course made with small macaroni noodles and three types of excellent Wisconsin cheese? Przybylski didn't reveal the kinds of cheese, so he had diners guessing. When asked later, he said they were Hook's medium cheddar, BelGioioso's sheep's milk gorgonzola, and Sartori's montamore. Buttered panko crumbs on top added a great crispy element.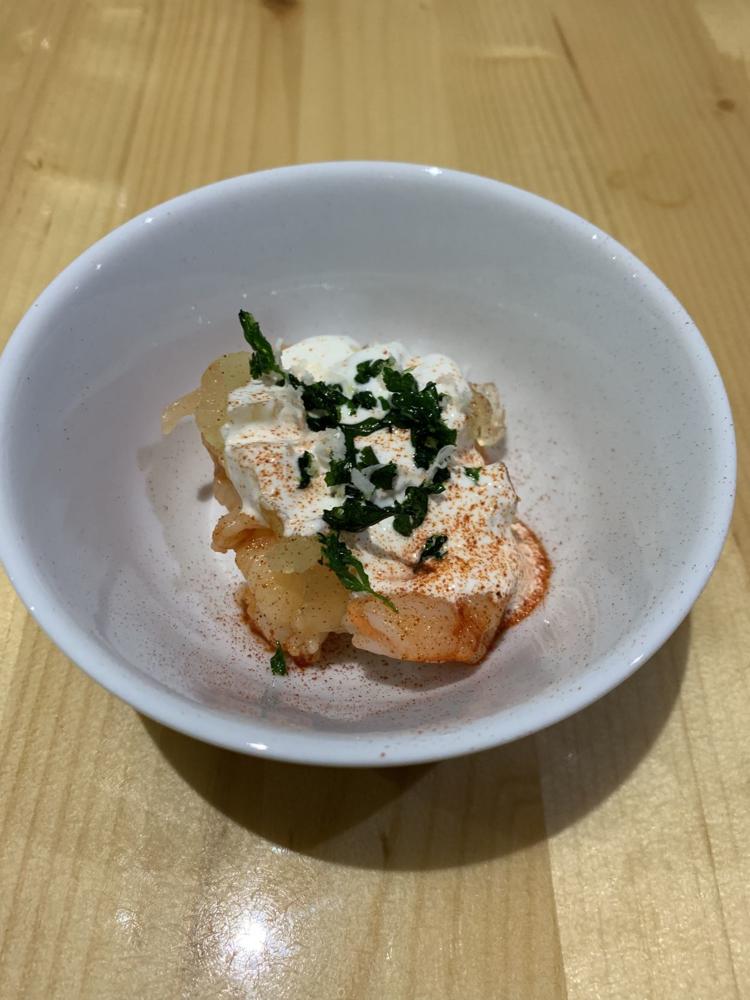 An interesting take on shrimp cocktail featured two big, delicious shrimp with a lemon gelatin that I could've done without. The other elements eliminated the need for cocktail sauce: horsey cream sauce, fresh horseradish and fried parsley.
The one meat course featured an extremely tender, round cut of pork that Przybylski slow cooked and referred to as the "eye of the ham." It was served with maitake, aka hen-of-the-wood mushrooms, and a fantastic rhubarb sauce.
Before serving this course, Przybylski went to a front window planter box and picked oxalis (in the wood-sorrel family). This was my friend's favorite course. "The rhubarb makes it," he said.
I didn't eat much of the dense flourless cake for dessert, with its off-putting pureed avocado on top, but I couldn't get enough of the bonus dessert, a white chocolate bar made with salty homemade potato chips. The frozen bar came perched on a little tree that's a prominent feature of Nook's website.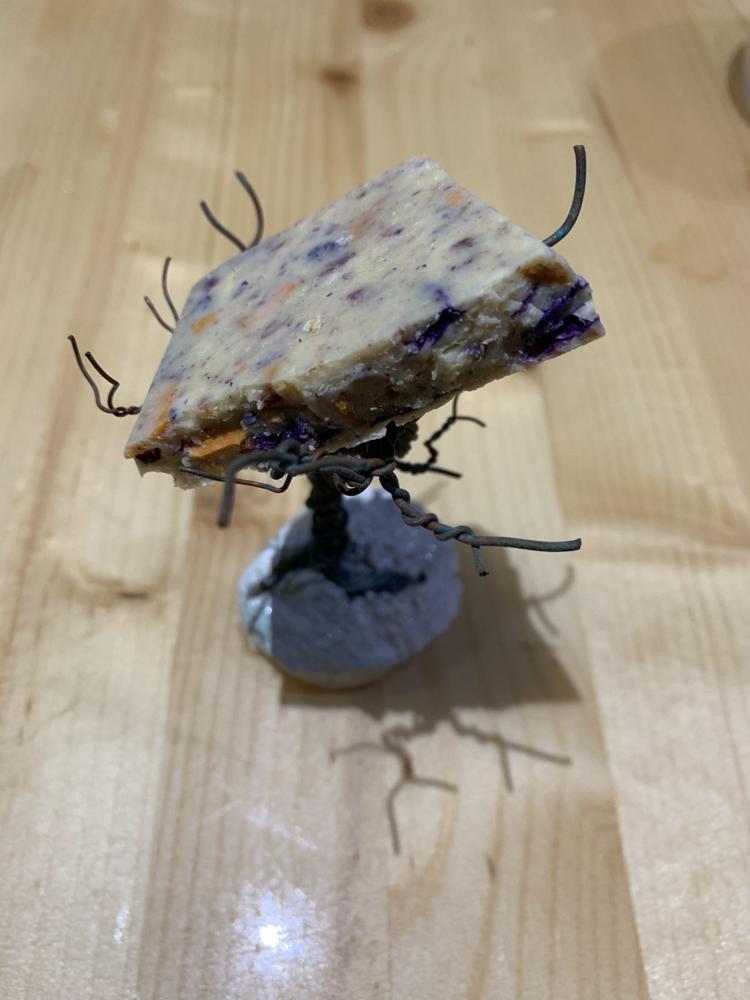 What else did I enjoy about Nook? The super-soft linen napkins; the many attractive plates, bowls and flatware sets; and the downstairs washroom, which Przybylski renovated himself with small green tiles on the floor, ceiling and walls.
My friend ordered coffee ($6) with his dessert and it came in a small French press, with enough for two cups. Earlier, he had a glass of Italian Renato Ratti 2015 ($13) and found it robust and satisfying.
Most other diners also ordered single glasses of wine or split a bottle instead of going for the wine or beer pairing. Przybylski said typically about half of his customers order a pairing.
It's easy to keep tabs on other diners because the six tables have a communal aspect since they're each about three inches apart. My friend and I later discussed the guy next to me, the only diner who dug in before Przybylski finished his introduction of each course.
I got it, though. With food like this, waiting isn't easy.