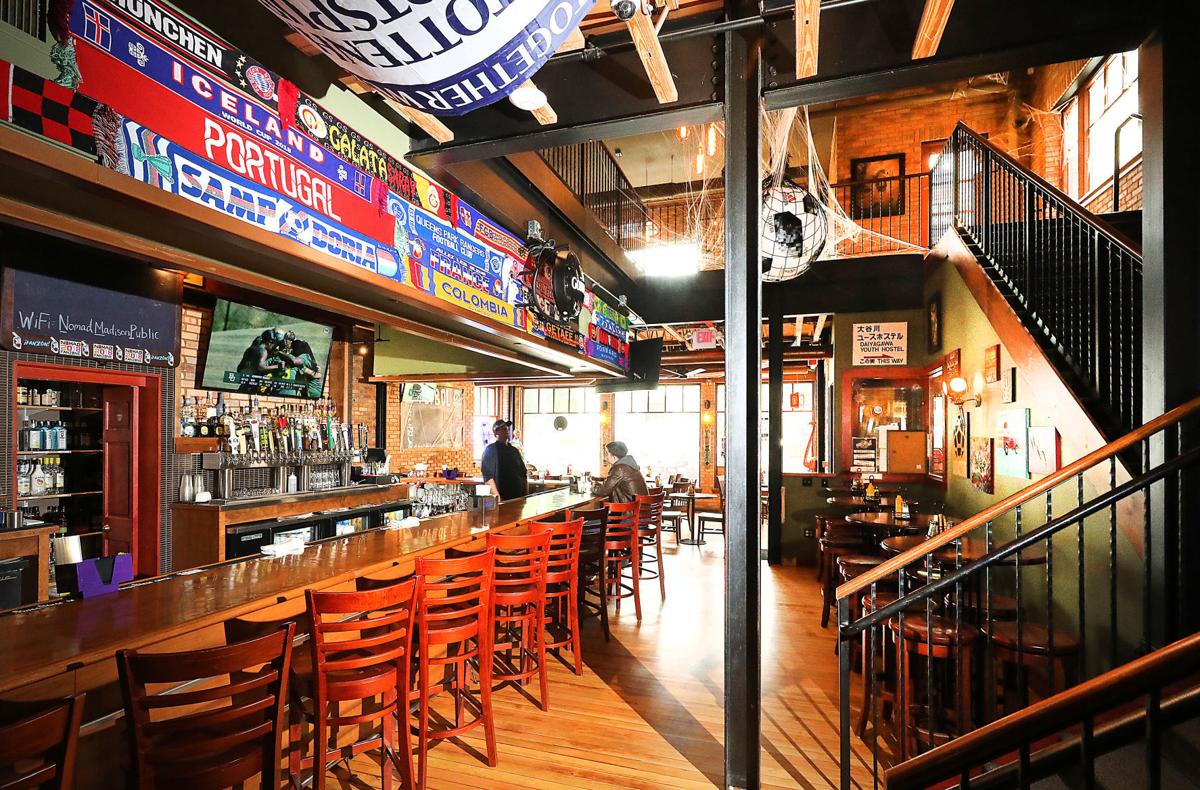 With its move from the former Cardinal Bar space to the old Brickhouse BBQ spot, Nomad World Pub started serving food. That was something sorely lacking at a place open morning, noon, night, and late night, televising soccer and serving drinks.
And it's a menu worth checking out, even if you're not a fan of professional soccer.
Milwaukee restaurateur Mike Eitel, who opened the original Nomad in that city in 1995 and added the Madison bar in March 2017, found the East Wilson Street location a little too far off the Square and also isolated from the Williamson Street neighborhood. The historic building only had a prep kitchen and couldn't accommodate a larger one.
The new, 9,000-square-foot location is close to State Street, but not visible from it, so, it too, could be challenging, especially without easy parking.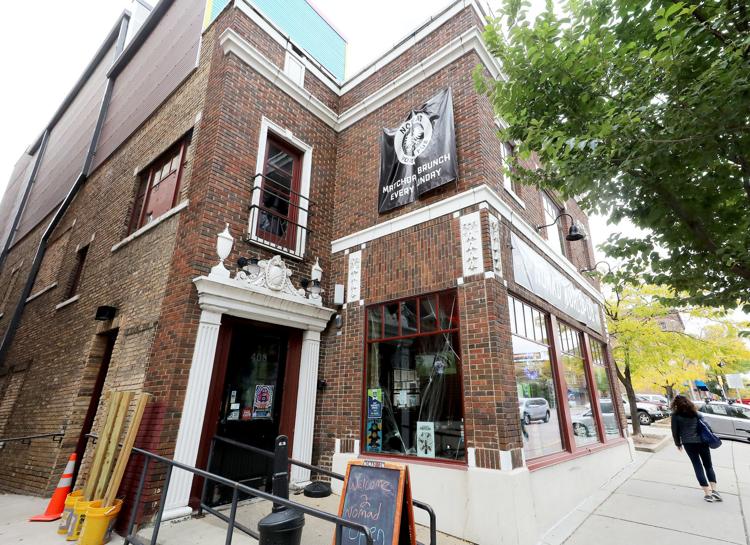 I visited with a friend on a quiet, rainy Wednesday night when there were no soccer matches on TV. The screen closest to us had boxing on.
The Cardinal sangria ($9) was nice, but didn't taste as complex as it sounded with apricot brandy, Ron Rico rum, Korbel, pomegranate juice, orange juice, red wine, ginger ale and fresh fruit.
There was no fruit in the glass and none that had been pulverized, so we were curious what other ingredients had been left out. But sometimes simple is best, and it went down easy.
When I asked Eitel about it, he said the sangria marinates with fruit in big batches. "It's the original, famous Cardinal sangria recipe, I believe."
My friend liked the sound of the Warpigs Foggy Geezer ($6), a hazy IPA out of Munster, Indiana, that was one of 19 beers on tap. Brewed in collaboration with 3 Floyds, it tasted great, too: fruity, creamy and slightly bitter.
Nomad has a lively, wide-ranging food menu that draws from Korea, Mexico, Thailand, Indonesia, Cuba, the Mediterranean and Wisconsin, appropriate for a place called Nomad World Pub.
Eitel was a founder and former co-owner of the Lowlands Group, which owns Madison's Cafe Hollander and a group of restaurants in Milwaukee.
You have free articles remaining.
Last year he opened two prominent bar-restaurants in Downtown Milwaukee with Joshua Moore as executive chef. First, SportClub across from the Pfister Hotel, and then Tavern at Turner Hall near Fiserv Forum, where the Bucks play.
Eitel, who runs his businesses under the name Caravan Hospitality, was excited to get the Nomad's Madison kitchen up and running because the Milwaukee Nomad has a limited seasonal kitchen.
Madison Nomad chef Chuck Schwoch said Moore, who's been with Eitel since 2001, spent a month in Madison helping to open the new location. They worked on the menu together, and it draws on the food offerings of Eitel's other bar-restaurants, Schwoch said.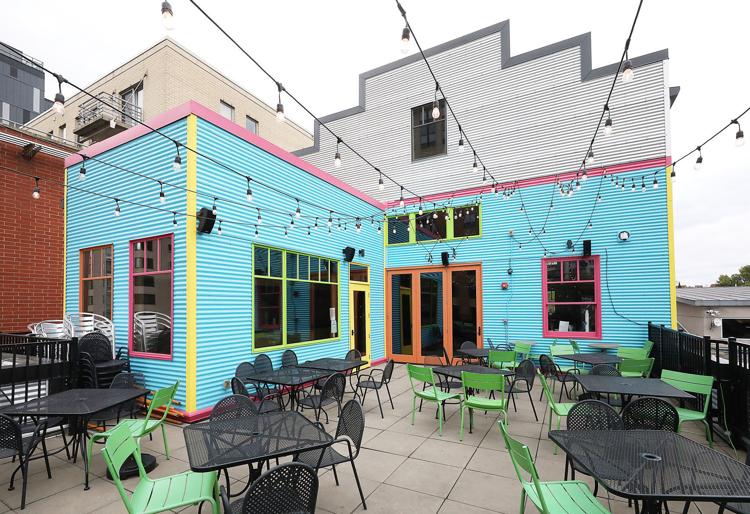 The chorizo chili ($4/$6) had a thin broth, but lots of spice, an amazing, smoky flavor, and plenty of kidney beans and scallions. It was just hard to taste the chorizo. We ordered it with "the works" for an extra $2, which added cheddar, sour cream and small pieces of bacon. The bacon turned out to be more pronounced than the chorizo.
Eitel said the chorizo's in there, but agreed it doesn't stand out. It mainly adds flavor, he said.
The chicken satay ($6) featured two long skewers of grilled chicken. My friend thought the meat tasted rubbery, but I was fine with it. There was no disagreement on the excellence of the homemade peanut sauce.
I appreciated the Kitchen Sink Noodles ($9), a "Thai-style drunken noodle dish," more than my friend did. Medium-wide, medium-long, flat noodles sat in a broth made from dark soy, oyster and fish sauces, Schwoch said. It had a great mix of vegetables, plus ginger and a perfect hint of Thai chilies. Ordering it with medium-sized shrimp added $4, and they were slightly overcooked.
Eitel said the dish is personal to him because of the time he spent studying abroad in the Thai city of Chiang Mai while a student at UW-Madison. He likes the flexibility of the dish and how Thais would throw everything in the wok at the end of the day to use up ingredients. "It checked a lot of boxes," he said.
While I wouldn't order the noodles again, I would return for the Bali bowl ($12), which also had just the right amount of spice, asserted here by spicy black beans and jalapenos. Avocado and tomatoes added taste and beauty to the warm, cilantro-lime rice. A lot of other ingredients went into the dish -- including seared pineapple, charred corn and roasted poblano sauce -- all flavors that worked well together.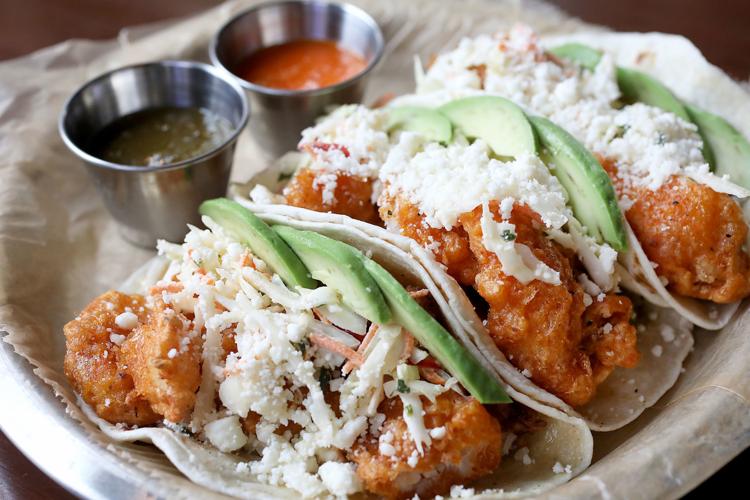 Even better were the three hotfish tacos ($12) featuring breaded Atlantic cod, enhanced with citrus slaw, queso fresco, aioli and avocado. The fish was crisp and the breading had flavor. We were offered a choice of corn or flour tortillas, and the two white corn tortillas were soft and fresh.
The unexpected highlight of the meal was dessert, cake in a jar ($6) -- with the chocolate cake elevated with Nutella, peanut butter cup crumbles, and whipped cream. Crunchy bits of pretzel at the bottom really made it. My friend, who doesn't eat sweets, made an exception for a bite of this. And another, and another.
Looks like in many ways, this Nomad has found a better home and a worthy menu.