The prominent Budweiser ads on the front door and interior windows made me not want to like Cowboy Jack's, as did the noise in the crowded bar area one Wednesday night as we waited for a table.
Fortunately, seating in the dining room opened up within 10 minutes, but because there's not much separation between the two areas, we could hear all the trivia night questions loud and clear. Eventually, we just played along, unofficially.
Cowboy Jack's is a growing chain of country-themed restaurants based in Minneapolis. The After Midnight Group has 12 Cowboy Jack's, a Cowboy Slim's, three other Minneapolis bars, and a music club.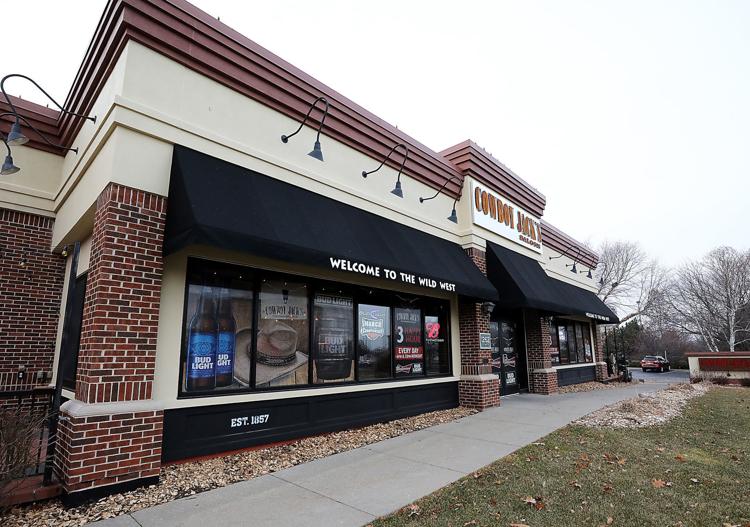 The only Cowboy Jack's outside Minnesota are in Fredericksburg, Virginia; Altoona, Wisconsin, outside Eau Claire; and now Madison. Another is planned in Fargo, North Dakota.
Madison's Cowboy Jack's, complete with mechanical bull, opened Oct. 30 in the former Sprecher's location on the Far West Side. And people here seem to be embracing it. I didn't expect a wait on a Wednesday night.
We thought we'd order a couple of appetizers in the bar area while we waited, but our server never brought the promised menus. Instead, we asked what he recommended and quickly decided on walleye fingers and cheese curds.
He explained that "Wisconsin's jalapeno cheese curds" have no plain counterpart. I guess you go spicy or go home — without curds.
There was some confusion when we tried to get our appetizer order, which had not yet arrived, transferred to the table. And it irritated our young waitress. Halfway through the meal she warmed to us, and us to her.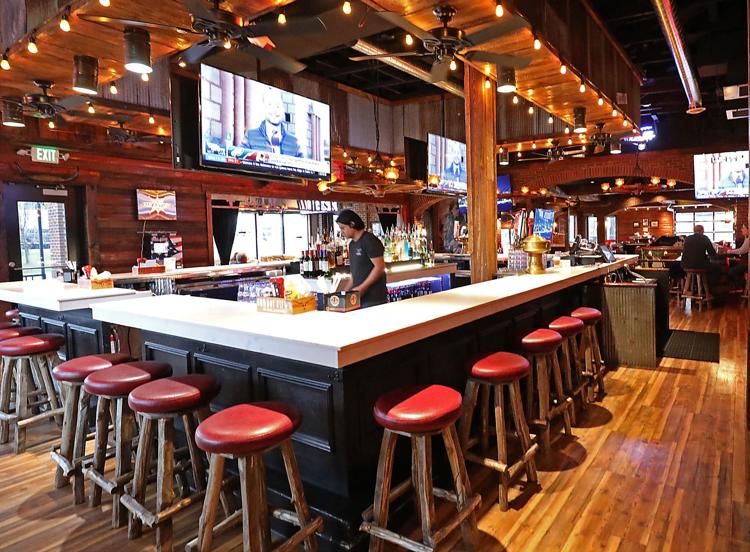 The pricey cheese curds ($10), uniformly small with bits of jalapeno in the breading, made a good case for always adding jalapenos to fried cheese curds. They were served with a ranch dipping sauce. The four slim walleye fingers ($10) had a light cornmeal crust and were moist and tender inside. They came on top of a pile of great, greasy onion strings, with chipotle ranch on the side.
It pays to go during happy hour when both the curds and the fingers, as well as selected other appetizers, are half price. Happy hour is every day, including Friday and Saturday night, from 3 p.m. to 6 p.m. and 10 p.m. to midnight. It's also $3 for many drinks at that time.
Looking over the menu later, I discovered that the restaurant has a vast and intriguing list of appetizers, with plenty of options that aren't deep fried. Now, I'm curious about the Brussels sprouts tossed with grated Parmesan, jalapeno bacon, balsamic drizzle and garlic; strawberry mango salsa; Sloppy Jack sliders; as well as a couple of other fried items — the mini tater tot hot dish; and the spicy breaded cauliflower.
Although Cowboy Jack's serves pizza, flatbreads, steaks and ribs, my friend ordered a burger and I ordered the smoked brisket sandwich. Both came on a soft, but sturdy, roll, and both were satisfying.
You have free articles remaining.
Register for more free articles
Stay logged in to skip the surveys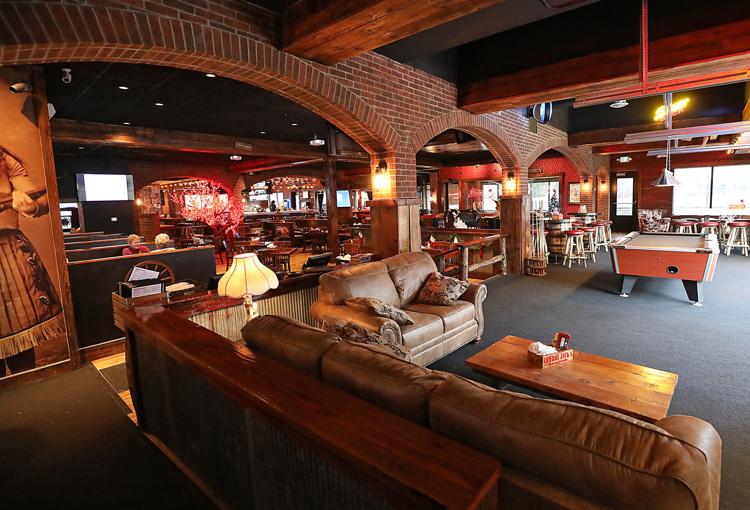 The cowboy burger ($10.50) had two strips of thick bacon and barbecue sauce. All the elements worked. The menu says it comes with a choice of cheese, but we weren't asked. We got the default: a slice of American. Our waitress did ask, "pink or no pink?" to which my companion answered "medium well."
Even though it was well cooked, the thick patty was still plenty juicy. It came with shredded lettuce, red onion, pickles and a very bright and thick slice of tomato. Customers can go with bison meat for an extra $2.
My smoked brisket sandwich ($10) featured lean shredded meat, and the same excellent BBQ sauce and onion straws. Another winner.
Sandwiches come with the restaurant's heavily-seasoned kettle chips, but Cowboy's Jack's distinctive lasso fries, tater tots or sweet potato fries are available for an extra $2. The puffy lasso fries, shaped in a curl, could have been cooked longer. Some were mealy inside.
For dessert, we went with chocolate chunk cookie dough ($6) described as "a scoop," "decadent" and "egg free." It was actually TWO large scoops of cookie dough and an equal amount of whipped cream drizzled with chocolate syrup. It seemed novel, maybe silly to put raw cookie dough on a restaurant menu. Would I order it again? As my 13-year-old daughter would say, "Nah."
Nor would I order the slim sarsaparilla ($8) from the list of eight signature cocktails. Sarsaparilla, made from vine roots, was traditionally used as an herbal supplement, and sarsaparilla soda is sometimes compared to root beer.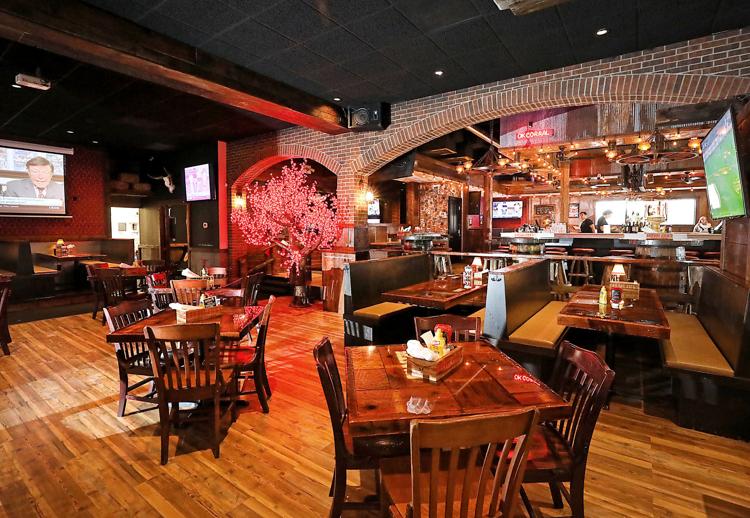 But, in this drink, which was neither too strong nor too sweet, it's mixed with black spiced rum, Pepsi, Kahlua and cream. The menu declares it "delicious." It's not. Don't waste your time and money.
The first thing you notice about Cowboy Jack's — after the Budweiser signs and before the mechanical bull — are the huge TVs in its bar area and bigger projector screens in the dining room. It's a perfect place to watch sports.
The bull, meanwhile, takes away prime seating in the dining room, where franchisee Prince Singh, 34, could probably fit four tables instead.
This is Singh's first franchise restaurant, but he's been in the hospitality industry for 12 years. He's worked in hotels, restaurants and bars, and owns two Choice hotels. He moved from Minneapolis to Madison to open the restaurant.
Singh told me the bull rides are free and popular with everyone from "young adults to seniors." Riders sign a waiver first. For those under 18, a parent or guardian needs to sign.
No one was riding over the dinner hour, so my friend offered to warm it up for me. I was too full, or maybe too chicken.