SUN PRAIRIE — There's no mystery why Full Mile Beer Co. & Kitchen is running so smoothly, just a couple of months after opening in late December.
One of its owners, Nate Kinderman, was bar manager at Sardine for its first five years and in 2012 partnered with Sardine's owners to open Gates & Brovi on Monroe Street. He sold his interest in that restaurant and bar in 2017 to devote full attention to opening Full Mile with his longtime friend, C.J. Hall. The two grew up together in Oregon, Wisconsin.
Kinderman needed to get out of Gates & Brovi because of Wisconsin's tied house laws, which prohibit someone who's producing beer in one establishment from having ownership in others.
Full Mile — FM on its exterior signage and checks — is on the ground level of a new, two-story development in what had been an empty lot next to Market Street Diner in the city's Downtown.
Chef Zac Veith, who was raised in Beloit and Madison, recently moved back from Seattle. He executes an interesting food menu nearly flawlessly, starting with soft, lightly-fried, Pilsner-battered cheese curds ($8) that come with a thin, delicious, herbed ranch dipping sauce.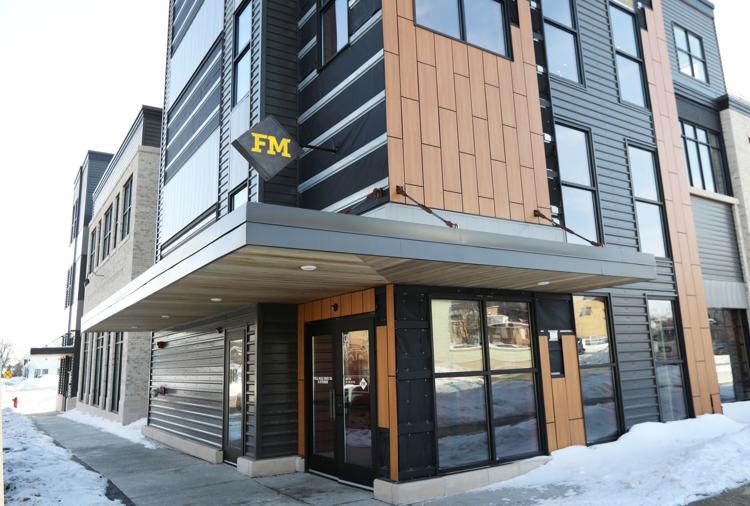 I was happy to see fire-roasted vegetables ($4) among the wide list of "snacks & sides." The cauliflower, broccoli and Brussels sprouts were nicely roasted, seasoned and priced. The cauliflower had a hint of curry and the medley got a squeeze of lemon.
The daily soup, a mug of salmon and sweet potato bisque ($5), was creative and rich, but not overly so. There were no chunks of salmon or sweet potato, but it still became a highlight of a meal with many highlights. One slight detraction was a small baguette slice that didn't taste like much.
Since it was Friday, we had a fish fry choice of Pilsner-battered cod or potato-chip crusted perch ($14). We went with the perch, which came with tossed greens or hand-cut fries. The fire-roasted vegetables can be substituted for an extra $2. But these are fries you'll want, the perfect combination of tender and crispy.
The dinner came with three good-sized pieces of perch and the potato-chip batter proved ingenious — not salty as you might expect. The fish had an excellent flavor and was perfectly crisp. Like the amazing ranch sauce that came with the curds, the house tartar sauce was much thinner and less mayonnaise-y than most. It really enhanced the fish.
The slaw on the side was described as creamy, but was the opposite, almost without dressing. It added another crisp dimension to the meal. The thinly-sliced house pickles were a better addition.
My 13-year-old vegetarian daughter ordered the mac & cheese ($13), cavatappi pasta topped with toasted panko and crispy pancetta.
You have free articles remaining.
Register for more free articles
Stay logged in to skip the surveys
She asked me about the panko, but not about the pancetta, so she was surprised to find pork on her pasta. When we explained the problem to our waitress, she whisked the dish off and replaced it in no time. Unfortunately, when the new dish arrived the panko was gone, too. The pasta was more creamy than cheesy, but my daughter enjoyed it.
I heard reports of two-hour (and longer) waits right after Full Mile opened, and Kinderman said there were a few nights like that. Ours was about a half hour. By 7 p.m., we were seated at a comfortable table in the bar area. Murals on two walls added to the ambiance, particularly a whimsical one of a woman holding up a beer glowing against a vivid backdrop.
On the way in, a giant bookshelf on the back wall of the dining room looked like a painting, but was the real thing, stocked largely with antique books. The bookshelf and murals add life to rooms that could otherwise feel industrial and boxy. Full Mile is 7,100 square feet.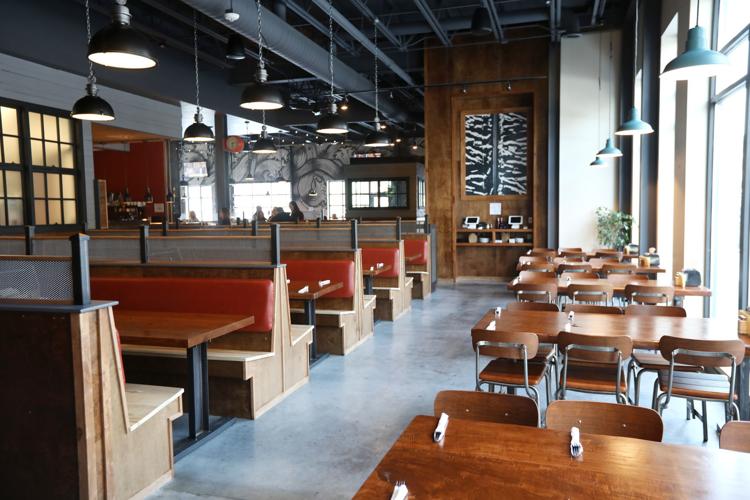 Kinderman and Hall went the "full mile," and were "hands on" in opening the place, including building much of their own furniture. That's where the name comes from, Kinderman said. They made all the tables, did their own trim work, and built the bar, back bar and bathrooms.
The brewpub has nine of its own house brews, two collaboration beers and three guest taps (two are from Madison's Restoration Cider and the third is from Alt Brew, also in Madison, which makes exclusively gluten-free beer).
A flight of four 4-ounce beers ($9) was mostly successful, starting with Cromulent!, a smooth cream ale. Adding peach and mango purees to create a beer called Total Blam Blam made it smell great, but effectively ruined it. My companion abandoned it after one sip.
Our flight got back on track with Buoyant Regards, a Belgian Saison made with Pilsner malt and locally-grown hops from Wisconsin Hop Exchange. The menu described flavors of pear, bubblegum and clove, but that's beyond what I could pick up. I just know I liked it.
Night Society, a dark lager, had a great smoky quality that tasted like it was brewed with bacon. Full Mile says it's an interpretation of a Schwarzbock style — from the German word for black ("schwarz") and strong beer ("bock"). For what it's worth, Kinderman confirms there's no bacon used in the brewing, just smoked malt.
The beer is high quality because Hall, Full Mile's other owner, is an award-winning homebrewer, and brewmaster Skyler Kottwitz spent nearly six years at New Glarus Brewing Co. and more recently worked at Octopi Brewing Co. in Waunakee.
Full Mile doesn't have desserts yet, but our waitress said they're working on homemade ice cream sandwiches. I imagine they'll be great — almost everything else is.