Small-plate restaurants are often disappointing or at least unsatisfying. Then there's Mint Mark, which hits the mark with memorable, creative food and drink, and knowledgeable, steady service in an intimate, charming room.
Chef Sean Pharr's menu, printed on a narrow, mint-green sheet of paper, lists 12 intriguing dishes, while the drink menu is a thick booklet focused mainly on cocktails. The beer selection is interesting for both bottles and taps.
And that has something to do with the fact that one of the partners in the project is Chad Vogel, who opened the popular Robin Room cocktail bar on East Johnson Street almost two years ago.
Travis Knight, another partner, has bartended at Robin Room, Natt Spil and Stamm House, where he was bar manager. Gwen and Kyle Johnson of Johnson Public House and Kin-Kin Coffee are also partners, taking care of the mornings and early afternoons.
From the roster of gin drinks, I was smitten with the Monkey Gland ($9), with lemon, orange juice, grenadine and absinthe garnished with a delicious plump olive. As good, and also fruity, was La Paloma ($10), with mezcal as well as tequila, grapefruit, lime and salt. The mezcal gave it an unmistakable smokiness.
All of the tables for four were taken at 6:30 on a Tuesday night, so my group ordered drinks and a few plates to share as we sat at a counter in front of the window. The chef's table, or seats surrounding the kitchen, opened up while we waited, but we held out for a table.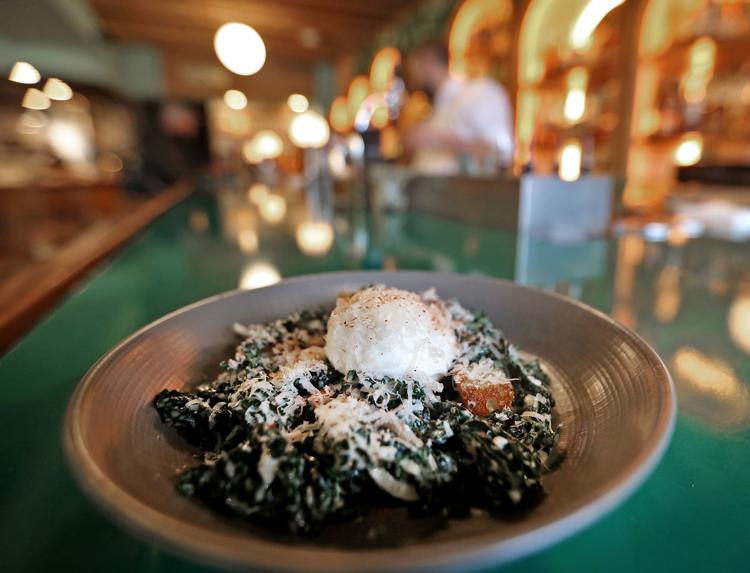 My favorite discoveries were vegetable dishes, starting with the kale ($9), a delightful salad where the chopped kale was perfectly dressed with tonnato, an Italian condiment Pharr makes with aioli and albacore tuna poached with court-bouillon. The salad incorporates grana padano cheese, a poached egg, warm croutons and rings of pickled shallots, which delightfully found their way into another of our dishes.
Another standout was the cauliflower ($10), roasted and then deep fried. It was prepared the opposite of al dente and made me realize that tender, almost mushy, cauliflower can taste great, especially if it incorporates bagna cauda, which means "hot bath" in Italian. It was a rewarding mixture of garlic, anchovies, olive oil, and fresh lemon juice. Crispy grana padano sat on top.
Neither the potatoes, nor the meatballs, should be missed. The roasted, fried and smashed red potatoes ($5) were prepared with garlic oil, sea salt and vinegar, and came with aioli for dipping. The tender meatballs ($10 for four) were enhanced by a mushroom gravy and served over a smattering of homemade sauerkraut and spaetzle.
"These are as good as it gets," said my red-meat loving friend, a big-portion guy who was initially disappointed that Mint Mark doesn't offer any large plates or traditional entrées.
You have free articles remaining.
Register for more free articles
Stay logged in to skip the surveys
The delicata squash ($9) was notable in that it was served in a stack of five rings that had been fried tempura-style and resembled thick onion rings. Interestingly, they came with quark — a dairy product that's somewhere between sour cream, yogurt and ricotta cheese — and topped with a hot sauce made from Calabrian chiles and small pieces of mint.
The night's special, an onion tart ($10) made with caramelized Spanish onions and served on a plate with a reduction of red wine and port wine was fine, but I don't see a need to promote it to the regular menu.
The cured whitefish ($12) was a spread rolled into a ball and topped with black lumpfish caviar and served with thin, silver dollar scallion pancakes that seemed out of place and didn't add much. This was a dish I could've done without. Another was the terrine ($10), a square slice of pâté made from duck and cherries and cut from a loaf. It came with red-wine pickled beets and charred bread rubbed with garlic oil.
A biscuit ($6) with a garlic-honey glaze tasted almost like dessert, but balancing its sweetness was a sour cultured butter on the side. The square biscuit was cut beautifully on a diagonal. It's these careful little details that set Mint Mark apart.
The actual desserts were extraordinary. The "cookie" ($6) came in an extremely hot cast-iron skillet, which melted a brown-sugar-bourbon ice cream into the gooey, molten cookie. The batter had rye, brown sugar and chocolate chips, with the alcohol tamping down the cookie's richness. Butterscotch sauce on top helped make it impossible to pry away from my daughter.
The buttery basque cake ($6) was wonderfully crisp on the top and bottom, and moist inside. It was served over a pool of Amarena cherry sauce.
Pharr is an unusually gifted chef who began his career 14 years ago at Harvest on the Capitol Square. He's worked in a number of well-known Chicago restaurants including as a cook at the now-closed Michelin-starred Tru, executive chef at The Bristol and chef de cuisine at NoMI.
Originally from New London, Pharr moved from Chicago back to Madison to open Mint Mark. It's amazing how much skill, care and artistry go into each dish.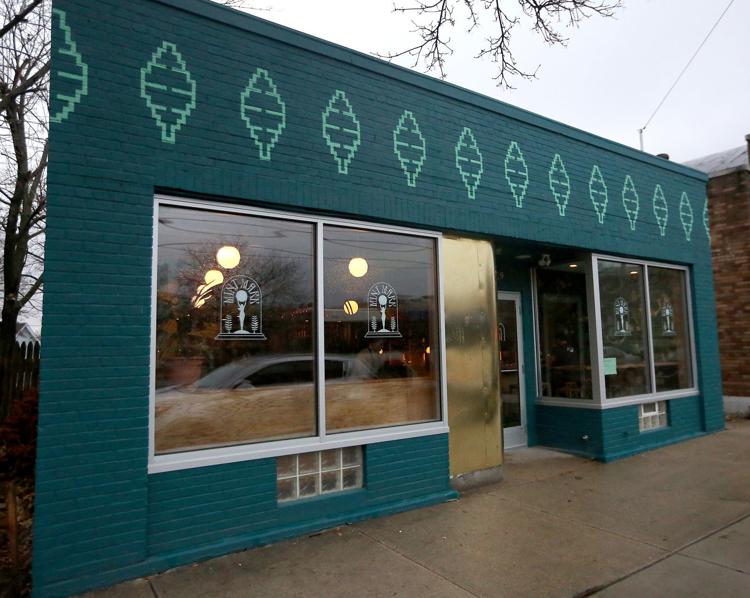 Mint Mark's logo, prominently displayed on the front windows, is a clever play on a monetary mint as well as mint leaves. With its green, leafy wallpaper, turquoise paint and unique backbar, the room bears no resemblance to the former Mermaid Cafe.
You'll want to try lots of dishes, and the cost can add up. But whatever the final bill is, it will have been worth it.