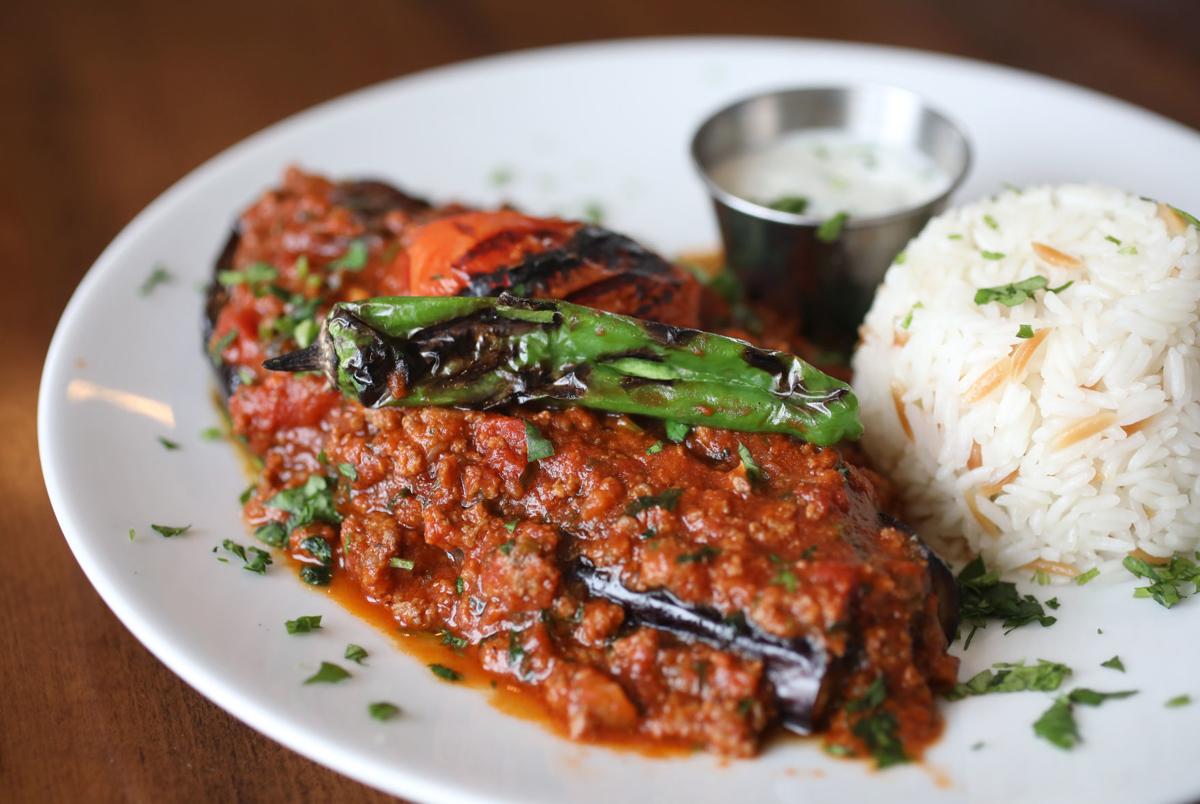 Sun Prairie lost its Greek and Mediterranean restaurant Atlantis Taverna last April, but happily gained the phenomenal Meze six months later.
The Turkish restaurant is in the former space of the original Salvatore's Tomato Pies that was most recently home to Gotham Bagels. And interestingly, Ozgur "Figo" Akcay, who owns Meze with his wife, Seda Akcay, had his first job in the same location, back when it was Pietro's Pizza and he worked there as a dishwasher.
It was Akcay's first job in the United States after he emigrated from Ankara, Turkey's capital, in 2001. Dishwashing was about all he could do here before he learned English, he said.
When he stopped by our table to check in, and my friend and I started gushing about the appetizers — "meze" — he told us he learned to cook at home from his wife.
The two, who met in Ankara in 2011 when Akcay was on vacation, have a 4-year old son and a daughter due in mid-February.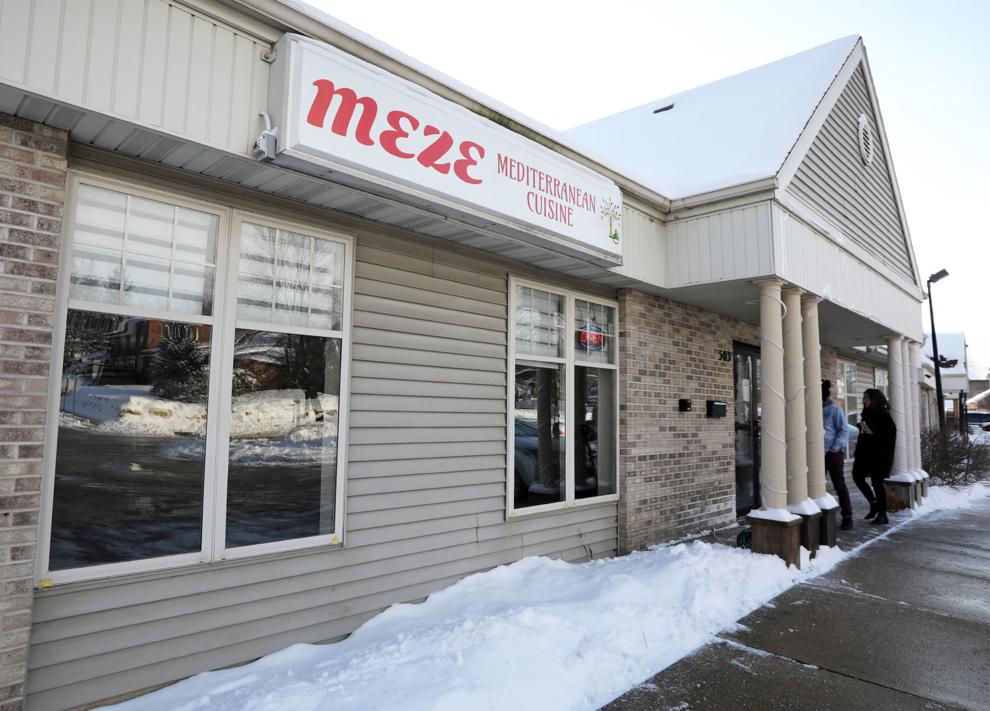 The Thursday night we visited, our server told us appetizers were half price on Thursday nights. She said it was something the owners began doing the previous week.
We could have just had the cigar borek ($8) and meze plate ($16), our two appetizers, and called it a night, but so many of Meze's entrées were also appealing.
The fantastic but rich cigar borek consisted of four crisp egg roll-sized phyllo rolls stuffed with feta, mozzarella, parsley and dill, held together by egg whites, and served with warm marinara sauce.
The meze plate held the restaurant's four vegetarian starters, and only one was a disappointment. The hummus, topped with chickpeas, looked beautiful, but was bland.
Meanwhile, the three stuffed grape leaves took this delicacy to a new level. When we raved about them to Akcay, he told us it takes a lot of time to roll them by hand. The rice inside was seasoned with pomegranate juice and pepper paste and studded with pine nuts. Currants added a hint of sweetness.
Akcay also elevates tabouli. It had a perfect ratio of parsley to bulgur, and wasn't overly dressed. His lively eggplant spread isn't called baba ganoush, but rather eggplant salad, and that's because it's chunkier. It was a nice change of pace. The appetizer plate came with a generous basket of fresh pita triangles.
When I tried to order a cup of the red lentil soup, our server, who was delightful, said it was unnecessary because the entrées come with soup or salad. The soup wasn't as red or as delicious as it looked in the stock photo on Meze's website, but it's worth getting with your main course. Like a thin dal, it was flavorful and healthy tasting.
The dinner salad is also satisfying with romaine, red onion, a tomato wedge, cucumber slice and an appealing apricot vinaigrette on the side.
Both of our main courses were also stellar. The Iskender kebab ($17), popular in northwestern Turkey, is named for its originator, Iskender Efendi, who lived in Bursa, near Istanbul, in the late 19th century.
The dish featured lamb sliced from a vertical rotisserie, like gyro meat. The difference is that gyros usually feature a lamb-beef mixture and this one was just lamb. The meat was covered with a tasty tomato sauce. It, along with oil from the meat, soaks into ribbons of naan bread underneath, making them irresistible. The plate came with a side of Greek yogurt.
The stuffed eggplant, or karniyarik ($16), has minced beef with tomato sauce over rice pilaf inside the eggplant. A grilled shishito pepper was a great touch, as was the little cup of tzatziki sauce. Both entrées included rice and a grilled tomato wedge.
Meze's menu also has a number of more broadly Mediterranean or Italian dishes like salmon piccata, chicken Parmesan and shrimp scampi.
I overheard Akcay telling two young women at Meze's small bar that the homemade baklava ($7) is different from other versions because it's made with simple syrup, rather than honey. That distinction made it less heavy and sticky, which I appreciated. The dessert, like everything else, was beautifully presented.
To drink with this extravagant meal, I ordered the appropriately named Diet Starts Tomorrow from Karben4. It's a wonderful oatmeal stout by one of Madison's best local breweries. Meze offers a nice assortment of bottled beers and prices them at a reasonable $4.
Even before we ordered, our meal began with toasted homemade focaccia with rosemary and sea salt. It was served with olive oil mixed with za'atar spices.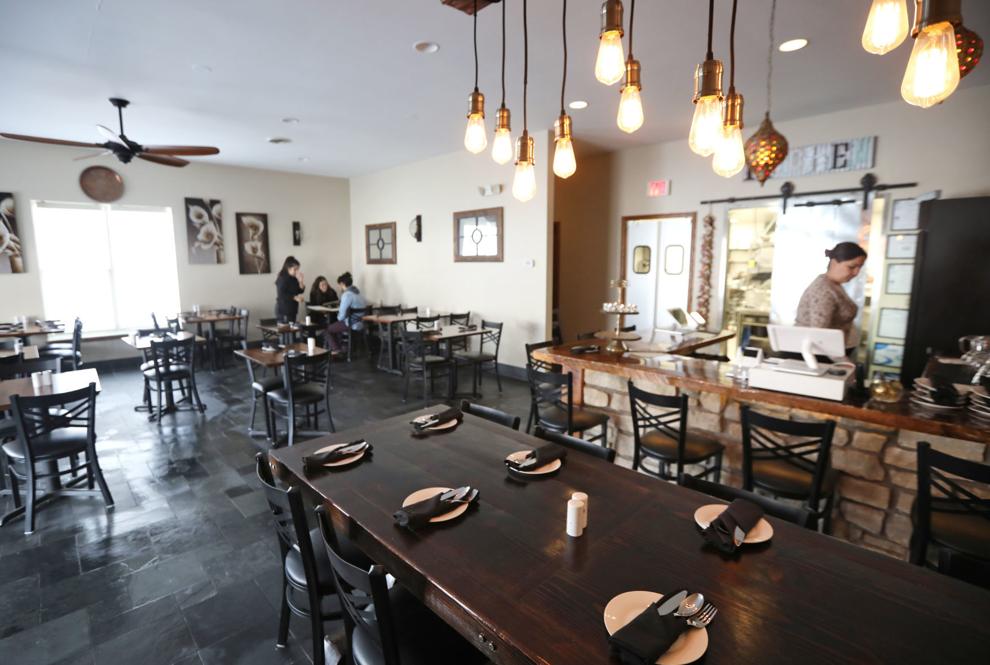 The dining room, with its subdued lighting, was nice and warm on a cold night. Small candles on the tables and classical strings music made for a relaxing ambiance.
It's no surprise the Akcays know how to run a successful restaurant. Akcay was most recently kitchen supervisor at the Hilton Madison. Before that, he was a manager at Madison's Gotham Bagels for four years.
Seda's family owns a restaurant in Ankara, which the couple helped run for a year while she waited for her U.S. visa. In Madison, Seda operates an international food station at Madison Area Technical College, where each week she prepares the cuisine of a different country.
When it comes to serving the food of their Turkish homeland in Sun Prairie, Figo and Seda are positively nailing it.