There's no signage yet on Winnebago Street or from East Washington Avenue for the newly-opened Union Corners Brewery, but people are finding it. Word spreads quickly when the food is this good.
The food, at least for now, is a bigger draw than its beer.
However, there's been a shakeup in the brewery's kitchen since my July 21 visit, with head chef Joe Tharp, 35, the main mastermind behind the menu, bowing out, saying he needed a "lower position with a better work-life balance," according to owner Eric Peterson.
Tharp graduated from Le Cordon Bleu in Chicago in 2008 and spent five years as a chef and team leader at Epic Systems. He said he and Peterson had a falling out, and is excited to be moving over to work at Camp Trippalindee in the Graduate Madison Hotel, where he's the new kitchen manager.
Tharp's sudden departure leaves the kitchen in the capable hands of Corey Stroner, 32, Tharp's former sous chef, who, after culinary school at Madison Area Technical College, worked at the former Restaurant Magnus, A Pig In A Fur Coat, Harvest and Tempest Oyster Bar. He also helped open Oliver's Public House.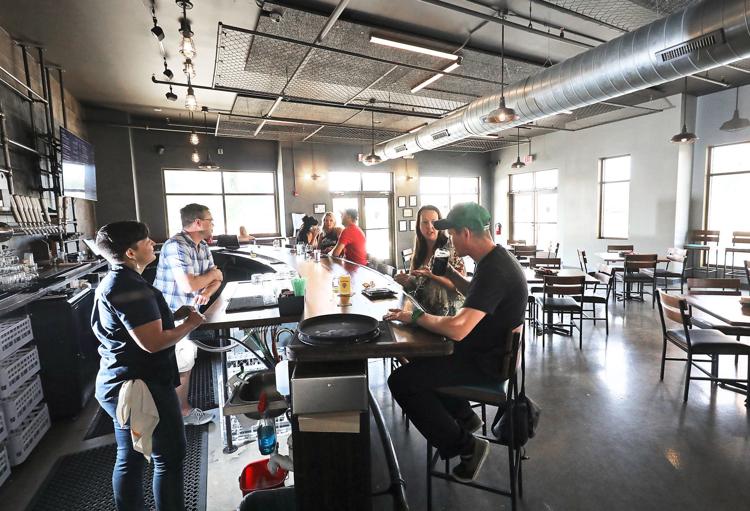 The menu Tharp and Stroner designed with input from Peterson, is full of creative, well-executed dishes.
Appetizers include healthy choices like harissa lettuce cups, "beet tartar," and New Orleans-style BBQ mussels. However, a friend and I started our meal with crispy fried pork belly bites ($9) tossed in Sriracha Buffalo sauce or the house spicy dry rub.
We went with the latter and it was an experience. Eight fully-coated slices came with blue cheese dressing, which provided a nice contrast to the spice.
My companion had heard raves about the cheese curds ($9), so we ordered them at the risk of loading up on fried food. I had to admit they were exceptional. The white curds, from Clock Shadow Creamery in Milwaukee, were unusually large and had lots of pull. They were first soaked in buttermilk and served with excellent homemade ranch dressing.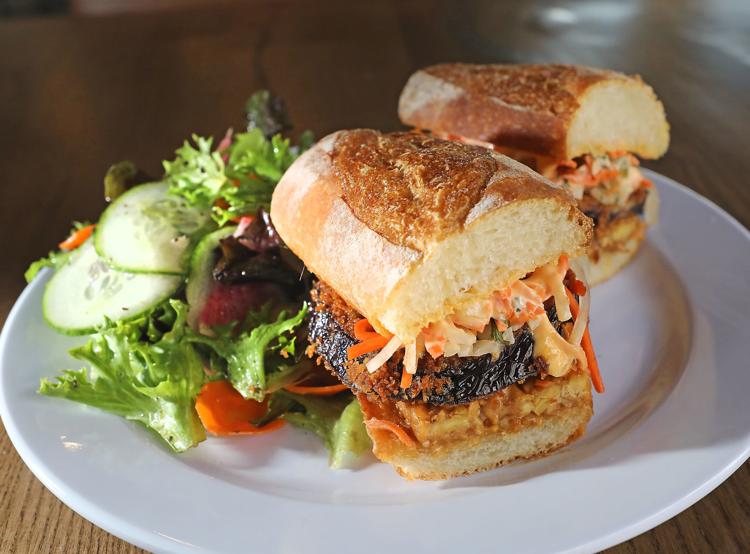 Even though it was panko-crusted and fried, the eggplant bahn mi ($13) at least had some semblance of healthfulness, since it's made with tempeh from Bandung restaurant. Coconut peanut sauce, pickled carrots, pickled daikon radish, pickled serrano peppers, mint, cilantro and spicy mayo combined for a fresh, complex taste.
The toasted Stalzy's baguette was so thick, eating it was a bit challenging. Even though Stalzy's is being rebuilt after an April fire, it's still producing its bread and rolls out of the FEED Kitchen on the North Side. Stalzy's also provides the brewery with whole wheat bread, challah and a burger bun.
My companion was just so-so about his bacon cheddar burger ($13.50), complaining that the crispy bacon -- from Jones Farm in Fort Atkinson -- was too thick. Who ever complains about that? The beef patty -- a blend of ground chuck, brisket, and short rib, according to the menu -- was undeniably plump and juicy, the cheese hickory smoked. It came with lettuce, tomatoes, onions and pickles on the softest toasted sesame brioche bun.
You have free articles remaining.
Register for more free articles
Stay logged in to skip the surveys
It was the bun -- this time from Rotella's Italian Bakery in La Vista, Nebraska -- that really made the sandwich.
Customers can choose turkey instead of beef, or, for $1.50 extra, a vegan Beyond Meat patty. Burgers and other sandwiches come with medium-cut, wonderfully crispy fries or a beautiful, well-dressed little salad. I like how you can sub in a side of cheese curds for $2. This would've been the way to go since the full $9 order was much larger than we expected.
Save room for dessert, because they're all homemade, even the ice cream. It was a tough call with choices like an upside-down plum cake, and an ice cream float made with the brewery's dulce de leche ice cream and its Porter.
We ordered the warm banana bread a la mode ($7), which, since it was cut into two thick, square slices, came out looking like dark French toast. Two small scoops of bananas foster ice cream and a sweet rum sauce made it an elaborate, indulgent way to end a great meal.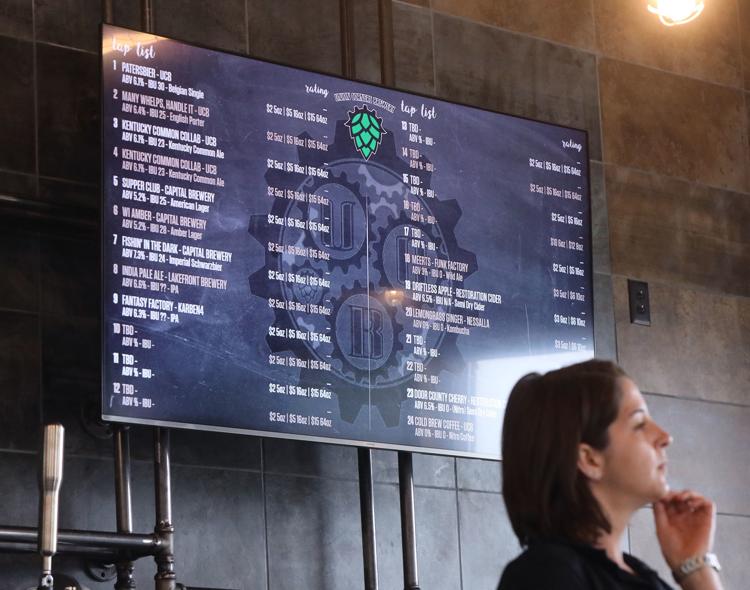 The beers were less successful. They're always rotating, and on our visit, 18 were listed on a big screen above our table. Three were UCB's own beers, while UCB worked with Rockhound Brewing to produce two others. A sixth was a collaboration with Capital Brewery.
We ordered a flight (six, 5-ounce glasses for $12) with all the beers brewed by UCB, or ones it collaborated on.
The only one I finished was UBC's smooth, smoky "Over the Line!" cherrywood sour, which despite its name, is one of the lowest-alcohol beers in the line-up (3.9 percent ABV). Also worth a try was UBC's gently hoppy, slight sweet American pale wheat beer called "Droids I'm Looking for (Mosaic)."
UCB's Berliner Weisse, "Chaos Theory," was so sharp I wouldn't want to be stuck with a whole pint. An English porter, "Many Whelps, Handle It," that is brewed for UCB at Rockhound, was deeper but harsher than my favorite porters.
Union Corners Brewery opened June 14 in the long-awaited Union Corners development set back from East Washington Avenue, near Milwaukee Street. There isn't much activity at night and on weekends when the anchoring UW Health Clinic is closed.
Other than the clinic, the brewery is the project's main draw, and almost every table in the main room was full at 4 p.m. on a Sunday. A bartender capably waiting tables was quickly overwhelmed.
Peterson, the owner, whose background is in biomedical engineering, said his external sign is coming later this month, as is seating for UCB's 900-square-foot patio that is bound to be a hot spot.
Meanwhile, getting into the spacious, attractive taproom and restaurant is comical, with arrows pasted on many doors leading to the actual entrance.
But once inside, prepare to be impressed.