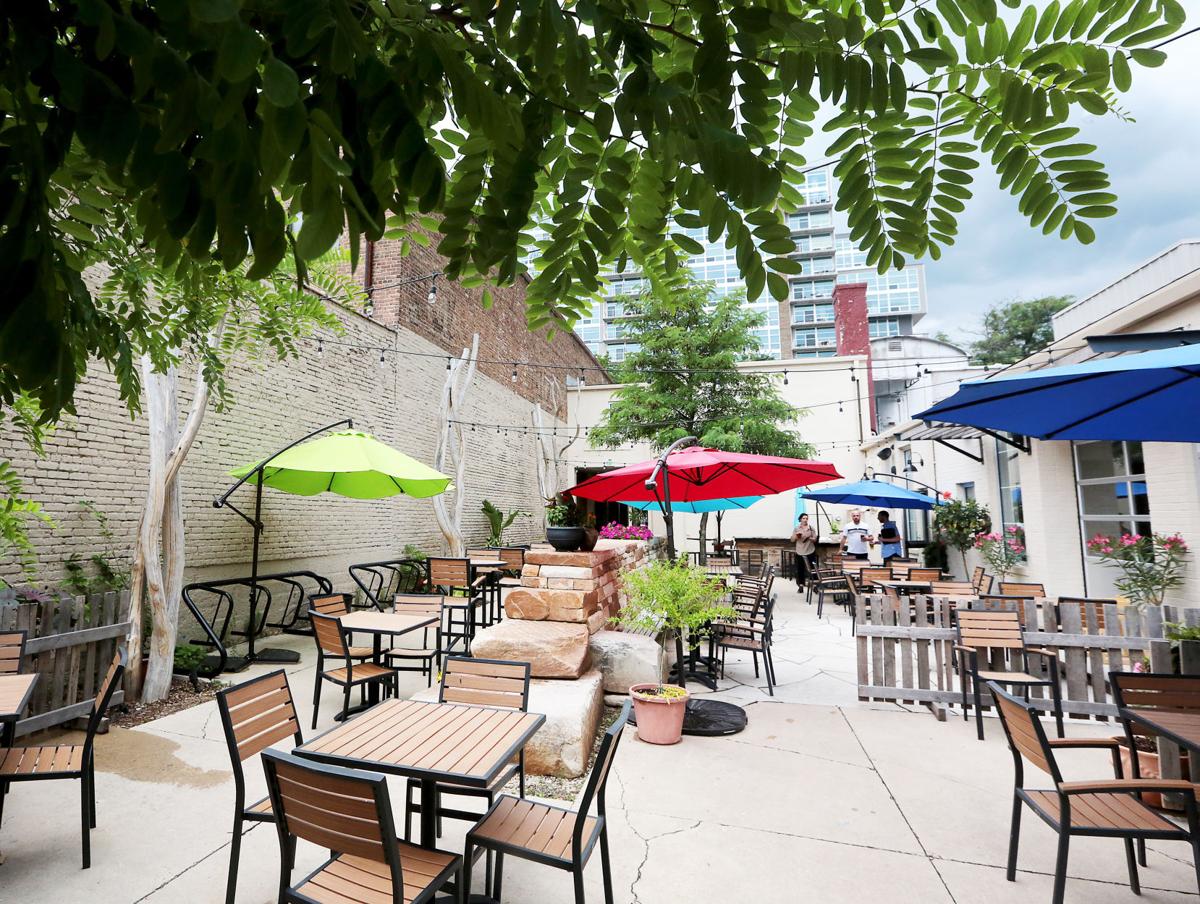 Forgive the generic name, because Madison Tap isn't just serving some of the best bar food in Madison: It's serving some of the best food in Madison.
And because it's still somewhat unknown, there's no trouble getting a table, indoors or out, when no event or programming is going on there.
The beer bar opened in May where the Barolo wine bar used to be, within the Robinia Courtyard project on the newly-developing part of East Washington Avenue, one mile east of the Capitol.
The idea behind Madison Tap is to turn over its tap lines to a different Wisconsin brewer each month. First up, for June, was Madison's Ale Asylum with its wildly-popular Hopalicious and, my favorite beer of theirs, Madtown Nut Brown. There were also a dozen other Ale Asylum beers on the tap menu.
Fourteen taps are reserved for beer, then there's one for prosecco, one for kombucha and one for cider. July features One Barrel Brewing.
I had a flute of Zardetto prosecco ($7), and it was cool, crisp and refreshing. My friend ordered a Diet Coke and it came out of a can, but was poured into a beautiful glass with ice. I was surprised to see it on the bill for $1.
The food list, meanwhile, is surprisingly short, giving the impression Madison Tap is just throwing out a few items so beer drinkers have something to snack on. But, by the end of a very impressive recent meal, I had to throw out that assumption. This menu, made up of small plates, is nothing short of a triumph.
Start with the gourmet fried mushrooms ($8), which are unlike the breaded common white (button) mushrooms in most deep-fried versions. The night I was in, Madison Tap used shittake and oyster mushrooms, so they appeared in a variety of shapes and sizes, and were coated in a light, tasty batter. A truffle vinaigrette for dipping heightened the experience.
Equally extraordinary was the duck confit taco ($5), which could go up against any elaborate taco in town. Besides tender, juicy meat, it had butternut squash puree, plump, pickled blueberries, arugula and scallions. It was a superb combination within a double corn tortilla.
Continuing at the same high level was the marinated flank steak ($9), five slices of flavorful meat, beautifully presented on top of seared green beans sitting in a yucca-root puree with chimichurri sauce all around. It was spectacular to look at and to eat.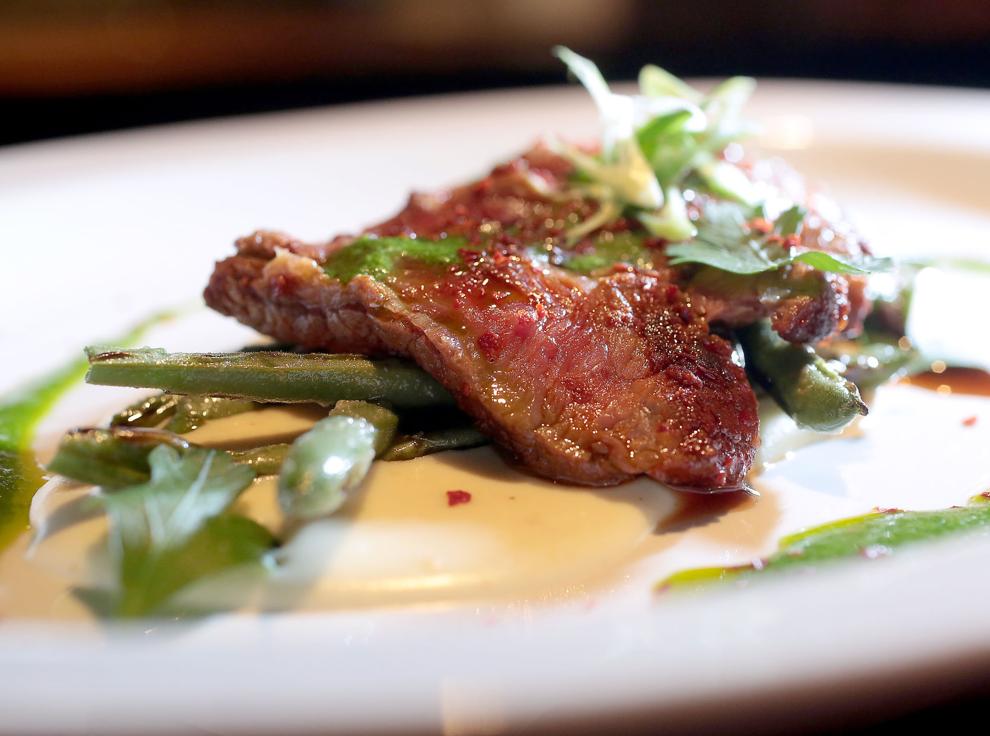 Robinia developer Jon Reske, who owns the former Lussier Teen Center building with 23 investor-partners, was working the front of the house by himself the night I visited. When we ordered the pad Thai ($7), he warned that it was served cold. That concerned me a bit, but shouldn't have. What came out was basically a noodle salad, with a flavor that was true to the signature Thai dish. And the fried tofu was nice and crispy.
Another good ethnic riff was the strangely-named "salmon lox" ($6), a half bagel with a thin layer of herbed cream cheese, high-quality smoked salmon, with an herb salad on top made with arugula, green onion, Italian parsley and lemon zest. It was one heck of a fine bagel.
The one thing I didn't love were the lamb sliders (two for $8), because the marinated, ground-lamb patties were pretty rare, and I prefer my burger meat cooked medium or medium well. But my dining partner had no problem finishing what was left of mine. The buns, grilled and buttery, were delicious, as were the greens served atop the meat.
The reason Madison Tap's food is so good is because Reske, in a major coup, hired Brandon Reid as his executive chef. Reid is a former sous chef at Dan Fox's Heritage Tavern and the onetime executive chef at The Cooper's Tavern on the Square. Reid more recently helped open Breakwater in Monona with two partners, from whom he parted company.
"He likes to change the menu a lot," Reske said about Reid, "and I'm trying to slow him down — it's changed twice in six weeks." Reske said he'd like to put in place a 75/25 percent rule, where they keep the "home runs" and change the other quarter of the menu regularly.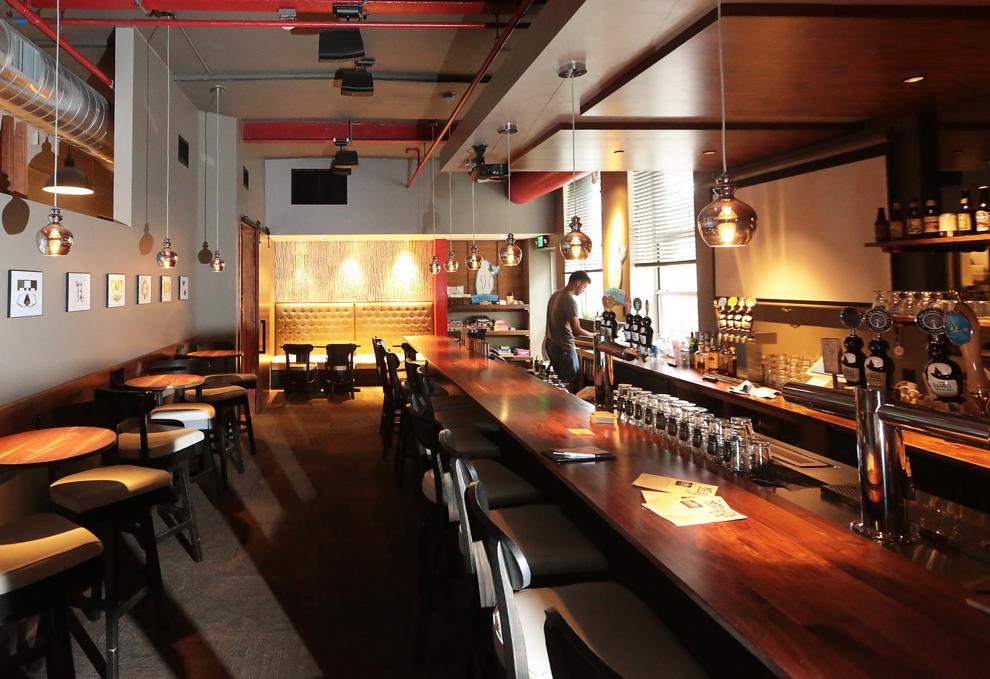 Reid is executive chef for all three Robinia entities, so he is also going to design the menu for Jardin, the replacement for the high-end Southern restaurant, Julep, which closed Jan. 1 along with Barolo. Only the former A-OK coffee shop stayed open, with Reske running it himself, with a partner, under the name Black Locust Cafe. Robinia originally opened in October 2015.
Jardin, which should open within two weeks , will be a slightly lower-priced farm-to-table restaurant, Reske said.
The Robinia courtyard hosts regular live music and movies, but was fairly quiet the Tuesday night we were in. We ordered at the bar and Reske brought out each plate as it was ready. He was working alone because a server called in sick.
The spacious, 3,600-square-foot courtyard is one of the few outdoor dining spots in town sheltered from street traffic. It looks somehow more inviting than it did on the first go-round. And that may have to do with the flowers and other plantings, and the umbrellas, which, although they weren't up, lent some necessary color.
When Reske was describing Madison Tap's fare to me back in May, he said, "It will be worth coming for the menu alone."
I came. I ate. I swooned.