The biggest knock against Mad Town Gastropub at the Dane County Regional Airport is that, like many airport restaurants, the prices are high.
The menu, designed, in part, by L'Etoile, Graze and Estrellón chef/owner Tory Miller, is plenty interesting, and the place was packed and buzzing both when I passed by for an outgoing flight and when I ate there upon my return.
I'd been wanting to try Mad Town since getting an email from Alan Parker, an Uber driver who mainly serves the airport. After hearing complaints from a number of passengers, he looked up the online reviews, where the restaurant gets two out of five stars on Yelp and two-and-a-half stars on Google.
"My concern," Parker said, "is that I know there are about 2 million passengers passing through Dane County Airport," and, for those new to Madison, he didn't want their first exposure to the Madison food scene -- and to Miller -- to be a bad one.
Airport spokesman Brent McHenry confirmed that number. Nearly 2.2 million people flew out of the airport in 2018.
Initially, I thought I might order something to bring on board, but because Mad Town is a full-service restaurant and bar, it's not easy to grab-and-go. Those in a hurry can pick up packaged sandwiches and baked goods across the way at Ancora Coffee, which has been a presence at the airport since 2006, but got a makeover in late 2016 when Mad Town was established.
Vinoteca Wine & Tapas bar is also across from Mad Town and shares seating with Ancora.
The tapas bar doesn't have much of a menu, or even tapas for that matter. It serves three panini ($10.99 to $12.99), five flatbread pizzas ($12.99 and $13.99) and a vanilla custard dessert ($5.49). Surprisingly, all were priced like they might be in a regular restaurant. Yet, the place was basically empty.
Vinoteca also serves Mad Town's full menu, which has $15 cheese curds, $16 pot stickers and a $12 pretzel.
At Mad Town I ordered the "tomato ball soup," singled out in June on a list Food Network put together of the 36 best chef-driven airport restaurants in the nation.
The soup was billed as "Mad Town's twist on classic matzo ball soup: tomato soup with a crispy risotto ball."
It had excellent flavor, but was full of rice instead of the promised risotto ball. I did appreciate the big shavings of Parmesan cheese on top.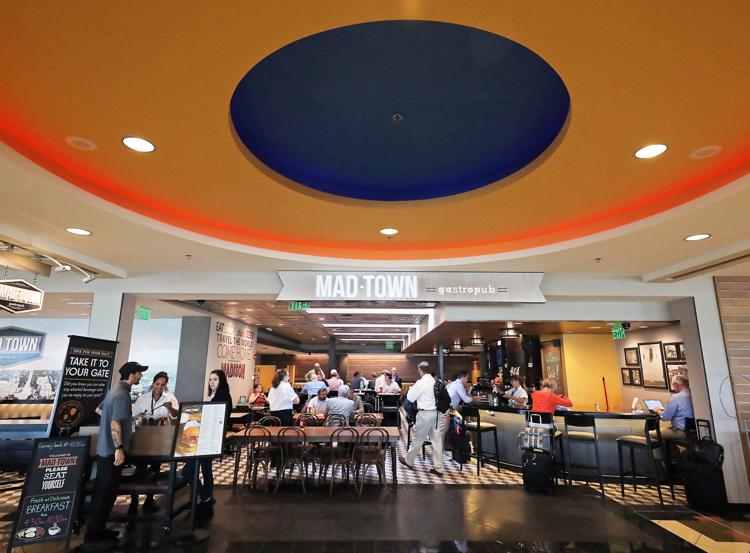 McHenry said that was an error. He recently had the soup and said the risotto ball was almost as big as the bowl. I noticed a second mistake later. It was listed at $10.99, but rang up at $11.99.
The roasted beet salad ($18.99), meanwhile, was disappointingly low on beets, which showed up in thin, short strips. The salad had a nice base of greens, blue cheese, pickled red onions, and plenty of chicken, which ranged from grilled to blackened. A homemade creamy vinaigrette was fine.
When a State Journal photographer showed up the following week for a photo, the kitchen added avocado. There was no avocado on my salad nor on the menu description.
You have free articles remaining.
Register for more free articles
Stay logged in to skip the surveys
The tonkotsu bowl ($17.99), one of four entrées, isn't described as ramen, and maybe that's because it can be served with ramen noodles or udon noodles. It was so enjoyable it made me forget I was eating at an airport.
The milky, rich pork broth had tender, stringy pieces of lean pork. It can also be ordered with tofu, chicken or egg. The bowl had cremini mushrooms, and a touch of bok choy, seaweed, and carrot. It was supposed to have soft-boiled egg, but I didn't see any. (McHenry said they were out that day.)
Small slices of chilies needed to be plucked out, but otherwise gave the broth some nice heat. My friend and I both loved the udon noodles.
The Korean chicken sandwich ($18.99) reminded me of my favorite sandwich at Miller's recently-closed Sujeo restaurant on East Washington Avenue. Only at Sujeo it was $10 and the lightly-breaded chicken breast was enhanced by a sweet Hawaiian roll, pickles, Japanese mayo and Gouda cheese.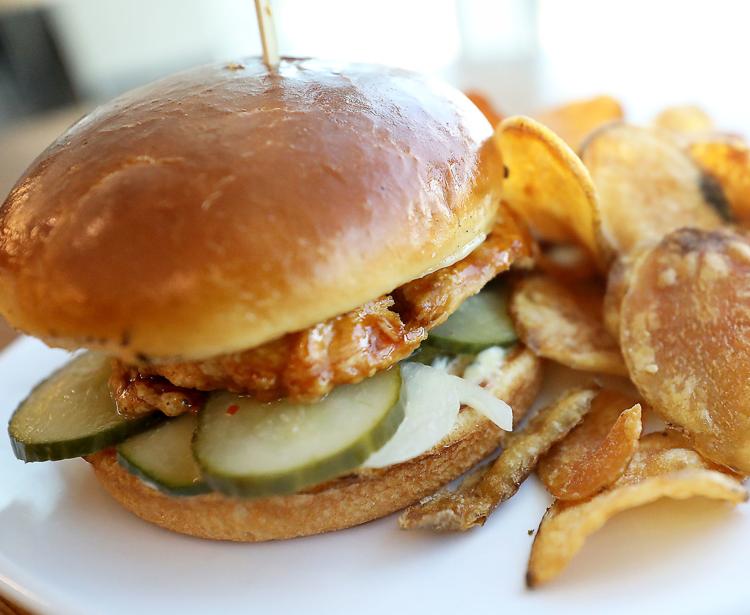 The airport version simplified it. The menu advertised a housemade Korean hot sauce, pickled vegetables and garlic aioli on a brioche bun. And, although the bun was soft and delicious, and there was a semi-sweet sticky sauce, aioli and some pickled onion, that was it.
While perfectly satisfying, it wasn't as involved or as interesting as Sujeo's, or even as Mad Town made it out to be.
Again, in the photo for the State Journal's photographer, the chef enhanced it, this time adding pickles.
The sandwich came with standard thick-cut, kettle chips that McHenry said are fried in-house.
Chocolate cake ($8.99) is the only dessert, and while it didn't look like much, the moist layer cake had hidden chunks of chocolate in its frosting, adding taste and texture to a cake that wasn't overly sweet.
The restaurant and wine/tapas bar are run by SSP America, a division of SSP Group, which operates airport restaurants worldwide.
The Great Dane Pub & Brewing Co. was a local presence at the airport before Mad Town. It and Quiznos both opened at the airport in 2006, and closed to make room for the new construction.
Miller, a James Beard award-winning chef, said he consulted on the opening, and on some menu items, but is "certainly not part of the daily operation or management team."
He wasn't even aware that Mad Town's original chef left. Amado Rodriguez took over Aug. 1, but has been with SSP for four years, McHenry said.
Still, there's a note on Mad Town's menu where Miller introduces himself to diners, saying he wants them to experience a "taste of Madison" from a menu filled with "locally made and grown ingredients that I feel reflect our wonderfully creative community."
My experience was a lot better than I expected. It was the prices that were the main drawback. That, and the restaurant still owes me a giant risotto ball.