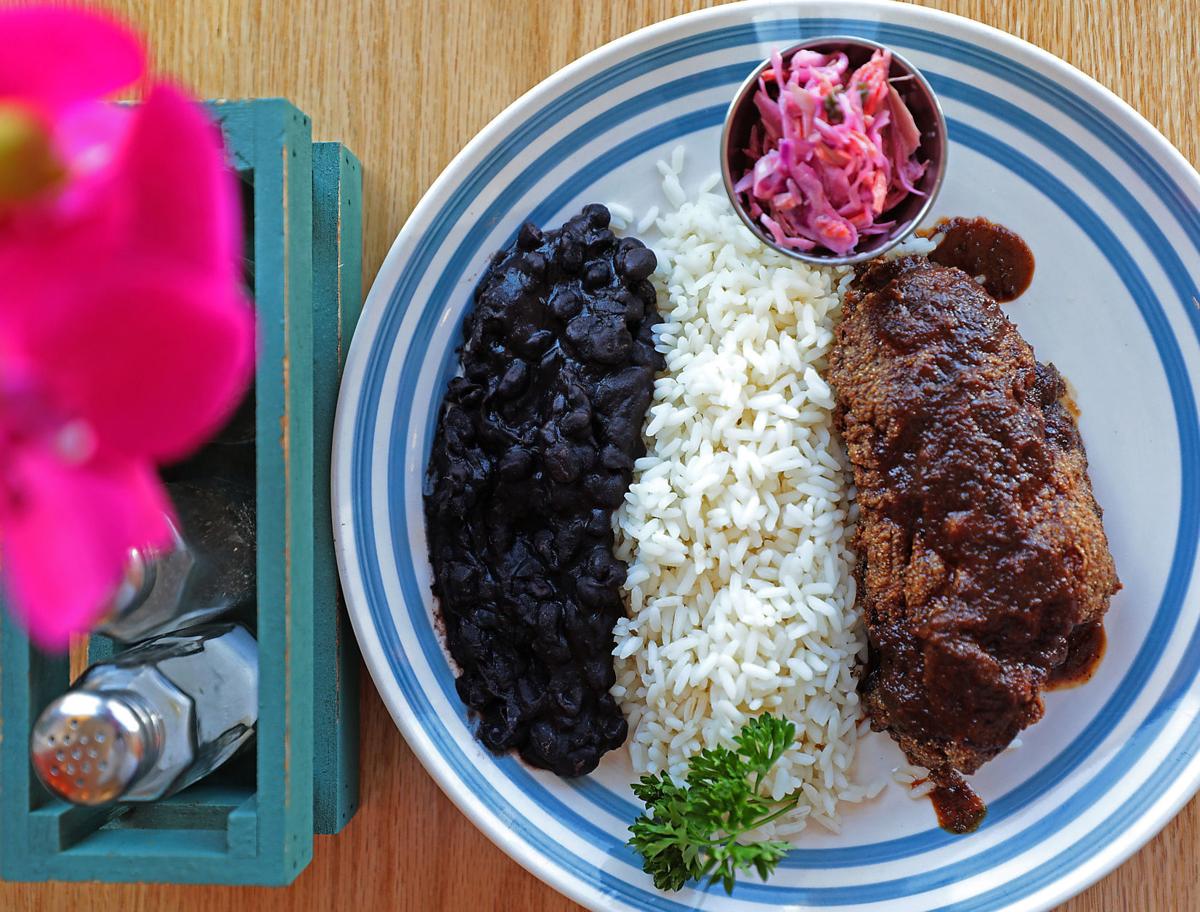 At a time when an average lunch can set you back a $10-spot, it was a steal to find a delicious, homemade Friday cod special for $7 at Lorraine's Cafe.
The "fresh fried cod with Lorraine's shrimp sauce," like every signature item at the new Monroe Street restaurant, is served with black beans, rice, and coleslaw that, made with pineapple, red and green cabbage and red bell pepper, tastes like the tropics.
Looking for a fresh start, Ken Kopp IV closed his long-running Monroe Street branch of New Orleans Take-Out in late December, and, in one month, turned it into a cafe serving his interpretation of island food.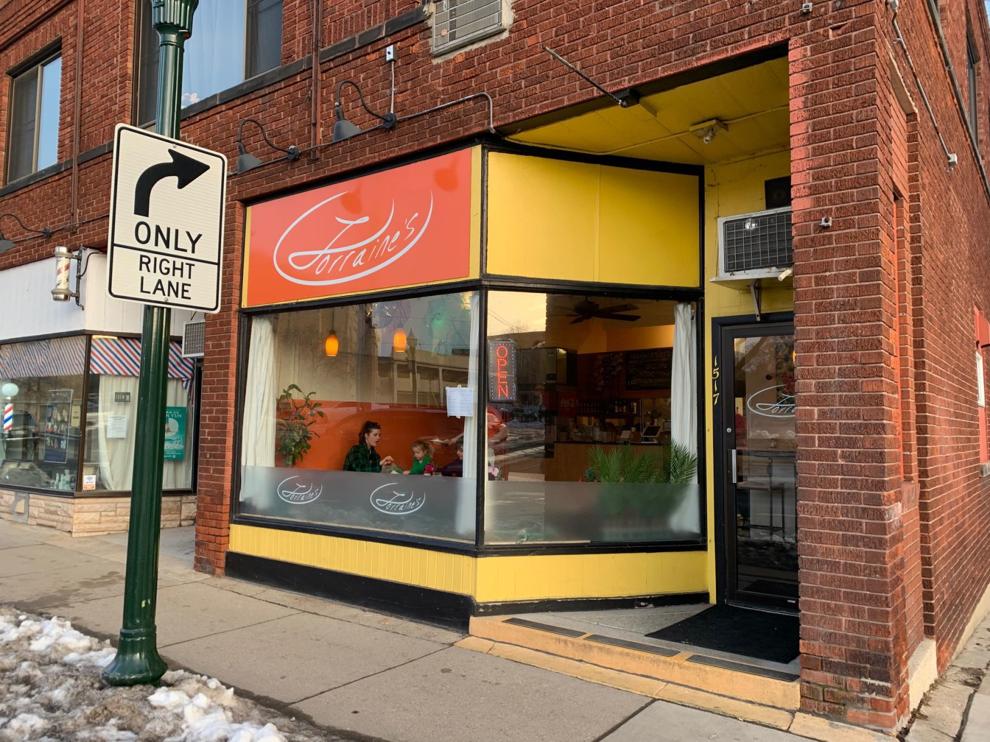 Kopp owns Lorraine's with his wife, Sajia Kopp, and the restaurant is named after her Jamaican grandmother. The menu offers many ways to eat Jamaican jerk including a vegetarian one: jerk jackfruit, which Kopp said one woman brought back to the counter thinking she had gotten pulled pork by accident.
The fried jerk chicken breast ($7) was as good as the Friday cod, and, ordered off the lunch menu, it was just as cheap. It's $12 at dinner. The thin breading, made with a hint of cornmeal, was enhanced by the sauce, which was both tart and sweet. I only wished the sauce could have benefited the rice and beans, too.
Kopp makes a house hot sauce with onions, carrots, habaneros and lime — just be careful not to mix up the hot and mild. The bottles look alike.
On a return evening visit, I made that mistake, dousing the rice and beans that came with Lorraine's shrimp ($13 dinner price) with the "HOT" sauce. I only noticed the all-caps label after the dousing.
The 11 medium-sized Texas gulf shrimp were perfectly cooked, and the dark, rich, cream sauce, made with thyme and cloves, was amazing. I was able to stretch it to cover a small portion of the rice, but wished for more.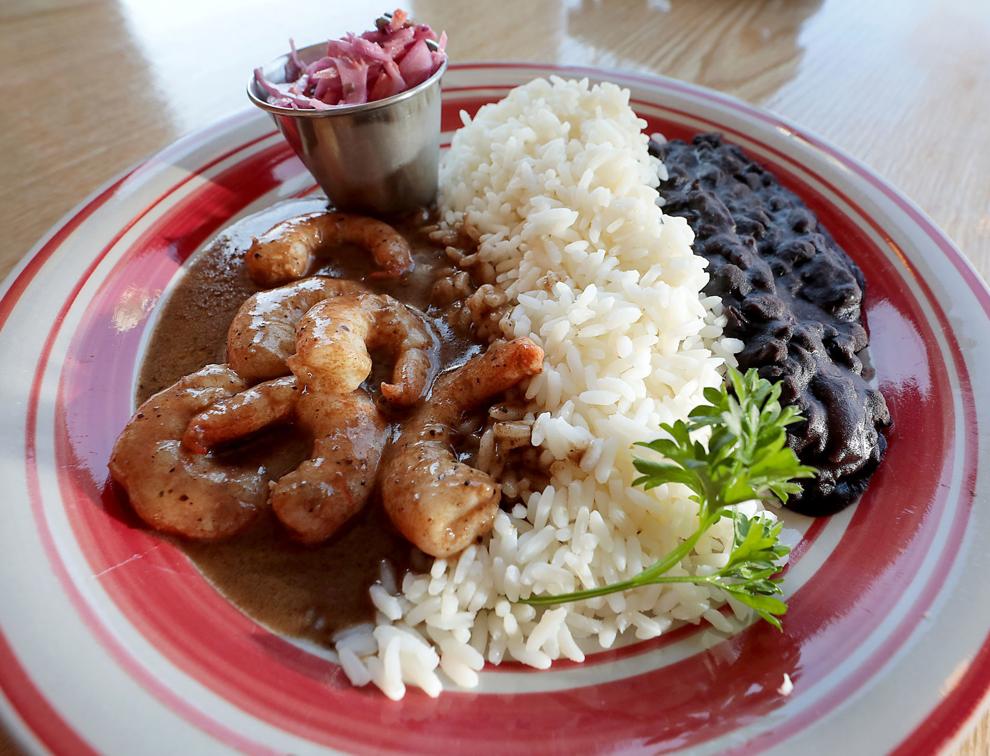 Back to that cod lunch: What made it was that same wonderful shrimp sauce. A subtle amount of sauce came on top of two square pieces of moist, flaky fish that were even more lightly breaded than the chicken.
With Lorraine's, Kopp said many NOTO regulars were concerned about losing the old Friday cod special with its pecan meuniere sauce. The new dish came about when Kopp and his night manager were making themselves lunch and used the shrimp sauce on the cod and really liked it.
Both sauces rely heavily on butter. "Anyone who enjoyed the old sauce would be into this," Kopp said.
I wish I had been more into "Armando's Especial," but, while the slow-cooked pork in a red chili sauce ($12 as a dinner special) was good, it didn't have the same wow factor as the shrimp and jerk plates.
The dish was named for Armando Bruno, a friend of Kopp's who worked at the old restaurant and prepared New Orleans Take-Out food for Kopp's wedding reception in 2012. Bruno, who grew up in Mexico City, surprised them by bringing pork adobo.
After the wedding, people came in the restaurant looking for it, and Kopp talked Bruno into adding it to Lorraine's menu, where it's prominently featured as both an entree and a sandwich.
The dish had lean chunks of tender pork that got a slight kick from being roasted with guajillo and puya chilies. It had a bit of acidity from fresh pineapple and a few strips of pickled carrot, onion and green pepper.
The plates at Lorraine's have a beautiful composition because of how the rice, beans and slaw are laid out on the cool, mismatched thrift-store china.
The Manhattan clam chowder ($4/$7), the Friday soup, had too many potato chunks, but was still worth ordering for the tender clams. My main complaint was that it was served so hot you risked burning your tongue.
Banana bread pudding with whiskey sauce ($4) was dense, generous, and surprisingly gluten free. It was enhanced by the spiked sauce, made from sweetened condensed milk.
Like New Orleans Take-Out, Lorraine's is largely carryout, and that's because it can only seat 14 between three tables and a four-seat counter.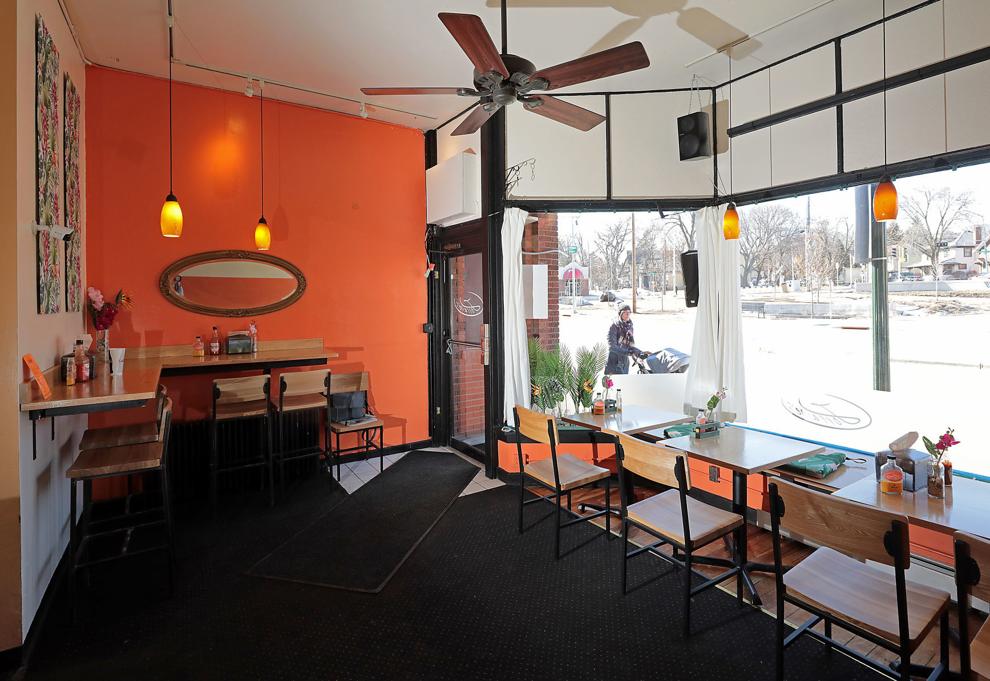 Kopp did the remodeling himself, building attractive bench seating by the window and branding the corner counter with the Lorraine's name. Sajia did the decorating, arranging tasteful artificial orchids and birds of paradise in vases and picking out flowered wallpaper Kopp turned into panels.
Kopp smartly plays WORT/FM 89.9's "Tropical Riddims" from the community radio station's archives. The show offers an eclectic blend of reggae, roots, ska and rock steady that's the perfect soundtrack for the restaurant. He said he also plays WORT DJ Kayla Kush's "late-night reggae with a twist" show, "2 DUB."
He's always brought the station food for its pledge drives, but said he now feels like he "really owes them."
The restaurant was fairly quiet during a Friday lunch and Saturday dinner, but the customers who were eating left happy and each thanked Kopp, who was working in the open kitchen.
Kopp ran New Orleans Take-Out for 18 years on Monroe Street and worked for the restaurant's founder John Roussos at his original Fordem Avenue for almost 10 years, starting as a dishwasher and working up to cook and manager.
That's 28 years in the service of incredible food. Kopp deserves all the thanks we can give.