The slogan on Lake Edge Seafood Co.'s carry-out menu — "if it swims we probably have it" — hints at the fun John Kitto has infused into his combination seafood store and restaurant on Madison's East Side.
Kitto, 64, the longtime owner of Thrift Painting, sold that business after 44 years.
He opened the seafood store in late December at Monona Drive and Buckeye Road with his son, Rob. The restaurant opened a month later.
Kitto greets new customers warmly, and, if you let him — and why wouldn't you? — he'll go into great detail about the restaurant's menu.
My companion appreciated Kitto's honesty when he told us many customers don't care for the po' boy or the lobster roll because of the buns. He said he's looking to find a suitable replacement.
I'd heard good things about two appetizers, the seafood cakes ($12.95) and calamari ($11.95), and both were worth ordering.
The seafood cakes are made mostly with crab, but also have salmon, yellowfin tuna, grouper, mahi mahi, and swordfish, Kitto said. They had a mild seafood flavor and a perfect sear. The Cajun remoulade zigzagged across the top provided kick. As for the squid, the small rings were tender and the breading tasty. The homemade cocktail sauce, however, was a tad sweet.
We skipped the po' boy and lobster roll after Rob, the son, showed us the buns that other customers had criticized. Kitto later told me they've already tried five different buns.
I got an update from Kitto on Tuesday when they tried a sixth. He said it was a winner and had what he was looking for: a crunchy exterior and soft middle.
During our visit, though, we had the codwich ($12.95), which comes on a soft pretzel roll. It was a bit skimpy on the deep-fried cod, but the roll and other elements — cheese, lettuce, pickles, tomato — tasted great together.
The grouper dinner ($19.80) was fine, but maybe our chosen preparation, which was grilled, isn't the best way to eat grouper. It tasted plain without sauce or much seasoning, and the tartar sauce in tall bottles on the tables could have used more onion and pickle, something to perk it up.
The fish served in dinners can be blackened or deep-fried as well as grilled and comes with a choice of two sides. Sandwiches and fish tacos come with one side.
A nice feature of Lake Edge is that customers can order a cup of one of the restaurant's three soups as a side. The clam chowder was outstanding, not too thick and packed with soft clams. And the cup was nearly as big as a bowl.
Onion rings were another good choice: large, golden and crisp. They don't get much better.
The only disappointing side was the potato salad, which had an odd taste my friend and I couldn't pinpoint.
While mahi mahi, swordfish, halibut and tuna are available at the fish counter, I wondered why none of them were on the restaurant's menu, which includes oysters, scallops, shrimp, cod, walleye, salmon and perch.
When I asked Kitto about that, he said that soon customers will be able to buy any seafood from the case and have it prepared.
Kitto has put his painting background to good use in turning a former furniture consignment shop into a charming store and restaurant where the seafood theme is tastefully conveyed.
He called it a "team effort," but added that his former career taught him about symmetry, balance and what colors go together.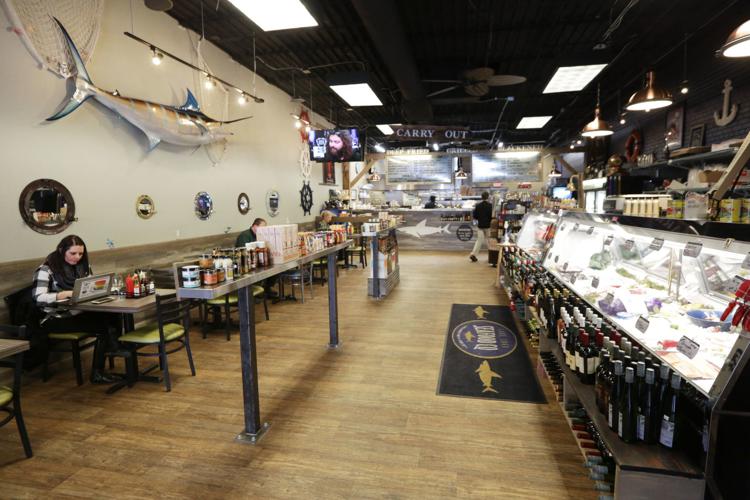 Mirrored portholes along the main wall and a mermaid and sea creature on the women's and men's room doors enhance the space.
The menu boards are attractive and easy to read. The kids' menu is done in those familiar primary-color magnetic letters, where one of the choices is "mac + you know."
In the store part of the business, the fish and seafood are beautifully displayed, but Lake Edge's offerings are priced higher than most grocery store seafood, more in line with the Seafood Center on Whitney Way.
Considering the humble neighborhood surrounding the business, Kitto said he's made sure to price all the meals at $19.99 or less, and he's promoting that guarantee with big signs at the counter where customers order. He's also lowered the prices for some items on his weekend brunch.
Kitto's done a lot to make the Lake Edge experience a good one. He even brought out a piece of tiramisu at the end of our meal. When I told him it was unnecessary and asked why he was doing it, he said he wants "people to love us."
He had no idea I was writing a critique for the State Journal, but said I could "retaliate" by writing a good review, a reference to the mixed online customer reviews the restaurant's been getting.
So consider this my "retaliation." Lake Edge Seafood is still getting its feet wet, but shows lots of promise — and patience when it comes to sandwich rolls.