Mahamadou Tunkara has bounced around a lot, cooking his African stews, gyros and American fast-food favorites in many corners of the city.
In late 2015, he opened Burgers and Ethnic Food B-B-Q in the food court at West Towne Mall. Then, last year, he brought Kingdom Restaurant to a Capitol Petro Mart on East Washington Avenue. In between, he bought and sold the Silk Road food cart.
Now that he's moved Kingdom to the North Side and is winning fans there, I'm thinking he'll stay put.
With the support of Northside TownCenter owner Dave Bruns, Tunkara took over the short-lived Bistro Honda spot in early January. The location is hidden on the Northport side of the shopping center, not far from Benvenuto's.
Tunkara said good signage is bringing people in and that sales have tripled since he left the gas station.
His menu is huge, with breakfast food, nine dishes listed under "A Taste of Africa," and burgers, gyros, sandwiches, chicken wings, fried cheese curds and more.
Tunkara, who moved to New York from his native Gambia in 1988 and then to Sun Prairie in 2001, said 60 percent of his sales come from the American side of the menu, and 40 percent from the African. He puts gyros in the "American" column, and they amount to half of those sales.
While I was waiting for a take-out order one recent Sunday night, he was backed up with four gyros orders. One of those was mine. I was already a fan of his African food from his West Towne days and was curious about the gyros ($8.49 with fries).
After we opened the box at home my heart sank because the onions and tomatoes were missing. But soon we discovered they were buried under the meat.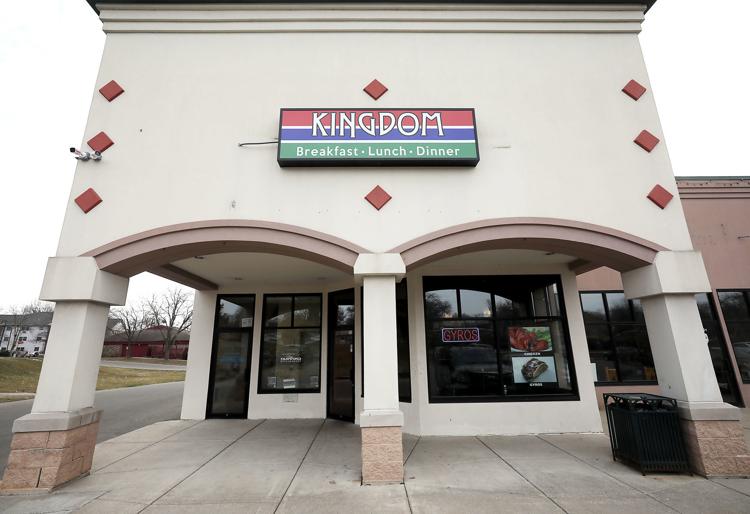 The lamb-beef slices were cut thick, the tomatoes were bright, and the tzatziki sauce was excellent. My gyros-loving companion said he would have liked more sauce, later deciding the gyro didn't equal Parthenon on State Street. In his mind, none do.
I could have done without the fries, which were typical, thick-cut diner fries. They didn't have salt, so we added it.
Some of the offerings on the African side (all $10.99) aren't unique to Africa, dishes like liver and onions and chicken shwarma, curry, kabobs and jerk chicken.
During two visits, I've concentrated on the more distinctive West African ones: the benachin, the domada and the fufu, and all three were fantastic. The curry is also a fine choice. All four meals came with a choice of protein, and each of the ones I've tried were hard to improve upon.
You have free articles remaining.
Register for more free articles
Stay logged in to skip the surveys
The fish I ordered with the benachin, also known as jollof rice, turned out to be catfish. The plate held two large, moist, flavorful fillets that were grilled and not breaded. Tunkara said cod is also an option.
The dish, popular in Gambia and Senegal, uses Maggi seasoning, a flavor enhancer invented in Switzerland. It also had bell peppers and onions.
The domada, a Gambian peanut stew, was more one-dimensional, so I added some habanero sauce at home. I also took the hot sauce to the curry, since much of the rice was untouched by the curry sauce.
Chicken went well with the domada, and the dish held a huge amount of thick chunks of white meat. For the curry I went with beef, which Tunkara said he cooks for three hours.
Tunkara also cooks the lamb, which I ordered with the fufu, for three hours. I enjoyed the starchy fufu much more than I did two years ago when I first tried it at the mall. Made with cassava leaves and plantain flour, it has a consistency similar to mashed potatoes, but thicker and almost silky. It comes covered in what Tunkara described as a simple beef stew.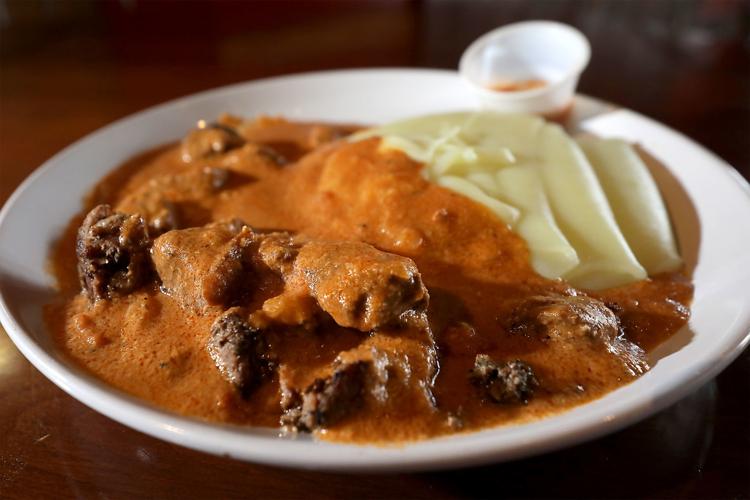 Fufu isn't for everybody. I saw one giant plate of it abandoned at the restaurant after just a couple of bites.
On my first visit to Kingdom, Tunkara's portions were outrageously large, heaped on a platter or stuffed in large, square Styrofoam boxes. On my second visit, the boxes were smaller by about a third and the portion size was more reasonable. I asked Tunkara if he made the change because he was losing money, but he said it was because he kept seeing wasted food. "They eat for 45 minutes and don't finish it," he said.
All meals come with a can of Faygo or another off-brand soda. Couscous is an option for many of the dishes. I tried to order it twice, but got rice both times.
Tunkara has a work ethic few could handle. He cooks from 8 a.m. to 10 p.m. every day, a similar schedule to the one he kept at the mall.
"My body is used to it," he said, as if that explained it. Tunkara's wife sometimes works with him as do his two adult children, who are in college. The couple also has two younger children at home.
To settle on the name Kingdom, he put 15 names in a container and had his son reach in and choose one. Other names included Taste of Africa, Safari and The Gambia.
It pays to call ahead for takeout. On my last visit, I called at 6:15 p.m. and was told it would take 30 minutes. It wound up taking 60, since it was a busy night.
I'm predicting many more busy nights ahead.