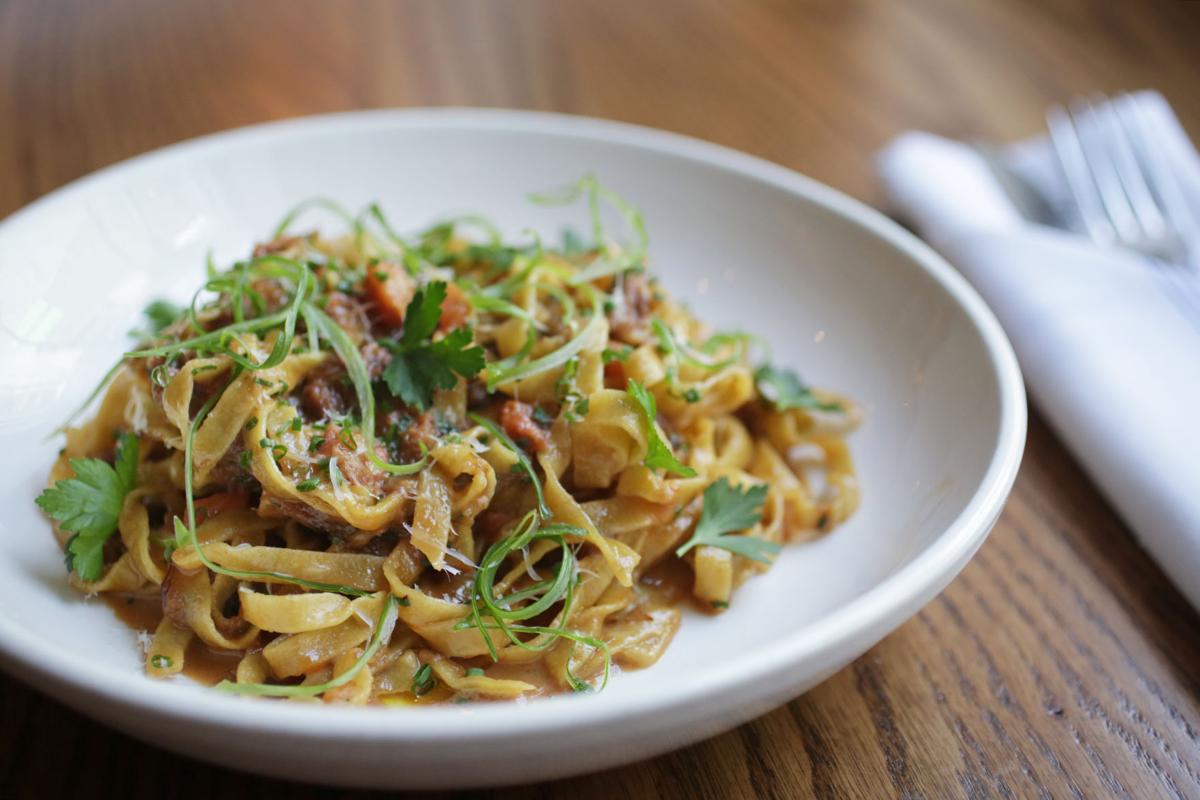 It was no surprise to discover that Jardin can compete with any of the best restaurants in town. After all, Julep's replacement in the Robinia Courtyard has the same chef as its excellent sister enterprise, Madison Tap.
What's more, the prices are reasonable for a higher-end restaurant and the portions are generous.
The wine list is surprisingly small, and still in progress, but the same rotating beers from Madison Tap next door are also available at Jardin. The novelty with Madison Tap is that it turns over its 14 tap lines to a different Wisconsin brewer each month.
November meant Karben4 controlled the taps, so I had the Madison brewery's Block Party ($5), which is about as good as an amber beer can be.
It was the perfect accompaniment for the visually stunning and delicious melon salad ($10), made with thin slices of marinated watermelon and cantaloupe on top of mixed greens with fennel, beauty heart radish, onion and cucumber. Dressing makes the salad, and the maple peppercorn vinaigrette was a knockout.
The other small plate my friend and I ordered, caramelized Vietnamese shrimp ($9), was the only false note of the meal. Five, large, tails-on shrimp were served in a bowl of sauce dominated by lemongrass and Thai chilis. The flavor was too strong and too sweet. I wanted more rice, but I guess if there was more it would have turned into an entrée. The best part was the wonderful marinated cucumber shavings.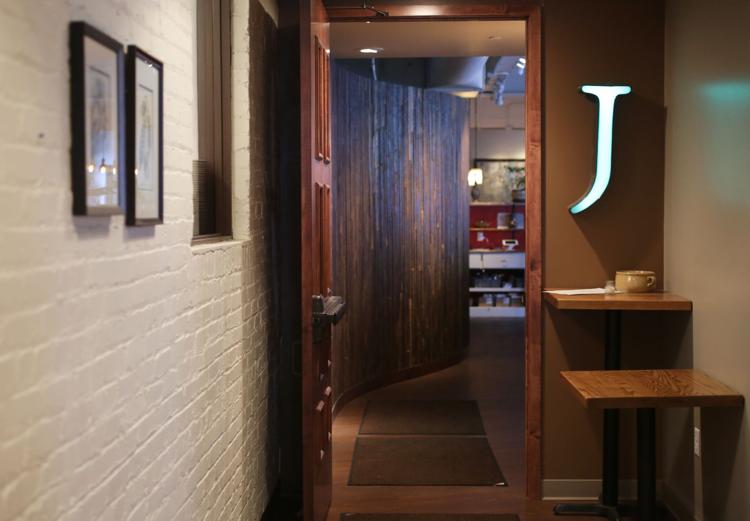 A better seafood selection was the seared red snapper ($14), its top crisp and its flesh moist. Outdoing the fish was the incredible slaw underneath made from fennel, shallots and cucumber.
Wild mushrooms ($12), another large plate, were nothing like the gourmet fried mushrooms I adored this summer at Madison Tap. These oyster, shiitake and cremini mushrooms were sautéed instead of fried and mingled among lentils, green beans, kale and roasted carrots.
"I like eating a dish like this," said my typically fussy friend. "It tastes good and it's good for you."
The nduja-marinated flank steak ($25) featured medium-rare slices of meat matched by abundant shishito peppers grilled just right. The mild peppers were a surprising, but appreciated vegetable choice. Cream corn underneath was seasoned to the point of being unrecognizable as corn and much more interesting. Grilled onions and goat cheese enhanced the dish even more.
But the star of the evening was the braised lamb ($20), the meat from Fox Heritage Farms. In pulled form, it had the perfect taste and texture and was not at all tough, gamy or stringy. The pappardelle pasta underneath was cooked just right, the sauce a braising liquid that was simply inspired, its stroganoff-type quality not overly rich. And oh, the smell!
You have free articles remaining.
Interestingly, the brief menu with its four small plates, seven large plates and two desserts, has two lamb dishes. The other is a mustard and herb-rubbed lamb.
Asked about the lamb emphasis, executive chef Brandon Reid said menus are a telltale sign of what a chef likes. "And I like to make what's difficult," he said.
He said he buys the whole lamb from Heritage Tavern Chef/Owner Dan Fox, who runs Fox Heritage Farms, and figures out different ways to showcase it. Reid called it the best lamb he's ever had, and I second that. Fox doesn't raise the lamb, but gets them in southern Wisconsin.
Reid, 33, who's been cooking since age 10, didn't go to culinary school, but apprenticed at some top restaurants in Madison and Milwaukee.
He won't take all the credit for the success of the food at Jardin, acknowledging his talented sous chef, Kyle Cozine, from L'Etoile and the rest of his support staff.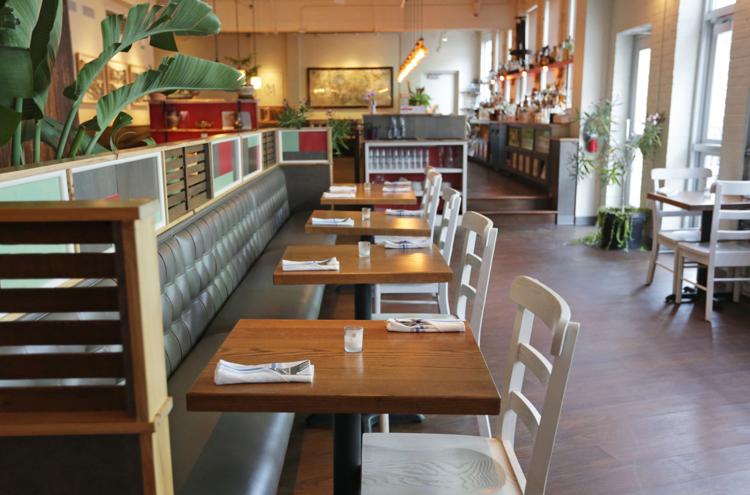 Like its predecessor, the elegant Southern restaurant Julep, Jardin is so aesthetically attractive, it draws you in. The colors are warmer now and its new style owes something to the large, handsome prints on loan from UW-Madison's Tandem Press, all of which are for sale. There are even three prints by renowned artist Judy Pfaff and another in the hall.
While the food is hard to fault, Jardin overall is still working out the kinks. I had a difficult time nailing down precisely when the restaurant first opened, but it was sometime in late September or early October. At the time, Robinia developer Jon Reske wasn't sure he wanted publicity, calling it "a super soft CIA opening."
Its website wasn't operational when we visited (but Madison Tap's finally was), and the only phone number I could find for it online went directly to Reske's cell phone.
Then, when I brought a small group to dinner there one Saturday night, crossing a dark and busy East Washington Avenue from our parking space across the street, the restaurant was closed for a private party. If Jardin had a working website, maybe that information could have been posted.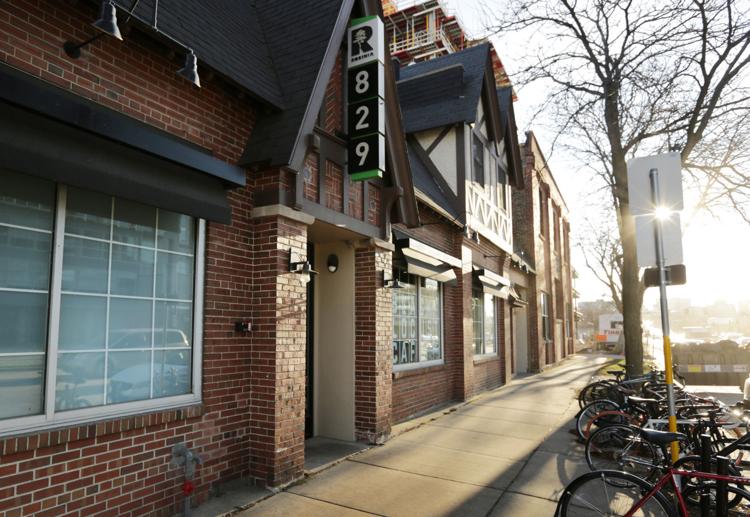 When I did visit, there were only two other parties on a Thursday night. Maybe others have had similar difficulties. Still, dining at Jardin was worth the hassles.
Reid is known for shaking up his menus, so they change with the season. He said the current menu is just the beginning and he wants to "start pushing the limits."
I'm anxious to see what he's going to do next. There's not much he could do better.