If you want me to go back to Poke Poke — the poke shop so nice they named it twice — you won't have to ask twice.
The number of new poke restaurants opening in Madison is remarkable, and who's complaining? It's an exciting food trend capitalizing on the longstanding popularity of sushi and sashimi and offering the same varieties of raw fish in creative new ways.
Poke is a raw, customizable, fish salad typically served over rice or greens. It's been eaten in Hawaii for centuries and has been gaining fans throughout the rest of the country over the past few years.
It wasn't until the 1970s that the dish became popular and took on the name "poke" — "to slice" or "to cut crosswise into pieces."
In Madison, Food Fight restaurant group got there first, opening Miko Poke two years ago on Monroe Street.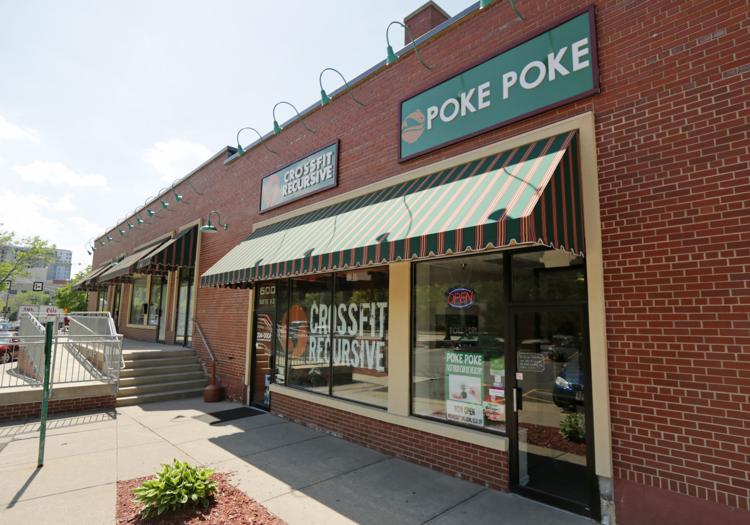 Now comes Poke Poke, from Judy Zhu, 31, who opened her fast-casual restaurant April 2 in the Gateway Mall on Williamson Street, next to Bandung. Right on its heels, two other poke restaurants have just opened Downtown, with a third on its way.
There's Poke It Up at 540 University Ave., where Erberts and Gerbert's used to be, and Poke Plus at 615 State St., a space recently vacated by Disco Fries. Finally, FreshFin Poké is coming this summer to the James building on Gorham Street, near UW-Madison.
Poke (pronounced POH-kay) is also turning up in many other restaurants without poke in their names.
"This is like sushi meets Chipotle," said my friend, who was unfamiliar with poke. "It's easier for them because they don't have to roll it."
Poke Poke is a great place to become acquainted with poke since it would be hard to create a better bowl than the restaurant's signature ocean feast ($14.99 for a regular, $19.99 for a large).
It was a fantastic blend of tastes and textures with amazing variety: ahi tuna cubes, tender scallops, whole shrimp, octopus, snow crab leg, tobiko (or fish roe), macadamia nuts, two types of sliced ginger, crispy onion and seaweed salad. The ingredients were served over white rice.
The ocean feast is the most expensive "house creation" because it holds the most seafood. Wasabi mayo was the key, and the sauce made a healthy meal feel somewhat decadent. I'm unsure if the calorie count on the menu (580 to 630) can be trusted. It seemed pretty low. Zhu said she and her husband calculated the calories themselves based on the ounces in each bowl.
Another house specialty, the tropical island ($10.99 for a regular) was less inspired, but also excellent. It, too, held a great combination of ingredients: ahi tuna, mango, red cabbage, corn, edamame, crispy onion, macadamia nuts, pink ginger and tobiko.
You have free articles remaining.
Register for more free articles
Stay logged in to skip the surveys
Its lemon ginger sauce lacked the character of the wasabi mayo from the ocean feast. This bowl seemed more healthful, even though the listed calorie count was basically the same (590 to 630). Zhu said that's because it has more crispy onions than the ocean feast.
The curry chicken lover bowl ($9.99 for a regular) is a good option for those who don't eat raw fish, but was somewhat lackluster compared to the ocean feast. It had purple rice going for it, which set it apart (the rice has Asian origins and is black until cooked), but the curry sauce needed to be punched up or maybe applied more liberally. Grilled chicken was diced into small pieces, and thin jalapeno slices came as a surprise whenever I bit into one.
The menu promised lettuce, but I was happier with the kale that showed up, instead. Most of the "house creations" have changed in the past few weeks as Zhu figures out what works best. She seems to have settled on crispy onions and tobiko as a theme, since they were present in all three meals I've tried.
Poke Poke has three other house bowls, otherwise customers can create their own by choosing a size (regular or large); a base (white rice, brown rice, purple rice, baby greens, mixed greens); a choice of two from 10 proteins (mostly seafood, but chicken and tofu are options); P.Y.O.B., which means "pack your own bowl" and includes a list of 14 options, many of them made with organic and local vegetables, Zhu said.
The restaurant doesn't offer appetizers or side dishes, but we were able to get Zhu's excellent seaweed salad for $3.50.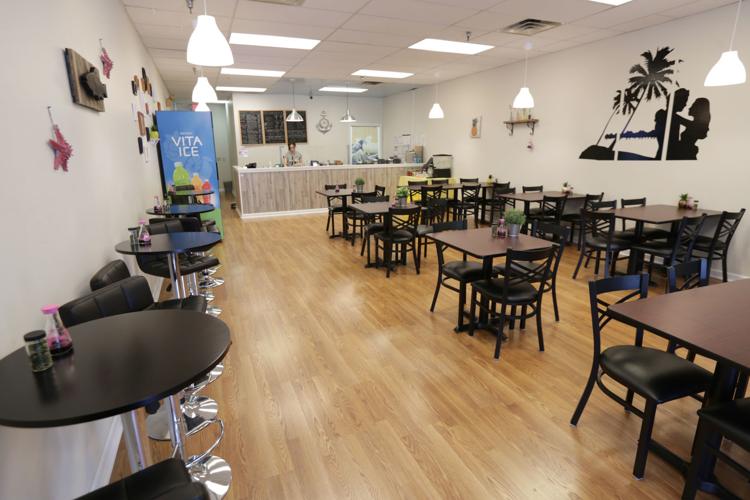 Poke Poke has a fast-food feel, down to the lighting, but with better music. Peaceful jazz at a low volume was just right on the night I was there.
The attempts at atmosphere are interesting. If Miko Poke's wall can have a larger-than-life "Magnum P.I."-era Tom Selleck on a beach in shorts and a tank top, Poke Poke can get away with a more modest image of a couple embracing on a tropical beach.
The pineapple planters on some tables are charming, as are the Hello Kitty Kikkoman soy sauce bottles.
Zhu has a master's degree in arts management from Indiana University Bloomington and moved to Madison after getting a job at Shopbop.
"After three years I decided to transfer my career path into the restaurant business," she said.
Trips to Hawaii got her interested in poke. The fact that it's healthy and fast makes it a natural fit in her Williamson Street location next to a CrossFit gym and across the street from a yoga studio, she said.
Shopbop's loss is Willy Street's gain.