Sun Prairie residents no longer have to drive to Madison to get Tipsy Cow's famous Tipsy Burger. 
What's more, the new spot, open since December, has a bigger kitchen and an expanded menu, on which almost everything seems appealing.
Prices are also about $1 more on many items because of the much higher rent in Sun Prairie, said Michael Banas who owns both locations with Patrick O'Halloran and Sue Kirton.
If you're going to eat one burger this week, make it the Tipsy burger ($10) with beef from Knoche's butcher shop on Madison's West Side. The two smashed, quarter-pound patties get such a hard sear the meat becomes caramelized and crumbly, which enhances the taste.
The burger's also decked out with cheddar and brick cheese and plenty of crisp Nueske's bacon. Onions are offered raw or fried. A hint of "Tipsy" sauce (like a tangy Thousand Island) adds to its greasiness quotient and causes it to slide around in its soft, bakery bun.
I often ignore pickles that come with sandwiches, but Mike's sweet-sour, homemade pickles are not to be missed. (Mike) Banas said he developed them as part of Lombardino's burger contribution to a REAP Food Group Burgers & Brew event. (Banas and O'Halloran also co-own the higher-end Italian Lombardino's on the Near West Side, where you won't find any burgers.)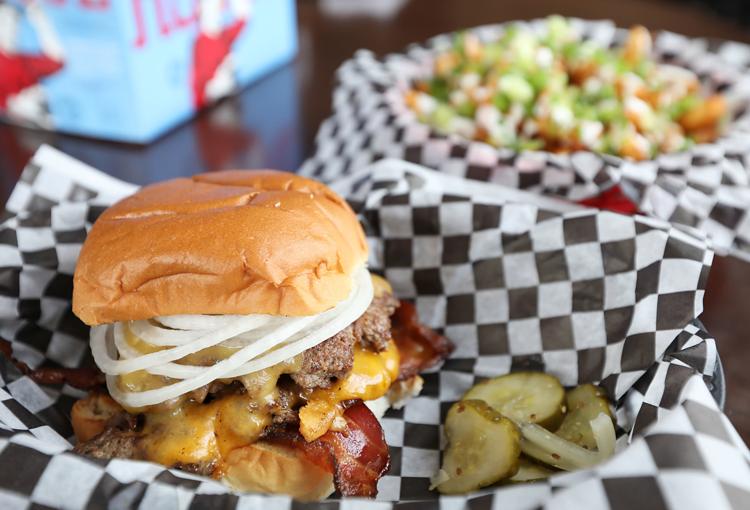 The griddled Mediterranean ($9) isn't just a concession to vegetarians, but a sandwich anyone could love. The combination of ingredients seem almost overpowering at first, and it takes a few bites to get used to the bold flavors that come from the combination of marinated artichoke hearts, roasted (sweet-not-hot) piquillo peppers, goat cheese and pesto. Tomatoes and provolone balance out the sandwich served on buttery sourdough rye bread from Clasen's European Bakery.
Burgers and other sandwiches come a la carte, so it helps to supplement them with a big basket of loaded fries, among them Buffalo blue cheese, carnitas, and Korean BBQ. We went with the more basic sour cream and onion ($7) and found, unsurprisingly, that the fries underneath didn't benefit from the toppings. I noticed later that the restaurant offers nine dips for 50 cents each, which could have been an easy remedy.
The spinach and artichoke dip ($13) was most notable for the fresh, crisp homemade tortilla chips that came with, and were neither greasy nor salty. The generous bowl of dip was also served with vegetables, which we appreciated, but many of them were unfortunately past their prime.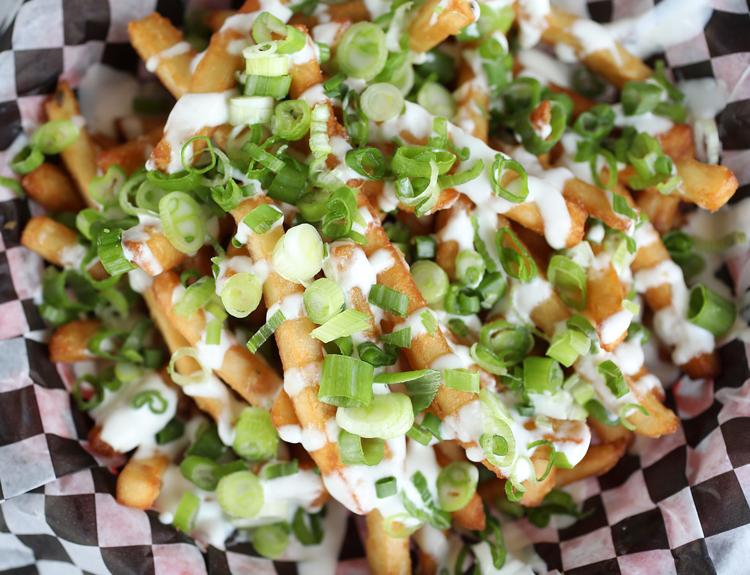 It's worth visiting on a Tuesday or Thursday when Tipsy Cow runs its PBR-battered fish or avocado taco ($3.50 each) special. My daughter ordered the avocado version, not realizing the avocado would be fried. She turned her two tacos over to me after one bite and they instantly became my favorite part of the meal.
The thick slices of avocado were served in white corn tortillas — the same ones the chips are made from — with shredded cabbage, pickled red onion and chipotle mayo giving them a distinctive taste.
It took a while to get our server's attention, but once we did, she expedited a half order of mac and cheese ($7) for my daughter, who devoured it. It's made with Sassy Cow cream, 3-year-old cheddar and pipette pasta, which are wider than elbow mac, so the cheese sauce can find its way inside.
The menu doesn't show half orders, and we were glad to find we didn't have to go with the full $11 version. (The Kraft kind is available for those 12 and under for $5.) Mac and cheese isn't offered at the Downtown location because the downstairs kitchen there isn't big enough.
The addition of mac and cheese also speaks to the family nature of the Sun Prairie restaurant and the fact that MACS (Macaroni And Cheese Shop) is nearby. MACS got an early start in the Shoppes at Prairie Lakes development, opening in 2014, a year before the area's big draw: Marcus Palace Cinema.
Another plus about Tipsy Cow Sun Prairie is that it offers four vegetable side dishes — thanks to the larger kitchen — that sound amazing.
I'd be curious to try the creamed local sweet corn, grilled asparagus, and olive oil roasted cauliflower, because our choice — sautéed broccoli — made "with garlic, shallot, Wisconsin butter and a pinch of chile," sounded more interesting than it was. It tasted mainly of red pepper flakes and therefore didn't appeal to my daughter and her friend.
The new Tipsy Cow has its name in an attractive, welcoming font on the outside of the building, but the interior design encourages you to eat and run.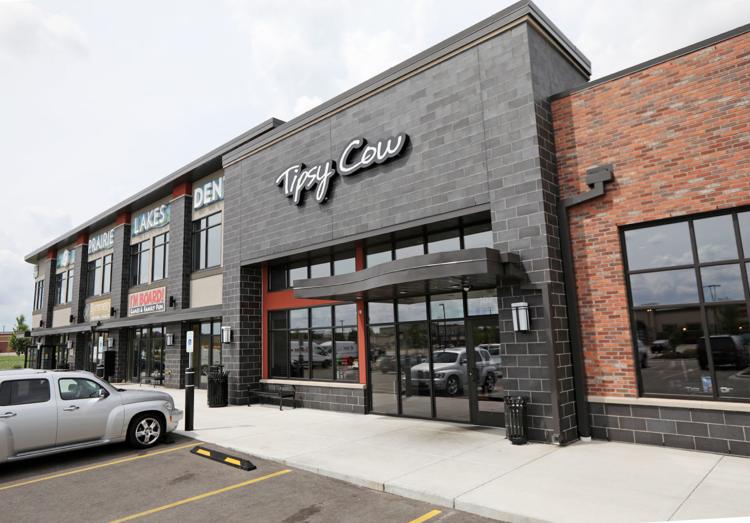 The restaurant's lack of character wouldn't be so notable if it weren't for the charming identity of the 9-year-old original, which has the advantage of being in a historic flatiron building just off the Capitol Square.
Cow art adds life and humor to the room, particularly a cow diagrammed by cuts of meat and outlined in pink neon. The piece was inspired by a smaller, but similar, piece of art in the Downtown location.
In a world of increasing chain restaurants, Tipsy Cow's expansion to Sun Prairie is welcome, even if its atmosphere feels less authentic than the Madison original.
Stay up-to-date on what's happening
Receive the latest in local entertainment news in your inbox weekly!