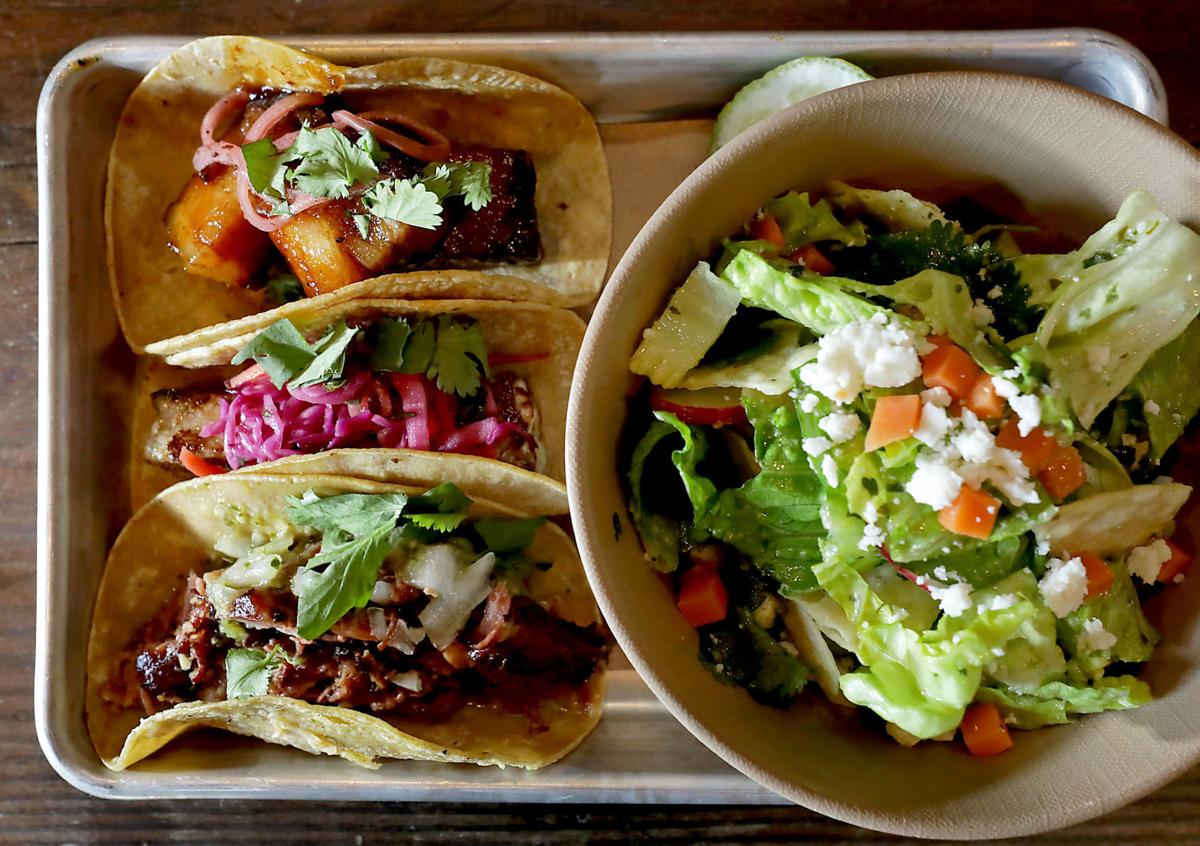 After comparing notes about our initial visits to bartaco, Hilldale's instantly popular beach-themed restaurant, my friend pointed out that it's not the place to go if you're really hungry.
That seemed all too true at first, because you need to order many items to feel like you've gotten enough to eat.
That's by design, and the small "b" bartaco makes it easy to continually order new rounds of food. But if you go two or three rounds and end up with a tab that's higher than you anticipated, it feels worth it for the food quality and creativity; the cool, coastal atmosphere; and the friendly, helpful service.
Customers use an order form and place a card in a holder on the table when they'd like attention.
The menu is divided into tacos and "not tacos," and there are great choices on both sections of the menu. When ordering tacos, four seems a good minimum because these are 4-inch corn tortillas and each taco goes down in two or three bites. (Regular small tortillas are typically 6- or 8-inches.)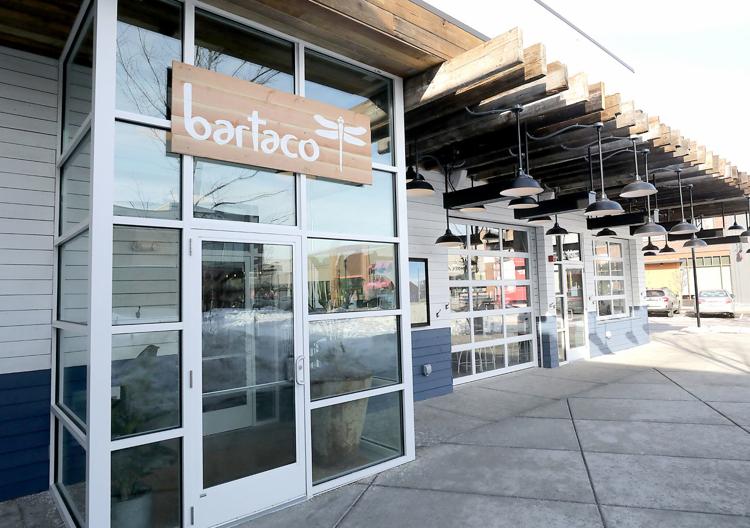 The slow-roasted, nicely-spicy pork carnitas ($2.50) with creamy mojo sauce is a must-have. So is the glazed pork belly ($3.50) with large chunks of crisp meat in a spicy arbol chili sauce; and the carne asada ($3.50) with thick, quality beef that had been well marinated. The seared swordfish ($3.50) had avocado crema and pickled cabbage slaw going for it, but was the least compelling of the group. My companion wasn't thrilled with a chicken chorizo one ($2.50).
The guacamole is great, but a large order ($9) didn't seem particularly large. A thin layer was served in a shallow bowl, and it had the right balance of lime, onions and chilies. Cilantro comes in the guacamole and in so many other bartaco dishes, adding flavor and freshness.
My first visit came early on a weeknight before it got busy and that's the way to do bartaco, at least for now. I returned on a Saturday night when the wait was two-and-a-half hours. By calling ahead we were able to shave off a half hour. It took awhile, but we finally found seats at the bar, where we wound up eating.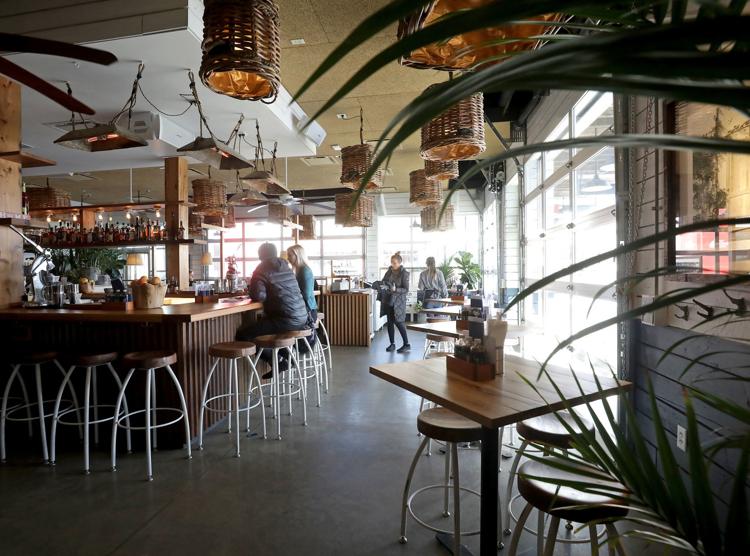 You have free articles remaining.
Friends we ran into there recommended the fried plantains ($4) and they were right. The thick slices were subtly tossed in salt and cayenne pepper. They came with a wonderful mayo-based dipping sauce that had garlic, jalapenos and cilantro.
The real discovery was the chopped salad ($6.50), which we only ordered because they were out of the beet, kale and goat cheese one. The chopped salad had romaine, plus little cubes of pickled carrots, avocado and radish with a zesty cilantro-lime vinaigrette dressing. The addition of crushed tortilla chips, queso fresco and cilantro was genius.
One thing to avoid at bartaco is the tuna poke ($8.50). Too many other places in town do poke proud. Here, the cubes of raw tuna were saturated with a sweet dressing made with soy sauce, Tabasco, fish sauce and honey that tainted the fish. The bowl was not without some redeeming elements: thinly-sliced, lightly-pickled cucumbers, lots of red onion, avocado, sesame seeds and fried ginger.
Every new restaurant has to have a rice bowl ($8.50). And not taking the clue from my dining partner during my first visit, we ordered ours with chicken chorizo. It was less than delicious, and the brown rice, slices of red and yellow peppers and red onions had no unifying theme. Even the unnecessary sauce from the poke bowl would have helped here.
Both the poke and guacamole came with a tray of salty round, crisp tortillas, the kind you might use to make a tostada. It was fun breaking off pieces to scoop the guacamole, but they weren't necessary for the poke. I did use them to test bartaco's three bottled sauces — red, green and yellow — found on all the tables. I'd call them hot sauces, but they weren't particularly hot. I found the trio vinegary and off-putting. A little went a long way.
Another disappointment about bartaco is that many drinks — even water and the agua frescas, for that matter — come in narrow glasses that are half ice. If the tacos go down quick, beverages are gone in no time, also.
A mojito tinto ($10) had spiced sangria, which made it feel less like a mojito and less worth ordering. The margarita ($9.75) was a different story. It came in a rocks glass with a salted rim, and the bartender squeezed the limes in a press in front of us at the bar. No buyer's remorse when it comes to the margaritas.
The bartenders were so busy I couldn't fault them for letting our water glasses sit empty. But when we asked for a refill, the water that came back to us tasted soapy, as if the bartender dunked our glasses in soapy water and didn't rinse them well.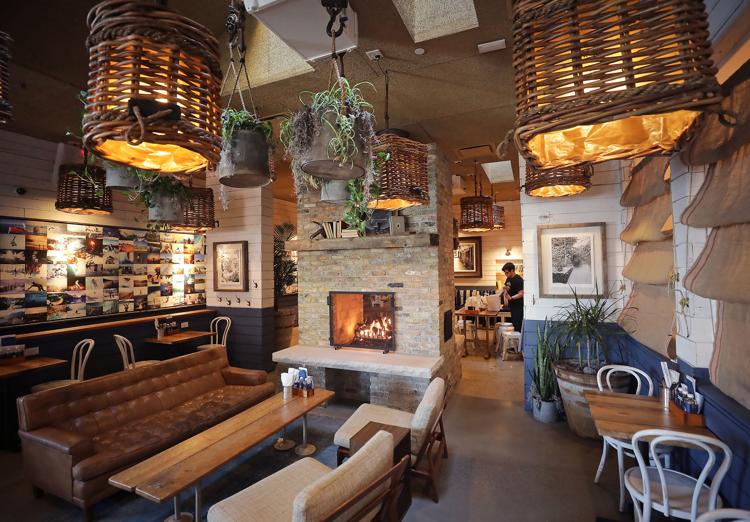 Bartaco started on the East Coast, and the publicist who handled its bitter-cold, early-February opening objected to my calling it a chain in a preview story. Regardless, of how you define "chain," it has 19 locations in 11 states, with Madison being its first Wisconsin restaurant.
The atmosphere feels as fresh as the food. Fabric draped on the walls evokes sails and wicker baskets as light fixtures makes it feel summery. Even if you don't take advantage of the fireplace surrounded by lounge furniture in the center of the dining room, it adds to the relaxed vibe.
There's a reason bartaco is catching on and growing. Even those narrow, sip-sip-gone glasses aren't slowing its spread.