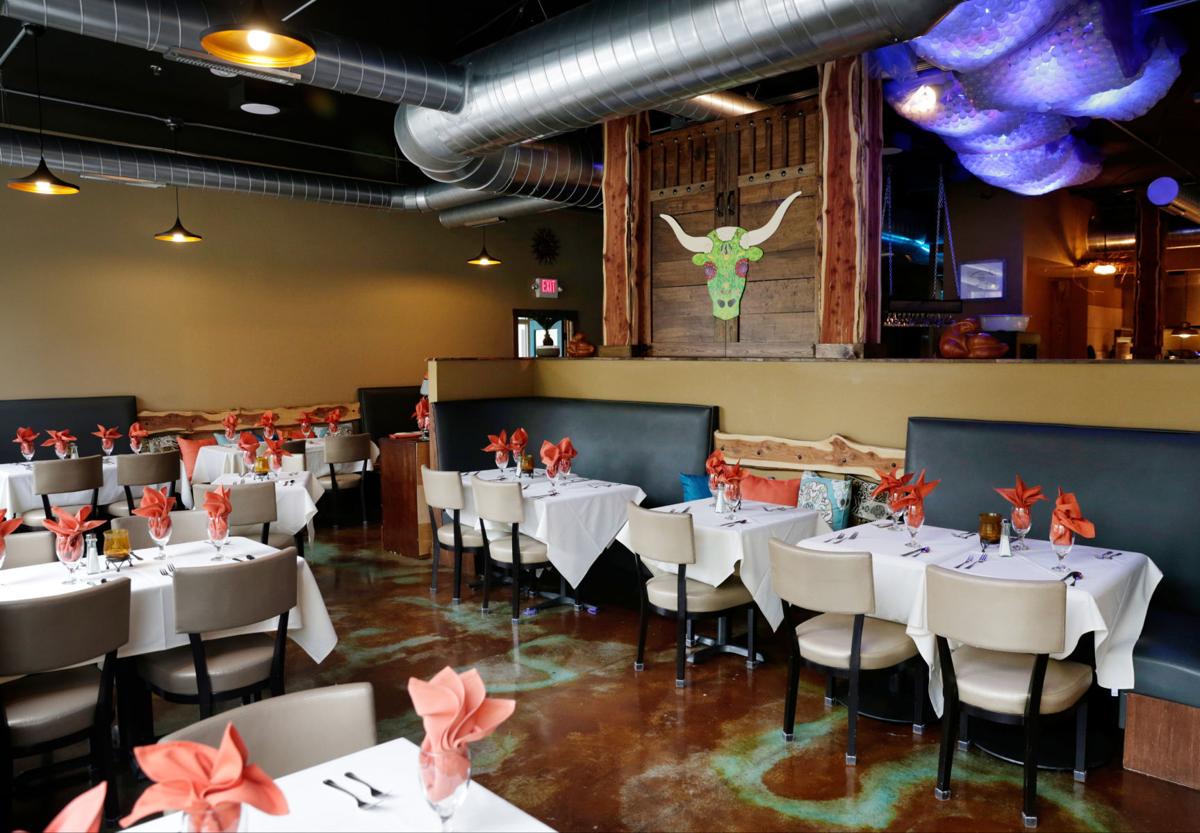 Fuegos, I initially thought, needed to pick an identity. Was it a Latin steakhouse? A vegan restaurant? A tapas place? Trying to be all three wasn't wise. At least that was my impression going in.
But what I found after a recent visit is that Fuegos is one of the best brunch spots in town. Best in terms of food, atmosphere and service.
The meal started off comically when we were each handed two giant menus with Spanish titles: a brunch menu, a vegan menu, and two smaller sheets with the restaurant's specialty cocktail and beer lists.
We passed on the $12 bottomless mimosas, and stuck to coffee, which was from Colectivo and brewed strong and rich. When the bill came, we were surprised to find it was only $2 for a bottomless cup.
Everyone in my party was also struck by how good our food was.
Migas ($10) here was served in the form of a round frittata with corn tortillas incorporated into the scrambled-egg cake, instead of like a scramble served with tortillas to stuff it in. Inside was a winning combination of Mexican Chihuahua cheese, roasted peppers and chorizo. It was topped with more cheese and wonderful, homemade pico de gallo.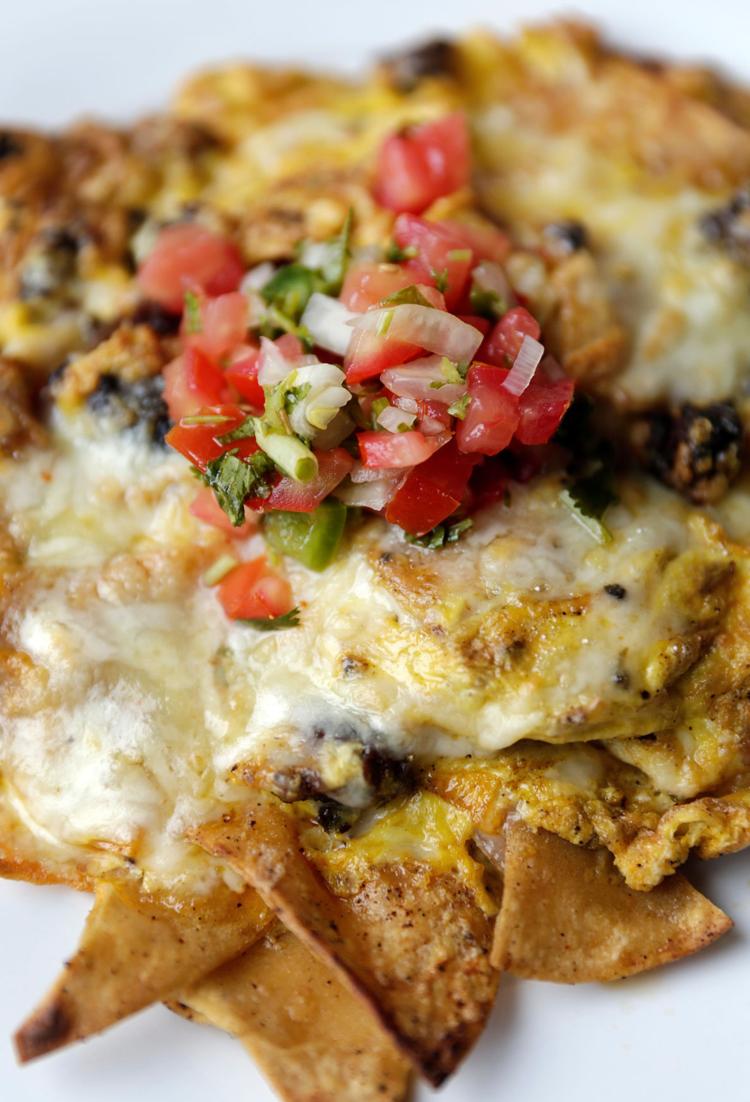 My friend's tortilla Espanola ($10), described as a baked omelet of potatoes, onions, spinach, chorizo and queso manchego, a Spanish sheep's-milk cheese, looked nearly identical to the migas and tasted very similar. Both were nicely seasoned.
Another companion ordered pancake con platano y nuez ($9), which had fried bananas, whipped cream, rum pecan syrup and strawberries. It looked and tasted incredible, the cakes light and fluffy. She was delighted, and found it hard not to polish off the whole stack.
All three of our dishes were listed under the "griddle and pan" section. The brunch menu also includes a wide variety of tapas, soups, salads, burgers and steaks. Alligator chorizo is featured in both a tapas and a burger.
You have free articles remaining.
The 11-year-old at our table just asked for two fried eggs ($4) over medium and was pleased with the outcome. When the subject of Fuegos came up days later, she called her meal "amazing," explaining the eggs were made "exactly the way I wanted without me having to tell them. They were sunny side up, without being runny and gross."
We also ordered tostones ($8) for the table from the vegan menu, and were served large chunks of fried plantains with a stunning mango sauce that had garlic, cilantro, horseradish and "Vegenaise" — a vegan, eggless mayonnaise the restaurant orders through the nearby Willy Street Co-op.
For dessert, our waiter brought over a plate with four options. From it, we chose the dos chocolate cake ($5), which had two round layers, one chocolate and one white chocolate, with whipped cream in between and chocolate sauce on the plate. Everyone liked it because it was not overly sweet or rich.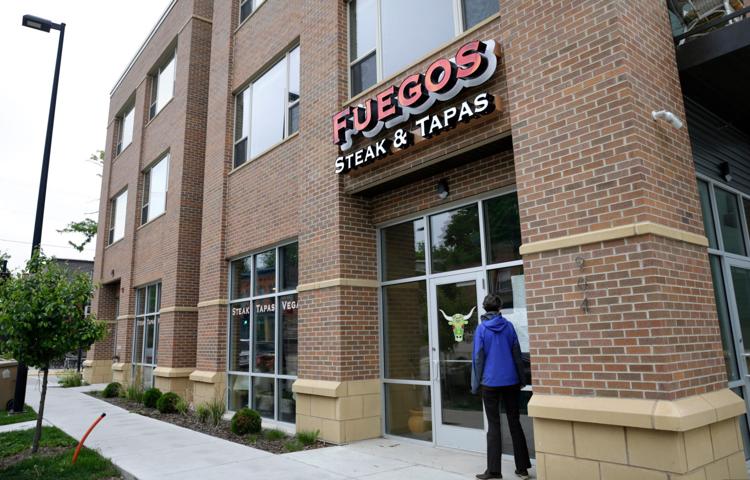 Not only was the food impressive, but the room is well-appointed with banquettes that have wood accents and cheerful pillows between them, plus comfortable leather chairs. The restaurant is divided into different sections, which makes each area more intimate.
The way Fuegos stuffs apricot-colored cloth napkins into the water glasses at each place setting gives it an elegant feel.
Make sure to visit the washrooms, where the blue glass sinks in both the ladies and men's rooms with their mother-of-pearl-like sheen have become a conversation piece.
When we showed up at 10:30 on a Saturday, one of my friends assumed the restaurant was closed before we went in, because the tables were empty. By noon, when we left, there were a few other parties eating. It made for a calm, peaceful morning, but had me concerned for the owners.
Fuegos defines itself in many ways, but really needs to also promote itself as a brunch place. "Eldorado's going to have some competition once the word gets out," one of my friends said, referencing our usual brunch spot, two blocks up Williamson Street.
Oscar Villarreal, who helped open Fuegos — which means fire or flames — in late April with family members and is its executive chef, did his restaurant training at Disney World in Orlando, Florida.
Earlier this year, Villarreal told me one of the reasons he was opening Fuegos was to help his family heal after a pair of tragedies in 2013 and 2014, when he lost two of his sons. One was killed during an altercation with a police officer. The other died in a car crash.
Fuegos with its excellent food, impeccable service and beautiful space, honors both men. What a tribute.