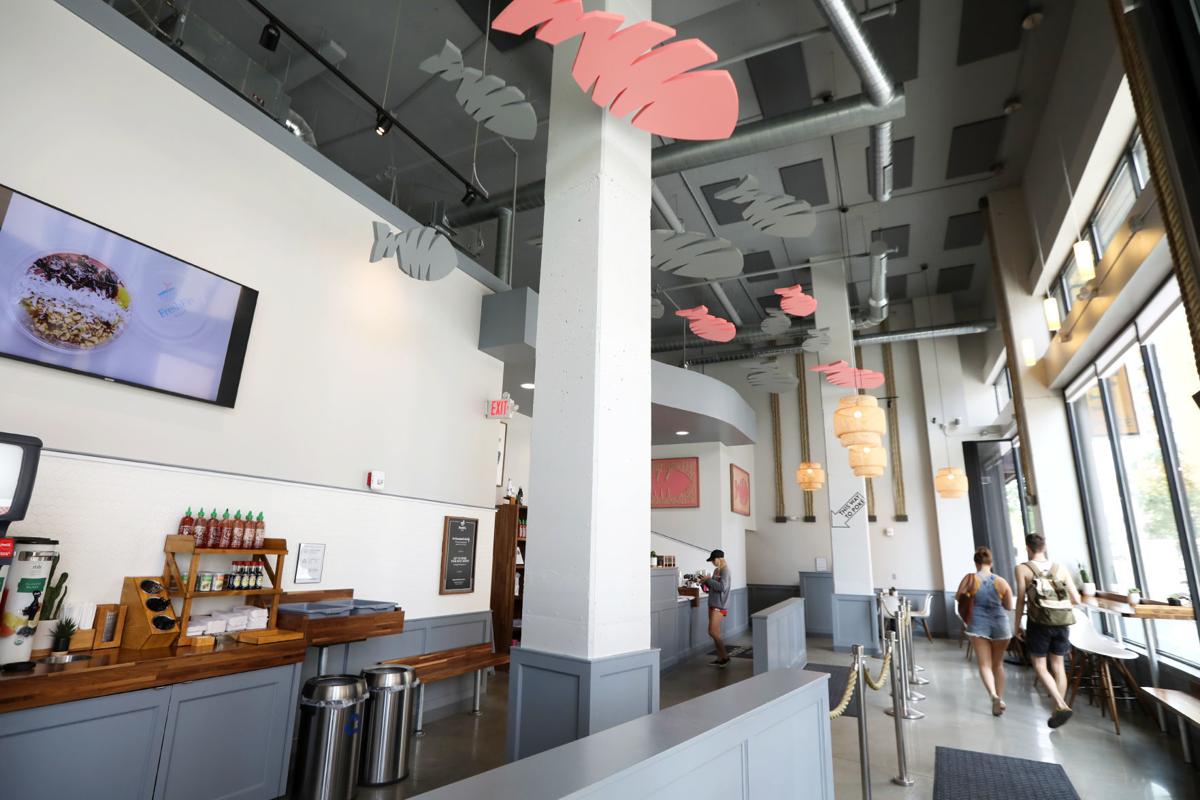 When it opened in mid-September, FreshFin Poké became the newest of Madison's five dedicated poke restaurants. It's also the only one in the group that's part of a chain, albeit a small one, which is based in Milwaukee.
Andrew Foster and Nate Arkush have four locations, not counting a FreshFin outlet at the new Milwaukee Bucks arena that is operated by a third party.
The Madison restaurant is in the James Building where Gorham Street becomes University Avenue near the UW-Madison campus, and during three recent lunch visits, business has been light. That meant the food was prepared quickly and delivered to our table in no time.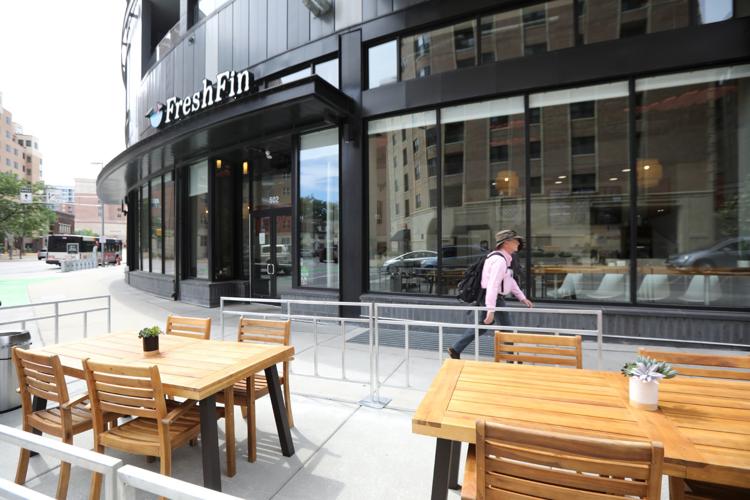 FreshFin deserves some love because not only does it do great things with poke, it's got a modern, inviting look. The space has an unusual shape, since it's carved out of the front of a curved building. The way it's set up makes for dining areas on each side of the counter, where customers can choose between nine signature bowls or build their own Hawaiian-style rice and salad meals.
Surprisingly, only two of those house bowls involve raw fish.
"With the shrimp, the chicken and the pork, it's kind of catering to a wider audience," Foster said. "We have a huge customer base that comes in and wants our chicken and vegan options and everything else."
For me, poke is about raw salmon and/or tuna, and the two specialty bowls featuring each were outstanding. The Mango Tango ($10.95 for a regular, $14.95 for a large) had chunks of fresh salmon, tiny cubes of mango, ripe avocado, cilantro and a Thai chili ginger sauce. The Spicy Tuna ($9.95/$13.95) was made with ahi tuna, thinly-sliced jalapeno, cucumber and sriracha aioli.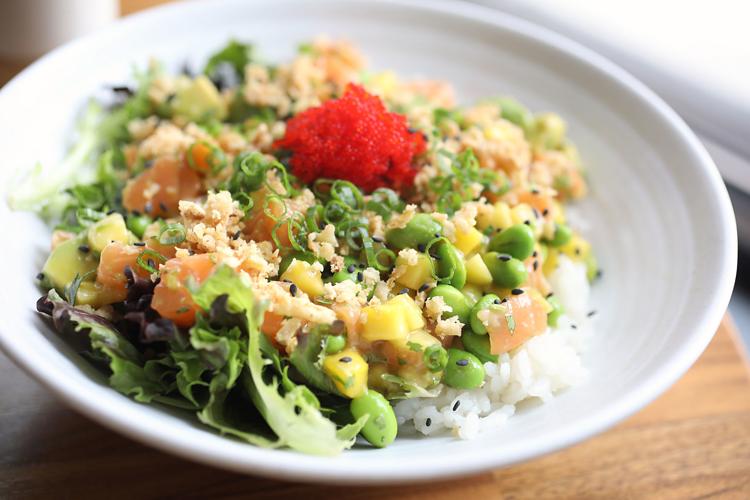 Both bowls had edamame and were finished with sweet shoyu (Japanese-style soy sauce). Crispy onion flakes added important texture to each, but I'd just as soon leave off the bright red tobiko (fish eggs).
Customers pick a base of white rice, brown rice or mixed greens. I always ask for half rice and half lettuce.
For an extra buck, try "kohlrabi noodles" as a base. I had it with another signature bowl, curry coconut shrimp ($9.95/$13.95), and it was ideal — crunchy, healthy tasting and a good vehicle for the curry sauce. It should be called "shredded kohlrabi," though, because noodle is a bit of a misnomer.
You have free articles remaining.
Foster said that's a fair criticism, but they spiralize the vegetable in-house and when they get in larger kohlrabi, the shreds are more noodle-sized.
The shrimp was perfectly cooked and cut into bite-sized chunks. The curry aioli had a wonderful kick, and the other elements — small mango cubes, cilantro, shredded carrots, toasted coconut and crispy onion flakes — combined in the best possible way.
The only underwhelming bowl was the Kailani ($10.95/$14.95). The mix of ingredients, although similar to the other bowls, didn't produce the same winning combination. It had two proteins, chicken and shrimp, and even though the chicken was cooked "sous-vide" (in an air-tight container in a water bath) to make it seem fancy, it tasted bland, like it hadn't been marinated.
The bowl had a host of other ingredients and both cilantro lime sauce and sriracha aioli. Too bad the chicken didn't benefit enough from the sauces.
FreshFin offers three sides, including a truffle crab salad ($1.95/$3.95) with minced mock crab and a restrained amount of mayonnaise, and a standard seaweed salad ($1.45/$2.95).
The acai cup ($3.95) for dessert is a natural fit with poke bowls. Only the dried cherries didn't play well with the acai-flavored yogurt, pineapple and coconut.
The restaurant smartly stocks cans of Forage Kitchen's excellent and beautifully-packaged kombucha ($2.95). FreshFin also has 12-ounce cold-pressed juices ($4.95) bottled for it. The Watermelon Breeze would have appealed to me more if it didn't also have pineapple and lime juice mixed in.
FreshFin's atmosphere is appealing, particularly with its gray and pink upholstered fish banquettes and fish cutouts suspended from the super-tall ceilings. A lot of care and expense went into outfitting the space.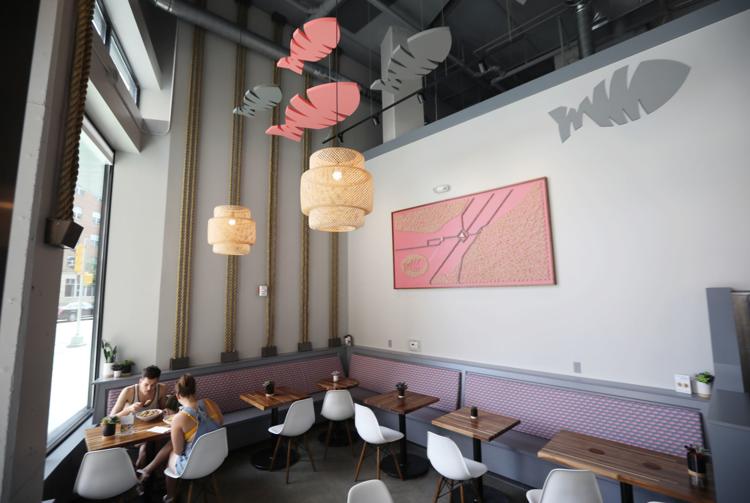 Foster and Arkush are the operating partners, but have two small investors. Arkush went to culinary school in Austin, Texas, and has been in the food and beverage industry for more than 20 years. Foster grew up working in restaurants, has an MBA from UW-Madison and a background in civil engineering.
In Madison, with the already-established Miko Poke, Poke Poke, Poke It Up and Poke Plus, FreshFin is in a fight for its share of the poké pie.
One thing working against it is parking. Going into the project, Foster said, they knew parking near the James Building would be a challenge, but customers report finding spots nearby on Gilman or Gorham streets.
But hey, summer's here, and it's the best time for poke and a short walk to eat it.