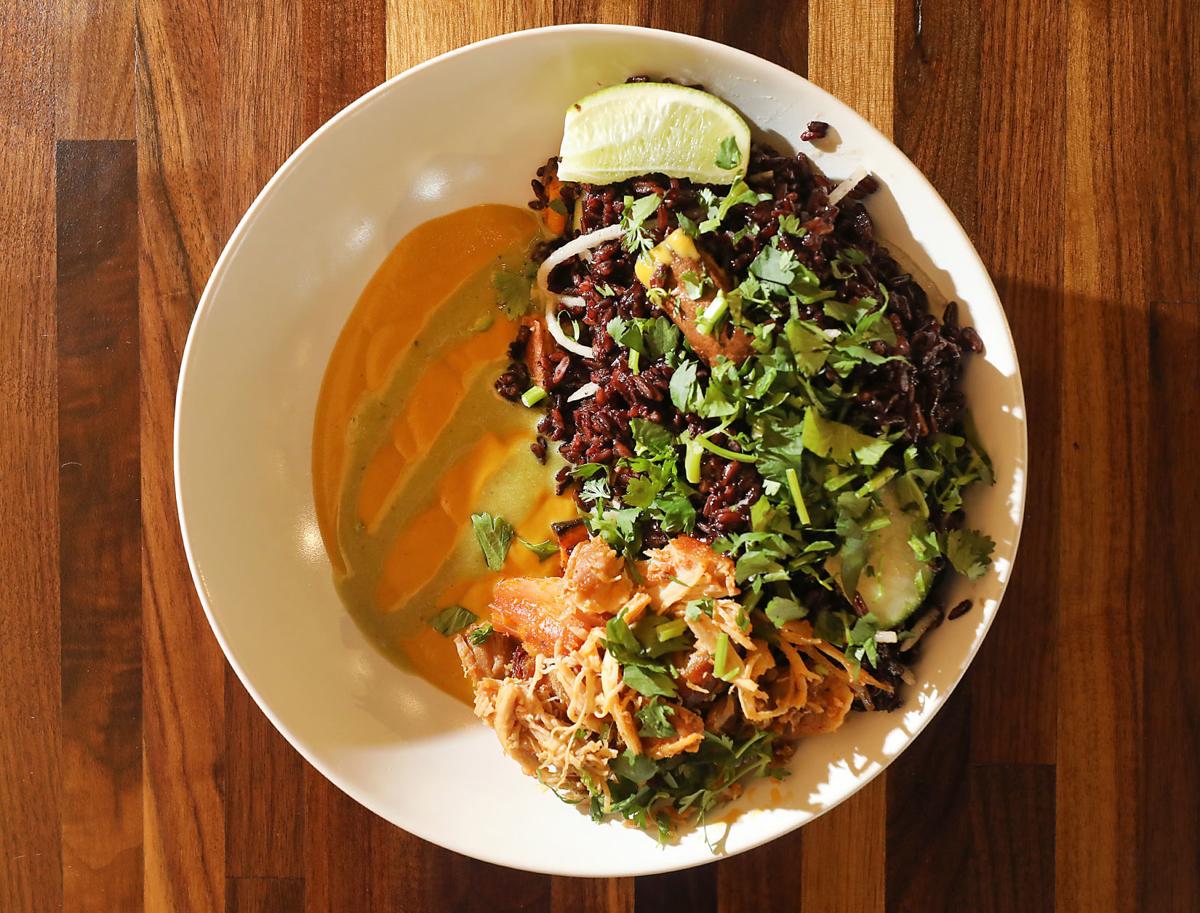 The creative, health-conscious fast food restaurant Forage Kitchen was ahead of its time when it arrived on State Street in October 2015.
With its Hilldale location, which opened March 17, owners Doug Hamaker and Henry Aschauer expand upon their original Forage with new signature salads and bowls, a selection of "shareables"/sides, and more protein add-ons. The new restaurant is bigger by 1,000 square feet.
Forage is the way more people should eat, and it's the way many of us want to eat more often. The concept is so fresh, professional, and reasonably-priced, it's easy to imagine it becoming a nationwide hit.
Just looking over the menu board, my brother, who was visiting from Chicago, said, "This is a niche that hasn't exploded yet... I could eat here every day for the rest of my life and be fine."
Hamaker disputed that notion, and said cities like Chicago have similar options. But the Madison area has room for another Forage and possibly a fourth, Hamaker said.
He and Aschauer have a location planned for the Monona Riverfront Redevelopment Project, "The Current," and their plan is to eventually open restaurants in Milwaukee and Minnesota.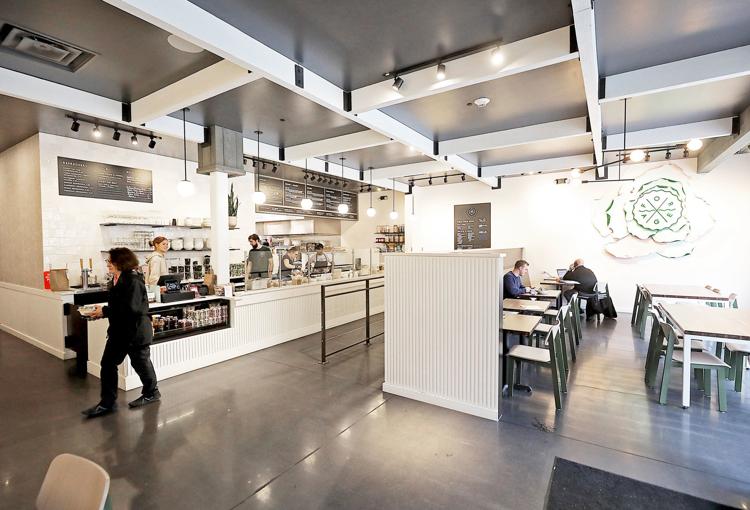 My brother was impressed with his Thai bowl ($7.50), and it became our favorite dish.
Non-Thai restaurants that try to do coconut curry, often get it wrong, but this dish, popular at the original Forage, was spot-on and beautifully presented with the sweet potato coconut sauce off to one side. The forbidden black rice was wonderfully chewy, and the other elements — roasted sweet potatoes, shredded daikon radish, thinly-sliced cucumber, cilantro, Thai basil — combined to make it unusually addictive.
My brother added a double portion of salmon poke ($5 each), and the high-quality raw fish was cut into big chunks, 50 percent larger than what you'd find in a typical poke bowl.
The local roots ($8.50) salad had roasted beets and parsnips with a great base of mixed greens, including kale, plus citrus-marinated fennel, and local goat cheese, with sweet, caramelized walnuts in every bite. The excellent maple sherry dressing can be added by the counter staff or served on the side. I had mine tossed for me, and it was just the right amount, evenly applied.
My 13-year-old daughter, who loves the Caesar salads at Ian's Pizza, declared Forage's ($7.50) better. It had all the requisite ingredients: Romaine and egg, along with shaved Parmesan, homemade croutons and a good Caesar dressing.
A slice of Madison Sourdough country bread comes with each salad or bowl, but was forgotten with two of our meals, so speak up.
Besides salads and grain and rice bowls, Forage has a tempting menu of six "shareables" or sides ($5 each, two for $8, three for $12), not available at the State Street location. The three we tried didn't stand out like our main dishes, and all of them seemed like they'd be better warm.
Best was a gorgeous bowl of charred cauliflower, topped with sesame yogurt flavored with the smoky chili pepper paste, harissa, and date granola. The unusual flavors accented the vegetable well.
Mushroom ceviche with whole button mushrooms and quinoa crunch, meanwhile, was served in a flavorful green broth highlighted by cilantro, but wasn't as special as I'd hoped it would be.
Pork belly is fatty by nature, but the fat was overwhelming for me in the pork belly lettuce wraps. The tender meat was cured (rubbed with salt and sugar), slow cooked and sprinkled with crushed coconut and cashews, which made it distinctive and interesting. The bibb lettuce on the plate was fresh.
The two cold-pressed juices available near the cash register, come in tall, 16-ounce glass bottles for $6. I preferred the vibrant "Right on Beet" with beets, apple, lemon, orange and ginger, to the "Lean Mean and Green" with cucumber, apple, kale and lemon. The beet juice was a lot sweeter and had ginger going for it, while the green juice was more sour.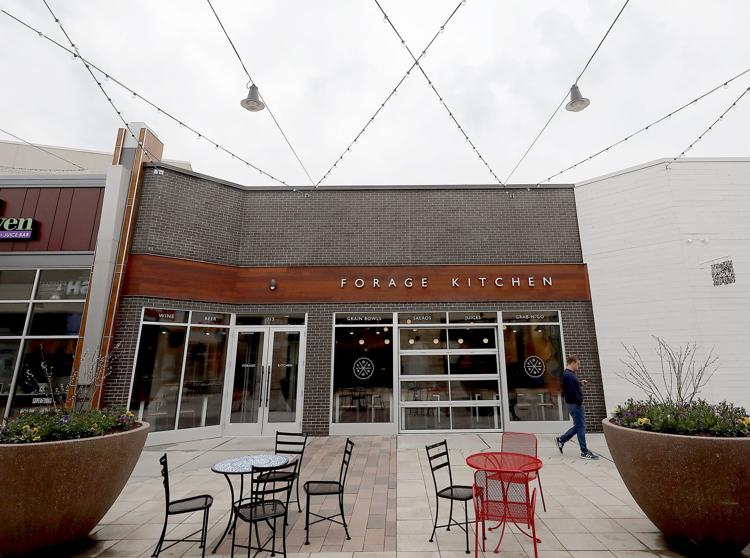 Hamaker and Aschauer began offering their own canned kombucha two years ago because the brands they were stocking at Forage seemed too expensive. Now they sell their attractively packaged fermented tea product for just $2.85.
It's lighter, crisper and less vinegary than other kombuchas, Hamaker said. Locally, it's also sold at Marigold Kitchen and Porter. Production has moved to a big facility in Fitchburg and the product is sold in 11 states.
Another cool perk about the Hilldale Forage is the free, self-serve sparkling water on tap next to the still water.
With the nearby Apple store, movie theater, and upscale dining and shopping options, Hilldale is happening. Hamaker and Aschauer, two UW-Madison grads who are both 31, smartly chose the outdoor mall for their second location.
The men were 24 when they opened their first restaurant, Roast Public House on State Street, which they closed the same week they opened the Hilldale Forage. Hamaker said the rent got too high and they wanted to concentrate on the new place.
Construction on the Monona location is set to begin in June, with the opening expected by September.
Twenty-three years ago, when a 32-year-old UW-Madison Business School graduate put Noodles & Company on State Street — the first one was in Denver; Madison's was second — with an eye on expansion, I lamented in a review not having the idea first. Now there are more than 400 Noodles locations.
As diners get away from gluten and carbs and more into healthy eating, Forage's time has come. Could it be the next Noodles & Company? It's certainly got that potential.
Stay up-to-date on what's happening
Receive the latest in local entertainment news in your inbox weekly!