Chen's Dumpling House is joining a group of restaurants that serve Chinese food in a one block radius on State Street: Fugu Asian Fusion, Asian Kitchen, Soga Shabu Shabu and Koi Sushi, which serves Chinese as well as Japanese food.
But there seem to be enough Chinese students at UW-Madison and enough other lovers of Chinese food to support all of these places.
Plus, who doesn't love China's ubiquitous and tantalizing appetizer — which Chen's specializes in — the dumpling?
And when you visit Chen's Dumpling House, which opened Feb. 18, it feels natural to eat a plate of dumplings as a meal. Yet, you don't have to. The menu includes six types of dumplings, but also a couple noodle dishes, and a few other items.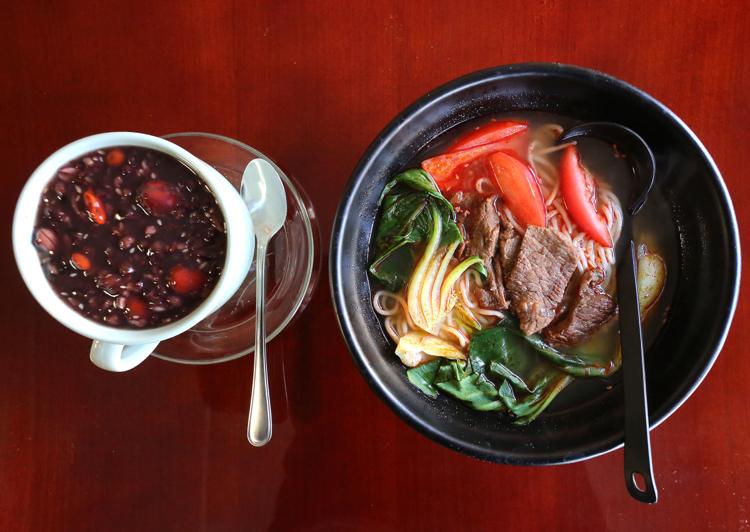 I was looking for a wider variety of dumplings with a more interesting selection of fillings. A seafood dumpling would have been nice. But Amanda Chen, who owns the restaurant with husband James Jiang, said the current menu is just the start.
We had the best luck with the bok choy and pork dumplings (10 pieces for $7.95), even though my friend and I expected a more even ratio of the title ingredients. The bok choy wasn't too noticeable, and, when we dissected the dumpling, we found just specks of vegetable. It was basically just an accent, cut as small as a scallion might be. Still, the noodle wrapper was homemade and the hand-pinched dumplings had a rough-hewn, authentic look.
That presentation was in contrast to the restaurant's best-selling steamed pork dumplings called xiaolongbao (6 sizable pieces for $6.95), where the wrapper was not in the usual potsticker-style, but was instead pillowy dough gathered at the top like a fancy package.
These dumplings — which take their name from the bamboo baskets they're steamed in — weren't as enjoyable because of the amount of wrap, but were still worth ordering.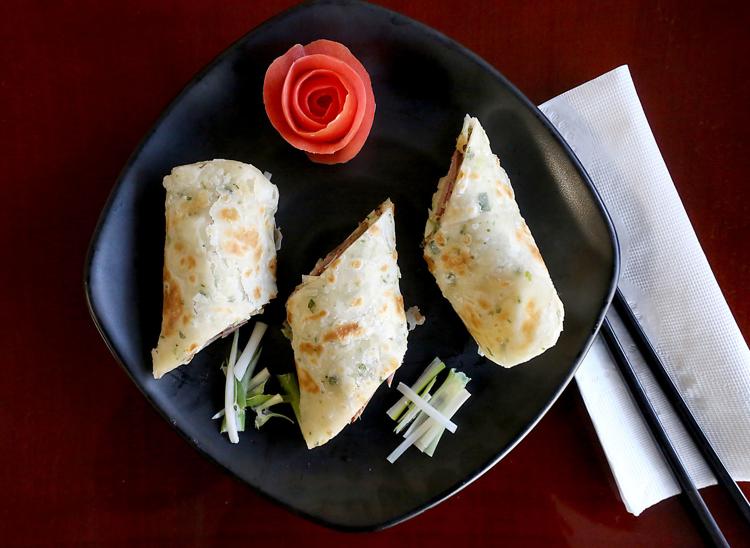 Both sets of dumplings were served with a chili oil so hot that a little went a long way. I preferred it mixed with the Zhenjiang vinegar on the table. (The vinegar is named for a city between Shanghai and Nanjing.)
Bok choy was much more prevalent in the dish called "noodles with scrambled egg & tomato" ($8.95), even though its presence was unannounced. The noodles were obviously homemade, but we never got used to what tasted like ketchup in the watery sauce. It was almost like Chinese spaghetti, if spaghetti was super bland and held bits of scrambled egg and large slices of tomato. It was a big portion — dare I say too big a portion.
You have free articles remaining.
Jiang confirmed there was ketchup in the sauce, but said it can be left out at the customer's request.
A better choice, and an extremely good value, were the well-seasoned scallion pancakes ($2.95): four thick, greasy flour-based cakes stuffed with green onions. These were superior to other more plain versions I've had.
For dessert, we tried the steamed creamy custard bun ($2.95), four, lightly sweetened, puffy little balls with yellow custard made from egg at their center. Neither one of us wanted more than one bite, leading my friend to say they're probably an acquired taste.
The five tables on the cramped ground floor were filled the Thursday night we visited, but there's also a more spacious room on the second floor with eight extra tables.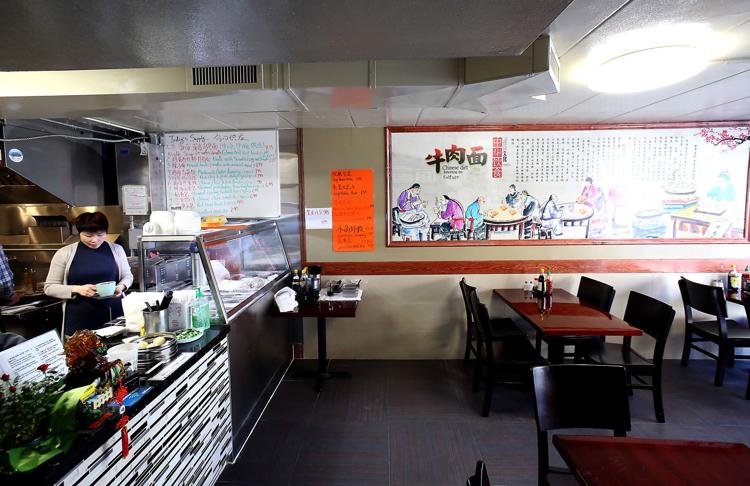 Upstairs, five stools at a counter in front of big windows present a bird's-eye view of mid-State Street. But there's better people watching on the walls, where a framed mural depicts a restaurant scene from kitchen to table, and a cartoonish painting nearby portrays a dad happily slurping noodles without offering any to his son. Jiang said he had the artwork shipped from China.
Jiang, who used to run three World Buffet locations in the area, bought the building that housed the former Osaka House sushi restaurant and made many improvements.
He didn't want to talk about World Buffet, but said he's still managing the one in the old Pedro's West location on D'Onofrio Drive, and will for the next year or two until the new owners are comfortable. He also owns the building.
Jiang, who grew up in Southern China, said he hasn't done any advertising for Chen's Dumpling House. "We just open the door," he said, noting that he sees many of the same customers every day.
He wanted to be on State Street because it's convenient for the large number of Chinese students at UW-Madison.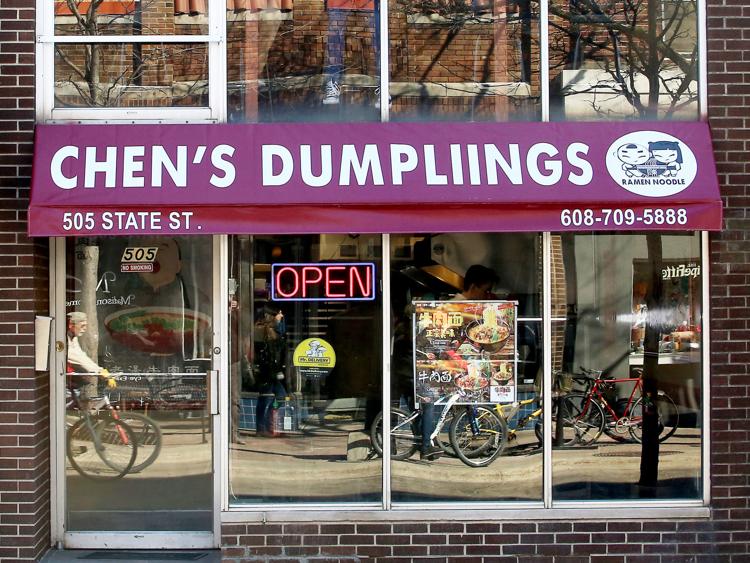 "What I'm doing is real Chinese food," he said. "And State Street is the best spot. In some other locations maybe people don't know about the real Chinese food."
Jiang said while he and his staff make their own dough and cook the dumplings fresh, other Chinese restaurants make their dumplings in advance or buy them already made.
"When the Chinese students eat here, they will know."