Dave & Busters is more than just a grown-up Chuck E. Cheese.
Its lavish video game emporium has the flash of Las Vegas, or maybe Reno, and the food we had at a recent Friday night dinner was surprisingly good.
Madison's 30,500-square-foot Dave & Buster's opened April 9 at West Towne Mall, and it's not the kind of place where you put quarters or even tokens into an arcade game. Instead, customers load up "power cards" with electronic "chips" that get depleted as they play.
The cost of the games is reduced if you order certain items in the restaurant, and one of those meals, we discovered, is the excellent "fire-grilled salmon" ($16.79), noted as a "fave" on the menu.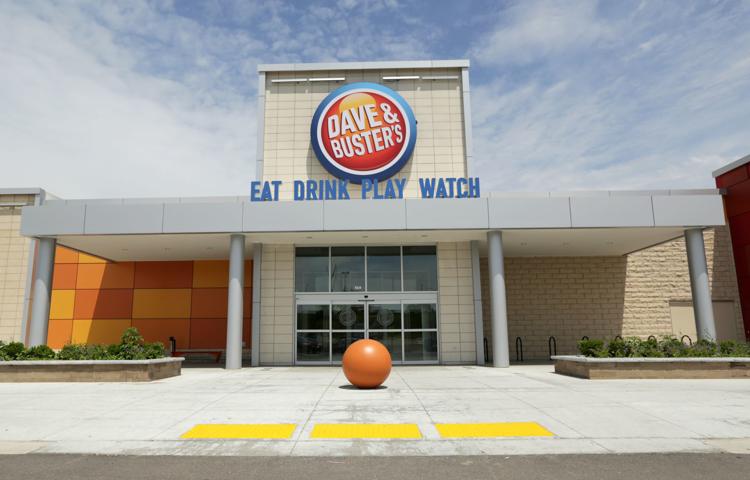 With it, we got a $10 "eat & play" combo card for $6.20. The card allowed the two teens with us — 13 and 17 — to play while we were waiting for our food and for about a half hour after.
It was early, and our starter came out so fast it surprised even our waiter. The dip trio ($10.49) included a first-rate guacamole, a vegetarian black bean dip, and a "jalapeño white queso" that held chopped tomatoes and large chunks of brisket in the middle. The queso had bite so it helped to eat it in conjunction with the bland bean dip. Eating the two together improved each of them.
The tortilla chips were perfectly thin and crisp. The only thing that didn't work was the meat, which was of questionable quality. Otherwise, it was a rewarding, generous starter.
My daughter and friend each approved of the tomato feta soup ($3.69 cup, $4.69 bowl). It had good flavor and texture, plus a hint of spice. The menu lists calorie counts for everything, and the bowl apparently has only 131 calories, the cup, 66. The soup had a touch of cream, but not much. By contrast, the dip trio had 1,796 calories, but it was shared four ways.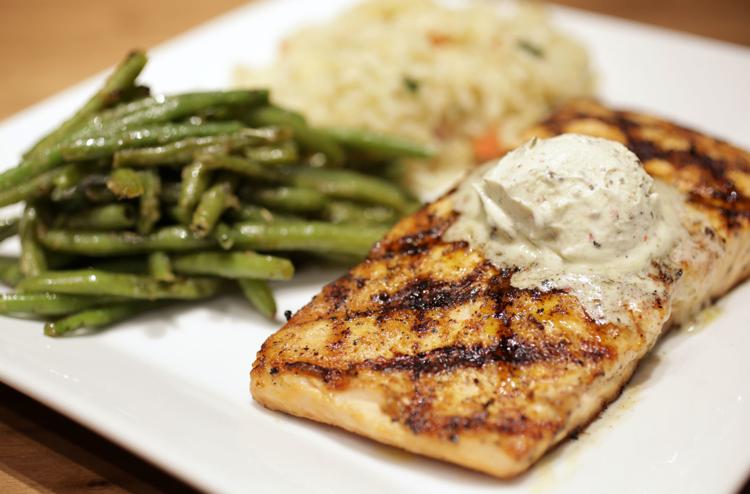 You have free articles remaining.
The salmon dish my friend's son got was remarkably good, well-grilled and seasoned, with a scoop of herbed butter on top. It was served with rice that had some actual spice to it. The green beans looked great, small and glistening, but had little taste.
Another fine choice was the California smoked turkey melt ($10.69) with deli meat, tomatoes, caramelized onions, spinach and melted provolone. The ingredients slipped around some, thanks to a liberal application of a "sun-dried tomato and smoked chile aioli." It was a fantastic combination of flavors and the toasted marble wheat bread worked well. The thin french fries on the side, however, were nothing special.
Along with her soup, my daughter ordered the Parmesan Caesar salad ($4.99), which was more interesting than your average Caesar. Besides romaine, it had arugula and baby kale, garlic-cheese croutons and Parmesan cheese. She was super happy with it.
Speaking of happy, Dave & Buster's happy hour lasts from 4 p.m. until 7 p.m. on weeknights and starts up again at 9 p.m. until close (Sunday through Thursday) with half-price cocktails. The deals on wine and beer aren't as good.
The strawberry watermelon margarita ($4.50 happy hour price) recommended by our waiter was poured over strawberry-flavored ice cubes that looked like chunks of watermelon. Another novelty was that the glass was rimmed with green candy. The drink was light on the booze and not sickly sweet.
For dessert, the bananas foster pie ($6.99) hit the spot with chilled banana pudding and a rich graham cracker crust. Adding to its appeal were chunks of banana, rum sauce and warm caramel.
My friend called the atmosphere "sensory overload" and found the lights too bright and the pop music too loud. It didn't bother me much, and the extra tall ceilings helped make the roomy dining room feel even larger.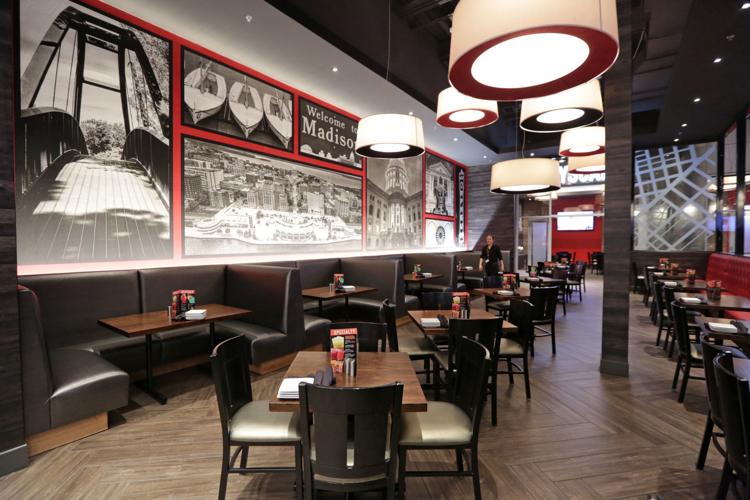 I appreciated the large, tasteful photo composite, "Welcome to Madison," that dominates the main dining room wall. It features an excellent collection of local sights: a bridge at Tenney Park, the Downtown seen from behind Monona Terrace, the Capitol, Bascom Hall, Union Terrace sunburst chairs and the Orpheum Theatre sign.
The kids liked playing the games, especially skee-ball, air hockey and Daytona USA, a racing video game, where they could feel it when another car hit them on screen.
Dave & Buster's, which was founded in 1982, is massive and noisy and fun. It should come as no surprise that it's based in Dallas, Texas. As they say in the Lone Star State: "Go Big or Go Home."