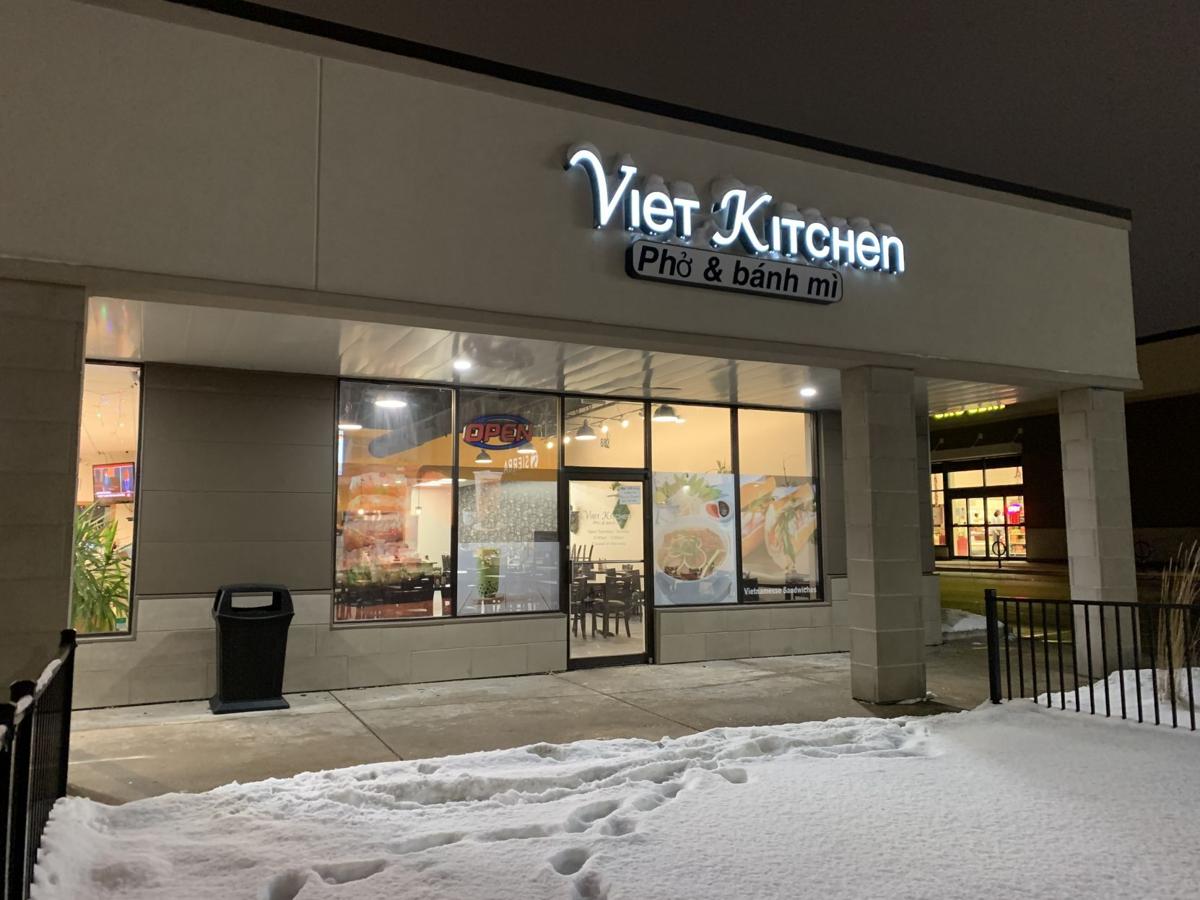 Jason Nguyen and Kimberly Le have kept the menu at their new restaurant small to start, limiting it mainly to the two staples of Vietnamese cuisine: pho and banh mi.
The couple opened Viet Kitchen, a well-lit, casual, contemporary café, Oct. 14 in the same strip mall that holds TJ Maxx (it recently moved across Whitney Way). Nguyen and Le also offer spring rolls and a long lineup of beverages: tea, bubble tea, smoothies, lattes, black coffee and Vietnamese coffee.
"We wanted to focus on traditional Vietnamese food, and we wanted to keep it small," Le said.
Nguyen, 44, and Le, 39, who were born in Saigon, have owned Shine A Nail Boutique at Hilldale for five years. Nguyen said he's been cooking Vietnamese food for 20 years, and, before moving to Madison in 2008, was a chef in a Vietnamese restaurant in California.
My favorite part of a recent takeout order was an eggroll that came as part of the bun thit nuong cha gio ($13), an elaborate dish known as No. 17.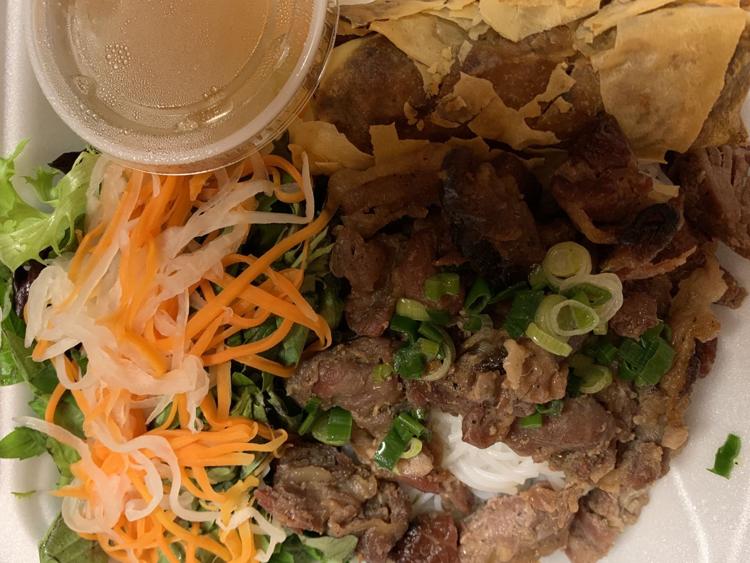 The dish featured big chunks of pork, its lemongrass marinade imparting sweetness. The meat came atop a pile of bare vermicelli noodles that had stuck together in a giant mass by the time we got it home. A salad with a spring mix of lettuce, shredded carrot and pickled daikon took up a lot of room in the heavy box. A light, slightly sweet sauce that was in the box in a separate cup was delicious on both the noodles and the greens, as were roasted peanuts.
The deep-fried egg roll was cut in threes and had a crispy, flaky shell. It was dominated by ground pork and also had glass noodles and wood ear mushroom. While it's not on the menu, Le said customers can ask for it.
The other highlight of the meal was an iced honeydew milk tea ($5) with boba (75 cents). It wasn't overly sweet, which was good, but I would have preferred the boba firmer and sweeter.
Six of the menu's seven pho dishes feature rare steak or beef meatballs, but we went with the chicken. That pho ga soup ($13 for a large) was enjoyable, the broth having just the right amount of oil richness. Hoisin sauce, which came on the side, added a lot.
The chicken came in a separate box along with white onions and scallions, while the add-ons — bean sprouts and Thai basil — were in a baggie. Le said they only provide cilantro upon request, adding, "most people don't like it."
Viet Kitchen's spring rolls, goi cuon ($7 for two), had shrimp and a hint of pork, but so much lettuce it dominated the other ingredients. The rolls would've been bland without the generous — and excellent — peanut sauce served with them.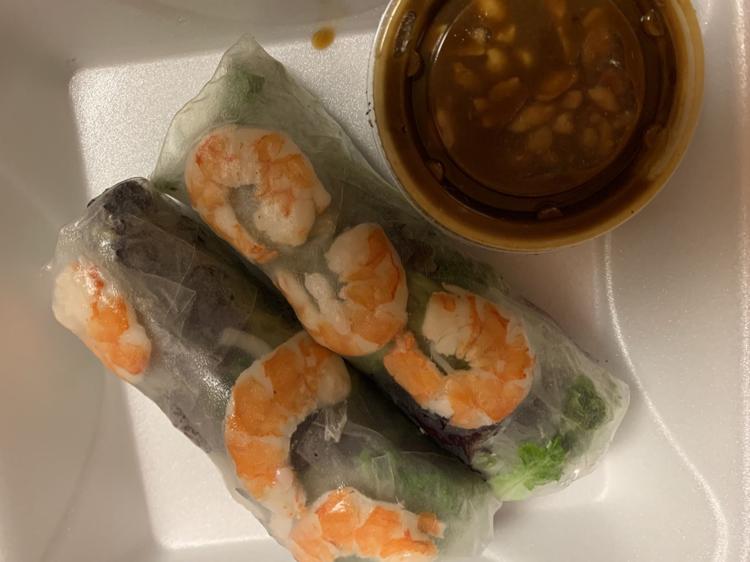 The No. 9, banh mi thit nuong ($6.75), was notable for its fresh-tasting baguette and the sauce on the BBQ pork. Nguyen said he bakes the bread fresh each day, and Le said the sauce is their "own secret recipe."
Viet Kitchen doesn't have a website. It also doesn't take payment over the phone or bring orders curbside.
In 2013, Nguyen and Le opened Kim Noodles, a Vietnamese noodle shop with 20 noodle dishes and 34 rice dishes. They ran the restaurant, named after Le, for a year on Monona Drive, where Rosie's Coffee Bar & Bakery is now. At the time, the couple owned Star Nails in Monona.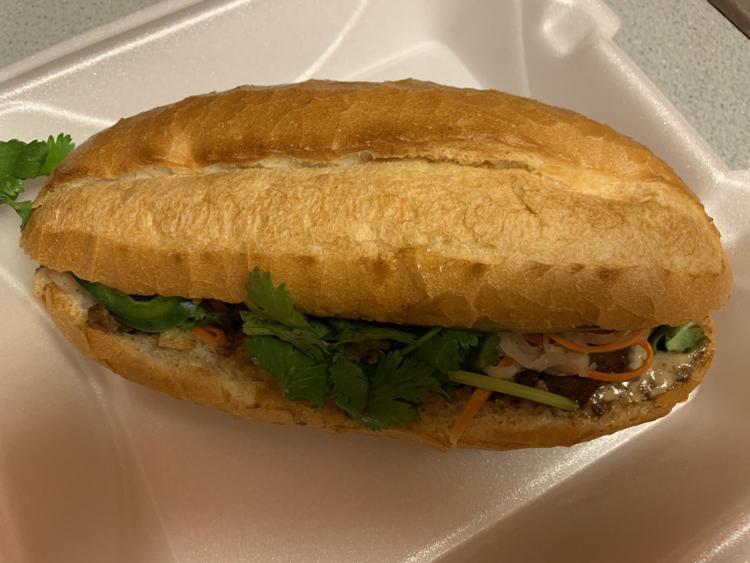 Le said they'll wait a year or two before they develop a website for Viet Kitchen, hire more staff, and expand their menu. Meanwhile, customers can order via Uber Eats and DoorDash.
"We're really staying limited and small for now," she said.
Le said they've been seeing an even mix of (restricted) dine-in and carryout. The area needed a Vietnamese restaurant, she said. "It was a good thing because it's worked out for us and we're doing pretty well."